The 'Birth-Soil Bond' of MGR
An 89th Birth Anniversary Note
by Sachi Sri Kantha

An Aroordhas Anecdote on MGR
Recently I provided a translation of an anecdote about movie maestro Sivaji Ganesan that had appeared in renowned Tamil movie scriptwriter Aroordhas's memoir book 'Naan Muham Paartha Cinema Kannadigal' [The Cinema Mirrors I have Looked At, Kalaignan Publishers, Chennai, 2002, 224 pages]. Here I provide the translation of another anecdote recollected by Aroordhas in this book, but on M.G. Ramachandran (MGR), whose 89 th birthday was on January 17 th.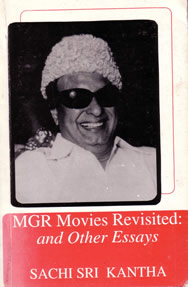 It is a well-known fact that MGR was born in Kandy for an Indian immigrant couple in 1917. Aroordhas had visited Kandy nearly six decades later, when the shooting for Pilot Premnath movie starring Sivaji Ganesan took place in Kandy. Here follows Aroordhas's anecdote [pp. 33-34], in my English translation:
'When the shooting for 'Pilot Premnath' movie took place in Kandy, I grabbed a handful of soil from that city and filled it in a plastic vial. After returning to Chennai, I met MGR.'
'Elder, I'm offering you a gift now, which others might not have given it for you until now.'
'Is that so? May I know what is it?'
'Will you open your palm?'
[MGR] offered his palm.
I placed that particular plastic vial in his sandal wood-colored palm.
'What's this? Soil?'
'Yes of course. This is your birth-soil. I collected this from Kandy, and brought it especially for you,' I explained. When MGR heard this, he became so emotional and touched both his eyes with that vial.
He opened the lid of the vial. Like picking the holy ash (viboothi), he pinched a little of the soil by his thumb and index finger, and placed it in his mouth. Then he applied a little soil onto his head as well.
I saw both his eyes were welled [with tears]. Like a child, he asked me, 'Can I keep this vial?'
I replied, 'Elder, what are you talking about? I brought this especially for you.'
'Thank you. I'll keep this gift forever with care.' he said and gripped my hands.'

The Significance of the 'Birth-Soil Bond'
In Tamil language, the 'birth-soil bond' is known as 'Pirantha Mann Patru'. The event described above by scriptwriter Aroordhas happened in late 1970s, after MGR became the Chief Minister of Tamil Nadu. But Aroordhas have brought this to the public domain in 2002. Curiously in 1995, I have alluded to this 'birth-soil bond' of MGR in an essay I wrote on him and published in my short collection of essays, entitled 'MGR Movies Revisited and Other Essays' in a limited edition of 100 copies. It was entitled, 'MGR-JR Duel' (pp.9-10).
In this essay, I attempted to highlight the point that of all the Indian politicians who had shown interest on the Eelam Tamil issue, MGR had something special – the 'birth-soil bond'. This is not to cast aspersions on the sincerity of politicians like Vaiko, P.Nedumaran and a few others who stand in the Eelam corner. But the link of MGR to Eelam Tamil issue was unique. Since that book of mine is now long out of print, here is a reproduction of the relevant section of my old essay for reading:
"Most commentators have viewed MGR's interest in the Sri Lankan Tamil issue as a not-so unusual response of a regional chief in Indian politics, to score brownie points with the prime minister of India, whether it is Indira Gandhi or Rajiv Gandhi. There may be some truth in this perception. But, I feel the story is incomplete if one accepts this reasoning as a complete one. Three other plausible reasons for MGR's active interest in the Eelam issue are as follows:
First, MGR viewed the young Tamil rebels (especially the LTTE and its leader Prabhakaran) as fighting a worthy cause against oppression. When J.R.[Jayewardene] labeled the LTTE as 'the private army of Mr.M.G.Ramachandran, the present chief minister of Madras,' MGR retorted strongly, and as reported in the Time magazine (May 11, 1987), he thrashed J.R. with the words, 'Tamil groups are spearheading the war against the dictatorial and fascist actions of the Jayewardene regime, and they should be congratulated and helped.' This view has to be interpreted from the perspective of MGR's lifelong philosophy of 'fighting the evil forces.' For four decades, MGR preached to the downtrodden Tamil masses, via the Tamil movie screen, a simple philosophical theme: 'Fight for Your Rights.'
Secondly, MGR also wanted to project an international stature as a politician. And the Eelam issue was the only one in which he could exert his weight. As the Time magazine (May 11, 1987) stated, 'Even as the Central government in New Delhi tried to maintain a civil, though somewhat cool, stance toward its neighbor to the south, Tamil Nadu Chief Minister Ramachandran seemed intent on fueling the fires on the island. He announced a grant of $3.3 million to Sri Lankans last week for food, clothes, medicine and ominously, other help.' While diplomats and academics viewed MGR only as a regional politician of India, he himself (with some justification) did not believe in that line. Demographically speaking, Tamil Nadu's population is three fold larger than that of entire Sri Lanka. In terms of population, Tamil Nadu ranked equally with Britain, or France or [the then] Federal Republic of Germany. Due to historical and political incongruities, while the titular heads of these three European nations were given the status as 'world leaders,' the Chief Minister of Tamil Nadu was treated as an 'extra' in MGR's cinematic analogy, and he would have felt uncomfortable with that reality. Thus, MGR aimed to make a stronger stage presence than he was assigned by the diplomatic protocols.
Thirdly, the Eelam issue also provided a psychological tonic to MGR in his last years of the legendary career. It gave him an opportunity to contribute to the history of his Land of Birth. It is well-known that displaced individuals keep an affectionate spot to the land of their birth, and this affection reaches a climax when they near the end of their lives. MGR was a displaced individual and fate had it that he was moved to Tamil Nadu as a toddler from Kandy, the place of his birth. Though he earned fame in Tamil Nadu, MGR was treated as an outsider in the political arena. Thus an active role in the Eelam issue would have given MGR a psychological uplift to influence the history of his Land of Birth. It can be asserted that other ranking Indian politicians would not bother to engage themselves with the Eelam issue as MGR was, since they do not possess the 'birth identity' MGR had with Sri Lanka."