Tamil Cuisine in Paris?
Dishny Restaurant at La Chapelle
by Mala Kadar
Kaancha maattuku thanni ootrinaal polzha!
Bonjour Madame! A young French Tamil greeted me at the entrance to an unpretentious Sri Lankan Tamil restaurant in La Chapelle, Paris. The Tamil immigrants have concentrated their business ventures in this district and they are thriving. Grocery stores, small cafes, real estate agents, hairdressers, colorfully draped sari mannequins with jewellery stores lined 'Rue Cail' in La Chapelle. The restaurants with the delectable vegetarian and non vegetarian preparations have also drawn the French connoisseur.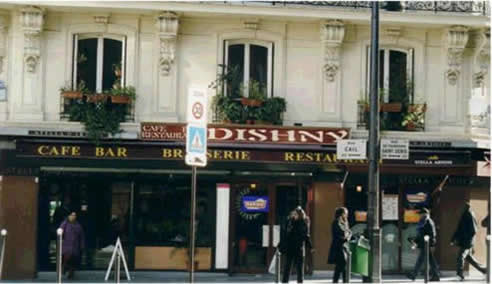 The French vernacular intermingled with Tamil amidst clinking goblets of wine as I was led to the non smoking area. The aroma of spices-'cheeraham, cardomons - distinct Jaffna curry powder - created a strange ambience – French South Asia. The Tamil waiter continued in French, placing a menu chart in my hands, all the while monitoring the diners for any needs. I began, "Naan inntraiku chaivam, marakari chaappadu vendum" ( I am a vegetarian for today and need vegetarian food). He was startled, then smiled, replying in Tamil, "You are from Sri Lanka?" He quipped that the plat du jour for that Friday was 'Thali chaapadu' - lentil, mixed vegetable curry, sambar, pickle, Pappadam, Buttermilk and Payasam for dessert, completed with a cup of Jaffna coffee. The cost was only six Euros - around US$8. His words were music, by now and I, intoxicated with the aroma and with quivering taste buds, quoted a Tamil proverb 'pouring water to a parched cow' – Kaancha maattuku thanni ootrinaal polzhai - I immediately ordered the 'chaappadu'.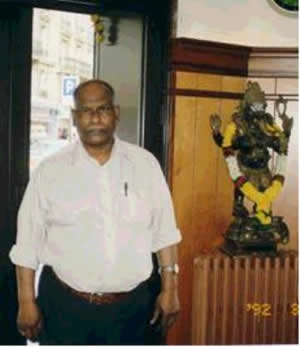 Mr Puvenendran- owner of Dishny Restaurant
I inquired if I could complement the chef as the meal was exemplary. "Certainly" said Mr Puvenendran, the owner of the restaurant. Word had gone around that an American Tamil was dinning and the legendary Tamil curiosity led to 'interrogation.' I deflected his quizzing to his immigrant story. His tale began more than thirty years ago, a young father with a family of six children from Kayts,who left the troubled shores of Ceylon heading westwards. He reached Paris with the help of a friend and established himself in La Chapelle. His foray into the catering business began as an idea of having a cafe for Tamils. He explained that there was hardly any place serving Indian food in those early years and it was this longing that led him to the restaurant business.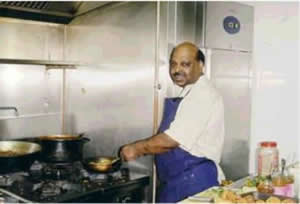 Chef Alaharatnam
His perseverance, hard work and investment paid off and it was an unstoppable climb to success. He is now the owner of the property and the lucrative business- restaurant, café and bar- that sits on the road front. He has been made an agent for the Paris Lottery Board. This, he said, was very special, as it is much coveted and a sign of recognition of his success. His two sons were associates, while his wife was now a homemaker with his three daughters married.
The burly Chef standing next to the stove with a beaming face introduced himself as Alagaratnam from Mannar. He had worked more than nine years in Saudi Arabia as a chef and then made his way to Paris, working for Dishny for the past six years. The kitchen was bustling with his assistants chopping vegetables, cautiously seasoning the curries and exotic smell of Biriyani rice. Mr Alagaratnam was firmly guiding them, all the while narrating a tale of adventure that began from Mannar many years ago and culminated in Paris. Like Mr Puvenendran, Mr Alagaratnam is a self made man. His zest for cooking gave him that air of confidence and a comfortable 'paunch.' His countenance reminded me of the emblem of the portly Air India Maharajah, with a welcoming smile.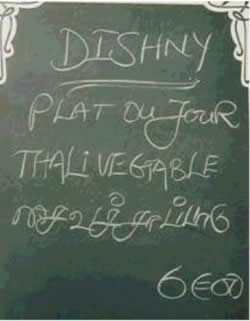 I strolled past Dishny to more restaurants and grocery stores that had lime sized 'Nellikai'- Gooseberry, observing young Tamil women speaking fluent French with their children. They have gradually adjusted to the French lifestyle and the teenagers were sporting charmingly chic attire. The Kumaran Sari Store had an array of saris and dresses.
At Vasant Hairdressing saloon customers were seated and spoke to me of their struggles in life and longing to see the homeland.
Mr Puvenendran explained to me that second generation Tamil children were upwardly mobile in the French society and very soon men like him would be obsolete. The young are climbing the career ladder by entering universities, becoming lawyers or medical professionals. Some, he continued, give vent to their entrepreneurial skills and establish small businesses. I could not help but recall the much quoted Tamil proverb, 'thirai kadal ohdiyum, thiraviyam thedu'- cross seas if you have to seek prosperity. The Tamils were forced out of their country of birth, but have admirably created a niche for themselves in the land of Liberte, Fraternite and Equalite. Voila!
Dishny Restaurant, 25 Rue Cail-75010 Paris, La Chapelle