NESOHR Condemns Mr. Vigneswaran's Killing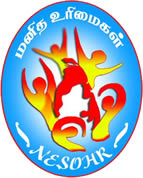 North East Secretariat on Human Rights (NESOHR) – Press Release
April 7, 2006
NESOHR condemns Mr. Vigneswaran's Killing
North -East Secretariat on Human Rights (NESOHR) strongly condemns the brutal assassination of Mr. Vanniasingham Vigneswaran in Trincomalee today, 7th April 2006. Perpetrators of this dastardly crime have throttled the voice of democracy and human rights. As an ardent Tamil activist and a sincere social worker, Mr. Vigneswaran was respected not only by the people of Trincomalee, but admired and appreciated by Tamil people all over the world for his formidable stand in matters of human rights violations. Mr. Vigneswaran's indomitable courage in spearheading civilian protests against injustice has earned the ire of those with a political agenda for cross-purposes.
The Tamil people are rudely shaken and the world of Human Rights workers is perturbed over the irony that Mr. Vigneswaran, who has been selected to fill the vacancy of the Tamil legislator Mr. Joseph Pararajasingam, also met with a similar fate as the latter. Mr. Pararajasingam was an ardent human rights activist and founder member of NESOHR who was gunned down by an assassin during Christmas Mass in 2005. Brutal assassinations of Tamil nationalists and Human Rights Activists, especially during a cease – fire period after two decades of a cruel war, are seriously jeopardizing the hard-earned opportunities for peace in this war- torn island.
NESOHR, while condemning this escalating pattern of crimes against humanity, wishes to convey to the bereaving family of Mr. Vigneswaran and the people of Trincomalee its sincere condolences on the untimely demise.
We solicit meaningful international intervention that can bring about normalcy to the Tamil people, ensuring their right to life.
Rev.Fr.M.X.Karunaratnam, Chairperson
NESOHR
Karadippokku Junction, Kilinochchi, Sri Lanka
Telephone: +94(0) 21 228 5986
Mobile: +94(0) 777 56 2266
Residence: +94(0) 21 22 23704
Website: www.nesohr.org
Email: nesohr@hotmail.com or nesohr2005@yahoo.com