Oviar Pugazhenthi Book Release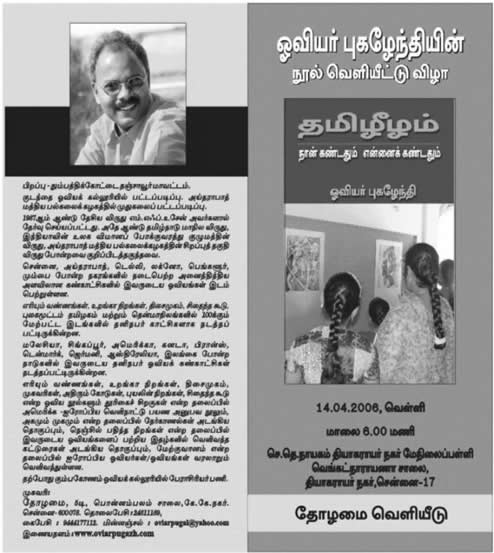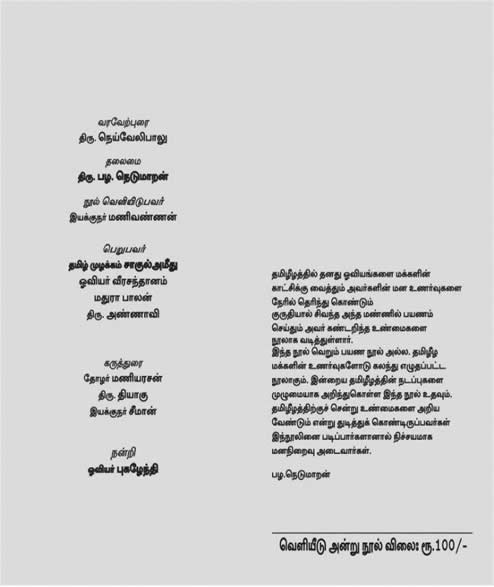 Kuzhanthaivelu Pugazhenthi was born in a small hamlet off Thanjavur named Thumbathikkottai in the year 1967. A star student in his school days, his adroitness with the paintbrush was discovered early in his life. He started by painting the lush landscape in and around his home town and won several awards for his talents even in his youth.
However, the events of 1983 - the genocidal atrocities unleashed on the Tamil ethnic minority in Sri Lanka - proved to be a turning point in Pugazhenthi's art career. He began questioning the nature of his work and decided to focus almost exclusively on social themes in his paintings. He found himself speaking for the oppressed people from all walks of life and all over the world. He read world history and literature voraciously to give himself the knowledge to understand the suffering and pain of the people he sought to represent through his work. All through these endeavors, he never lost sight of the struggle going on Sri Lanka - the fight for independent Tamil Eelam.
He completed his M.F.A in University of Hyderabad in 1991, by when he had already completed his first album - "Burning Colors" ("eriyum vannangaL") and won several awards including the Tamil Nadu state awards, the National Youth Award, International Airport Authority of India award etc.
In the year 2000/2001, he completed his second major collection - "Unslumbering colors" ("uranga nirangal") - a unique interpretation and representation of the people and events of the twentieth century. The following year (2001), after the massive and tragic earthquake in Gujarat, he created a 150 feet long, 5 feet tall mural (Shattered Nest - sithaintha koodu) depicting the sorrow of the event to raise funds for the victims. In the year 2002, he created "Face that shows the way" ("thisai mugam"), a portrait series on Periyar.
His paintings continue to depict the causes for which he strives hard to bring attention to. Among these - the Eelam struggle, the caste oppression, the struggle to preserve ethnic identity etc. He has toured countries in the South East Asia (Malaysia, Singapore), North America (Chicago, Washington, Toronto) and Europe with his artwork.
He works as a lecturer in the Government college of Arts and Crafts in Kumbakonam, Tamil Nadu. He is married to his wife, Shanthi and has two sons - Oviyan and Ilakkiyan.
-- from www.oviarpugazh.com