On the killing of Nishanthan (17) by an SLA-planted Claymore inside an LTTE area and UNICEF's reaction
LTTE Child Protection Unit: Press Release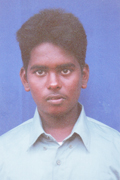 Nishanthan (17) of Vinayagapuram, Kilinochchi is the eldest in the family. His father left the family when Nishanthan was 3 years old. When his father left the family, Nishanthan's sister was one year old and Nishanthan's mother was pregnant with Nishanthan's youngest brother. Nishanthan's mother and grandmother struggled to bring up the three children during the war when there was extreme economic blockade imposed by the Sri Lankan government on the area where they were living. When Nishanthan was 10 years old he tried to work in small shop to support his family. The income he received was hardly sufficient.
Around this time Nishanthan's family displaced to Vavuniya due to the Sri Lankan Army (SLA) threat. While there, Nishanthan's mother remarried. She has three more children from this marriage. Nishanthan's stepfather is an alcoholic and did not support the family. Nishanthan and Nishanthan's brother returned to Kilinochchi with their grandmother in early 2001 but his mother, sister and stepsiblings lived in Vavuniya for the next three years. In 2004 Nishanthan's mother and the rest of the children also moved back to Kilinochchi.
Nishanthan's life's goal was to become a driver so that he can earn more and support his family. He asked his uncles to train him as a driver. That is when an older cousin of Nishanthan took him to the supply division of LTTE and found him a job as a driver to supply food to the various places.
Nishanthan achieved his dream and was working as driver for the supply division of LTTE. He was receiving Rs 6800 per month. He was giving his earnings to both his mother and his grandmother to support his younger siblings. He did not receive ANY military training. He was simply an employee of the defacto-government (LTTE) like thousands of other Tamil civilians.
Incident
Nishanthan was on his usual delivery run inside LTTE controlled area. A Sri Lankan military unit penetrated into the LTTE controlled area and laid a claymore mine. On 13 April, the tractor that Nishanthan was driving ran over the claymore and he was killed instantly. Another person in the tractor was injured.
Nishanthan's salary
Employees of the de-facto government of LTTE, if killed while at the job by SLA attack are honoured with the title that roughly translates to: "Member of Auxilliary Force". There is a lot lost in the translation of the Tamil phrase. The families of those who are honoured with this title will receive the salary of the deceased for the rest of the expected lifetime of the deceased. Thus, Nishanthan's family will continue to receive his salary from LTTE for a very long time.
Statistics on Tamil children killed by the SLA
More than 5000 children under the age of 18 were killed by Sri Lankan armed forces between 1974 and 2004.
Since CFA was signed in February 2002 the three children listed below were killed by SLA or SLA assisted paramilitaries that took aim directly at the children.
On 23 December 2005, Dilexan (3) was burnt to death by Sri Lankan Navy in Mannar.
On 28 December 2005, Thambirajah Arulajanthan (15) was shot and killed in front of his parents inside his home in Jaffna by paramilitaries with protection of SLA
On 16 January 2006, Gopalakrishnan Suresh (16) was shot and killed in Batticaloa by paramilitaries with protection of SLA.
These two children listed below were injured, again by directly taking aim at the children.
On 7 December 2005, Baby Yogeswari was injured by paramilitary shooting in Amparai. On 24 February 2006 James Nirojan was beaten and injured by SLA for refusing clear the bushes as ordered by SLA
More children have died since CFA as a result of blind attacks by SLA.
Our Concern on UNICEF's reaction to Nishanthan's killing
Regrettably, in spite of the LTTE Child Protection Committee raising with UNICEF on several occasions, the killing of 5000 plus children by SLA, UNICEF has taken no action.
Nishanthan (17), a civilian driver, is honoured, by the defacto-state (LTTE) because Nishanthan was killed by a SLA landmine inside LTTE area, while working during peace time. Yet, UNICEF sees it fit to release the media release below for the death of Nishanthan.
"UNICEF deplores death of under-age recruit"

Colombo, 16 April 2006 – UNICEF deeply regrets the death of a 17 year-old child in the Liberation Tigers of Tamil Eelam (LTTE) auxiliary killed on 13 April in a reported claymore mine incident in North Vavuniya. This incident underlies the risks children are exposed to when used in direct combat or in support roles such as delivery of supplies. Recruitment of children is a direct violation of their right to protection from violence. UNICEF calls on the LTTE to immediately release all under-age recruits within its ranks and to cease recruitment of children. UNICEF conveys its condolences to the family for their loss".
At a time when Tamil people are facing increasing violence by SLA and its paramilitaries, we deeply regret that UNICEF is conducting itself in a manner intended to discredit the work of the LTTE Child Protection Unit that is making utmost efforts to improve the well being of the children in Northeast.
M Pavarasan (M Thigarajah)
LTTE Child Protection Unit
20 April 2006