No Place Like Home - Sri Lanka
by Amnesty International, May, 2006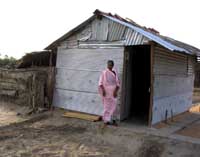 'Internally displaced persons are often intentionally uprooted by their governments on ethnic, religious or political grounds. In civil wars... [they] are often perceived as the enemy... [M]illions more have been uprooted within their own countries by natural disasters.' The State of the World's Refugees 2006 , Office of the UN High Commissioner for Refugees

For many in Sri Lanka, home is a concept that has lost its meaning. Uprooted from their communities by conflict, natural disaster or both, people have found themselves trapped in a cycle of displacement, often with no end in sight.

Muttiah Canagaratnam and his family fled their home in Kilinochchi, northern Sri Lanka, in 1985 during intensified armed conflict between state security forces and Tamil armed groups seeking a separate state in the north and east of the island. The family had to walk over 100 kilometres south to Mannar from where they took a boat to India. After three years in an Indian refugee camp, they returned to Sri Lanka.

As violence escalated in the north, however, the family were forced to move again in 1990. Fleeing to India via the same route, they remained in a refugee camp there for two years before returning, this time to the coastal town of Trincomalee. From there they were brought to the Sithamparapuram welfare centre in Vavuniya, north-eastern Sri Lanka, where they have remained. With promises of land failing to materialize, Muttiah Canagaratnam told AI that he has lost hope. Despite 20 years in transit, the family continue to be denied any possibility of a permanent home.

According to 2002 estimates, there were about 800,000 Internally Displaced Persons (IDPs) in Sri Lanka. Many of them suffered multiple displacements as a result of conflict, only to find their situation exacerbated by the 2004 tsunami.

The first conflict-related displacements followed the anti-Tamil riots of 1983, after which over 100,000 Tamils fled to India and other countries overseas. Throughout the mid-1980s the fighting between Tamil armed groups, including the Liberation Tigers of Tamil Eelam (LTTE), and the Sri Lankan security forces continued to force significant numbers of people from their homes.

However, levels of displacement escalated dramatically when the Indian Peacekeeping Force (IPKF) withdrew from the island and hostilities resumed in 1990, prompting thousands of people to escape the resulting violence. While the majority of those displaced were Tamils, in October 1990 over 70,000 Muslims were driven out of the north by the LTTE. They were given just a matter of hours to leave their homes.

In some cases, families were told by the LTTE to leave for their own protection. Salma Abubakar left her home in Ampara, eastern Sri Lanka, under such circumstances. When fighting broke out between the LTTE and IPKF, she and her fellow villagers were told to leave the village to save their lives. The entire village abandoned their possessions overnight. In 2002 she returned to her land where she built herself a small thatched hut. She was making a living from odd jobs, including agricultural work, when the tsunami hit in 2004, destroying her livelihood.

The Sri Lankan government's reaction to the IDP situation has been insufficient. Its weaker response to the plight of those affected in the island's north and east has served to prolong suffering and uncertainty. In addition, continued use of land for military and armed operations means that many IDPs still cannot return to their homelands. Until real effort is made to end the ongoing conflict in Sri Lanka, people like Muttiah Canagaratnam face a lifetime of dislocation.