In Sri Lanka, UN Refugee Chief Calls on All Sides to Allow Refugees to Return
by UN News, July 27, 2006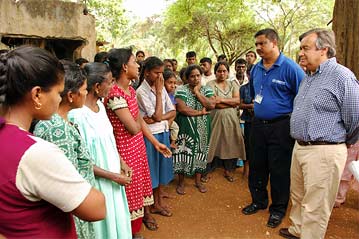 UN High Commissioner for Refugees António Guterres (far right) talks to displaced people in Palaiyutu village in north-east Sri Lanka.
Sri Lanka's Government and separatist Tamil Tigers should resume peace talks and create the conditions necessary for more than 300,000 internally displaced persons (IDPs) to return home because they have been enduring a conflict that has lasted over 20 years, the head of the United Nations refugee agency said while visiting the country.
The three-day mission to Sri Lanka, which ended today, was the first by a head of the UN High Commissioner for Refugees (UNHCR) to the island and was intended to underline that only peace can restore normal life, and highlight the agency's work with IDPs, refugees in all but name because they have not crossed an international border.
"We want confidence to be built in all areas for people to return. This must be based not just on words, but on actions," High Commissioner António Guterres said in the rebel-held northern area of Kilinochchi on Wednesday.
"The only way to solve this is to create conditions for people to find a permanent solution for their lives. We do believe that here there are a lot of people suffering and there is not enough attention paid to their suffering."
A 2002 ceasefire between the Government and the Liberation Tigers of Tamil Eelam (LTTE), who have been fighting since 1983, has been in tatters since April when violence flared again. More than 312,000 people have been displaced in the conflict and UNHCR assists about 67,000 of these in welfare centres throughout the country.
Yesterday, Mr. Guterres flew by helicopter to four communities in northern, eastern and western Sri Lanka to hear first-hand the concerns of some of the displaced, including Tamil Catholics and also Muslims who had been driven out of different parts of the county.
He also met Sri Lankan President Mahinda Rajapakse and representatives of the LTTE to discuss the UN refugee agency's planned activities in the country.