UN Ruling 'Not Binding' in Sri Lanka
by BBC, September 15, 2006
So much for international law, when it is inconvenient! Here is a Tamil who attempts to work within existing law, within the existing system. Does he receive justice? It is amazing that Tamils continue to resort to legal remedy. It is a testament to their respect for a universal system of right and justice. -- Editor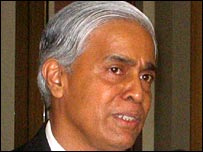 The Supreme Court (SC) in Sri Lanka says the country cannot implement rulings by the UN Human Rights Committee (UNHRC) in Geneva, Switzerland.
A five-member bench headed by the Chief Justice (CJ) ruled that the judiciary is not bound to implement UNHRC recommendations against Sri Lanka's constitution or the legal framework.
Although Sri Lanka has signed the UN International Covenant on Civil and Political Rights, the Covenant has not been incorporated into the constitution, the SC ruled.
Against sovereignty
CJ Sarath Nanda Silva also observed that the leaders of the state should be more responsible in signing international treaties affecting the country's sovereignty.
The SC made these remarks after refusing an appeal by Nallaratnam Sinharasa to abolish a prison sentence imposed upon him by a Sri Lankan court.
Sinharasa was sentenced to 10 years under the Prevention of Terrorism Act (PTA) by Colombo High Court.
After considering an appeal in Geneva, the UNHRC however ordered the Sri Lanka state to annul the sentence and release Sinharasa.
But the Supreme Court has rejected Singarasa's appeal to implement UNHRC ruling.
The SC cannot order the state to override the constitution by implementing UNHRC rulings, Sarath Silva said.