A Bharatanatyam dancer who fled Sri Lanka long ago is giving a new meaning to this traditional dance form in Paris.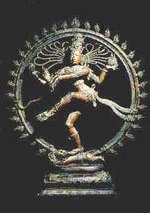 "Bharatanatyam has evolved. It is evolving on foreign shores," says Kousala Anandarasa, a dancer from Jaffna in Sri Lanka's extreme north.

Anandarasa was this month in the former French colony of Pondicherry. She was here to take part in the 'arangetram' (debut performance) of her student Ishwari. Kousala's daughter Arani accompanied her to India.

It is believed that wherever one learns dancing, wherever one dances, the 'arangetram' of a Bharatanatyam dancer should be in the land where the dance form came into being. This is what brought the guru and disciple to India.

Anandarasa runs an institution she has lovingly named "Kalalayam" - meaning a temple of arts - in Paris, where she teaches Bharatanatyam to students from all over the world.

Born in Sri Lanka, she taught dancing at the Nateswara College in the coastal town of Kankesanthurai in Jaffna.

"I was 25 years old then," Anandarasa recalled for the media here. "One day something happened." This was 1986.

"Military planes came and bombed the college and its neighbourhood. We fled. I took shelter in bushes. But all the while, in my mind were pictures of my fellow teachers and students who lay dead, killed by the bombs," she told a newspaper here in an interview. "I made up my mind to leave."

"No word can describe the pain with which I left my motherland. Only people who have had to leave their motherland can understand this pain," she said.

Anandarasa ended her flight from Jaffna in Paris where she has made a name for herself as a Bharatanatyam dancer and teacher.

"We have evolved," she said. Life's experiences have contributed to the evolution of her dance form too.

"Our dances now cover social themes," she said. Anandarasa's composition "Inavadhakkadaley", on the devastating tsunami that hit Sri Lanka and also India in December 2004, found great appreciation among French audiences.

In 2000, after years of trying, Anandarasa recalled how she was able to visit Kankesanthurai.

"I went to see my grandparent's house. What used to be streets are now scrubland with bushes.

"All the houses were full of bullet holes and they burnt holes in my heart," she said.

Anandarasa's daughter, who studies law in Paris, added: "Whatever has happened, that is our soil. "I hope one day I will come back to my land and dance," was her fervent wish.