Queen of Tamil Cinema No More
by The Hindu, September 26, 2006
Padmini was the Chief Guest at the Sangam's AGM in 1998 and we mourn her passing.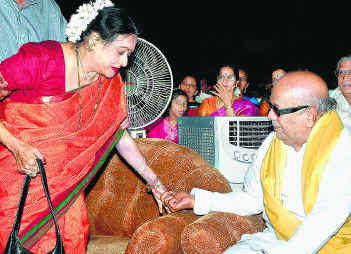 LAST PUBLIC APPEARANCE: Dancer-actress Padmini takes a seat next to Tamil Nadu Chief Minister M. Karunanidhi at the film industry felicitation function on Saturday. It turned out to be her last public appearance, as she died of a heart attack on Sunday night. — Photo: M. Vedhan
CHENNAI: Three dancer-sisters lit up the Chennai stage nearly half a century ago. The most popular among the three Travancore sisters, Padmini, exited the stage on Sunday night, snatched by a massive heart attack. As she bowed out, it is curtains for an era of cinema — an era that had crowned her queen.
Born in Poojapura, Kerala, on June 12, 1932, to Thankappan Pillai and Saraswathi Amma, Padmini came after Lalitha and before Ragini (both of whom died earlier). It was dance that brought the sisters into the limelight and a combination of fine skills of acting and dancing that kept Padmini there for nearly four decades.
Film industry chroniclers remember Padmini's smooth transition from the stage to films in the black and white era. "Her first movie was a small role in a dance-film Kalpana, directed by Uday Shankar in 1948. He had advertised for dancers and Saraswathi Amma, her two older girls in tow, decided to see if it would be an opportunity for her children. A fatherless family had to fend for itself," says Film News Anandan.
Her first `character role' was in Ezhai Padum Paadu, which was also shot in Telugu. Padmini would soon emerge a polyglot, taking all four South Indian languages and Hindi in her stride, dispensing with dubbing support. However, if one were to mark a milestone in the filmography of the second Travancore sister, it would be Panam in 1952, where she first paired with the man with whom she would set Tamil screens ablaze — Sivaji Ganesan.
In the pair's much-toasted film, Thillana Mohanambal, Padmini played Mohanambal to Sivaji's Sikkil Shanmugasundaram, two artistes vying professionally with each other even as they fall in love. The movie proved that she well deserved the title of Natyaperoli (roughly translated as `The bright light of dance').
The movie came in 1968, seven years after her marriage to a U.S.-based physician, T.K. Ramachandran. Vietnam Veedu, the family drama in 1970 was also shot with Sivaji, as Padmini kept shuttling between America and Chennai, managing her acting along with the running of the fine arts academy she founded in the U.S.
The actress also starred with nearly all heroes of the age in nearly 250 films, including M.G. Ramachandran, S.S. Rajendran, Gemini Ganesan and N.T. Rama Rao.
Among her notable Hindi films are Jis Desh Mein Ganga Behti Hai (1960) opposite Raj Kapoor and Pardesi, three years earlier with his father, Prithiviraj Kapoor, in an India-Russia collaboration. Film News Anandan says the Russians released a stamp in honour of the actress after the movie. Mera Naam Joker followed in 1971.
The Tamil film industry mourns the passing away of the woman whose eyes danced as she asked Sivaji in Thillana Mohanambal: "Nalamthana? Udalum Ullamum Nalamthana (Are you fine, in body and mind)?"
Related Stories:
Co-stars, fans bid her tearful adieu