Extras in Film, Politics and Diplomacy
by Sachi Sri Kantha
The story Sophia Loren has told remains true for extras in politics and diplomacy as well. Extras have to behave like brain-dead schlemiels. They are expected to deliver only one word, 'Yes', devoid of any brain-mouth coordination. If they speak any other word(s), they will be thrown off the sets.
"Extras: People who appear in stage and movie crowd scenes or background scenes have been called 'extras' since 1772 on the English stage. These actors have no lines as bit players do. As early as 1912 the Italian film 'Quo Vadis' had a cast of thousands – most of them extras – for verisimilitude. Extras have been around since the earliest days of movies, but never so many as played in 'Gandhi' which won the Academy Award as best picture in 1982. In the funeral scene of Gandhi close to 300,000 extras appeared." [Robert Hendrickson, Facts on File Encyclopedia of Word and Phrase Origins, 3rd ed, 2004, p.249]
Here are three recent news bites which have received coverage in the Colombo press and elsewhere.
(1) 'Sri Lanka to field 53-strong team – UN meeting opens doors for unprecedented joy ride.' [Colombo Island, Sept.3, 2006].
(2) 'Rise from cocktails to selfless service; President tells heads of Lanka's foreign missions' [Colombo Daily Mirror, Oct.5, 2006]
(3) 'Delhi invites three (anti-LTTE) parties from Sri Lanka. [Chennai Hindu, Sept.25, 2006].
Guess what is the common thread to these three news items? The word 'extras.' In the first news item, President Mahinda Rajapakse played the role of a hero for his first official trip to New York and he took along a team of over 50 extras, including one chameleon Tamil politician, Douglas Devananda. The newsreport stated that "Rajapakse's gargantuan delegation includes nine ministers. Also in the list is First Lady Shiranthini Rajapakse's personal beautician, Amali Jayawardana."
In the second news item, President Mahinda Rajapakse re-enacted his hero role in Colombo, when he admonished the 55 Sri Lankan Heads of Missions (extras in the theater of diplomacy) on service to homeland, following the debacle of the Sri Lankan Government-sponsored candidate, Jayantha Dhanapala, in the recent straw polls for the UN Secretary General contest. As per the lead sentence of the newsreport, this was "the first ever conference of its kind" in Colombo. In the third news item, the policy mandarins from New Delhi (to show that they are no pushovers to their movie-making counterparts in Mumbai and Chennai, issued a casting call for three Tamil extras in Eelam politics – Messers V. Anandasangaree, D. Sidharthan and T. Sritharan, and the call was answered promptly and affirmatively by the 'Tamil leader' impostors.
To comprehend the varieties and roles of extras in politics and diplomacy, one has to rely on the description about extras provided by ranking professionals who made it to the top in the movies. This is because, as indicated by word maven Robert Hendrickson, the origin of extras came from the English stage. Among my collection of nearly 25 autobiographies and memoirs of ranking stage and movie stars, a handful provide interesting snippets on how they began their careers as extras. [Why I have been avidly collecting these autobiographies and memoirs of ranking movie stars should be a theme for another essay.] I provide below what Sophia Loren (born 1934), Anthony Quinn (1915-2001) and David Niven (1910-1983) described. They illustrate vividly the worldview of extras.
Sophia Loren on her beginning role as an extra
Here is what Italian mega star, Sophia Loren, reminisced about her professional beginnings as an extra, named Sofia Scicolone, in 1951:
"Quo Vadis was indeed hiring a horde of extras, and Cinecitta was packed with thousands of people seeking to be hired. The director, Mervyn Le Roy, had all of them parade by him, choosing for interviews those who looked promising. My mother and I were called forward. My mother had primed me to answer any question I was asked in English with the one word 'yes'. So that's what I did, answered all of Mr.Le Roy's questions with a pleasant 'yes'. But he finally got wise to me when, in response to his question, 'What is your name and address?', I answered 'yes'. He was good natured about my fakery, however, and although I didn't get the little speaking part he had in mind, he did hire both my mother and me as extras." [Sophia: Living and Loving – Her Own Story, by A.E.Hotchner, William Morrow & Co, New York, 1979, p.69]
The story Sophia Loren has told remains true for extras in politics and diplomacy as well. Extras have to behave like brain-dead schlemiels. They are expected to deliver only one word, 'Yes', devoid of any brain-mouth coordination. If they speak any other word(s), they will be thrown off the sets. Just think, if any one of the 50-odd extras who accompanied President Rajapakse to New York had the independence of mind to say 'No' to his invitation, he wouldn't be in the good books of El Presidente. The same would be the plight of Anandasangaree or Sidharthan or Sritharan, if they have had the courage to say 'No' to the recent invitation of New Delhi's policy mandarins.
Anthony Quinn on his first disappointment as an extra
Sophia Loren at least got hired in a non-speaking role as an extra. But, Anthony Quinn had to even miss his chance as an extra, for want of a proper suit for a thug. That was the humiliating beginning of a great career in Hollywood and Europe for Anthony Quinn. In his entertaining autobiography, 'One Man Tango' (1995), Quinn recorded as follows:
"I was asked to read for a small part in a movie being directed by a man named Louis Friedlander, over at Universal…He was shooting a gangster picture called Parole! and had me in mind for a thug…I was given the job on the spot, but then I lost it to my means.

When I arrived at the studio to shoot my scene, Friedlander told me to put on my suit. Regrettably, I did not own a suit, and had not been told one was necessary. Again, I was too dumb to have thought to ask. I assumed the studio would supply whatever I needed for the part. As it was, I reported for work wearing the most presentable clothes in my closet – a pair of threadbare trousers and a decent sweater – but they would not do for a natty gangster.

One of Friedlander's assistants rushed me to wardrobe, but they could not fit me in time to do the scene. The director was a kind man, but he had a job to do. There were extras to pay, and ovetime to consider. He could not afford to wait around for someone to find me a costume. He was apologetic, and so was I…He gave the job to another young actor who happened to walk by wearing a handsome suit of his own. I walked away with my hands in my pockets. For the first time as an actor, I was disappointed." [Anthony Quinn, One Man Tango, Harper Paperbacks, New York, 1995, p.127]
Yes, having the proper attire at the needed time has been a requirement for an extra in movies, as well as in politics and diplomacy. David Niven tagged these extras with proper attire, as 'dress extras.'
David Niven on the types of extras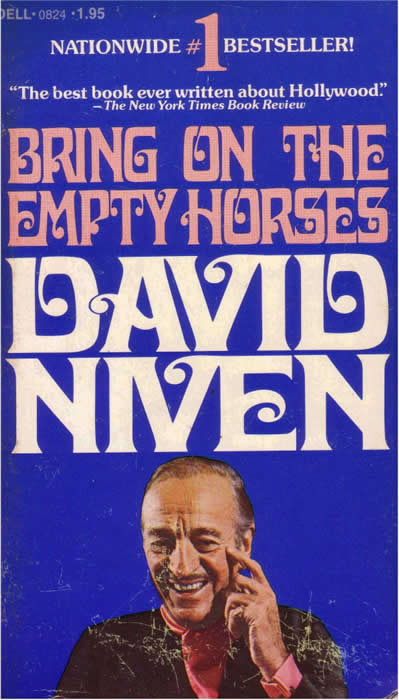 Among the nearly 25 autobiographies and memoirs of ranking movie stars I have scanned, David Niven is the one who has sketched the evolution of extras in Hollywood humorously and categorized them into four types. This debonair actor from Scotland, began his movie career as an extra in Hollywood in 1935 and rose from the lowly ranks to play meaty roles in 1940s and 1950s. I'll let David Niven to tell the story of the evolution of extras in Hollywood, and how they came to be differentiated into four types. While reading the quoted paragraphs, I suggest that readers can see the parallels between what happened in the Hollywood in 1920s and what happened in Chennai in the first half of the 1980s for young Eelam Tamils, when the casting call were issued by New Delhi's South Block mandarins. To quote David Niven, from chapter 11 of his book of memoirs, 'Bring on the Empty Horses' (1976),
"In the earliest days of Hollywood the professional extra did not exist. If a director needed bodies to fill out the screen, he dispatched his assistant to find them. For a while onlookers and others in the vicinity, with nothing better to do, enjoyed the experience of appearing in front of the camera – for fun. Later they demanded to be paid, and the going rate became 50 cents a day. This munificent offering attracted every drunken bum and panhandler in the area, and the streets around the studios became clogged with flushed citizenry with outstretched hands. The producers then invented the bullpen, a sort of central corral into which, early each morning, hundreds of eager bodies were herded, and from which, as the day progressed, assistant directors siphoned off the types they needed…

By 1926 the studios realized that their prehistoric methods of hiring extras must be revised; potential talent was being trampled underfoot by the bums and panhandlers in the bullpens and hiring halls, and no coherent records were being kept.

The time had come to move from utter chaos to simple confusion, so the Central Casting Corporation was born. A filing system was at last instituted, but an 'open door' policy still persisted and by 1930 an unwieldy 18,000 names were on the books and Hollywood film actors found themselves members of the most overcrowded profession in the world…"
David Niven continued further, on the categorization of four types of extras.
"The ambitious mass of extras registered at Central Casting were divided into four classes:

(1) Dress extras: These owned garments for every occasion – ball gowns, white tie and tails, riding habits, clothing for business, weddings, graduations, beaches, racetracks, etcetera. The more outfits they owned, the more often they worked. They numbered only 200 or 300 and were a very upper-class closely knit group in extra land…Mostly, they were devoid of all acting ambition and like all extras, had only a sketch idea of what masterpiece they were currently engaged upon.

(2) General extras: These could look presentable and move well in street clothes or uniforms.

(3) Atmosphere or crowd extras: And comprising nine tenths of the main herd of cattle. We were rounded up and mercilessly harried from morning to night by brash young assistant directors. In this group we were classified ethnically – Latin, Middle Eastern, Far Eastern, Asian, Indigenous U.S.(white, black or red). My card was stamped, 'ANGLOSAXON, TYPE 2008'.

(4) The 'shit kickers' or cowboy extras: These habitually hung out in 'Gower Gulch' on the corner of Gower Street and Sunset Boulevard, strategically placed between several bars and the small independent studios which churned out cheap Western quickies.

In addition, the studio gates were daily besieged by crowds or freakish opportunists hoping to catch the eye of directors being signaled through in their limousines: giants, dwarfs, midgets, the grotesquely ugly, the fat, the emaciated, the maimed, and those waggling newly arrived bosoms and bottoms." [chapter 11, 'Bring on the Empty Horses', pp.212-215].
Extras in the circuses of Colombo Politicos and Delhi Mandarins
Now, using David Niven's categorization of Hollywood extras, I try to place the local talent, who have wiggled their way into the Colombo Politicos' circus.
Dress extras: Douglas Devananda and V.Anandasangaree, representing nobody but themselves.
General extras: Arumugam Thondaman, the P.Chandrasekaran combine representing the UpCountry Tamils of recent Indian origin, and 55 Sri Lankan ambassadors.
Atmosphere or crowd extras: Guys like recently deceased Kethesh Loganathan, servile journalists.
Cowboy extras: Sri Lankan army-embedded anti-social, anti-LTTE elements from the alphabet soup of EPDP, PLOTE, EPRLF (Varathar faction), TMVP, etc.
While the currently parading Colombo Politicos' Circus came into existence only last November, the Delhi Mandarin Circus (via its gumshoes) has been running its Sri Lankan opera for more than two decades. Thus it has depth in its pool of extras. In the first half of the 1980s, it expended its energy on the fourth category of extras, i.e., the cowboy extras, and had in its roster nearly a dozen groups, formed by the fission and deleterious mutation of the militant groups EROS and PLOTE.
There exists a degree of overlap in the four extras categories between the circuses of the Colombo Politicos and the Delhi Mandarins, since extras wish to maximise their earning potential. As such, those who are listed in the above roster of Colombo Politicos have also played (and continue to play) for Delhi Mandarins. One such character was Kethesh Loganathan.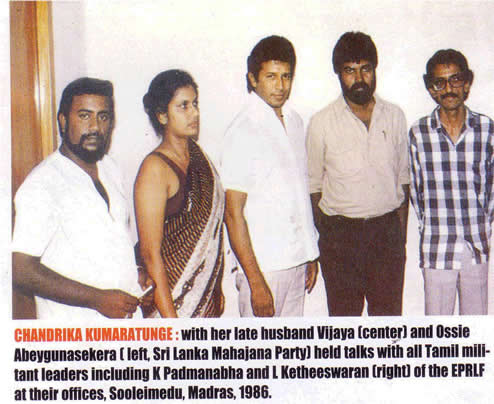 A photo taken in 1986 in Chennai, is representative of this dual role by this extra. It features Vijaya Kumaratunga (the movie actor hero turned politician) with his wife Chandrika (then angling for the role of heroine), flanked by a Sinhalese extra in politics (Ossie Abeygunasekera) and two Tamil extras (then EPRLF leader K.Padmanabha and his sidekick Kethesh).
A 1987 quote of Kethesh Loganathan, is also of some relevance to his role as a Delhi-sponsored extra. In opposing the interim administration of the LTTE, following the hyped Indo-Sri Lanka Accord of 1987, Kethesh Loganathan (as the spokesman of EPRLF) protested vehemently,
" 'If the policy is to give sweets to naughty boys and ask the good boys to sit in a corner, we can also be naughty', he [Loganathan] hissed. 'We will not recognise any interim administration in which we are ignored.'" [M.R.Narayan Swamy, Tigers of Lanka, 1996, 2nd ed, p.262].
At opportune moments, for strategic purposes, the Delhi Mandarins have also in the past promoted their own dress extras, screened among the Eelam Tamils. These include Varadaraja Perumal (EPRLF) and S.C.Chandrahasan (Organisation for Eelam Refugees Rehabilitation). The Delhi Mandarins also act as patrons of ENDLF, a cowboy extra element. Though David Niven noted that the dress extras in Hollywood "were devoid of all acting ambition," one can spot the difference with the dress extras of Eelam Tamils paraded in Colombo and New Delhi. To receive applause, all the dress extras among Eelam Tamils have showed an urge and tendency to excel as clowns.
Occasionally, Delhi Mandarins are also display their fetish for misjudging the political events in the lands beyond their borders. One of their major faux pas was committed in August 1991, when the Delhi Mandarins hurriedly sent a congratulatory message endorsing the Soviet coup plot initiated against Gorbachev by KGB elements. When this coup plot of then Soviet Prime Minister Valentin Pavlov, then KGB Chief Vladimir Kryuchkov and Minister of Interior Boris Pugo failed miserably, India's image in the international diplomatic circles received a well deserved beating. The coup fizzled within three days. But the Delhi Mandarins, in their haste to be toadies of the Soviets, dashed their congratulatory message to Kremlin plotters without any discretion to check the course of the failing coup.
The recent invitation by the Delhi Mandarins to three dress extras in Eelam Tamil politics can be relegated to such perennial diplomatic mis-steps.
Okay - Bring on the Empty Horses!
This bit is also worth noting. The title of David Niven's memoirs, 'Bring on the Empty Horses', derives from an anecdote, in which he was a participant as an extra. This happened when he and another Hollywood legend Errol Flynn were starring in the movie 'The Charge,' directed by Hungary-born director Michael Curtiz, whose English comprehension was less than perfect. To quote Niven,
"Mike Curtiz was the director of The Charge and his Hungarian-oriented English was a source of joy to us all. High on a rostrum he decided that the right moment had come to order the arrival on the scene of a hundred head of riderless charges. 'Okay', he yelled into a megaphone, 'Bring on the empty horses!'.

Flynn and I doubled up with laughter. 'You lousy bums', Curtiz shouted, 'you and your stinking language…you think I know f---k nothing…well, let me tell you – I know F---K ALL!'"
Please note that Michael Curtiz, the domineering director from Hungary, directed some of Hollywood's endearing classics, including Yankee Doodle Dandy, Casablanca, and White Christmas. But he also became (in)famous for his fractured English. Michael Curtiz and David Niven have now passed into history. But isn't it neat that what they created for Hollywood – Bring on the Empty Horses – still plays in Colombo and New Delhi?