The Tigers' Fighter Journalist
by Tehelka.com, October 14, 2006
A mesmerising story of innocence and brutality. Gajaani became an LTTE member at 19, and has spent the last 13 years as one of its official war photographers. Scorching in its simplicity, her highly unusual account tracks the making of a soldier.
I grew up in the 1970s in Kilinochchi, Sri Lanka, where I was born. Kilinochchi was a remote area then, a place with a small population and very poor infrastructure. My parents talk of it as a peaceful time, but the problems in my country were already beginning.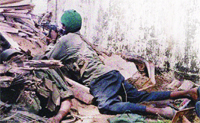 The homeland's toll: Mullaitivu, 1996
During the riots in 1983, we had relatives in Colombo who were taken in by Sinhalese friends. But a mob stormed the house where they were hiding — six of my family members were killed that day.
We in Kilinochchi were sheltered from such atrocities then. Kilinochchi was one hundred percent Tamil; there were some military camps around, but there were no riots. We would all listen to the radio and the elders would talk about the stories coming through. I remember my family crying and being very upset through these times. The stories were horrific, but I couldn't understand or relate to what was going on. I was just a child.

At that time, the Liberation Tigers of Tamil Eelam (LTTE) were still very young. I remember their fighters coming to my house. Like many families in Kilinochchi, we would help them as best we could, my Amma would dress their wounds, we would look after them like they were our own family. They seemed like such big people, they would tell me and my siblings about the fighting, what it was about, what the problems were with the country and why the Sinhalese were treating us Tamils like this. I remember hearing stories from the riots when babies were put in boiling tar and women had their breasts cut off and the symbol of 'Sri' branded in the wound where their breasts had been. Those awful days made us mad with fear and confusion. We were sheltered in Kilinochchi, but we were very aware of events in Sri Lanka and the grief they were creating.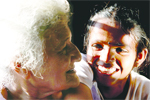 What remains: Kilinochchi, 2006
In 1984, the military started an operation to wipe out the LTTE. The military had many weapons and the LTTE had small arms, nothing sophisticated, but they were quick and clever and knew the jungle well. Within a few days there were dead military bodies all over Kilinochchi — they tried to kill the LTTE, but the LTTE finished them. From this moment, we knew that we could take them on, that they were weak and we were strong, clever and strong.
Through 1984 to '85, Tamil people were being displaced from Jaffna, Mannar, Trincomalee and other places, and were coming to Kilinochchi. We made space for them in our schools, and I used to talk with them a lot and help distribute food and blankets. I met many children my own age in these camps and they would be really scared and upset; they had seen many horrific things and they told me their stories. In the camps there were many LTTE fighters too. They would talk about Prabhakaran.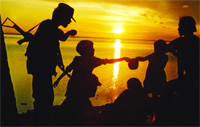 At the border: Jaffna 1998
I didn't really understand why he was such a hero but, like many of my friends, I was completely enamoured of him. I used to ask the fighters if they had ever seen him and most would reply that they had not but they fully believed in what he was doing and the way he led them. He was 16 when he started fighting, just 16. I was nearly that age, and I wondered what made him so special and so brave. So I too tried to join the LTTE at age 16 — why not, I thought. But the fighters kept telling me I was too young.
After a while, the LTTE came into Kilinochchi. They had only been in the jungle before this, but now they began to set up bases in the town. My friends and I were very excited; we made plans for joining a base, and finally managed to enter one. It was a hard day; from morning to evening, LTTE cadres talked to us, mocking us, telling us we were too small, too weak, testing our resolve. I remember telling them that if they could do it, I could too and that I wasn't scared by them or their discipline.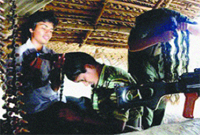 Bunker life: LTTE women cadres, Palai 2006
By evening, our families were very worried and came in search of us. We all hid and begged the cadres not to tell our families we were there. We could see our parents talking to the cadres; their eyes were full of tears, and we too were crying; our hearts felt we had lost something. But, at the same time, we felt we were about to achieve something better. At one point, our parents came near the room we were hiding in; if they had looked through the window, they would have seen us. We crouched low and stayed very still, we were completely silent. In that moment, I realised that my life had completely changed. We have a saying in Tamil: peththamanam piththu, pillaimanam kallu. It means: the parents' hearts are soft, but the children's hearts are like stone. I thought of this saying as our families finally went away.
The next night, we heard the sounds of shelling and shooting very close to us. My friends and I were rounded up by the cadres; they were frantic, running about, preparing everything very quickly. Someone told us the second Eelam war had started. Two vehicles arrived at the base; my friends and I got in one and the cadres got in the other. One cadre told us that they were off to attack the Kilinochchi military camp and that we were being taken to a base for our training. I can still recall her face, she was ready for battle, she was hard and focused. It was the first time I had seen that face, but I have seen it and worn it many times since.

What is remembered: Kilinochchi 2001
We arrived that night at a base in the jungle. I had never stayed in the jungle before; I kept waking up through the night with the strange sounds around me. As dawn broke, I looked about. I saw the cadres sleeping nearby. I also saw many tomb stones and realised we were in an LTTE martyrs' graveyard. I froze. I had gone to sleep a civilian and had woken up in the LTTE graveyard a cadre. It was like a rebirth. I was 19.
The base became a second school to me. There were many new friends to meet, people from all over the country, so many different faces and stories, people with the different accents of my Tamil language. Our leaders became like our parents. They treated us very well, and helped and encouraged us to succeed. The training itself was very hard. I was not used to so much exercise, and we had to learn to become strong and prepare ourselves for battle. It was hard and heavy work. I remember crying with pain and exhaustion, but our leaders would say that the boys could do it, so we girls had to as well — and then our determination would make us succeed. We would also do drama and painting workshops and, as we were the juniors, we had to cook too. I had never cooked in my life, but here we sometimes had to cook for 700 people. I remember one night the leaders came to the kitchen with a goat and asked us to prepare a mutton curry. We had never handled dead animals before; we did not even know how to skin it. So we hung the goat from the ceiling and one at a time jumped and hung onto its cut parts to rip the skin off. It was difficult but we had great fun.
After our training, we were divided into groups. I was the leader for one of them. My first posting was the Palaly Front Defence Line in Jaffna. We were to block the military from moving forward.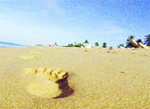 Tell us where they've gone: Seambianpattu beach, 2006
The first battle was very difficult. I was used to the sound of guns and bombs and I had no fear for myself, but when a fellow cadre is killed, it is a terrible moment. These were girls that I had known and been through so much with, and then suddenly they were gone and I was left alone on the battlefield. I cannot really describe the feeling very well — we have a Tamil word, urayinthu. It means to freeze with emotion. At these moments, I had to recover very quickly as I still had a job to do and needed to get focused. Afterwards, I would always fight much harder, I just wanted to fight and fight and fight.
I participated in many battles in my first couple of years with the LTTE. All through this time, I still had such a desire to meet Prabhakaran. In the middle of a battle, I would sometimes think, 'How can I die before meeting our national leader,' for this is why I was fighting, for him and our people.
I remember in earlier times, before I joined the LTTE, I would ask the fighters I met how they could be in the LTTE without meeting Prabhakaran. I had now been in battles for one-and-a-half years, and I still hadn't met him. Then came 1991; I was being trained for Aniyiravu (the Battle of Elephant Pass), and Prabhakaran came to the base. As soon as I met him, I felt ready to go to battle and die for my people. I was so happy that no matter what happened from then on, I had met Prabhakaran. My aspiration in life had been fulfilled.
He was there on the morning of the battle, sending us off into war. We fought so hard that day because of this. It was the most unforgettable day of my life. I was 20 years old and the battle was called Akaya Kadal Veli Samar (the Sky-Sea-Ground Battle). Elephant Pass is a very difficult place to fight, and the Sri Lankan Army had planes, boats and ground troops; we just had ground troops and had to defend and attack against all types of weaponry.
I was injured in the Elephant Pass Battle and was taken to the LTTE medical wing for treatment. I was there for three months. During this time, the LTTE began to develop its Media Wing and Prabhakaran asked leaders to find cadres to join it. The leaders of my team put my name on the list, but I was not interested in photography then — I was just focused on being a fighter. However, I finally agreed. I arrived for my first lesson just as the class was taking their first practice with a camera. I was handed the one camera we had at that time, and was told about the focus. I took the camera and twisted the focus from left to right, unaware that it is a very delicate and sensitive manoeuvre. It was the first time I had handled a camera, I didn't know what I was doing but I enjoyed it.
I was asked to take a picture. I felt shy as I didn't know what to do. Behind me, there were many other cadres waiting their turn. Then I gently applied the shutter button, and the camera took the picture. When the photos were printed, mine were not so good — the exposures were all right but everything was out of focus! But, after a few weeks, when we had an examination, I got the highest mark in the group. I even got a prize — a camera of my own.
After this, I could not stop taking pictures. The year was 1993. I remember the most important picture I took. I went to visit an Internally Displaced Persons' (IDP) camp; outside a hut, a small child was eating raw fish and there were flies and blood all over his face and body. I think this was the first time I had been exposed to extreme poverty. Kilinochchi is not an affluent place but these IDPs were so poor, they didn't have anything. The sight really upset me. I began to think about poverty, what it was about, how this situation happened to people and, most importantly, what I could do to change it.
I took a photograph of this child and sent the image to Prabhakaran. I asked for his opinion of what I was seeing and photographing. He was very pleased and said that Tamil people and the world needed to see such things.
The two greatest influences in my life have been Prabhakaran and Col Kittu, a photographer and artist based in London. He would send us photographic assignments and give me so much encouragement that it was a joy taking pictures of things he asked for. Due to the security situation, it was very difficult for me to send the pictures to him, so I would send them to Prabhakaran. He would choose the good ones and would send back advice and comments.
My first photography field experience was on Thavalai Pachchal (Operation Frog Jumping) in 1993 in Poonakary. I already had much battle experience and knew my place on the battleground, so I was comfortable being there. However, being a photographer on the battleground is very different. I only had my camera, I had no rifle. It felt very strange at first to be there with no gun. I was excited and ready to take good photographs, but it rained all day and I couldn't get any pictures.
Since then, I have taken photographs of many battles and it is a very dangerous job. The real danger is where I have to stand to take pictures. When you are a fighter, you get to stay in camouflage, undercover and in the bunkers. When you are a photographer, you have to be outside getting the pictures of the fighters. I don't think about death when I'm on the battlefield, I just try and get the best pictures of my cadres — that is my mission and I don't feel any fear.
I remember one time the LTTE started attacking Jaffna, they were moving forward and the Sri Lankan Army was in retreat. I reached a beach I thought had already been captured by the LTTE. I was walking without any fear; it was difficult to walk because I was tired from the battle, but it helped me gather my thoughts after the past days and hours of war. I saw some coconut trees, they were very beautiful, they were bending as they grew. I wanted to take a picture of them, after so many photographs of the fighting. I began to move closer to them. Suddenly, I noticed a bunker under the trees and, at almost that moment, bullets came towards me. I froze, realising it was a military bunker. I dived behind a nearby tree and took cover, my heart pounding. There were only 10 metres between the military and me. I had no choice but to run, and I did so as fast as I could. A rocket-propelled grenade (RPG) passed over me and exploded in front of me. As I ran, I laughed to myself — they had used an RPG shell for one girl!
About 50 metres from the military bunker, I reached the cadre bunker. I was breathing heavily and then I heard the sound of a different gun, a sniper. I looked at a female cadre who was beside me. She smiled at me. I understood at that moment that someone in the bunker had taken the bullet. I checked myself to see if I was injured. I was not bleeding, I was okay. The girl beside me was slumped against the side of the bunker, still smiling at me. The other fighters were frozen still. I shook her. There was no reaction from her; I couldn't bear it. Those rounds had been aimed at me but they had hit her. I cannot describe what I felt at that moment.
I can never get over the feeling when a cadre is killed. We share meals, laughter and adventure together, and then they are gone. I never get over that loss. I too can die in the next second when I think of the people who died, and when I see them die, I grow strong and fierce — like a Tiger. I touched her gently, she rolled onto her back. There was no bleeding. I released the holster around her chest and suddenly the blood shot out. Everyone understood what had happened. Immediately they began first aid. We stopped the bleeding, and sent her with the other cadres towards the medic. The military kept shooting at them as they ran. I took up the girl's rifle and started to fire to give them cover. Other cadres also began to shoot and then the military stopped firing. My camera was hanging around my neck, I didn't even think to take it up. In this situation I failed to take good pictures. It is very difficult to be in battle as a fighting photographer and a journalist.
I've met many difficulties when I try to take pictures of fighters when they are under cover, under trees and in the bunkers. I have to use my brain well. I have to observe the enemy, where they are, what they are doing, what weapons they are using, what formation they have formed. When the time comes, within a split second, I have to take good pictures and get back to safety. My eyes and ears are completely focused on the objective.
There is a high respect for photography in the LTTE and among the Tamil people. I show my pictures to my whole team and to Prabhakaran and the other commanders. They all encourage me, and say that I should do more. Some of my photographs have appeared in newspapers in Sri Lanka, but they don't always take the full picture, they edit and cut the image. I remember how I once sent pictures of the Point Pedro killings, there was so much bombing and shelling at that time. They put the photographs in the newspaper, but censored them; they only showed the faces of people, not the wounds or the amputations — it upset me because it did not represent the truth.
My dream is Tamil Eelam. I have heard my people, men and women, crying and screaming, I have seen them dying, I have experienced the tragedy of my people and my society. I have experienced far too much violence and so many people suffering — from all this, my dream is to see these people smile, living in a free homeland, living a happy and good life.
Within the LTTE, I have gained many experiences, I have studied about the world, about other struggles and wars, I have got to know many things. One thing that we learn in the LTTE is that when you are given a job, you should do it one hundred percent perfectly. There is little room for mistakes in the LTTE.
I am very proud that people are taking my photographs seriously now and that they are going to other countries. I am very pleased that people are taking an interest in my war-torn homeland. I am very thankful and happy that this is happening, and I hope that people will understand them without discrimination.