A Truly Gratifying Day with Dr. Brian Senewiratne
by Cholan
He pointed out to me, he senses our people (he is referring to Tamils) seem discouraged and they need to be aroused and they need to be told in no uncertain terms that Tamil Eelam is a reality and is the only acceptable and workable solution to the protracted civil conflict between Tamils and Sinhalese for the last fifty years.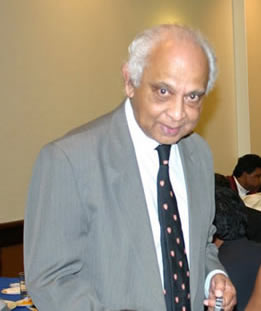 It was a blessing from God to have met a great personality like Dr. Brian Senewiratne, with whom I was graced with the opportunity to spend a day and interact with this unique gentleman. Dr. Brain Senewiratne's remarkable knowledge about our Tamil freedom struggle amazed me a great deal. He is passionately involved for more than forty years in exposing sufferings of the Tamils at the hands of successive Sinhalese leaders (since 1948) to the world leaders, media and think tanks.
This unique personality has acquired educational qualifications MA (Camb), MBBChir (Camb), MBBS Hons (Lond), MD (Lond), FRCP (Lond), FRACP, Consultant Physician and is the Clinical Associate Prof. of Medicine of the one of the world famous University of Queensland, in Down Under. He is also from a very well to do family and the ruling elite both sides of Sri Lanka's political spectrum of the last 58 years, the UNP and SLFP; yet for more than 57 years he has himself identified with Tamils and their struggle for freedom.
I went to pick up this gentleman from the Toronto airport and drove him to a TV station for an Interview. In my mind, I was thinking he would be very exhausted and fatigued when he landed at the Toronto airport, as he is a 74 years of age and since he was continuously engaged in giving numerous speeches to media and gatherings in USA and Canada prior to his arrival to the Toronto Airport. But, I was wrong; he was the most energetic person and he was all prepared and ready for the interviews.
I just could not believe what I was seeing and hearing from this unique gentleman. He was very fluent in the subject areas of our Tamil Eelam struggle. The interviewer only had to ask the question; he responded quite spontaneously and courageously. Every question the interviewer posed to him, his answers were decisive with no ambiguities in his responses.
He was asked to share his views on the killings of Tamils by the Sinhalese forces and its leaders. He did not mince his words when he was saying, that present and past leaders of Sri Lanka should be charged with genocide of Tamils in the International war crime tribunals. He also went on to define what constitutes genocide, based on the UN definition. He pointed out that it is not how many Tamil people got killed by the Sinhalese leaders. What matters is the act and intent of eliminating one ethnic group partially or whole which is defined as genocide.
Based on this definition, Dr. Senewiratne went on to charge the present Mr. Rajapaksa regime in Sri Lanka with the genocide of Tamils and the economic genocide of Tamils as the present regime responsible for numerous abductions, disappearances and killings of Tamil business and community members. He also went on to charge the regime on educational genocide of Tamil as students in NorthEast are not able to go to school to educate themselves without the fear of getting abducted, raped or killed on their way to school.
When the TV interviewer asked this unique individual to comment on the possible solution to this protracted conflict of Sri Lanka, once again he did not mince his words. He said the only solution that would honestly work is a free separate Tamil Eelam nation for Tamils. He spoke continuously on Television for roughly one hour and thirty minutes before he was driven away to attend another captive audience at a University in Toronto .
At the University, he gave a thundering lecture to our next generation of Tamil University students, who were so engrossed with his speech for two hours, thereafter answering their concerns and questions.
After that lecture he willingly took part in another live radio show for almost two hours with live questions and answers from a wide audience of the radio.
By the time he was done with the numerous interviews, live shows on radios and speeches, I expected him to be mentally and physically exhausted and probably expected him to say, "Let me go and get some rest before I fly back to US in the morning." But he was not on that mood. We went to the place where he was staying at 12 am and once again he chatted with us for almost another hour about his personal life and his involvements in human rights issue for the last 50 years plus.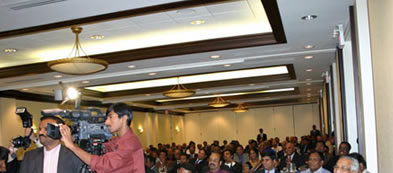 Next day early morning he has to fly to California and meet people and human rights activists in California. Also he has to give three lectures regarding our Tamil Struggle in three different parts of the California .
After all those tight scheduled speeches and meetings, he has to take the last available flight to Australia and fly for almost 20 hours, if not more, and within one hour of landing of Australia he has to see his patient who was pre- booked before he committed to take part in all these lectures and speeches in North America.
I asked him, "Doctor, are you not feeling tired from all this hustle?" "Are you going to be alright to see your patient after twenty odd hour of long flight from one end of the world to the other?" You know what he told me, "If I don't do anything and sit idle, only then I will be tired. Since I am doing what I am passionately involved with from my fourteen years of age and I am voicing my concerns for my Tamil people, it doesn't make me tired." At this point my eyes were filled with water.
Here we are looking at this gentleman with wealth none of us can ever imagine from his forefathers and working as a well known medical doctor specialized in Cardiology in Australia since 1976 tirelessly working to bring out to the world leaders the injustice done by his Sinhalese race and its leaders.
Dr. Senewiratne pointed out to me, he senses our people (he is referring to Tamils) seem discouraged and they need to be aroused and they need to be told in no uncertain terms that Tamil Eelam is a reality and is the only acceptable and workable solution to protracted civil conflicts between Tamils and Sinhalese for last fifty years.
This is the time for our Tamil Diaspora to wake up if they are still sleeping and do what we all have to do which is strengthen our struggle whatever way we all could do. "Do not try to stand on the fence; it is now or never" are the exact words he repeatedly used to make this point the entire time I with was with him. He also told me, we Tamils have these infightings among ourselves and focus on trivial issues.
All this nonsense must stop now and we must work as a united force to achieve the legitimate aspirations of our Tamils freedom with dignity to look after our own affairs in our own homeland. He also categorically told me that , in Sinhala areas we may see the UNP, SLFP, JHU, JVP, etc… but when it comes to the Tamils, all these parties are united, which is essentially a strong anti Tamil position and they make sure no powers will ever be shared with Tamils.
So, let us all get united regardless of what your status is, whether you are professionals, you are religious leaders, you are intellectuals, or ordinary Tamil folks, it is time to shed all those petty differences among ourselves and work hard every minute to achieve something which by our rights is ours, Tamil Eelam.
He also made another interesting and nailing point. Tamil Eelam is already established. All the infrastructures and administrative functions in Tamil Eelam are functioning for the last five years. All we will have to do is get some recognition from this so- called International Community.
This is where he said, our leader Mr. Prabkaran will not be able to do much from Vanni. This is where we, the Diaspora, fit in well and have a huge role to play. This is what the ultimate fruits of our long struggle depend on. We Diaspora need to do a lot more work every minute to educate, inform and lobby as many International players as we can.
We have to tell the International Community to accept our legitimate struggle for our freedom. Dr. Brian Senewiratne quoted, "The brains of the entire Sri Lanka were forcefully evicted by the Sinhalese from Sri Lanka and those brains are here in the western world doing very well for the uplifting the economical and social fabrics of those countries, but shying away from wholeheartedly rallying behind the just cause of freedom of their future generations." He sited our freedom struggle well within the UN definition of a freedom struggle of any national group.
He also made a point we, the Diaspora, by ourselves can sustain the economy of the emerging Tamil Eelam. He said "Mark my words, within ten to fifteen years of the free Tamil Eelam, Tamil Eelam could well pass the economic status of Singapore."
Dr. Brian Senewiratna spoke of his sadness on the state of affairs of the Sinhalese in real terms, and said, "We have many thousands Sinhalese army deserters who deserted with dangerous arms and ammunitions which are lurking in their hands in the underground of South. Once Tamil Eelam is liberated, the Sinhalese state will become ungovernable as these deserters will destabilize the government. That is the thing the Sinhalese leaders should worry about and do something about it now, before it is too late."
Finally, he wanted to pass one message to his captive young Tamil University audience. He said, "Students, the future of Tamil Eelam rests in all your able hands, your fathers, mothers, brothers have done whatever they could to bring the freedom struggle thus far; now it is your turn to carry the mantle of this legitimate Tamil freedom struggle further reach the destination without further delay." He proposed to create a grand union of University Tamil students all over the world (if one does not exist already) and bring them to raise the awareness among them to carry the message to the International Community in an effective way.
He shared his view as a human rights activist and an observer of our struggle that none of his Sinhalese leaders and people wished to either identify themselves with him or share his views, and many times he was verbally abused for speaking out for Tamils.
But he is not worried about these abuses from Sinhalese, as he still remembers what the leftist leader and his uncle, the late Mr. Edmund Samarakody, taught him when he was fourteen years old. His uncle told him to always "say what's in your heart" in a protest meeting organized by his uncle in the aftermath of the disfranchisement of millions of plantation Tamil workers because they were Tamils. "Since that day onwards, I always say what's in my heart."
The o nly viable, reasonable, and acceptable solution to this protracted conflict in Sri Lanka would be two separate nations in place co-existing side by side. If fifty years down the road these two nations after prospering in their own ways and wanted to be united, then that is the choice for the future generations of those two nations.
Finally, I prayed to the God to give Dr. Senewiratne long life with wonderful health and wealth for years to come. I said good-bye and wished this wonderful gentleman full of such excellent charisma to have a safe trip to his destination at around 1:30 am. I must admit that this memorable day I spent with this great gentleman was a very emotional and inspirational experience for me, which I shall carry with me for years to come.
----------------------------------------------------------------------------------
Sri Lankan State Terror: Through the Eyes of a Dissident
by Cameron Walker, SCOOP, New Zealand, October 30, 2006

Occasionally in the world section of the NZ Herald you might see a headline like 'Rebels Clash' or 'Sri Lanka Force bombards rebels', usually accompanied by a couple of sentences of reporting that explain nothing. We learn nothing other than the Sri Lankan Armed Forces or the Tamil liberation movement, the Liberation Tamil Tigers of Eelam (LTTE), have shot at each other. Few New Zealanders, even the well read, know much about the brutal civil war between the Sri Lankan elite, made up of members of the majority Sinhalese ethnic group, and the LTTE, who demand a separate state for the minority Tamil people in the North and East of the country. Those who have heard of the war could probably tell you about the bad things done by the LTTE, such as recruiting child soldiers, but they would most likely be totally unaware of the widespread racism and state terror that has been directed at the Tamil people since Sri Lanka gained independence from Britain in 1948.

In August I was fortunate enough to go along to a public talk in Auckland by, Dr Brian Senewiratne, a 74 year old Sinhalese peace activist. He was originally from Sri Lanka but now lives in Australia because he fears for his life. "I can't go back because my body would come back in a bag" he says. He hasn't been back since 1984. A friend of his, a Member of Parliament, who was going to give Dr Senewiratne a list of ex-Mossad and British Special Air Service (SAS) mercenaries working in Sri Lanka, was killed in an 'accident' when a truck ran his car off the road. The newspapers said he was intoxicated but Dr Senewiratne says he never ever drank. "If I had stayed in Colombo I wouldn't have been shot. I would have had an 'accident' too".

He supports the right of the Tamil people to maintain their language and culture. At the start of his talk he warns the audience that the view he holds "are anything but mainstream Sinhalese views" because to be "mainstream Sinhalese means to define your nationalism by opposing the Tamil people". He continues "I'm a medical doctor. I do not support the killing of people. I've been called a 'Tamil Tiger terrorist'. I'm not a Tamil, not a Tiger and not a terrorist".

Had Dr Senewiratne not spoken out against the conflict it seems he could well have become part of Sri Lanka's political elite, due to his family's connections. His father's first cousin, SWRD Bandaranike, was the nation's first Prime Minister until he was shot by a fundamentalist Buddhist monk. Chandrika Kumaratunga, who was Sri Lankan President from 1994 to 2005, is Dr Senewiratne's cousin.

He goes into quite some detail explaining Sri Lanka's history. "The Sinhalese came in 300 BC and they claim they are an Aryan race. That is a bunch of crap. Sri Lankan Tamils came at least at the same stage as the Sinhalese – possibly even before". In 1769 the British arrived and absorbed the island into its huge empire. It's important to know about this period of Sri Lanka's history because as he points out "The Sri Lankan conflict has more to do with structures put in place by Britain than problems created by Sinhalese or Tamil people". In the 1830s Britain brought over a large population of 'plantation Tamils' from Tamil Nadu, a state in India, to work on tea and coffee plantations. He says "Tamils are the ones who built this nation". Britain ran Sri Lanka (then known as Ceylon) centrally from the capital city, Colombo. There was developmental neglect in the South, where many poor Sinhalese live, and in the North, largely populated by Tamils.

When imperialist Britain was finally kicked out in 1947 they left a friendly Sinhalese government in power to ensure tea exports continued unhindered. This government then committed, in Dr Senewiratne's words, "the first major act of discrimination" against the Tamil people. One million plantation Tamils were stripped of their citizenship and the right to vote. This was done "because they [Tamils] voted against the government. These Tamils were considered non-people until just a few years ago". As a 15 year old, Dr Senewiratne, went to his first protest ever against the disenfranchisement of the Tamils. He spoke at a large political rally. He remembers that there was "huge applause at this 15 year old school boy speaking". The government then made the Sinhalese language the nation's only official language. Tamils in the civil service lost their jobs if they could not pass a proficiency test.

Dr Senewiratne says "The Sinhalese Buddhist Clergy help cause problems. Their only vision of Sri Lanka is a single Sinhalese Buddhist state". Despite the fact that the first government of Sri Lanka had rammed through plenty of clearly discriminatory policies against the Tamil people, fundamentalist Buddhists weren't satisfied. Most historical accounts of the assassination of Sri Lanka's first PM, Dr Senewiratne's father's first cousin, say it was committed by a 'deranged monk' but Dr Senewiratne disagrees. "He wasn't a deranged monk. He was a totally racist, anti-Tamil monk!"

In the 1970s Tamils, sick of the abuses and discrimination, started up an armed struggle against the government. Dr Senewiratne says "the armed struggle showed a failure of the democratic process in Sri Lanka". In July 1983 the armed struggle escalated into full scale civil war after Sinhalese mobs went from house to house murdering and raping thousands of Tamil civilians. This incident is now known as 'Black July' or the 'July holocaust'. Since then the war between the LTTE and the Sri Lankan government has cost an estimated 65,000 lives. In 2002 there was a ceasefire but that has since unravelled.

The conflict's tentacles have reached this part of the World. Between 2001 and 2005 Major General Janaka Perera was Sri Lanka's Ambassador to both Australia and New Zealand. He was one of the commanders of military operations on the Jaffna Peninsula in the mid 1990s where hundreds of Tamil civilians 'disappeared'.

This year there have been some rather grisly instances of state terror against innocent Tamils. Dr Senewiratne recounts an example from earlier in the year where a whole family on an island off Jaffna, in Sri Lanka's north, was slaughtered because the Sri Lankan Navy wanted to use their house. The Navy surrounded the house and then shot everyone inside.

He says that there are currently 7000 people in the Liberation Tamil Tigers of Eelam (LTTE), of these 4000 are armed fighters in conflict with 167,000 Sri Lankan soldiers "and yet the LTTE has still not been defeated. The Sinhalese have no cause to fight for like the Tamils do". Some observers have said granting the Tamils their own federal state will bring peace. He is skeptical of this option. "A federal state won't work because federal states need to trust the central government and Tamils have no trust in Sri Lanka's central government for a damn good reason. The only option is for there to be a separate Tamil state. A defacto Tamil Eelam already exists". The LTTE largely control the North and run it like a dictatorship. Dr Senewiratne believes that if they do not grant democracy, after eventually winning an independent state, the Tamil people will revolt.

There is little chance that the Sri Lankan government will ever quell the LTTE insurgency. He points to the fact that India, one of the World's largest military powers, failed to disarm the LTTE when it attempted to intervene in Sri Lanka in the late 1980s. "If you get a militant army with a cause A to disarm them is impossible and B you can't fight them forever."

What on Earth is keeping this destructive conflict going? Plenty of foreign aid to bankroll the Sri Lankan state comes from the governments of the US, Canada, Australia, Pakistan and Israel. They give aid to further their own geopolitical agendas. In August the Sri Lankan Air Force used Israeli-made Kfir jets to bomb an orphanage, killing 61 Tamil school girls completing a first aid course. Endless war is profitable.

"The War on Terror is the single biggest event for creating funding for the war against the Tamils" explains Dr Senewiratne. "It [the War on Terror] started with 9/11 but has been picked up by all these countries that want to suppress their own people". The US government told the Sri Lankan government that it would receive 500 million dollars if it voted to support military action against Iran at the UN, he claims. Sri Lanka doesn't have much trouble convincing Western powers that it should be an ally in the War on Terror because as Dr Senewiratne says "When you say Tamil people say terrorist". Our media has designated an entire people as terrorists. The terrorism of the Sri Lankan state doesn't rate a mention.

"If this country [New Zealand] and others don't do something there will be fall out. Refugees from Sri Lanka will flood in. If they go to Australia they will be locked up on Nauru. The US will put up their shutters but more humane countries will be flooded". We should heed Dr Senewiratne's warning.