Anton Balasingham: A Life
Balasingham said the LTTE's objective in the peace negotiations is to "seek out a climate of de-escalation and normalization, which is a necessary condition for resuming serious talks on the political issues. Rather than bring in these crazy Marxists and mad monks under the slogan of inclusiveness, the only way out of this mess is for Rajapaksa to work out some form of alliance with the UNP." -- March 22, 2006
From Wikipedia, December 16, 2006
Reuters interview
Balasingham warned on March 22, 2006 that if "paramilitaries continue to launch military offensive operations against the LTTE with the backing of the Sri Lankan armed forces, it will certainly be construed as act of war against the LTTE." He threatened to postpone peace negotiations set for April if the Sri Lankan government did not disarm paramilitary groups. Balasingham was interviewed by Reuters in his home in London, England. In the interview Balasingham said Sri Lankan President Mahinda Rajapaksa needed to end his alliance with Sinhala nationalist politicians, and ally with the opposition United National Party political party.[4]
Balasingham went on to say that attacks would "lead to conditions of war and violence and it will block any forward movement of the peace talks and lead to the collapse of the peace process itself. The LTTE leadership will consider postponing the second round (of talks), or they might even think of attending the talks and continue to insist on the same (disarmament) theme that was taken up at the first round. So there won't be any forward movement of the talks if these paramilitaries are not disarmed."[4]
Balasingham said the LTTE's objective in the peace negotiations is to "seek out a climate of de-escalation and normalization, which is a necessary condition for resuming serious talks on the political issues. Rather than bring in these crazy Marxists and mad monks under the slogan of inclusiveness, the only way out of this mess is for Rajapaksa to work out some form of alliance with the UNP."[4]
Commenting on President Rajapaksa's unwillingness to accept "the demand of the Tamils for regional autonomy," Balasingham said that there was no "prospect for a political solution" and that if "internal self-determination is rejected, then only we will invoke the right to external self-determination - that is the right to form an independent state."[4]
**************************************************************
TamilNet Translation of the Pirapaharan's condolence message for Anton Balasingham, December 15, 2006
"The light of our nation that was my supportive strength in the political, diplomatic demarche of our independent movement is extinguished. Bala annai is now not with me to run for advice and comfort. His demise is not only a loss for me but a great irreplaceable loss for the nation of Tamileelam.
"Individual human existence begins from the moment of our birth and ends with the moment of our last breath. The destiny of human experience is made unique by the vicissitudes of life and its varied duration. This fleeting life is finite for all, brief for some, long for others, and unduly long for yet others. Unfortunately, Bala annai's life was ended before its time. His death comes at a moment when his services were needed the most to our intensifying liberation struggle. I find Bala annai's death unbearable to accept. It is a sadness weighing heavily on my soul. It is crushing everything inside me and is breaking my heart. I find it impossible to pour out in words the flood of emotion rushing like a torrential, violent river. Here, there is no role for human language.
"From the first day of our acquaintance there was an inexplicable understanding between us. United by a bond born of this understanding, our relationship morphed into a great friendship. It bloomed into a confluence of persons who were united in words and action. It grew in strength from sharing in our day to day life's involvement. It is totally different from ordinary persons' relationship. It was a platonic relationship par excellence, that was shaped by history and matured with time.
"I loved Bala annai deeply. He was a senior leader and elder statesman in our noble family of independent movement for three decades. I, too looked upon him thus. In the days when we lived together as one family with a single purpose I discovered that he was no ordinary person. Even when he was extremely ill fighting against imminent death daily, and suffering from unbearable pain, he had a strong resoluteness. This courage of conviction in him touched my heart. When he was in tribulation my soul was tormented.
"There is a permanent place for Bala annai in the development and growth of our expanding movement. As elder statesman, as ideologue, as philosopher, above all as my intimate friend, he gave me inspiration and encouragement; gave advice and support. He shared my feelings and my burden. From the very inception of our movement he shared with me burdens of all the trials, tribulations, challenges and difficulties. He stood as the protagonist in the forefront of our political and diplomatic maneuvers.
"I am proud to bestow on Bala annai the title of great honor, Voice of the Nation, as a recognition for his immense service to our movement by his superb performance in political and diplomatic spheres, thus establishing our independent struggle in the international arena in a manner that Eelam Tamils are proud of. Bala annai has, in truth, not departed from us. He will remain in our stream of consciousness as an enduring memory, forever."
"Tamileelam homeland, is the Tigers' passion."
***************************************************************
From Tamil Nation -
One Hundred Tamils of the 20th/21rst Centuries
***************************************************************
From TamilCanadian -
***************************************************************
from Transcurrents -
Anton Balasingham: The Early Years of Life
by D.B.S. Jeyaraj, December 15, 2006
Anton Stanislaus Balasingham was born in 1938. He was a blend of many strands. His father was from the East and Mother from the North. His mother was a Christian and father a Hindu. His parents were also of different castes.Though raised as a Catholic Balasingham soon became a rationalist and agnostic. Yet he was deeply moved and inspired by the teachings of Lord Buddha. Balasingham's first wife was a Jaffna Tamil protestant. His second wife was an Australian woman of anglo - saxon extraction. He was a British citizen but yearned for his homeland - Tamil Eelam - which he believed was a state in formation.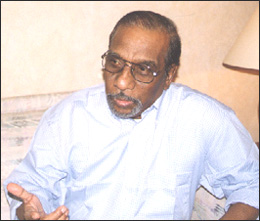 Balasingham's grandfather was a "saiva kurukkal" (non - brahmin priest) from Mandur in Batticaloa district. His father was an electrical foreman at the Batticaloa hospital. Bala annai's mother was from Jaffna town and a former resident of Martins road. She was a midwife by profession and was working at the Batticaloa hospital when she met. loved and married Bala annai's father.
She was later separated and then widowed at an early age. Balasingham along with mother and elder sister moved to the North as a child. They settled down at Karaveddy in the Vadamaratchy sector. Bala Annai's mother worked as midwife at the "Ambam clinic" in Karaveddy near the Athulu water tank. They rented out a house near the clinic which belonged to former Palaly Training College Principal , Kandasamy.
In his childhood and early youth Balasingham was known as AB Stanislaus. He attended Sacred Heart College in Karaveddy and Nelliaddy Central College (later MMV) in Nelliaddy. Karaveddy - Nelliaddy was a leftist bastion those days. The legendary Pon. Kandiah and many other "communists" hailed from there.Young Stanny as he was known then was also subscribed to leftist ideologies. Another of his favourite pastimes was to sip tea and play cards at the tea boutique at Nelliaddy junction run by "Sangunni" who was a Malayalee from India.
One man who profoundly influenced Stanislaus those days was the doyen of Tamil cartoonists Sivagnanasundaram who ran the reputed magazine "Sirithiran"later. Cartoonist "Sundar" as he was known was famous for his "Savari Thambar"strip. He too was from Karaveddy.It was due to Sivagnasundaram's efforts that Stanislaus was apponted sub - editor at the Colombo Tamil newspaper "Virakesari" in the early sixties.
Stanny stayed in a grandpass chummery close to the "Virakesari" those days.Former colleagues at the "Virakesari" speak of him as a man engrossed in reading most of the time. He was not concerned about his appearance and not very particular about clothes. Meals too were not at regular times. At the "Virakesari" Stanislaus was soon put in charge of foreign news. This entailed translation of Reuters copy and other articles on foreign affairs. Balasingham however was keenly interested in philosophy and psychology. He also dabbled in hypnotism.Ex - colleagues descrbehim as Spiritual but not religious.
Things changed soon as Stanislaus got a job as Translator at the British High Commission. There was a transformation in his appearance as he opted for smart clothes now. This was not entirely due to the new job alone. Cupid too had struck. He was enamoured of a beautiful Tamil woman at the Britiish Council adjacent then to the HC. There was a romance . They married .
But their happiness was short - lived test when his first wife became extremely ill requiring advanced treatment abroad. British authorities were very sympathetic and generous . Both were allowed to go to England. Balasingham continued his higher education in England. But his wife's condition deteriorated. She had chronic renal failure, ending with her requiring life sustaining haemodialysis. Balasingham discovered in London that he too had diabetes.
It was a life of hardship and sacrifice then with Balasingham having to work, study and care for his ailing wife. After six years she died. By this time Balasingham had become acquainted with a trained hospital staff nurse who also a "stranger" in Britain as she was from Australia. A second romance flourished between the young widower Anton and the nurse Adele Anne. They married very simply at the registrar's office in Brixton , South London on Sep 1st 1978.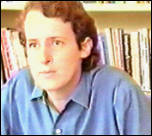 Balasingham's MA dissertation at the South Bank London Polytechnic was on the psychology of marxism. Later he began reading for his PhD on alienation under John Taylor.He never completed his Ph D. But the media generally refer to him as "Dr" Balasingham.Why did he not complete his Ph D? Adele says in her book "The will to Freedom".thus -" But the demands of the revolutionary politics of the national liberation struggle of his(Balasingham's) people constantly intervened in his research and teaching. A time came when he was compelled to choose between an academic life and revolutionary politics. He chose the latter for he viewed the cause of his people as just and to serve that cause was meaningful".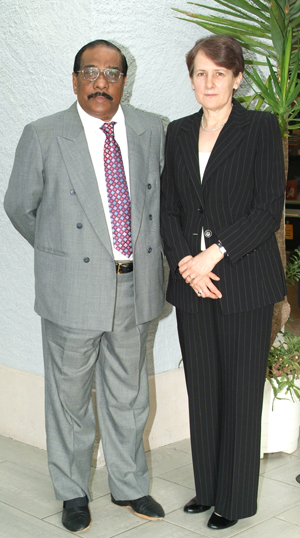 Both Adele and Anton Balasingham served the Tamil people to the best of their ability. While he was called Bala annai she was called "Anty" (Aunty)/ In her book Adele speaks of her life with Anton in the following manner -
"…It all began when I married a Tamil man, Anton Balasingham, from the island of Sri Lanka, in 1978. In that union, I married the collective consciousness and history of a people: a man who embodied the Tamil psyche with all its strengths and weaknesses. greatness and failings. That history took me to live in the society and culture of one of the world's oldest Eastern civilisations: in the land of the ancient historical origins of his people, Tamil Nadu, the Southern Dravidian state of India.
For many years too I lived in his birthplace, Jaffna, the cultural capital of the Tamil people in tile Northeastern part of Sri Lanka, otherwise known as Tamil Eelam. I became immersed in the trials and tribulations, joys and celebrations of a people in the throes of a struggle to survive against a sophisticated manifestation of genocide. Subsequently, for the past twenty-three years of my life I have been exposed to extraordinary and unique experiences.
***************************************************************
from Lonton Times, December 15, 2006
Anton Balasingham
1938-December 14, 2006
Journalist who became the chief strategist and negotiator of the Tamil Tigers in their struggle for autonomy
Anton Balasingham provided the intellectual framework for the violence of the Liberation Tigers of Tamil Eelam. He was the brains behind the brawn, someone the leadership could turn to for ideological guidance, philosophical justification and political explanation while the killing went on.
A forlorn-faced man, ill with a transplanted kidney, he travelled to devastated northern Sri Lanka in 2002 to act as the rebels' negotiator in peace talks brokered by Norway. The Tigers vainly asked India to host the encounter so that Balasingham could be near a hospital in case of an emergency. Everybody feared that he would die before the best chance of peace in more than two decades could be seized.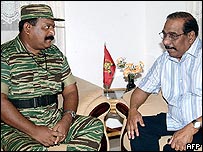 The difficulty was how to get him to Sri Lanka without his being assassinated. So, accompanied by his Australian wife, Adele, he flew in from London to the Maldives and transferred to a privately chartered De Havilland DHC-6 Twin Otter seaplane, which landed on a reservoir in a rebel-controlled area south of Kilinochechi. The Colombo Government had ordered the airspace above northeast Sri Lanka to be kept clear of all aircraft, and the seaplane maintained radio silence throughout its journey lest hostile forces picked up the signal, revealing its whereabouts and mission.

The First Secretary of the Norwegian Embassy in Colombo was aboard. Immediately after it landed a Sea Tiger craft moved in to provide security. On the shore, the plump figure of Velupillai Prabhakaran, leader of the Tigers, could be made out standing with his wife Mathivathany, and other Tigers leaders. They were awaiting "Bala Annai" and "Auntie", as young Tigers cadres called the Balasinghams. A house had been constructed for their stay.

This elaborate journey was a measure of the importance the Tigers placed in the one man they could trust with their destiny in what looked like being a breakthrough in talks with the Sri Lankan Government of Ranil Wickremesinghe.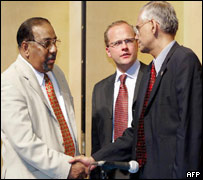 Everybody underestimated, however, the determination of hardcore Sinhalese organisations like the JVP and hardline Buddhist clergy to scuttle any deal that gave the Tamils even a hint of autonomy. The peace deal failed, and Balasingham had made a life-threatening journey with no more to show for it than the continuation of a shaky ceasefire.
Under his guidance the Tigers had entered several rounds of successful talks with the Government, all brokered by Norway, watched suspiciously from the sidelines by President Chandrika Kumaratunga. In the end she used her presidential powers to scupper the deal.
Her successor, President Mahinda Rajapakse, also rejected the concepts of a Tamil homeland and Tamil nationhood. The JVP, in a previous incarnation a fanatically violent organisation but by now the thirdbiggest political party in the country, had threatened "undiplomatic" consequences if the peace deal went through. All of this, Balasingham said with uncharacteristic understatement, represented an obstacle.
In taking the Tigers to the brink of peace, Balasingham had steered the rebels away from their earlier demand for a fully fledged independent state called Eelam. What the Tamils wanted, he said, was "a homeland and self-determination". If that demand were rejected and the "oppression" continued, there would be no option but to fight for full statehood. Those words signalled the collapse of peace hopes.
Balasingham, who gained a PhD from South Bank Polytechnic in London (his dissertation was on the psychology of Marxism), had been the Tigers' theoretician since the early 1990s and clearly had the full confidence of Prabhakaran. He had a British passport and in 1999, much to the Sri Lanka Government's anger, was allowed to settle in London with his wife, Adele Wilby, an Australian citizen and former nurse he had married in 1978. She lived with him for years in Jaffna, the Tamils' heartland, and became a leader of the Tigers' women's section. Australia sought her arrest for violating a law that prohibits participation in foreign wars.
By the time he moved to London, Balasingham, known among activist Tamils simply as "Bala," was seriously ill with kidney trouble. The Tigers released a large number of Sri Lankan Army prisoners as a goodwill gesture in return for the Colombo Government ensuring his safe passage abroad. The gesture failed, and so the Tigers took Balasingham aboard one of their ships to Thailand, and from there he travelled to Singapore and on to London. No one expected to see him back in Sri Lanka.
When he did return for the 2002 peace talks the reunion with Prabhakaran was emotional. His influence over Prabhakaran was embarrassingly obvious at a packed press conference in Sri Lanka during the 2002 peace process. Balasingham knew about journalists, having been one himself for a Colombo newspaper before working as a translator at the British High Commission.
He was doubtless responsible for the image makeover of the Tigers leader. Eschewing his customary military fatigues and sidearm Prabhakaran attended the press conference in a safari suit and had even shaved off his moustache. After almost every question he would lean towards Balasingham to be primed with the reply, and for the most part Balasingham would do the replying for him. Which led one commentator to ask: "So who is the real leader of the Tamil Tigers?"
Balasingham died of cancer. He is survived by his wife.
Anton Balasingham, chief strategist of the Tamil Tigers, was born in 1938. He died on December 14, 2006, aged 68
***************************************************************
from the BBC -
Brain Behind the Tigers' Brawn
by Priyath Liyange, Editor, BBC Sinhala service, December 14, 2006
Anton Balasingham, whose death from cancer was announced on Thursday, was the ideologist of the Tamil Tigers of Sri Lanka.
Officially know as the group's political adviser and theoretician, for over 25 years he played a unique role in the political struggle of Sri Lanka's Tamil minority.
Over the years, this normally reticent man was the public face of the Tamil Tigers. Living in London, it was his job to communicate with the outside world about the aspirations of his people.
He was the main force in bringing the attention of the world to a forgotten war in this small island nation.
Political solution
Earlier in his life, Balasingham worked as a journalist in one of the Colombo newspapers before joining the British High Commission in Colombo as a translator.
In his youth he was an activist of the left, before he came to London to study for his doctorate.
Many commentators believe Balasingham was the moderating force - always on the search for a political solution - within one of the most belligerent rebel organisations in the world.
He is known for his relentless attempts to bring the Tigers to the international negotiating arena. It was mainly due to his perseverance that the Tigers acquired a reputation as a progressive organisation among certain liberals in the west.
He was able to live in Britain even though his organisation is proscribed by the UK government.
For over a decade however, Balasingham was plagued with physical ailments. Apart from bile duct cancer, he suffered from chronic diabetes, motor neurone disease and acute kidney failure.
Despite these illnesses, however, he never stopped his persistent campaigning to extend the armed struggle to the political arena.
In his memoirs, he wrote how sceptical the Tiger leader, Prabhakaran, had been about the national leadership of Sri Lanka.
He described how he managed to persuade a reluctant leadership to engage in peace talks, arguing his point time and time again that this was the right course of action.
Although he was not a part of the delegation in the first round of talks of 1985 in Bhutan, he was the main adviser to the militants in the Tamil delegation. Subsequently, he was actively involved in peace negotiations with many governments in Colombo.
Irreplaceable void
Balasingham represented the Tigers in many of these talks as the chief negotiator.
He accompanied Prabhakaran at almost every meeting held with Indian and Sri Lankan political leaders, where he played a double role as interpreter and as adviser to the reclusive Tiger supremo.
Analysts who had studied the role of Balasingham within the organisation say his departure will create an irreplaceable void within the organisation.
"Balasingham was the only person in the organisation who addressed the leader as an equal. Prabhakaran respected him as a teacher or an elder. There is no one else who has got such influence over the leader any more," says senior Tamil journalist DBS Jeyaraj.
With such power and respect, Balasingham will be remembered as perhaps the only person able to criticise certain decisions of the Tiger leader who is revered - and feared - for his teachings and diktats.
"We respected him as a guru. All of us read his books. He motivated us for our struggle," says the Tiger's military spokesman Rasaiah Illantherian.
Balasingham's high profile in the West, and his knowledge of the politics of the outside world, were an asset for the Tiger leadership which has never had much exposure outside of South Asia.
His death will be a blow not only to the Tamil Tigers but also to many in the south of the country. He provided a thread of hope for a peaceful resolution to the seemingly intractable and escalating conflict of Sri Lanka.