Bala Annai
Tamil Guardian editorial, December 17, 2006
His driving purpose was always the well being of his people, as all those who engaged with him from any side of the table quickly came to understand. It is entirely in character that his final public words in November, confirming his diagnosis with cancer, were mainly about the plight of the Tamil people. He loved us as much as we adored him.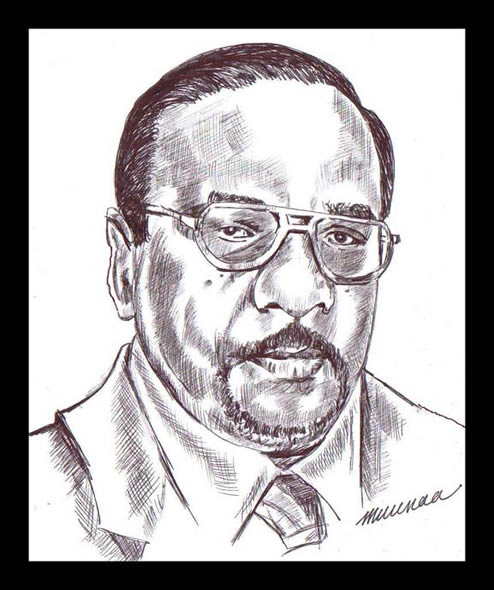 News that Mr. Anton Balasingham had passed away after a brief battle with cancer was met this week with shock and profound grief across the Tamil community. In the thirty years Balasingham was associated with the Tamil freedom struggle, he had truly become a legend in his own time.
Balasingham was the LTTE's theoretician for thirty years and its chief negotiator for most of those thirty years. In that period, a fledgling guerilla group dedicated to the emancipation of the Tamil people grew and expanded into a national liberation movement with a powerful military and an apparatus of civil administration, while Bala Anna became an icon of the Tamil cause.
Mr. Balasingham was many things to the Tamil struggle. The formal titles of theoretician and chief negotiator do not capture them all. Within the LTTE he was a father figure. His door was always open to cadres and commanders alike. No subject was taboo, confidentiality was assured. Most importantly, of course, he was the struggle's political strategist. Beyond the LTTE, he was approached for advice and guidance by a range of Tamils, from parliamentarians to journalists, supportive of the cause of freedom. He was eloquent in formal Tamil, but he could also address us in the colloquial, unraveling the complexities our struggle faced and bringing every one of us closer to it, which is why his public addresses were so eagerly awaited.
It was Mr. Balasingham's demonstrably keen intellect and political acumen that compelled LTTE leader Vellupillai Pirapaharan to ask him in 1979 to join the tiny group of young revolutionaries their movement then was. (And it was Mr. Balasingham's recognition of Mr. Pirapaharan's abilities as a leader and the LTTE's institutional strengths that persuaded him to throw in his lot with the Tigers rather than any of the many other Tamil militant groups setting out on the long road of struggle.) The strength of the personal bond that grew between them is reflected in Mr. Pirapaharan's poignant words this week as he awarded Bala Anna that unique title 'Voice of the Nation.'
Nothing captures what Bala Anna meant to the Tamils as that title does. For three decades he spoke for us, the Tamil people. He led LTTE delegations in five attempts to negotiate a political solution with the Sinhala state. He represented us in our dialogue with the international community, both in public fora and private discussion. He explained the oppression we endure and defended our struggle for freedom. He was a formidable representative, aggressively and adeptly pursuing our interests. He could not be intimidated – though it was often tried. His razor sharp intellect was matched by a powerful personality.
But he was, as one commentator puts it, a quintessential negotiator. Amidst the heat of dispute he could find the sites of compromise. And, armed with the complete trust of the LTTE leadership, he would compromise – but not surrender. Thus, he earned the begrudging respect of his interlocutors, both Sinhala and international. His driving purpose was always the well-being of his people, as all those who engaged with him from any side of the table quickly came to understand. It is entirely in character that his final public words in November, confirming his diagnosis with cancer, were mainly about the plight of the Tamil people. He loved us as much as we adored him.
It is inevitable that Mr. Balasingham's passing has brought joy to our enemies. Reflecting the character of some of them, there has been public jubilation at his death in parts of the south - just as when his illness was announced last month. This ugliness is characteristic of the oppression we fight.
It also reflects a misunderstanding of what Mr. Balasingham's multi-faceted role was, of where the LTTE now is as a movement and where the Tamils are as a nation. The growth of the LTTE over the past three decades has been inexorable, despite the ferocious violence unleashed on it and the Tamil people by the Sri Lankan state and its allies. Mr. Balasingham contributed immeasurably to that growth. His analytical, calculative approach has been institutionalized. Every arm of the LTTE routinely weighs its decisions before committing to a course of action, the long-term benefit to the Tamil cause the overarching priority. As the LTTE's multi-faceted international engagement has grown in scale and complexity, new capabilities have emerged, both in the LTTE and the wider Tamil nationalist movement. Mr. Balasingham guided many of these, devising strategies and advising key individuals. As deepening illness precluded a frontline role for Mr. Balasingham for much of this year, he was able to rest, secure his many tasks were being competently carried forward by others. The extent of his legacy will only be discernible in the fullness of time.
This newspaper and its staff are privileged to have had a very special relationship with Bala Anna. It began soon after he arrived in London in 1999. He readily agreed to meet the volunteers of the Tamil Guardian when we asked. Our discussions quickly became regular and frequent. We always met at the study in his home, where we were warmly welcomed by him and his wife, Adele. An experienced journalist, Mr. Balasingham had a passion for the media. He also appreciated that we were committed to articulating the Tamil cause. He spent considerable time with us in prolonged discussion on the ethnic question, on the Tamil struggle, on international affairs, and many other subjects. The depth of his knowledge was unfathomable. A warm, convivial and humorous man, he was a patient tutor. He scrutinized our work and was generous with his praise and scathing in his criticism. Yet he never constrained us, encouraging us to write freely on the Tamil cause. As with a handful of other Tamil correspondents, he took us into his confidence in exchange for our discretion. In March 2000 we were privileged to be exclusively granted his first media interview after leaving Vanni. He gave many of his infrequent subsequent interviews to us.
Our relationship with the Balasinghams went beyond the production of the newspaper. It was individual, personal and very affectionate. They took an active interest in each of us, inquiring of those who met them about those who were not there. Bala Anna encouraged us to develop our individual interests and offered welcome advice on our academic and professional pursuits. We drew much inspiration and not a little courage from him. Being close to Bala Anna, we were, for a long time, acutely aware of his health difficulties. His health declined rapidly this year, but only until recently were we unable to converse regularly with him. His death comes as a devastating personal loss to each of us. Our hearts go out to Adele Aunty, his beloved wife and constant companion. Her loss is the deepest. We will all miss him very much. We, at the Tamil Guardian, couldn't be more proud of our close association with Mr. Balasingham over the past seven years. He was, quite simply, a remarkable man.