Black Christmas
by N.G., Voice of the Youth for Justice and Peace, New Zealand; pictures by Chandi Sinnathurai
The power of a Black Christmas does not lie with you, as the Tamil Diaspora, denying yourself the Christmas luxuries, but with you telling the International Community why you will not being indulging in Christmas this year. Your message needs to be clear, "How can I celebrate Christmas when my people are dying back home".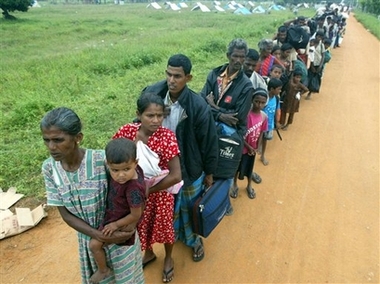 What are you doing this Christmas? Maybe if you live in the northern hemisphere, you'll put on your winter coat, go out into the snow and wish it was summer so it wouldn't be so cold. Or maybe you live in the southern hemisphere and you'll put on your sandals and head out to the beach for a BBQ with the family. You might have work Christmas party to attend so you'll be wondering what to wear. You might have relatives coming over for the holidays, so you might be busy cleaning and cooking. Speaking of relatives, ever wonder what your relatives in Sri Lanka might be doing this Christmas?
Maybe they will be waiting in line at 4 AM at the ration shop for their 100grams of rice. Or maybe they'll be running in the middle of the night to escape the torrents of Army shelling and bombing. They might be still be trying to rebuild their lives after the Boxing Day tsunami. Or they might be spending another cold, hungry, anxious night unlawfully detained in jail. Maybe they will spend the day wondering where their son, daughter, mother or father is after being rounded up by the army 6 months ago. Or who knows, they might even be lying dead somewhere after being shot by the Sri Lankan security forces.
Tamils in Sri Lanka are suffering on a daily basis- that is a well-known fact. Life is very hard for those who live there. Firstly, they are living in a nation that has been wrecked by civil war for over two decades. Tamils are a race of people that have been suffering for over 50 years at the hands of a majority Sinhalese government. They live in constant fear of the Sri Lankan security forces. So many of our people have been murdered, assassinated, disappeared, tortured, raped, beaten and had the will to live taken away form them.
And now the Sri Lankan government has gone on a campaign to starve our people to death. Economic embargos are a tool used by the government to weaken the Tamil people, but now, with the closing of the A9 highway, things are gone from bad to worse. For the people living in Jaffna, they are now living in an open prison. They are being starved to death slowly. By ensuring that no one can leave Jaffna and no goods can enter the peninsula, our people have no escape from this situation. One of the problems is not that people can't afford to buy food in Jaffna, but the bigger problem is that there is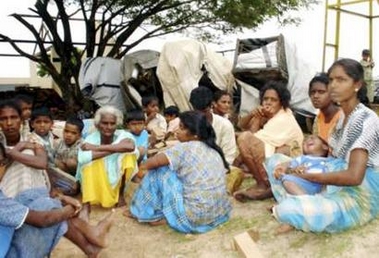 no food in Jaffna to buy. For the first time, our own kith and kin are poisoning themselves and their families so that they will not starve to death. Their lives have gotten so intolerable that they would rather kill themselves and their children than live another day. Can you imagine a situation where you see no other option than to kill yourself? Can you imagine having absolutely no hope at all, that death is seen as an escape? Can you imagine their suffering?
And the suffering does not stop there. December, as of late, does not seem to be a very kind month for Tamils living in Sri Lanka and around the world. In 2004, our people where hit by the Boxing Day Tsunami. The effects of this are still felt by those survivors two years on. While many of us have moved on with our lives, our kin back home lost all their material goods and so many loved ones. They are still picking up the pieces of their lives.
Then, in 2005, Member of Parliament Joseph Parajasingham was assassinated on Christmas Day. Mr Parajasingham was a great voice for the Tamil people. He spoke for those who could not speak for themselves, and for that the Sri Lankan government silenced him. And now in the bleak year of 2006, the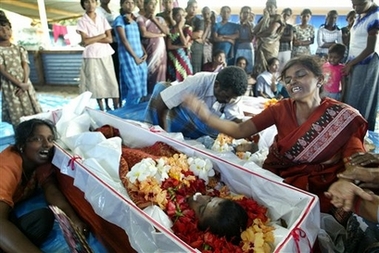 "Voice of our Nation," Dr Anton Balasingham, passed away on December 15th. He was a great asset to the peace process talks and his 30 years of dedication to the Tamil cause will never be forgotten.
In a month and time of great suffering, loss and despair, should we, as the Tamil Diaspora, be celebrating Christmas? It is true that we do not live in Sri Lanka anymore, but can we really celebrate with time of peace and prosperity, when our relatives back home have neither peace nor prosperity?
Maybe this year, for the sake of our people and to raise awareness we should observe a 'Black Christmas'. The concept is simple, but the message spread will be powerful. All it requires is for us as Tamils to shun the usual fanfare associated with Christmas in Western society. This year, for a cha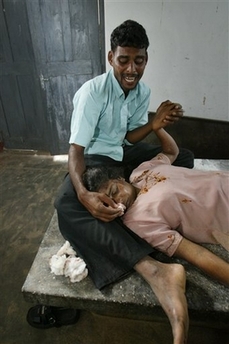 nge, do not put up a Christmas tree, do not hold a big Christmas Day lunch or dinner with friends, do not wear your best clothes on Christmas Day, do not go out and buy expensive gifts for those around you. Instead, tell the people you know why you won't be doing all these things. Tell them you can't justify spending money on Christmas extravagance when your kith and kin back home are suffering so much. Instead of wearing color to Church on Christmas Day, wear black and tell them why a black cloud is hanging over the Tamil people in Sri Lanka.
The power of a Black Christmas does not lie with you, as the Tamil Diaspora, denying yourself the Christmas luxuries, but with you telling the International Community why you will not being indulging in Christmas this year. Your message needs to be clear, "How can I celebrate Christmas when my people are dying back home".
There will be a time when we, as the Tamil Diaspora, can celebrate Christmas in all its glory - when our people are living in our own homeland of Eelam. That is when we should celebrate the gift of life. That is when we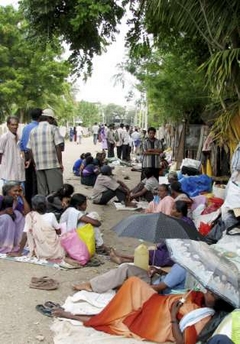 will know, as we eat Christmas dinner, our people back home are eating too; that is when we know the bang of fireworks we hear will not be the bang that the army gun makes when it kills our people; that is when we know are people are celebrating peace and prosperity, too.
The sacrifices you make this year will resonate to save our people. As it says in Hebrews 11:29, " By faith they passed through the Red Sea as by dry land: which the Egyptians assaying to do were drowned." Faith is what is needed to achieve a task. We need to have faith one day Eelam will be ours, for "faith is the substance of things hoped for, the evidence of things not seen" (Hebrews 11:1). So the small sacrifice we make today is minute to what we can achieve and the price our people pay.
This year, for the sake of Eelam, don't celebrate Christmas, observe Black Christmas.