Music and Memories
A Dedication to Prof. S. Raveendranath
by Sachi Sri Kantha, December 27, 2006
Nobody would deny then that the current climate is not the best of times for the TRO to work in Colombo and travel in and out of 'uncleared' areas of the north and east. The new emergency regulations have only exacerbated a situation of intense insecurity for the Tamil community in general, already marked by abductions, disappearances and extra-judicial killings. Needless to say, the TRO and its staff would be very much in the line of fire.
A Phone Call and its Aftermath

The news that Prof. Sivasubramaniam Raveendranath has been reported missing since Friday, Dec.15th deeply saddened me. More than ten days have passed and, despite many appeals for his release, we haven't heard anything positive from Colombo. Last I talked with my now-missing pal Raveendranath via phone was on November 7th. It had been a long, long time since I heard his voice. For idiosyncratic personal reasons, the phone has never been my usual communication medium. But I felt an unusual urge to talk to him. The next day, I sent him an e-mail. In it, I noted the following:
"…The reason I called you yesterday was to give you some courage, and also to let you know I'll write something about this [i.e., on his predicament of submitting his forced resignation as the Vice Chancellor of the Eastern University and its aftermath, since November 1st]. You asked me whether I still play the flute. I had given up playing flute actively, after I left the island. More urgent issues need to be reported and chronicled than me playing flute; and as such I turned into a chronicler/historian as well, in addition to earning a living as a scientist-teacher."
Even when I called Raveendranath last month and, though he was under duress from the recent unforseen developments at the Eastern University which he nominally headed, Raveendranath was keen on knowing about my activity in the musical arena. That is Raveendranath. His thoughtful query was linked with what happened 35 years ago in December 1971, when both of us were batchmates at Aquinas University College and awaiting our entry into the University of Ceylon (Sri Lanka) in January 1972.
Music in 1971
December is the month of music in Chennai's social calendar. In the 1960s and 1970s, even in Colombo, December (more or less) was scheduled as the month of music. The live-wire of the Karnatic Music community in Colombo those days was Guruvayoor K.K.Atchuthan Master. He was then a long-standing station artiste (percussion section) at the Ceylon Broadcasting Corporation. His good pal was Palayamkottai T.P.Jesudas, the station artiste for karnatic flute. For family reasons, Jesudas had decided to return to his native Palayamkottai in January 1972, after a decades-long stint in Ceylon.
As was common in those days, quite a number of Tamil/Telugu/Malayalam speaking Indians made their living in Ceylon, while keeping their families in India. Jesudas was one of the thousands belonging to this group. He was also my flute guru. By the end of 1971, I had almost completed a ten year apprenticeship under him; in addition, I had even qualified as a teacher (receiving the Teacher's grade certificate in 1969, at the age of 16).
To give a memorable send off to his pal Jesudas, the Secretary of Thyagaraja Gana Samajam (aka Atchuthan Master) opted to sponsor my flute debut performance and that's how I became the center of attraction on December 3rd, 1971, a Friday night, at the Wellawatte Sammangodu Pillaiyar Temple in Colombo. At that time cameras were a high import duty item and, as students, we couldn't afford one. So, no photos were taken by the dozen of my Aquinas University pals (which included Raveendranath) who gave a big helping hand for the successful completion of that event. The only photo which is in my hand now is presented here.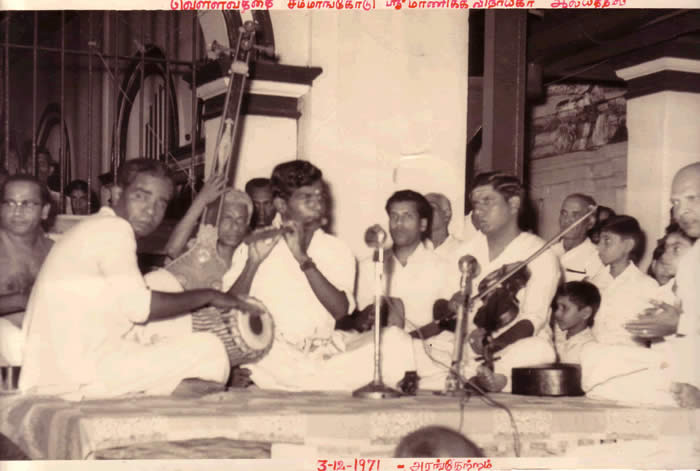 This photo also tells the story of why I chose to stay in Colombo, while Raveendranath left for Peradeniya for his undergraduate studies. To my previous posting entitled, 'Tale of Two Vice Chancellors,' in which I compared the fortunes of Prof. Ratnajeevan Hoole and Prof. Raveendranath, a hostile and pejorative comment was posted by a reader insinuating that I had to stay in Colombo since it was Hobson's choice for me. This suggestion is nothing but arrant nonsense. Ours was the second batch (sitting for the university entrance examination in December 1970) which had to face the heinous 'media wise standardisation' following the unsuccessful JVP insurgency in April 1971. According to the machinations of the Ministry of Education, then headed by the Cabinet Minister Badiuddin Mahmud, as Tamil medium students who had registered from Colombo district, we suffered equally badly as the Tamil students registered from the then Jaffna district in this media-wise standardisation ploy. This was also the last time when the 'practical' segment for the four science subjects (namely, chemistry, physics, botany and zoology) was held in either Colombo or Peradeniya. Though I was eliminated from contention for entry into either the Medical or Dental faculties, my overall performance at the university entrance exam in the four subjects was sufficiently meritorious for entry into the Veterinary Science and Agriculture faculties. Unfortunately for me, these two faculties at that time were located in Peradeniya and not in Colombo. So, I opted to stay in Colombo and enter the Natural Sciences (Biological Sciences) faculty. Why?
The reason is music, of course. My guru Jesudas left for India in January 1972, at the same time I entered the University of Ceylon (Colombo Campus). But one of his requests for me was to take charge of flute tutoring to the boys of Colombo Hindu College, Bambalapitiya (which until then was under his care), and which I couldn't reject for more than one reason. Colombo Hindu College was my alma mater. I also enjoyed interacting with young minds and the opportunity music provides in influencing these young minds. So, I gladly took up his offer, and began my career as a part time music teacher in flute, while commencing my undergraduate studies. Secondly, I opted to stay in Colombo, where Tamil musical performances (especially the debut performances of teenage girls predominantly Tamils, but there was also notably Kamala Jayatilleke, a Sinhalese, who also trained Tamil girls) wanted a Karnatic flutist and at that time, there were only three (including me) performance-grade Karnatic flutists in Colombo. Thirdly, having reached 18 then, I didn't wish to drain much from my father's pitiable paycheck for four additional years. My father held an ordinary clerical grade government appointment in the Department of Health, and earned nothing much. These three facts correctly explain the reason why Raveendranath and I became parted in 1972.
The Meanings behind the 1971 Performance Photo
This 1971 photo featuring my flute debut performance brings back nostalgic memories to me. Just look at the photo again. It was an action shot. There were seven men on the stage, among whom six were jovially performing six instruments, while the one on the right extreme is seen 'keeping the beat'(taalam). Those who know the grammar of Karnatic Music would agree that, though technically, the concert was under rigid protocol, it was a jam session with improvisations in expositions in raga and taalam. Whom do you think is leading the session? Or, for that matter, is there any single leader?
Technically, the leader is the guy in the middle (that's me) playing flute. Again, by convention, the guy in the middle is the leader of that concert. But, I'd never accept that I was leading that jam session. First, I was the junior most, among the seven on that stage. My guru Jesudas ('keeping the beat') at the right extreme, by convention, is conducting my debut performance. Thus, he was the 'hidden' leader. While performing, I had to watch him with my left eye (for which he had given clear instructions beforehand), while my right eye should follow the beats of Yaalpanam Thambapillai Ratnam Master (in the left forefront, playing mridangam).
Ratnam Master was a one-of-a kind, virtuoso percussionist for Tamil music programs held in Colombo in the 1960s and 1970s. He could play not only mridangam, but also other percussion instruments like tabla, dolak, and kanjira and he could also recite konnakol (oral recitation of beat rhythm phrases). The last mentioned talent of konnakol is a disappearing act, even in Tamil Nadu now. In Sri Lanka, to my memory only Ratnam Master had mastered this art. I had no hesitation to think that Ratnam Master was the leader of that concert. Every bharata-natyam dance teacher wanted Ratnam Master to play mridangam in the debut performances of her charges then. This is because, on the stage, he set the rhythm, and it's my guess that his vibrant fingers had super coordination with his cerebrum. He was a wizard in mental arithmetic. The photo captured a moment when the five fingers of his right hand were in motion.
But, what of the role of spectacled Guruvayoor Atchuthan Master (in the left back, bare-bodied)? He was playing the ghatam (a specially perfected clay pot) percussion instrument, not visible in the photo. Those who witnessed the concert on that December day of 1971 would assert that it was Atchuthan Master who led the tempo of the concert, with his audience-pleasing movements with fingers, hands, body and face. Look at the three young boys standing in the right of the photo adjacent to Yesudas Master. Their eyes were glued on Atchuthan Master's ghatam. Behind them in the back stood my maternal grandpa, Thiyagaraja, with the illusionary split of his face by the violin's bow.
Then, there was soft-spoken Eelanallur T.V.Pitchaiyappah Master playing violin. He was also a leader in properly guiding my performance, by his timely, deft touches of mastery in ragas which we had chosen for exposition for that night. Like Ratnam Master, this ace violinist was the one who accompanied the ranking Tamil Nadu vocalists in concerts when they visited Colombo in those days.
There were two more musicians, who were not featured in this photo; violinist Vannarpannai G.Shanmuganantham Master and clarinetist E.Subbiah Pillai Master. Both of them, positioned on the ground - in the front row - were also my coaches for that event. If memory serves, the clipped scalp in the bottom of the photo was that of Subbiah Pillai Master.
In sum, that debut concert of mine was a sincere team performance, where each of the seven assembled on that stage and the two who were in the front row performed their expected roles to near perfection. I'd never say, 'to perfection'. And how can I forget the unsolicited physical and mental support provided by my Aquinas University batchmates on that day, which also contributed to my musical glory on that night?
Sadly, during the past 35 years, among those who were with me on the stage on that night, my flute guru Jesudas, Ratnam Master and Atchuthan Master have passed away. Also, Shanmuganantham Master and Subbiah Pillai Master have left me for the celestial abode. If I'm not mistaken, Pitchaiyappah Master and T. Jeyasundaram (who played kanjira on that stage, and was seated immediately to my left in the back) may be still living. I don't know the whereabouts of Somanathan (who played tambura and is seated immediately to my right in the back).
Hope you won't mind me reminiscing about this old photo, which also links me with Raveendranath. This is not to brag about my flute debut performance, but to pay respect to my mentors and elders in music who taught a teenager (then about to enter the university), something worthy in life – the thrill of being a musician. Though none of them had a university education, they were professionals in their chosen musical careers. For all of them, I was merely a 'Thambi'.
I chose this old photo, also, for the reason to cheer up my pal Raveendranath. I care for his safety and good health.