Tamil Refugees Shelled as Army Closes In
by Marie Colvin, The Times, London, January 31, 2009
"The army have asked people to go to specific areas and then they fire on them."
Sri Lanka's civil war is nearing its endgame, says the reporter blinded in one eye by an army grenade on the island in 2001
MORE than 250,000 terrified Tamil men, women and children were trapped between rebel Tamil forces and the army in no man's land in northern Sri Lanka last night as the 25-year civil war appeared to be nearing a violent conclusion.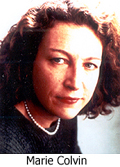 A 48-hour ceasefire was due to end after the government promised to eliminate terrorism once and for all. Mahinda Rajapaksa, the Sri Lankan president, vowed that there would be no let-up in the army's offensive.
The International Committee of the Red Cross said a humanitarian crisis was unfolding and described horrific conditions in the conflict zone, sealed off by the government to aid agencies, diplomats and journalists. It said medical supplies, food and shelter were almost nonexistent and families were living in makeshift tents and ditches in the jungle.
Hundreds have been killed by heavy artillery bombardment.
Last week one of the few convoys allowed to leave the north, home to the Tamil ethnic minority, carried 50 critically injured children, some just a few months old. Thousands of Tamils have fled east in the face of an eight-month drive by the army to crush the Liberation Tigers of Tamil Eelam (LTTE), known as the Tamil Tigers.
The fighting has reached a frenzy in the past few weeks, with the Buddhist government in Colombo speaking of an "endgame" in the civil war that began in 1983.
The rebels claim 800 have died in 10 days amid scenes of havoc in a "security zone" where the refugees are supposed to gather but where missiles have been falling. In a rebel video posted from the zone, Tamil nurses are shown at work in outdoor clinics, bandaging children. Bodies lie in rows under trees.
Although the government has issued statements saying that it will not injure civilians, I know how hollow they sound to those caught up in the fighting because I have encountered the Sri Lankan army.
Travelling to the north in 2001 to report on a humanitarian disaster that had engulfed 500,000 residents, I walked across a heavily fortified internal border that journalists had been forbidden to cross by the Colombo government.
Trying to return to a government-controlled area later, I walked at night past army bases lit by spotlights and ringed with barbed wire, following a Tamil route through waist-deep water and along jungle trails. When we were spotted, soldiers fired at us and lit flares. When I shouted I was a journalist, I was hit by shrapnel from a rocket-propelled grenade.
Although it is understandable that the soldiers that night were frightened that I might be a Tamil Tiger, they fired at me as I tried to stumble forward. When they saw me bloodied and barely able to stand, they beat me, stripped me and shoved me in and out of trucks despite the fact that I could barely breathe because of chest injuries from the blast and shrapnel in my head.
I was saved because I had access to help from The Sunday Times and diplomats, but the assurances from the Sri Lankan government will mean little to people in the northern Vanni area, who have endured indiscriminate bombing. The attack I survived was a mere footnote.
Yesterday the government said the Tamil Tigers were refusing to allow civilians to leave for safety, a claim the Tamil leadership denied. Tamil sources said a government offer that they should leave their homeland for areas under its control was unrealistic. "Not a single Tamil has slept in the last week," said a Tamil source. "They do not want to seek refuge with their killers."
Civilians removed in an evacuation have been placed in camps outside Vavuniya, the closest town to the conflict zone, which is off-limits to journalists. Injured civilians have been put in guarded hospitals. Tamils speaking from inside the conflict zone sounded desperate. "Civilians are trapped in an area 24 miles by 12. The Sri Lankan army are firing artillery and mortars from three fronts and the sea is on the other side," said a Tamil spokesman.
"The army have asked people to go to specific areas and then they fire on them."
Footage supplied by the rebels from Mullaitivu district appeared to confirm the claim. It showed people passing a naked, badly injured baby onto a lorry and doctors and nurses bandaging casualties.
"If the army overruns the forces of the LTTE, we will go back to guerrilla warfare. That will be on the head of the international community," said a spokesman.
There was little sympathy from Colombo. "We are determined not to have a ceasefire and we are determined to eradicate terrorism in Sri Lanka," said Mahinda Samarasinghe, the minister for human rights and disaster management.
Thurairajah Varatharajah, a senior health official in the Vanni district, said his hospital in Puthukudiyiruppu was overflowing with patients suffering shell blast injuries.
Britain called for an end to the fighting. "Military advances by the Sri Lankan government against the LTTE have come at a severe humanitarian cost," said David Miliband, the foreign secretary.
Thousands of Tamils demonstrated in protest in central London yesterday.