[TamilNet, Wednesday, 16 March 2016, 23:47 GMT]
Maithiriapala Sirisene, the president of genocidal Sri Lanka, who visited his native district of Polonnaruwa last week, has vowed to 'develop' the villages that are being Sinhalicised along the border of Batticaloa and Polonnaruwa through 'Mahaweli System B', which is being accelerated according to his latest instructions. Hailing from Polonnaruwa, Mr Sirisena has been implementing a long-term Sinhalicisiation agenda within the System B, which is the largest of Mahaweli 'Development' programme, consisting of 75,441 ha., including 27,179 ha of irrigable lands.

  Between 14,000 and 16,000 acres of grazing lands were allocated for the cattle belonging farmers from Batticaloa in the region. This has also been documented in a gazette notification in 1979.

The Tamil farmers were able to safely utilize the grazelands while the area was under the control of the Liberation Tigers of Tamil Eelam (LTTE) till 2007.

However, after 2007, Sinhalese were brought in from Polonnaruwa. The Sinhala colonists occupied the grazing lands and started to do agriculture there. The cattle belonging to Tamil farmers were chased away, shot and killed. The Tamil farmers have also been threatened at gunpoint.

Around 100 cows belonging to Tamil farmers have been slain within the last four months alone since November 2015. Some of the cows were shot and killed while others were strangled to death, the farmers complain.

While the last four months saw the slaying of 100 cows, a total 500 cows have been slain throughout the last 3 years. More than 100 cows have sustained injuries and around 40 cows have been reported missing.

As earlier reported, Sirisena's Mahaweli ministry has also been operating against conducting land Kachcheari's to issue land licenses and deeds to Tamils in Maathava'nai, Vadamunai-Tharavai areas.

Sinhalese settlers from Polonnaruwa, Ampaa'rai and from other districts in the South have been brought into the lands coming under the 'System B'.

The entire System B is located within the two administrative districts of Polonnaruwa (North Central Province) and Batticaloa (Eastern Province).

After becoming SL President, Sirisena merged the ministries of Mahaweli Development and Environment into one and brought them under his direct supervision as the minister in charge of the new ministry in order to carry out a sophisticated demographic change in the border area of Batticaloa, Polonnaruwa and Ampaa'rai.

Mr Sirisena was the minister of 'Mahaweli Development' between 1997 and 2001 and between April 2004 and November 2005 under the regime of Chandrika Kumaratunga.

He continued with the same position also under Mahinda Rajapaksa till April 2010.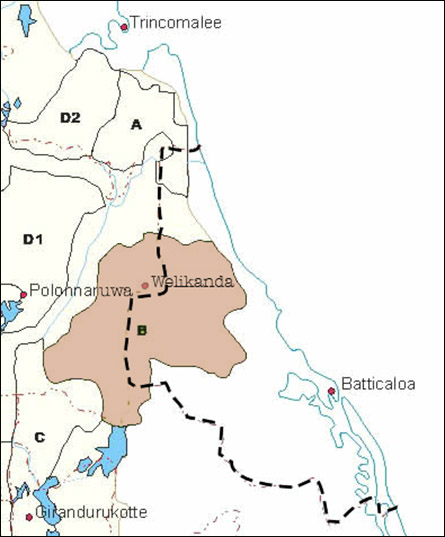 System B of Mahaweli scheme targets to Sinhalicise and colonise the agricultural and grazelands of Eezham Tamils in Batticaloa. The area being subjected to occupation was safeguarded by the Liberation Tigers of Tamil Eelam (LTTE) till 2007 and is known as Paduvaan-karai
Related Articles:
05.10.15   Sirisena's ministry, SL military seize more pasturelands fro..
14.06.15   Sinhala occupation of pastureland causes existential threat ..
Chronology: