by Sachi Sri Kantha, August 21, 2013
Recently I completed reading a wonderful biography on C.N. Annadurai (1909-1969), the founding leader of DMK, by R. Kannan. It's title was simply 'Anna' – appearing palindromic in English. This led me to study the semantics of this endearing Tamil word. This essay is also a sort of 80th birth anniversary tribute to singer Sirkazhi Sivasithamparam Govindarajan (1933-1988), who in quite a few movie songs had uttered this 'Anna' word or its variants like Annachi or Annathe with his inimitable voice. My last month's tribute essay to singer T.M. Soundararajan (TMS) was well received by many.  Unlike other tributes to TMS, I had compared his career to that of his three other contemporaries. In that item, while I equated the voice quality of TMS as that of a bugle, I also tagged the voice qualities of Tiruchi Loganathan and Sirkazhi Govindarajan as that of a trumpet and bell respectively.  In this essay, I offer a duet song sung by Loganathan and Govindarajan that made waves when it appeared first in 1955.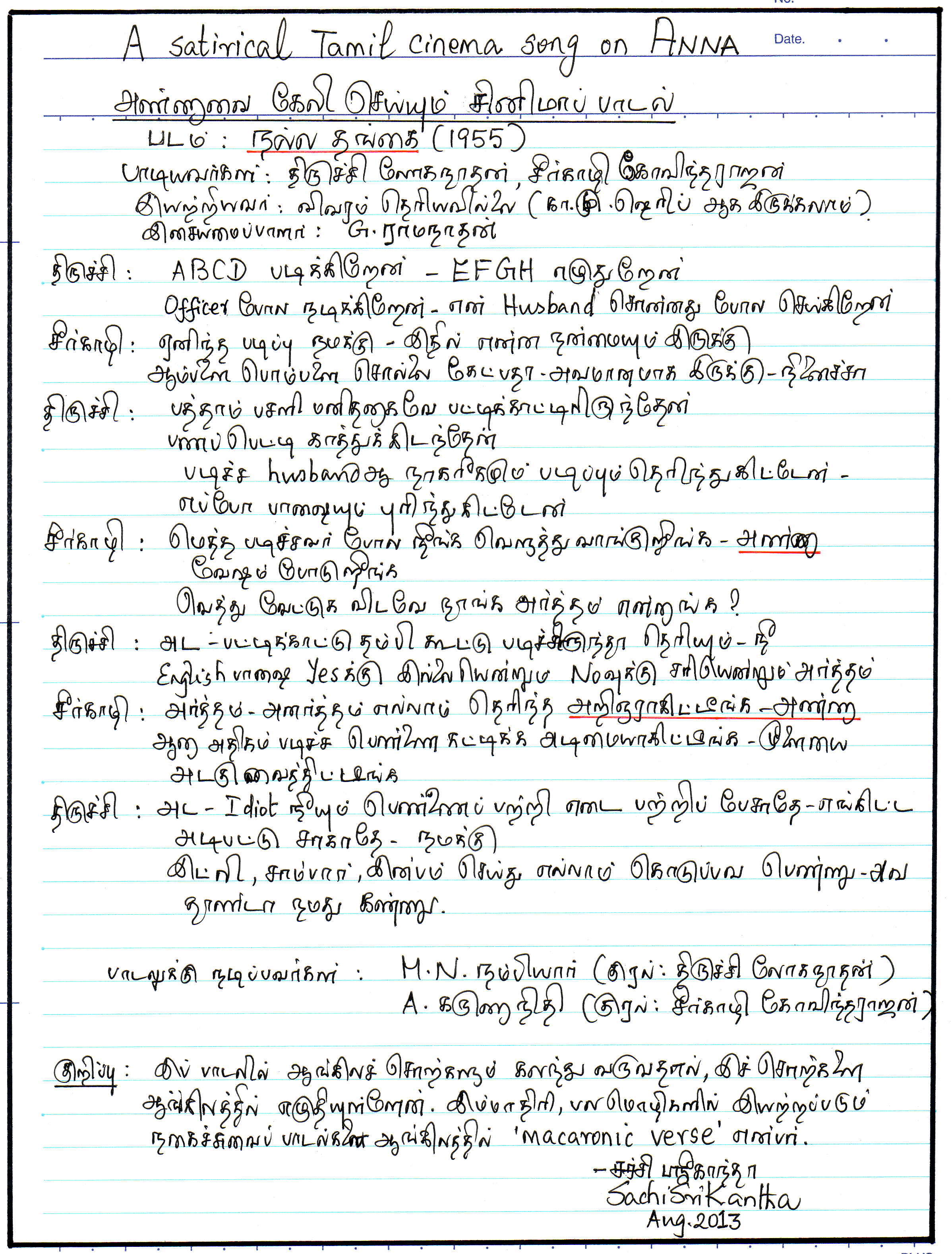 Kannan, in his Anna biography, makes reference to an old Tamil movie song that punned on the endearing title Anna carried – 'Arignar' (the scholar). The movie was 'Nalla Thangai' (Good younger sister, 1955). It was a satire song, sung as a duet between two men – a bumpkin (master) and his servant in a rural setting. It is also a good example of macaronic verse, which the dictionary defines as 'burlesque verse containing words or inflections from one language introduced into the context of another.' The singers were Tiruchi Loganathan (for actor M.N. Nambiar who plays the bumpkin) and Sirkazhi Govindarajan (for A. Karunanidhi, a comedian actor of 1950s, who plays the servant). I provide the scribed Tamil original of the song nearby.
I'm not sure who the lyricist was. The movie's title credits list five names as lyricists: Ka. Mu. Sheriff,  K.P. Kamatchi, Lakshmanadas, Maruthakasi and Bharati. One can exclude Subramanya Bharathi (1882-1921), because his 'Kannan as my servant' song 'Kooli miha ketpaar' was posthumously incorporated into the movie and rendered eloquently by music director G. Ramanathan. Among the other four, I'm inclined to infer that Ka. Mu. Sheriff could have been the lyricist of this macaronic song, in preference to other three. The song's translation in English is as follows:
Tiruchi: I'm learning A B C D, I'm writing E F G H.
I'm acting like an officer, I'm doing what my husband tells.
Sirkazhi: Why do we need this learning? What is good about it?
I'm ashamed to think that a man should listen to a woman.
Tiruchi: I was a bumpkin being illiterate and guarding the money safe box
From learned husband I became civilized and literate- and learnt the language.
Sirkazhi: Like one who  has studied you do excel – Anna; you act well indeed!
             What's the meaning of such empty flow for us – would you tell?
Tiruchi: You- a bumpkin Thambi would know if you have studied
In English, yes means 'No' and no means 'Yes'.
Sirkazhi: You've become a scholar knowing sense and nonsense – Anna; but having
married a literature woman – you've turned as a serf and have your brain on a lease
Tiruchi: Hey – you idiot, don't grumble bad about woman – don't die by my beating!
It's the woman who offers us idli, sambar and fun; she's deemed as our eye!
The lines which were then understood to ridicule Anna (leader of DMK) are indicated in bold font. But, in my reading of the complete lyrics of this duet, there is more to it, than simply a satire song on Anna. If one reads the Tamil Nadu political history, the events of 1954, and the party affiliations of those who contributed to this particular movie 'Nalla Thangai' (released on February 5, 1955), I consider this particular lyric as a double-barrel satire on Anna as well as the newly anointed Chief Minister Kumarasamy Kamaraj (1903-1975).
The movie had two well-known artistes (script writer A. P. Nagarajan, and lyricist Ka.Mu. Sheriff) in its title credits, who belonged to the Thamil Arazhu Kazhagam party, led by Mayilai Ponnusamy Sivagnanam (1906-1995). He was endearingly called as Ma.Po. Si. Other interpreters have proposed, that it was A.P.Nagarajan's attempt to ridicule Anna and DMK. But, he was not the lyricist, but a script writer!
The particular lyric in discussion, was a duet between an illiterate master and his servant. The master, after getting married to a woman with city education, learns English. The servant ridicules him as becoming one who is educated by a woman, who was new to his household. In the lines of the lyric, as well as in the movie dialogues, the master misuses the word 'husband' to indicate his wife! The servant, being 'younger' to the master, address the latter as 'Anna'  – the endearing term used by Tamilians, irrespective of blood links.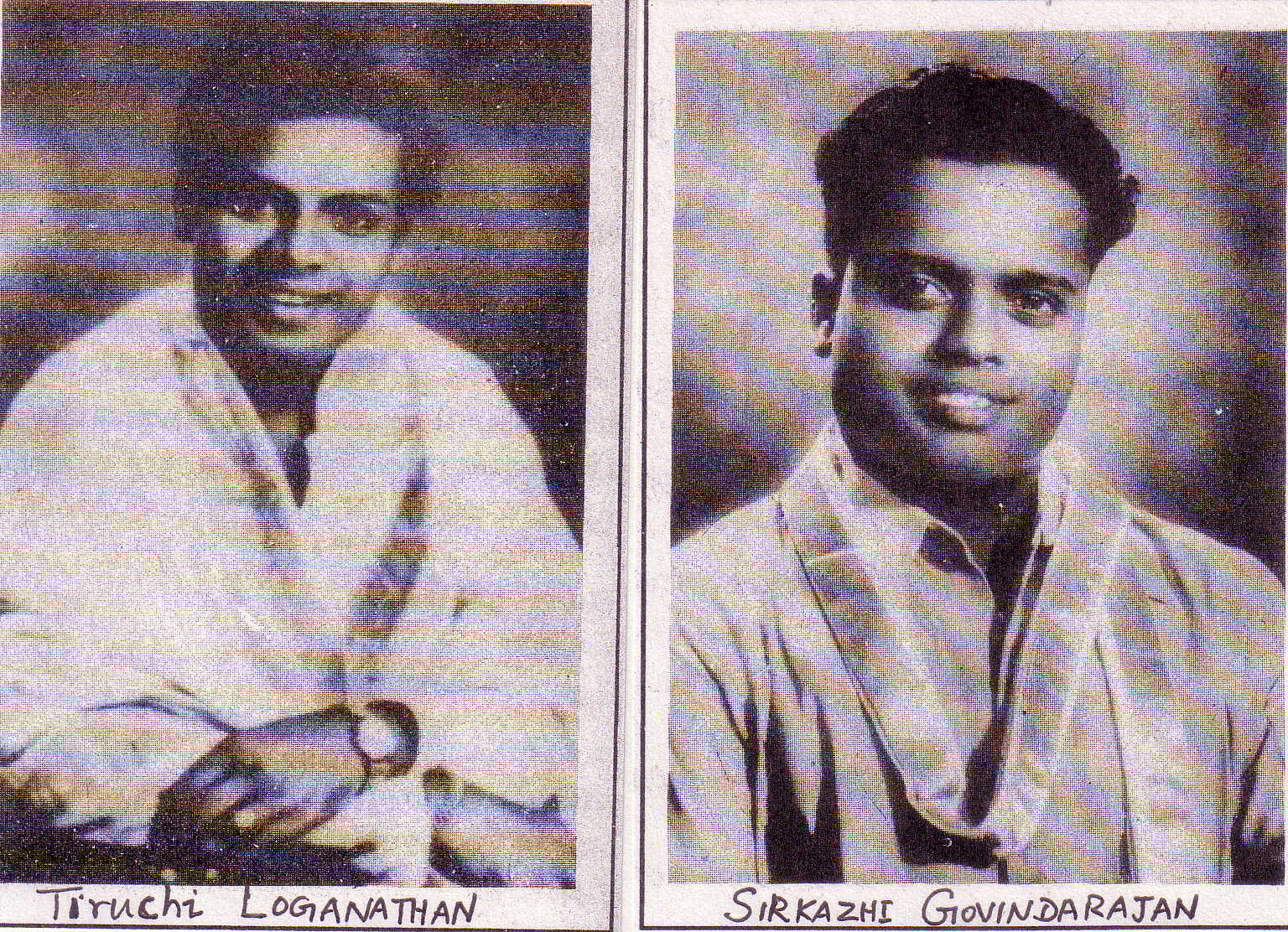 But the thrust of other lines in the lyric, seems focused more on Kamaraj and his politics. One should note that Kamaraj of Congress Party assumed office as the Chief Minister of Madras State on April 13, 1954. Ma.Po. Si, who belonged to the Congress Party, quit it on August 8, 1954, in conflict with Kamaraj, and instituted his new party Tamil Arasu Kazhagam. The reasons, why I suggest that Kamaraj was the target (or co-target) of this satirical lyric are as follows: (1) General consensus was that, he was English illiterate, unlike Anna. The focus of the song was on a bumpkin learning English alphabets. The twisted political context of understanding a 'yes' as 'no' and a 'no' as 'yes' was a prick on the bumpkin's level of literacy. (2) After becoming the chief minister, Kamaraj somehow had to learn to speak English for administrative purposes. The bumpkin sings, 'I'm acting like an officer'. (3) He had to have cordial relationship with the Central Government (then dominated by Jawaharlal Nehru and Congress Party). The bumpkin brags, 'I'm doing what my husband tells.' In the lyric, the Central Government is extolled by the master with the sentiments that it is 'she' who feeds (idli and sambar) to them and offer other pleasures. In role reversal, the Central Government was depicted as a 'she' who knows all. The lyric ends, with the master admonishing the servant, 'Don't be an idiot to bad mouth 'her'. I'll beat you, if you do so.'
Annathae and Annachi
Two variant forms of 'Anna' are also used honorifically in other endearing extensions such as Annathe and Annachi. Lyricist Pattukottai Kalyanasundaram (1930-1959). A popular dance number penned by him to MGR's Chakkaravarthy Thirumagal (1956) movie, begins with,
'Aada Vaanga Annathe – Anjaatheenga Annathe! Ange-Inge Parkirathu Ennathe! (Annathe – will you come to dance? – Annathe Why do you fear? – Why do you look here and there?). This was the beginning line by two women back dancers. Then, MGR (voice by Sirkazhi Govindarajan) retorts, 'Aadam podura ammalu!- asanthu nirkira ammalu! – ayya kidde sellathaiah kumalu!' (Hey lady, you're dancing – Hey lady, you look surprised – Your cheating ways cannot beat me). Could MGR have approved this song in his movie, if the word 'Annathae' was derisive in any sense to his leader Anna?
Kalyanasundaram again wrote a lilting melody for a Sivaji Ganesan movie Pathi Bakthi (1958), which has the word 'Annachi' in it.
Intha thinnai pechchu veeraridam – oru kannayirukkanum annachi- Naam onnayirukkanum annachi (We should be careful about these gas bags – Lets keep an eye on them annachi- we should join against them annachi)
Poet Kannadasan also had written a lyric for a Sivaji Ganesan movie Pazhani, which begins with 'Annachi vetti kattum Ampillaya Neenga – yararkum rosamiruntha maatu pakkam ponga' (Annachi – are you a man who wears vetti? If you have courage, why not go near the bull?), sung by Sirkazhi Govindarajan.
The 'Annachi' is also used commonly among Nadar caste folks in Tamil Nadu, and it is no secret that Kamaraj (who belonged to the Nadar caste) was taunted by DMK journalists with the slogan 'Viruthunagar Annachi – Unga veerappellam ennachu' (Annachi from Virudhu Nagar – what happened to your braggadocio?), after his embarrassing 1967 loss at Virudhu Nagar constituency. At the pre-election campaign, Kamaraj had bragged that he would win by 'sleeping' – but he lost to a DMK student leader.
Annan
One of the most popular lyrics of poet Kannadasan expressing sibling love carries the word Annan. For the Sivaji Ganesan starrer 'Pasa Malar'(1961), his lyric begins with 'Malarkalai pol thangai urangukiral – Annan vazhavaipaan enru amaithi kondal; Kalainthidum kanavukal aval padaithal – Annan karpanai therinil paranthu senran' [ Sister sleeps like a flower – she is in peace thinking (her) brother offers her life; She is full of dreams that disperse – Brother does fly in a fiction chariot.]
Annave
Even in the DMK's signature movie Parasakthi (1952), in which Sivaji Ganesan debuted, the popular Ka – Ka- Ka (crow) song, sung by Chidambaram Jayaraman, in a line the word Anna was tagged to crow as  'Kaakai Annave neengal azhagaana vaayaal pannaga paadureenga' ( Crow elder – you are singing so melodiously with your beautiful mouth). Should it mean that it was self-deprecating humor on Anna, by his protégé M. Karunanidhi, whom I believe was the lyricist for this song?
Among Eelam Tamils, the endearing extension 'Annai' are prevalent. It is also used prominently in Tamil Nadu among movie industry and cultural circles, as Anne. In LTTE circle, its leader Prabhakaran was originally known as a 'Thambi' (a younger brother) in early 1980s. Then, in early 1990s, his status morphed into 'Annai', for his junior cadres. A Time magazine news report by Edward Desmond offers the following description:
"It is in the end Prabhakaran whose will binds the Tigers. His followers call him Annai, or elder brother, and talk of him with wide-eyed awe, their only fear the possibility that they might let him down. 'He is mother, father and god all rolled into one', says a guerrilla named Sunil. Government soldiers tell of a badly wounded female Tiger they captured at Elephant Pass. Her dying words were not a call for mother but for 'Annai, Annai'. (Sept. 16, 1991, p.20)
In early 2000s, Prabhakaran became the 'Thalaivar' (leader) for the Tamil public, while Anton Balasingham remained as 'Bala Annai' until his death, because he was addressed as  'Annai' by Prabhakaran.
Annavi
Among Eelam Tamils, Annavi is used as a suffix following the name for a traditional Tamil dance drama tutor.
Annal
'Annal' is another related honorific word. The Tamil-English dictionary by V. Visvanatha Pillai (1951), provides eight variant meanings for this word. These include, (1) the god of the Jainas, (2) a king, (3) cleaving to, being attached, (4) an elder brother, (5) the god of the Buddhists, (6) a superior, a great man (7) a ruler in a jungle district, and (8) greatness, dignity, exaltation, loftiness. The most famous line in which this word appears refers to Lord Rama, in Kambar's 12th century epic, Kambaramayanam. Kambar describes the scene when Lord Rama saw young Sita for the first time, as 'Annalum nokkinaal; avalum nokkinaal' [The Lord watched (her); and she also glanced (at him).], a delicate way of saying that cupid arrows were exchanged between the two.
Why such variants exist?
In my thinking, the prime reason for the prevalence of such variants of Anna (Annachi, Annathae, Annan, Annai, Anne, Annavi and Annal) is due to the inhibition among Tamils to address someone older than themselves pointedly by the person's name. It is considered disrespectful. Secondly, even if one doesn't know the name or if it cannot be retrieved instantly from memory, the guy in front can be respectfully addressed with any of these suitable Anna variants.