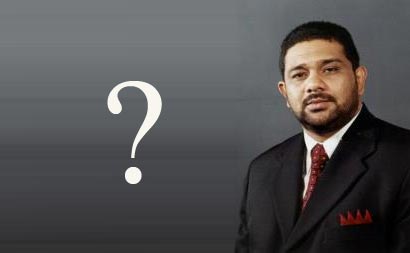 To whom it may concern,
Attached is a copy of my affidavit filed in an appeal made on behalf of Mr. M Azath M Sally to the Supreme Court in Sri Lanka.
Azath was taken into custody under the PTA and the police stated that according to a news item Azath has addressed a meeting provoking Muslims to rise up, directed them to armed struggle and seek support for such activity in India.
This news item is inaccurate and a correction has been sent. However even the said news item has not indicated what the police interpreted.
This police action is a complete violation of the Commonwealth Charter.
Please intervene on behalf of this political prisoner.
Dr Vickramabahu Karunarathne May 2, 2013
17 Barrack lane , Colombo 2
AFFIDAVIT
I, Dr. Vickramabahu Karunarathne of 17 Barrack Lane, Colombo 02 being a Buddhist do hereby solemnly, sincerely and truly declare and affirm as follows:
1. I state that I am the affirmant hereto. I affirm to the following from my personal knowledge and material available to me.
2. I am the General Secretary and Leader of the Nava Sama Samaja Party (NSSP) which has been involved with several social movements and political activism in Sri Lanka.
3. I convened several political parties and launched the "The Movement for Unity with Power Sharing" consisting of recognised political parties namely the NSSP, Democratic Peoples' Front (DPF), Tamil National Alliance (TNA), National Unity Alliance (NUA), United Socialist Party (USP). M. Azath S. Salley is the General Secretary of the NUA.
4. I state that this organisation is led by Azath S.Salley, M.A. Sumanthiran, Siritunga Jayasuriya, Mano Ganshan and myself.
5. I state that this organization has been at the forefront in condemning any attempt to raise racism, religious sectarianism in the country.
6. I state that from about February 2013 attacks were launched by a group by the name of Bodu Bala Sena (BBS) on Muslin and Christian religious establishments and demanded that they refrain from certain religious practices.
7. I state that on every known occasion of when a place of worship or establishment came under such attack our organization intervened to settle the matter.
8. I state that Mr. M. Azath S. Salley participated in several television debates and discussions on behalf of our organization regarding the attack on minority religious establishments.
9. I further state that a hate campaign was carried out against the Muslims and persons of other religious faiths other than Buddhism by the state media and further more publicity to such acts of the BBS and other extremist groups were given by the other media institutions.
10. I further state that when the Dambulla mosque came under attack our organisation held in Colombo awareness programs and legitimate protests against the said attack.
11. I state that in or about March 2013, our organization intervened to settle the dispute when certain Muslim business establishments came under attack by extremist groups. Further, since this event we monitored the isolated media campaign carried out against M. Azath S. Salley. A series of anonymous web postings and SMSes were circulated with the malicious attempt of targeting M. Azad S. Salley.
12. I state that thereafter our organization held a press conference and called on the Government to arrest the situation and to ensure the safety and security of M. Azath S. Salley.
13. I further state that based on the information available to our organization the Government is directly instrumental in isolating and attacking M. Azad S. Salley.
14. I further state that instead of giving protection to M. Azad S. Salley the Government proceeded to implicate him for inciting the Muslim population. Further the authorities attempted to arrest M.Azath S. Salley on several occasions without any legal basis.
15. I state that we informed the public of the moves to arrest M. Azath S. Salley and the threat to his life. In or about mid April 2013. I am aware that M. Azath S. Salley filed a application for anticipatory bail in the Magistrate's Court of Colombo which has now been granted by the Learned Magistrate. I state that our organization held a protest objecting to move of the Government.
16. I am aware that on or about 19th April 2013, officers of the Criminal Investigation Department (CID) questioned M. Azath S. Salley and there is a move to arrest him falsely implicating him for offences under the penal code and other laws in the country. I further state that I am aware of the move of the Government to arrest political leaders who speak out against racism and religious fundamentalism.
17. I state as a politician who observed the political developments of the country that the Government has an ulterior motive of controlling dissenting voices amongst other things.
18. I am extremely concerned about the safety and security of Mr. M. Azath S. Salley, especially keeping in mind hundreds of extra judicial killings carried out in the recent past of persons in custody none of which have been investigated properly.
———————————————
Sri Lanka: Prominent Muslim Politician and Govt Critic Arrested in Sri Lanka
by Amnesty International, May 2, 2013
A prominent Muslim politician and government critic arrested today in Sri Lanka must be immediately released or charged with an internationally recognizable criminal offence, Amnesty International said.
Azad Sally, the leader of Sri Lanka's newly formed Muslim Tamil National Alliance, was reportedly taken into custody on Thursday morning by the intelligence services for unknown reasons.
Sally has been an outspoken critic of a Buddhist organization, Bodu Bala Sena, which has since February 2013 allegedly attacked Muslim and Christian religious establishments and agitated against certain religious practices. On 29 April he told journalists he was in hiding because he feared for his safety after receiving threats in state-run media.
"Azad Sally's arrest, and the harassment he has faced over the past weeks, is indicative of the climate of fear government critics in Sri Lanka are forced to live under. He must be released immediately or charged with an internationally recognisable criminal offence," said Polly Truscott, Amnesty International's Deputy Asia Pacific Director.
"He has been campaigning to end oppressive practices against minorities in Sri Lanka, in particular Muslims and Tamils, for which he has faced the ire of the Sri Lankan government.
"Sally appears to be the latest victim in the intensifying crackdown on dissenting views we have seen in recent years, motivated by the government's desire to tighten its grip on power. Journalists, the judiciary, human rights workers and opposition politicians like Sally are among those who have been targeted through threats, harassment and vicious violent attacks."
The Sri Lankan government remains set to host the Commonwealth Summit in November despite calls by Amnesty International and others for it to be relocated.
"Commonwealth leaders must take a stronger stand against the government's violent repression of dissent and its persistent failure to bring to justice those responsible for alleged war crimes and crimes against humanity," said Truscott.