The Indrakrishnans are part of a new tide of immigration with traditionally strong family ties.
ATLANTA — When people first meet Dr. Indran Indrakrishnan, a gastroenterologist with a busy private practice near Atlanta, they take note of his unusual name, his crisply lilting accent, his tan complexion and wavy black hair, and they ask, "So, doctor, where are you from?"
"See if you can guess," Dr. Indrakrishnan replies cheerfully. India? No. Pakistan? No. Iran, Egypt, Turkey, Afghanistan? Negatives all around.
"At that point they're stumped, and they move on to South America," he said, "and when I finally tell them I was born in Sri Lanka, they look more confused than ever. 'Sri Lanka? Where is that?' "
Such casual geographic illiteracy may soon give way under the sheer force of numbers. Dr. Indrakrishnan is part of a new tide of immigration that has been sweeping America, upending old voting blocs, reconfiguring neighborhoods, diversifying local restaurant options and casting a fresh perspective on the meaning of traditional family values.
Though much of the immigration debate has focused on Latinos, the fastest-growing immigrant groups are not Hispanic but Asian. The Asian-American population soared by 46 percent from 2000 to 2010, compared with 43 percent for Hispanicsand 1 percent for non-Hispanic whites, and the Asian share of new immigrants nearly doubled, to 36 percent from 19 percent.
The 1950s stereotype of the ideal American family, of Dick, Jane and Wonder Bread homogeneity, arose at a time when the immigration rate was near historic lows. Today, the best place to find a traditional, G-rated American family may be in an immigrant community. Asian-American families, in particular, are exceptionally stable. They are half as likely to be divorced as Americans in general; only 16 percent of Asian-American infants are born out of wedlock, compared with 41 percent over all; and 80 percent of Asian-American children are raised by two married parents, versus 63 percent over all, according to Pew Research data.
Many of the new Asian immigrants come from solidly middle-class backgrounds, and many, though by no means all, do as well or better after moving to the United States. Fifty-one percent hold college degrees, compared with 31 percent of all adults. According to recent studies, Asian-Americans have the highest average household income of any racial group, roughly $68,000 a year, compared with $55,000 for whites and $34,000 for African-Americans.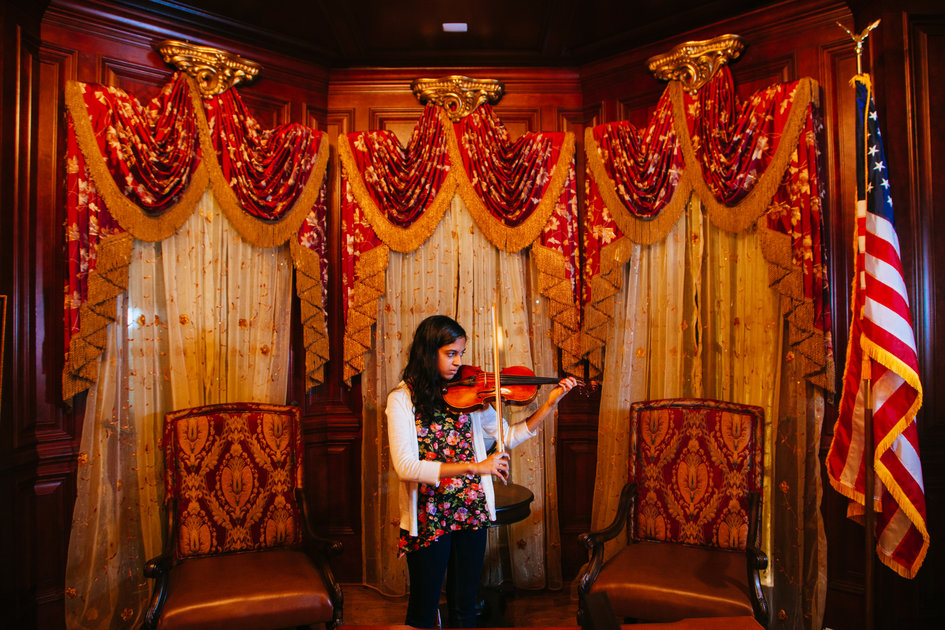 At the front edge of the Asian-American boom are immigrants from South Asia, including India, Pakistan and Sri Lanka.
Dr. Indrakrishnan, 53, who also teaches at the Emory University School of Medicine, is something of a celebrity among South Asian immigrants — the sociable, civic-minded and highly successful professional everyone wants to schmooze with at the local Hindu temple each week.
"Sometimes I have to go to temple during off hours," he said, "or I'll get caught up chatting there the entire day."
Harini Indrakrishnan, a high school senior, was born in the United States. Her parents, from Sri Lanka, became American citizens a decade ago.David Walter Banks for The New York Times
He lives with his wife, Gayathri, 49, a tax accountant, and their daughter, Harini, a high school senior, in a gated enclave on the banks of a glistening artificial lake, not far from the former residence of the football quarterback Michael Vick. The house feels like a castle, only bigger — 15,000 square feet of vaulted, chandeliered ceilings, an enormous alabaster fireplace, matching ornate staircases that curve together like an upside-down heart, and an elevator if you're too tired for the stairs.
Personal statements can be found throughout: in one corner, an elegant bronze sculpture of the Hindu deity Shiva; in another, a bulbous-bodied stringed instrument called a Saraswati vina that Gayathri Indrakrishnan wishes she had more time to play; and in the basement, a custom-built studio where Harini practices Bharatanatyam, a highly structured, almost geometric form of classical Indian dance that has become a defining feature of her otherwise all-American life.
"Dance keeps me connected to my culture," she said. "I've got the best of both worlds."
Her parents grew up in the same part of Sri Lanka and had friends, a family doctorand a cleaning woman in common. But the two didn't really meet until they were young adults living in North America — he finishing his medical training, she pursuing microbiology — and their older brothers decided to play matchmakers.
He flew to Toronto for a rendezvous. If it wasn't exactly love at first sight, she said, "the chemistry was there." The couple spent a year exchanging phone calls and letters and were married in 1991.
"We had what's called a semi-arranged marriage," Dr. Indrakrishnan said. "It's quite common back in India and Sri Lanka." Families are involved, but they don't push; "we had to like each other and get along."
After they married and settled in the United States, Ms. Indrakrishnan traded microbiology for an M.B.A. and a numbers-crunching career. She and her husband became American citizens a decade ago.
"I love living here!" he said. "It is truly the land of opportunities." Yet he said he would not have wanted to marry an American woman, and when asked the first word that came to mind on hearing the word "family," he said, "Gayathri, my wife."
The Census Bureau does not track the frequency of arranged marriages, but researchers believe the numbers are rising. Among other signs, they said, is the growing number of immigrant matchmaking websites like bharatmatrimony.com, aimed not just at eager singletons but at their parents and relatives.
And though many Americans may bridle at the idea, studies suggest there is little downside to letting the family do your advance work. Kathryn Klement, a doctoral candidate in psychology at Northern Illinois University, surveyed 329 married Indian women, 176 of them in arranged marriages, and said, "I didn't find any significant differences" between the two groups in marital happiness, feelings of intimacy, trust and commitment, sexual satisfaction and the ease with which the women could express their desires.
Indran and Gayathri Indrakrishnan independently identified the same key to long-lasting marital harmony. "It's tolerance," she said. Many of Dr. Indrakrishnan's American patients "are not very tolerant of their spouses," he said. "They want the chemistry to be perfect, and if it isn't, pfft, they split up."
Tolerance extends to their parenting style. Their expectations for Harini are quite high, but they care less whether she aces every class than that she is always trying, always seeking to improve.
"If there is homework due or a test the next day and she's goofing off and not listening to me, yes, I'll be upset," her mother said. Harini, it seems, has absorbed the parental credo. When she sensed that Facebook was interfering with her schoolwork, she deactivated her account.
Also poised for deactivation is a certain cliché symbolized by fangs and stripes.
It is no secret that many Asian-American students excel academically; their average SAT scores, for example, are the highest of any ethnic group.
One theory to gain traction lately is that Asian-American parents are harsh taskmasters who virtually chain their children to their desks and pianos, a view reinforced by Amy Chua in her best-selling book "Battle Hymn of the Tiger Mother."
But a long-term study of 300 Chinese-American families suggests that view is nothing but a stereotype. The researchers, led by Su Yeong Kim, an associate professor of human development and family sciences at the University of Texas at Austin, administered lengthy questionnaires to parents and children, asking about school, work, home life, grades, extracurricular activities and emotions. The researchers determined that the parents most likely to raise high-achieving offspring were not cold authoritarians but ones who combined "the right amount of parental control" with a "high level of warmth," Dr. Kim said.
"Supportive parenting always yields the best outcome academically and socio-emotionally, too," she added. "These kids outperform the kids of tiger parents by quite a lot."
She and her colleagues proposed other factors that might help explain the good report cards: family pride; cultural traditions that extol education, like Confucianism; and children's acute awareness of parental sacrifice.
"They gave up everything for their kids," as Dr. Kim characterized this attitude, "so I'd better not blow it." And when they succeed, they bring honor to ancestors, descendants, the entire high-fiving clan.
Article on the changing American family for the family holiday of Thanksgiving – http://www.nytimes.com/2013/11/26/health/families.html?ref=science