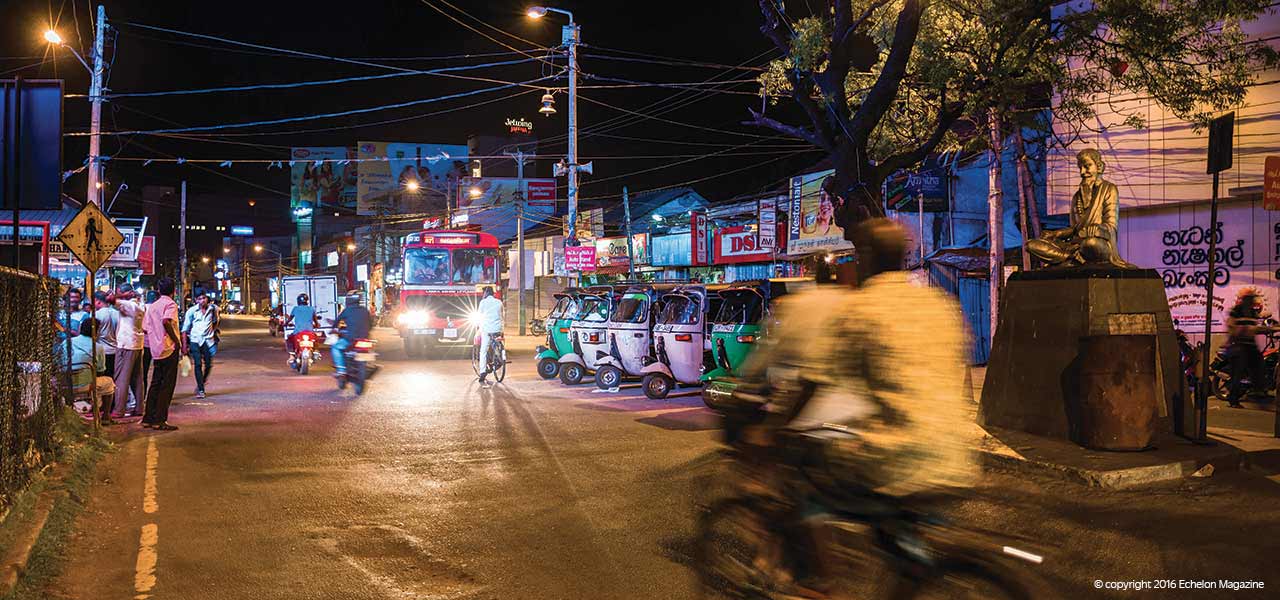 by Devin Jayasundera, 'Echelon,' Colombo, June 28, 2017
THE NORTHERN PROVINCE IS IN A STATE OF ECONOMIC ISOLATION. WHILE THE STATE IS IN A POLITICAL DREADLOCK, ORDINARY PEOPLE HAVE TAKEN CHARGE
For the last three months, Kamalnath*, 26, has been arriving to work in Chunnakam two hours late, leaving two hours early and spending his free time at a friend's home in Nallur. He works at his family's fancy goods store, retailing beauty accoutrements like bangles, hairpins and the latest fairness creams.
Chunnakam is second most populous town in the Jaffna district. Kamalnath's father's store averages revenue of Rs20,000 per day.
The store employs three people, including Kamalnath. But Kamalnath is not just any other helper. "I'm a second upper class graduate of business administration with specialization in accounting from the University of Jaffna," he says.
When Kamalnath entered the University of Jaffna in 2010, his dream was to be a university lecturer. "If that didn't work out, I wanted to get a man agement trainee position at a bank," he says. As of now, both plans have not yet materialized in his favour. After graduating in 2015, as he could remember, he only applied for three jobs. The first is what he calls his dream job, the management trainee position at Bank of Ceylon. The second is another management trainee position at People's Bank. The third is a government internal audit position for the Northern Province.
The BOC management trainee position is a highly sought-after post that is contested across the island. Kamalnath sat for the four-hour exam in January this year. According to him, out of the 1,000 people who applied from the Tamil-speaking districts, only 12 will get selected. "I went to the library every day and studied for six months with the same effort I put for my A/Ls," he says. The results are expected in the early weeks of June.The BOC management trainee position provides a monthly training salary of Rs50,000, and is expected to rise up to Rs70,000 after two years. If Kamalnath is selected, this would be a significant leap from his current meagre Rs200 per day stipend given by his father.
"I'm waiting for a job that is in line with my educational qualifications," he says. Being the only one out of four brothers to get selected to university, the promise it once showed has slowly withered away.
Kamalnath is not alone. According to him, out of his graduating batch of 150, 60 students were from the Jaffna district, and almost 20 are still under-employed or on the verge of unemployment.
Hunched over the glass showcase boxes behind the wall of glittery necklaces, Kamalnath is determined to make things right. "If I don't get the BOC job, I'm ready to do any kind of job, even marketing or sales, anywhere in the country," he says. A few seconds later, he confirms, "I will get that BOC job."
***
Just nine kilometers from Chunnakam, a marathon protest by unemployed graduates right in front of the Jaffna District Secretariat is eliciting some unusual vigor. The reason for this has been the visit of Prime Minister Ranil Wickremesinghe in the late afternoon. Speaking to the protestors, he has vowed an effective solution within the next 30 days. Before leaving, he made one last plea: To end the protest and remove the tin roof shed that has been housing the protestors, which is an eyesore for the administrative clerks next door.
Protesting also comes at a price. The hiring company charges Rs1,500 per day for the shed. "After 86 days, the total cost now amounts to almost Rs130,000," says Muhunthan, 32, an arts graduate from the University of Jaffna.
According to him, there are 3,250 unemployed graduates in the Northern Province, comprising 1,350 arts graduates, 750 management graduates and 700 fine arts graduates. "We had hope that, if we studied, we would get a government job," he says. "This was a promise we believed in."
The billboards along the A9 as you near Jaffna city are huge. Placed in arid onion fields, they are at least 50 meters in length, with beaming advertisements of the latest scooters, beauty products and mobile service packages.
Juxtaposed to the dusty and dampened local trading shops, the glass panels of the banks and mobile service companies glimmer as if just unwrapped from a gift box. If visual indicators mean anything, these are the beckoning signs of economic progress in the post-war economy of the Northern Province.
But all is far from well.
The North is still the most impoverished province, contributing just 3.5 percent to total GDP, and has the lowest per capita income level in the country. Constrained with minimal linkages to major commercial centers, and challenged with cultural and language barriers, the war-ravaged region has succumbed to a state of economic isolation.
One of the significant consequences of the weak economic progress is youth unemployment. While the country's unemployment rate stands at 4.6 percent, it is 5.3 percent in the Northern Province. A recent World Bank report shows that almost 55% of the working age population is unemployed in the region. The increasing presence of criminal gangs is also speculated to be a byproduct of idle youth.
The lack of marketable skills and unyielding preference for government jobs are common symptoms across all unemployed graduates. But the fate of Northern unemployment graduates is far worse. With the dearth of private sector investments in the region, job opportunities are scarce; and due to language limitations, these graduate are unable to move to another province for work. Naturally, the local government service is overburdened, and cannot recruit any more people.
"Only retail businesses and the financial sector came here," says Ahilan Kadiragamar, an independent policy researcher based in Jaffna. "And they came here to extract what was left after the war."
He argues that most private sector investments came in the shape of retail businesses. "In terms of activating production, very little has happened," he says.
Banks coming into the city heralded an unprecedented rate of financial expansion. The availability of cheap credit and irresponsible lending led to a streak of indebtedness, mostly among casual labourers, fishermen and farmers. The two key reasons for borrowing was for livelihood and housing construction.
According to a survey by the Center of Poverty Analysis conducted in 2013 at the height of the credit crisis, 86 percent of its households were indebted averaging around Rs150,000.
"Banks lent without considering the financial background or the capability of its borrowers, strongly motivated by the need to achieve targets," says G. Piratheepan, general manager of People Leasing Corporation."After the war, they assumed the private sector would come in. But they didn't," says Kadirgamar. "I don't think they will come any time soon either. There is no reason for the private sector to come here."
To back his point, Kadiragamar argues that even the two new MAS factories in Kilinochchi, which are often showcased as a signage of private sector investment, were partly funded by USAID. Another example is the Chavakachcheri Dairy Development Centre, a joint project by Cargills, German aid agency GIZ and multinational packaging company Tetra Laval.
The local government has been apprehensive on private sector investment. Last year, Northern Province Chief Minister C.V. Vigneswaran, addressing a group of donor agencies said, "We will not allow outsiders to rule over us, or allow our resources to be looted." More recently, he outlined that the diaspora and local business community should be given the highest priority for investment projects.
Jekhan Aruliah stays on the fourth floor at Tualsi Mahal, one of Jaffna's newly-built modern condominiums. Other than his ancestral roots, Aruliah is a complete stranger to the new place he calls home. "I don't even speak Tamil," he says. Like many Jaffna Tamils, he left Sri Lanka at the age of two and settled in the UK. Living the immigrant dream, he graduated in Maths and Physics from Cambridge, and embarked on a two-decade career in IT.
After the passing of his wife, Aruilah returned to the country in 2015 with a stern objective: To bring white collar jobs to Jaffna. His initial efforts comprised making a case among top corporates in Colombo to seize the economic potential of the Northern Province. "They weren't interested in coming here," he says in his stiff British accent. "It's not their top priority."
"The case to come to Jaffna has to be, to a large part, emotional," says Aruliah. Working in the IT industry for two decades setting up development centers for a British firm in Sri Lanka and Gurgaon, India, in the early nineties, Aruliah believes Jaffna's economic destiny lies in sectors like IT. "When I came to Colombo in 1993, the software industry was weak. There were less than five companies doing serious software development. We had to train everybody from scratch," he says. "That's how Colombo developed into a software hub."
As a first step, Aruliah wants to build a 26,000 square foot office in a land belonging to his family. The complex is expected to be completed by the end of next year. Yet, his most ambitious venture is to convert the abandoned 40,000 square foot Leyden factory, in partnership with its owner, into a dedicated IT office. The Leyden factory was once an iconic garment manufacturing facility that specialised in vests and underwear for popular brands like Velona. During LTTE occupation, the factory was a central point for the insurgents. Behind the bullet-ridden walls and a machine gun-battered concrete beam, Aruliah says "We want this to be the Orion City of Jaffna."
We had hope that, if we studied, we would get a government job. This was a promise we believed in." – Muhunthan, an arts graduate from the University of Jaffna
The 'Jaffna as an IT hub' slogan is often repeated in the redevelopment narrative of the Northern Province. This has much to do with the nostalgia of Jaffna as an intellectual powerhouse during colonial rule, when especially the professional class dominated civil service, academia and medical services. So much so that bureaucracy services in Malaya and Singapore were dominated by Jaffna Tamils. In fact, Lee Kwan Yew once said, "In terms of numbers, the Ceylonese, like the Eurasians, are among the smallest of our various communities. Yet, in terms of achievements and contributions to growth and development of modern Singapore and Malaysia, they have done more than warranted by their numbers."
Yarl IT Hub is an initiative that works on the development of IT education in the Northern Province. For the last six years, the organization has conducted workshops with the intention of creating a technological renaissance in the region. "If we have one successful entrepreneur or startup, it's going to go viral," says Balathasan Sayanthan, a founding member of Yarl IT Hub who is also the Chief Business Development Officer of hSenid.
In fact, the only white collar jobs offered in the Northern Province, excluding the retail operations of banks, telcos and local accounting firms, is the threadbare IT sector in Jaffna. Companies like WSO2 and Microimage have already set up minor operations, with a workforce totaling not more than a dozen people.
Microimage is the most recent big name company to venture into Jaffna. Harsha Purasinghe, chief of Microimage, believes that moving its operations to Jaffna is partly altruistic. "There is a huge lack of opportunity. What we have done is very small," he says. "At least 10,000 more white collar jobs should be created."
Purasinghe points out that Colombo's perception on Jaffna is misguided. "People think Jaffna is still shattered, and people are struggling. But if you have travelled to Jaffna, and done workshops like we have, you will see it's a different story. That's what happened to us."
Uki means catalyst in Tamil. It is also the name of the bubblegum pink colour-washed institution headed by Vithushan Vijayaratnam. This institution is a full scholarship-based accelerator programme for coding in Jaffna, targeting students who miss out on university and do not have funding for private education. The programme is a joint initiative of Yarl IT Hub and the Serve Foundation.
The diminutive 24-year-old Vijayaratnam, clad in a yellow button-down dress shirt and jeans, is indistinguishable from his students. On his desk rests a copy of Facebook COO Sheryl Sandberg's 'Lean In'. "They never had the opportunity to get exposed to IT," he says. "Some of these students didn't even know a world like this existed. Now since they know what they could become, they are hugely excited."
The first batch started in April this year and comprises 15 students selected from across the Northern region. The students are vetted through an extensive selection process. The six-month course is on full stack web development. "The objective is to provide them with enough skills so they can learn something on their own with the help of the internet," says Vijayaratnam.
Every week day, at one o'clock, he lectures the class on programming theory, effortlessly transitioning between English and Tamil. In addition to programming, yoga and meditation in the morning, English lessons, and personal development sessions are included in the curriculum. TED Talk video screenings and toastmasters are also permanent fixtures in the timetable.
Graduating with a first class in software engineering, Vijayrathnam then did a year-long internship at WSO2. "My passion is not just to work for a corporate, but to be more independent and serve society," he says.
Uki is most likely the only coding school in the country. "If it becomes a success, we want to open Uki coding schools all over Sri Lanka," he adds.
Rev Jameson Gnanaponrajah is the principal of St. John's College, Jaffna, one of the more prominent private schools in the Northern Province. The children of the city's professional class and the political elite all school here. Dressed in a red untucked shirt and brown trousers, Rev Gnanaponrajah looks more like the school's athletic coach than its principal – and even less like a cassock-wearing priest. The slight head bowing, the subtle gestures of respect and the hush tones amid his presence among the staff are the only clues that he's the man who runs the place.
"For Northern people, education is their only worth," he says. "There are no proper industries for blue collar jobs. So, they have no choice but to depend on education."
During the last few years, Rev Gnanaponrajah conducted some progressive experiments to ensure that his students were equipped with the right skills to be directly employable once they leave school.
Commerce and arts students are the major cluster that gets sucked into the wrath of unemployment. At a time when the education inflation is high, the G.C.E A/L certificate does not guarantee the same allure it once had in the job market. Knowing this, Rev. Gnanaponrajah has ensured that the school's commerce students follow the Association of Accounting Technicians (AAT) certification in parallel to their A/L course work.
Similarly, for Arts students, in partnering with the tertiary education commission, he introduced a computer hardware technicians course. The programme is a Level 4 National vocational qualification (NVQ), equal to the G.C.E A/L certificate. Every day, classes are conducted at 2pm, for one and a half hours. "We didn't want to disturb the science stream students because they are already learning science subjects," he says.
These initiatives are unprecedented, and somewhat revolutionary. Schools in Sri Lanka rarely divert from the standard G.C.E curriculum set by the government, even popular private schools in Colombo. In recent years, the Ministry of Skills and Development has been extremely vocal about encouraging and popularizing vocational training for school leavers.
The government introduced the technology stream in 250 schools in 2013, in addition to the maths, science, commerce and arts streams. One of the main objectives of the programme was to stop the deluge of students enrolling in the arts stream, which was almost half the students who sit for A/Ls. Since St. John's is a private school, it was not selected in the initial list. This meant that the school did not have the authorisation or grants from the government to implement the new technology stream.
Rev. Gnanaponrajah was insistent that his students should also have this opportunity. "The officials said we can't do that programme," he recalls. "We argued and they finally agreed, but on the condition that we self-fund the programme." Undeterred, Rev. Gnanaponrajah took a bank loan of Rs30 million for the infrastructure, and another Rs30 million for the machinery and equipment to kick-start the project.
With the dearth of private sector investments in the Northern region, job opportunities are scarce for graduates
But, for the effervescent Reverend, there was still more work to be done. "After school hours, on weekends and during vacation, the building was going to waste," he says. "So we decided to start the NVQ programme, to benefit not only our students but the whole community."
The next step in the agenda for the former Social Studies and Divinity teacher was to develop a venture capital fund for school leaving entrepreneurs.
Rev. Gnanaponrajah knows that, even with all his efforts, resolving the economic riddle in the Northern Province is just one part of the equation. "The private sector finds it difficult to come and invest here," he sighs. He believes the situation in the Northern Province perceives it as a place to proceed with caution. "People still have that fear."
Jaffna is the focal point of the Northern Province. Its economic future is uncertain and the city is adrift. Its public policy-level efforts have not materialised in bringing sustainable solutions to kick-start the economy. The question remains, while policymakers opt for regressive schemes, can grassroots efforts of Vijayaratnam, Saynathan, Aruliah and Rev. Gnanaponrajah shift the city from despair to hope?
*Name changed upon request