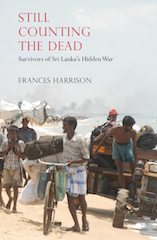 It saw one of the bloodiest conflicts of this century, and yet many still only see it as a tropical paradise.
While the south boasted palm-fringed beaches – a picture-perfect destination for cocktail-sipping tourists – northern Sri Lanka was a hell on earth for the Tamil minority as government troops clashed with Tiger insurgents.
"Denial has become a Sri Lankan habit," explains Frances Harrison, ex-BBC Sri Lanka correspondent and author of Still Counting the Dead: Survivors of Sri Lanka's Civil War.
The book details the devastating accounts of survivors of the 26-year conflict.
"Europeans sipped coconut juice and stared out at the horizon of the ocean, unaware that just an hour's flight to the north, people were dying in First World War-style trench warfare."
Channel 4's The Killing Fields brought the story of Sri Lanka's war crimes back into UK mainstream media.
Now, Harrison retells the conflict with a clarity and impact only a seasoned journalist can deliver, having travelled extensively in the war zone and reported on the Tamil Tigers during the peace process.
"Like the tourists, the world turned a blind eye to the tens of thousands of civilian deaths that took place in the north-east of Sri Lanka in the space of just five months in 2009," she writes.
A media blackout imposed by the Sri Lanka government means that the death toll is impossible to pinpoint: estimates run from 7,000 to 147,000.
Now, the United Nations says there is evidence that up to forty thousand civilians could have been murdered in just five months.
These revelations are all the more bitter when Harrison writes,
"At the same time that Sri Lanka's vicious war was raging, the world's attention was focussed on the Israeli incursion into Gaza, where the death toll was about 1,500."
Having witnessed the war in the early noughties, Harrison recounts the bloody climax in 2009 through harrowing stories from those she met along the way – tales of extraordinary survival, as well as devastation and death.
A young journalist covering the atrocities for the local TamilNet website; a Catholic nun who
enters war zones to comfort the dying as other flee; a woman who worked in the Tiger media unit, now a mother of two living in South London – Harrison touches upon all walks of life, painting their stories sensitively and in detail. It is the first time some of these stories have been told.
Grasping an underreported and extremely complex subject, Harrison demonstrates journalism at its best by backing up her emotive portraits with hard facts and figures.
As a new UN inquiry calls for further investigation into the atrocities committed by both the Sri Lankan government and the Tamil rebel fighters, Harrison tells more than figures ever could by bringing to light the human cost of war.
'Still Counting the Dead: Survivors of Sri Lanka's Hidden War' is published by Portobello books on October 4, 2012.