INFOGRAPHIC: LLRC Implementation Statistics
9 September 2014, Colombo, Sri Lanka:
 The Lessons Learnt and Reconciliation Commission (LLRC) report, along with the National Action Plan to implement the recommendations of the LLRC (Action Plan), are the two key documents produced by the Government of Sri Lanka (GoSL) outlining its process of reconciliation after three decades of war. Over two years have passed since the Cabinet approved the Action Plan in July 2012; nearly three years since the LLRC report was presented to the President in November 2011, and five years since the end of the war.In February 2014, the Centre for Policy Alternatives (CPA) conducted
a critical study of the implementation of the LLRC recommendations
, which illustrated the piecemeal progress made by the GoSL. Here, CPA highlights statements by key Government officials on the progress of implementation of the LLRC.  It is noteworthy how Minister Mahinda Samarasinghe in March 2013 claimed that 99% of the LLRC Action Plan had been implemented, with President Rajapaksa claiming in May 2014 that only 30% had been implemented. These discrepancies highlight the lack of clarity across the GoSL on reconciliation efforts. More importantly they highlight not only the illusion of progress the GoSL is attempting to depict in terms of reconciliation, but also the lack of a genuine commitment on its part to implement the LLRC recommendations.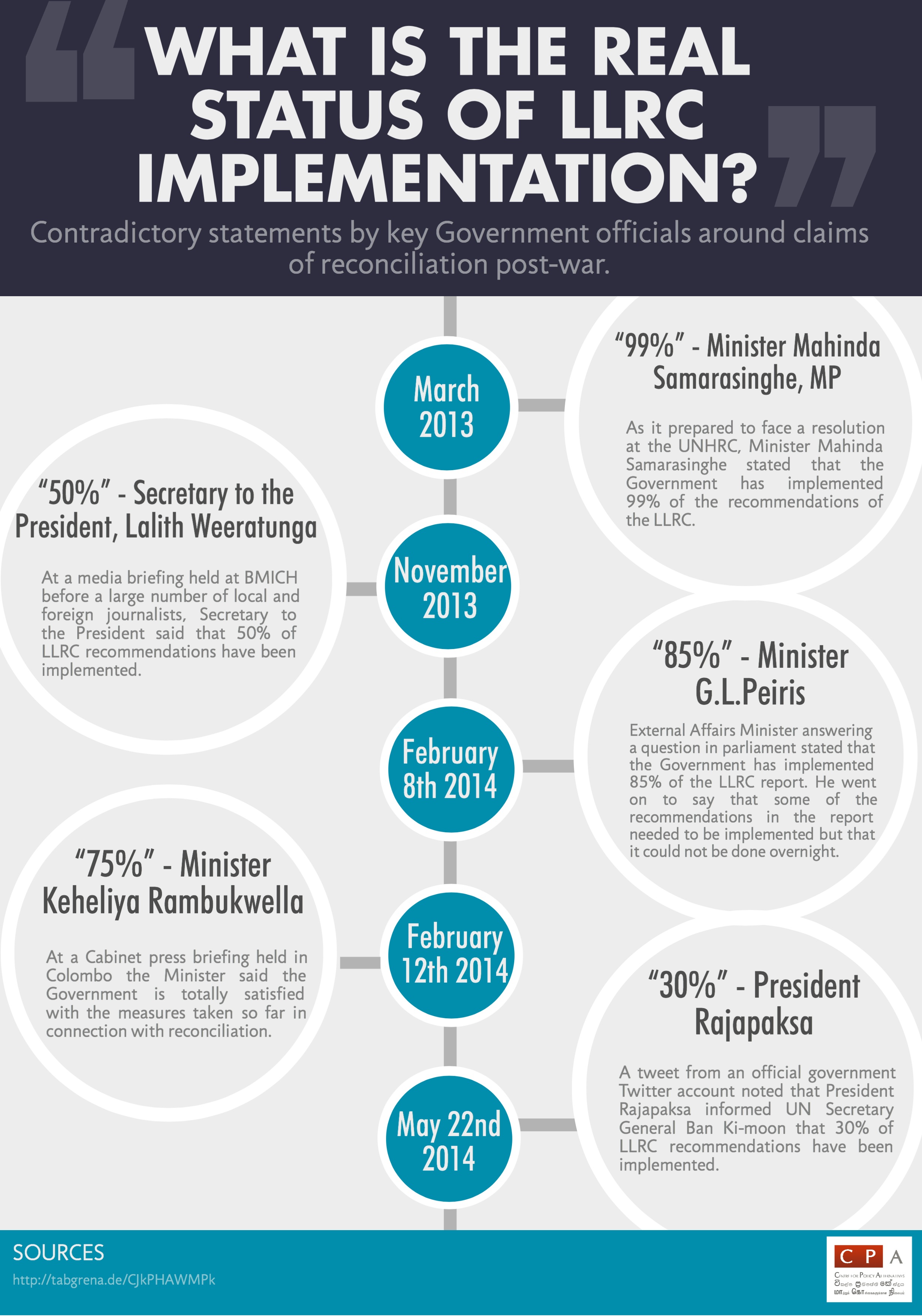 INFOGRAPHIC: Presidential Commission on Missing Persons
11 September 2014, Colombo, Sri Lanka: The Presidential Commission of Inquiry to Investigate into Complaints Regarding Missing Persons (the Commission), was established over a year ago on 15th August 2013 by Gazette 1823/42. The sole purpose of the Commission was to investigate and inquire into cases of disappearances in the Northern and Eastern Provinces of Sri Lanka.
In March 2014, the Centre for Policy Alternatives (CPA) published a critique of the Commission proceedings and raised concerns about the existing legal and policy framework in terms of investigations and inquiries in Sri Lanka. In July 2014, CPA raised further concerns regarding the newly expanded mandate of the Commission, which extended inquiry into a wide range of issues including violations of International Humanitarian Law and International Human Rights Law. We fear that its primary focus of inquiring into the large number of unresolved cases of disappearances, which is essential for truth and justice in Sri Lanka, will be diluted. These concerns and fears stem from CPA's observations and engagement at public sittings in the North and East.
More than a year into the Commission's mandate, CPA highlights both the limited progress made by the Commission to date and the damaging effect of the expanded mandate. There is a huge difference between the rhetoric of the Government of Sri Lanka (GoSL) and ground realities. This continues to constitute a damning indictment of the lack of political will on the part of GoSL to genuinely and effectively address post war grievances of affected communities.