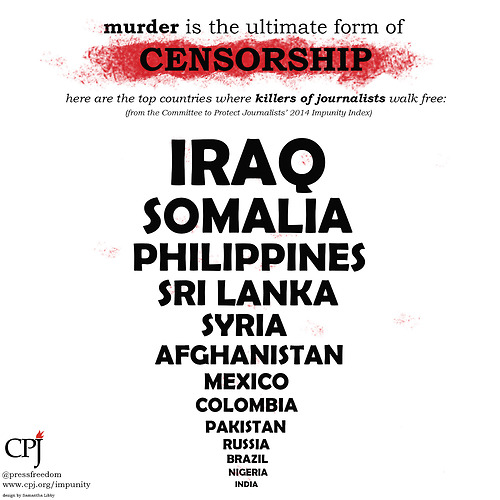 By Elisabeth Witchel/CPJ Impunity Campaign Consultant
Published April 16, 2014
NEW YORK
Syria has joined the list of countries where journalists' murders are most likely to go unpunished, while Iraq, Somalia, and the Philippines once again were the worst offenders, the Committee to Protect Journalists has found in its newly updated Impunity Index. Convictions in four countries represented a glimmer of good news.
Syria's entrance to the Index at number five highlights the rising number of targeted killings there, a recent threat to journalists operating in the country. With unprecedented numbers of abductions and high rates of fatalities in combat and crossfire, Syria was already the world's most dangerous country for journalists.
Fresh violence and a failure to prosecute old cases kept Iraq, Somalia, and the Philippines in the three worst slots on the Index. Iraq, with 100 percent impunity in 100 cases, is at number one, a spot it has held since the survey's inception in 2008. Iraq's journalists, targeted in record-breaking numbers since the 2003 U.S.-led invasion, saw a respite in 2012, the first year no journalists were killed in relation to their work. However, a resurgence of militant groups across the country propelled a spike to 10 journalist killings last year—nine of them murders.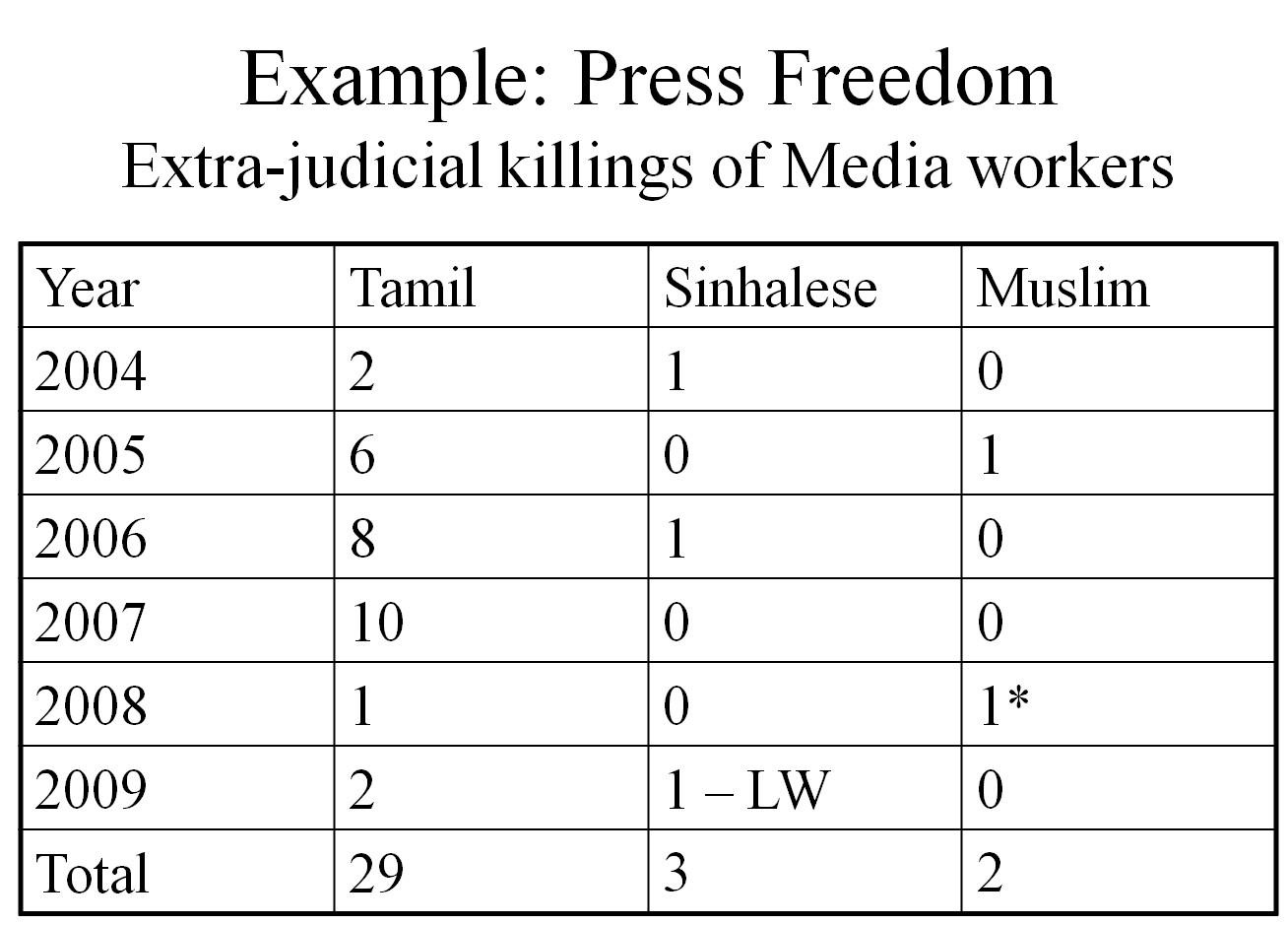 Extrajudicial killings of media workers 2004-2009 by TAG
Consistent with the four previous years, Somalia ranks second worst worldwide. Four new murders in 2013 added to the already alarming numbers of journalists killed in retaliation for their work. Elusive armed insurgent groups have terrorized the media beyond the reach of Somalia's fragile law and order institutions, but authorities have also failed to adequately investigate attacks by other sources, according to CPJresearch.
For this year's edition of the Impunity Index, which calculates the number of unsolved journalist murders as a percentage of a country's population, CPJ examined journalist murders in every nation in the world for the years 2004 through 2013. Cases are considered unsolved when no convictions have been obtained. Only those nations with five or more unsolved cases are included on the index. This year, 13 countries met the Index criteria, compared with 12 last year.
In a positive development, convictions took place in four countries on the Index—yet in only one case were those who ordered the crime apprehended or tried, reflecting a global pattern. The Philippines sentencedthe broadcast journalist Gerardo Ortega's shooter to life in prison. With the murders of 51 journalists still awaiting justice, this development has not changed the country's Index ranking, which has remained firm at number three since 2010. Pakistan's near-perfect record of impunity was shattered when courts convicted six suspects (though two of them are at large) for the 2011 murder of Wali Khan Babar. Russian courts sentenced a Russian businessman to seven years for inciting the 2000 murder of Igor Domnikov, and Brazil's courts convicted perpetrators of three murders—including, in one case, the mastermind. In the rest of these crimes, the masterminds remain at large.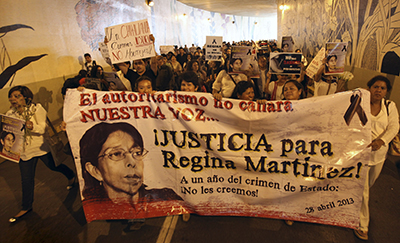 Lawmakers in Mexico, seventh on the list, approved legislation in April 2013 to support enactment of a constitutional amendment giving federal authorities jurisdiction to prosecute crimes against journalists. Though the law is viewed as an important step toward improving press freedom, no significant progress has been made yet in Mexico's 16 unsolved cases.
Colombia's ranking improved significantly, due to a drop in journalist killings in recent years, though no one has been convicted of killing a journalist since 2009. While Colombia has taken measures to provide security to journalists under threat, journalists have also been compelled in many cases to self-censor, or flee their homes.
While no apparent progress was made in any cases in Sri Lanka and Afghanistan, CPJ did not record any new murders in those countries from 2009 to 2013. Nigeria stayed on the Index for the second year in a row with five unsolved cases. Two new murders took place in India in 2013, bringing to seven the total number of unprosecuted murders.
Growing international concern over the absence of justice in media attacks prompted strong attention from the United Nations last year. UNESCO kicked off the implementation of the U.N. Plan of Action for the Safety of Journalists and the Issue of Impunity, a framework adopted in 2012. In November, the U.N. General Assembly adopted a resolution on safety of journalists. The resolution calls for states to act to pursue justice and recognizes November 2 as the International Day to End Impunity.
Among the other findings in CPJ's Impunity Index:
96 percent of victims are local reporters. The majority covered politics, corruption, and war in their home countries.
A climate of impunity engenders violence. In eight countries that appear repeatedly on the Index year after year, new murders took place in 2013.
Threats often precede killings. In at least four out of every 10 journalist murders, the victims reported receiving threats before they were killed.
Killers of journalists aim to send a chilling message to the entire news media. Almost a third of murdered journalists were either taken captive or tortured before their death.
10 of the 13 countries on the Impunity Index have been listed each year since CPJ began the annual analysis in 2008, underscoring the challenges in reversing entrenched impunity.
Political groups, including armed factions, are the suspected perpetrators in more than 40 percent of murder cases. Government and military officials are considered the leading suspects in 26 percent of the cases. In fewer than five percent of cases are the masterminds ever apprehended and prosecuted.
For a detailed explanation of CPJ's methodology, click here.
The Index
Here are the 13 countries where at least five journalists have been murdered without a single perpetrator being convicted. The index covers murders that took place in the years 2004-2013.
1 IRAQ
With 100 journalists murdered in the last decade and 100 percentimpunity, Iraq is the worst offender on the Impunity Index, a spot it has held since 2008, when CPJ first compiled the index. Nine new murders in late 2013 amid a resurgence of militant groups broke a two-year quiescence in fatal anti-press violence. Three of the victims, plus two media workers, were killed in a single attack when armed militants bombed and stormed Salaheddin TV station in Tikrit on December 23. Al-Qaeda affiliate Islamic State of Iraq and Sham (ISIS) claimed responsibility for the attack, according to news reports accusing it of warring against the Sunni people.
Impunity Index Rating: 3.067 unsolved journalist murders per million inhabitants
Last year: Ranked 1st with a rating of 2.818
2 Somalia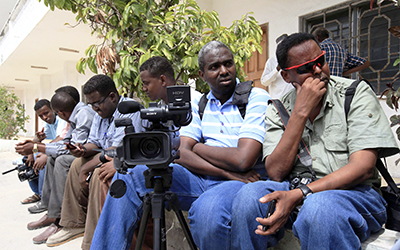 Somalia's rating worsened for the sixth year in a row. Though anti-press violence ebbed slightly from its record high in 2012, journalists continue to be targeted at chilling levels, as four new murders took place in 2013. They include broadcast journalist Mohamed Ibrahim Raage. Nicknamed "Honest," Mohamed was shot by gunmen in Mogadishu outside his home. He had fled Somali in 2009 but had recently returned. Somali President Hassan Sheikh Mohamud pledged to address the horrific situation for journalists in Somalia with a special task force, but little has come of it. Out of 27 cases of journalists assassinated in Somalia since 2005, only one resulted in a conviction, as authorities executed a suspect in the 2012 murder of Hassan Yusuf Absuge. But lack of due process in the case led many to view the development with concern.
Impunity Index Rating: 2.549 unsolved journalist murders per million inhabitants
Last year: Ranked 2nd with a rating of 2.396
3 The Philippines
Last year's conviction of a gunman who shot broadcast investigative journalist Gerardo Ortega in 2011 was a welcome development but did little to change the rampant impunity in the Philippines, which has held the third worst spot on the index since 2010. More than 50 journalist murders that took place from 2004 through 2013 remain unsolved, belying theclaim made in November 2013 by the office of President Benigno Aquino III that "there is no more impunity" in the Philippines. The victims include 32 journalists massacred in Ampatuan Town, Maguindanao, in 2009 and freelance photographer Mario Sy, one of three journalists gunned down last year. Sy was shot in front of his wife and daughter following publication of a series of photos on drug trafficking.
Impunity Index Rating: 0.527 unsolved journalist murders per million inhabitants
Last year: Ranked 3rd with a rating of 0.580
4 Sri Lanka
Though Sri Lanka's civil war ended nearly five years ago, the government of Mahinda Rajapaksa has shown no political will to address its record of perfect impunity in the nine murders of journalists that have taken place under his leadership, first as prime minister and then as president. Government and military officials are suspected to be behind several of the murders, including the 2009 assassination of prominent editor Lasantha Wikramatunga, known for his critical reporting, and the nearly 10-year-old shooting of Aiyathurai Nadesan, penname Nellai G. Nadesan, an award-winning journalist who was threatened before his death in response to his reporting about the army. Impunity in Sri Lanka is a major factor behind high numbers of journalists going into exile, according to CPJ research.
Impunity Index Rating: 0.443 unsolved journalist murders per million inhabitants
Last year: Ranked 4th with a rating of 0.431
5 Syria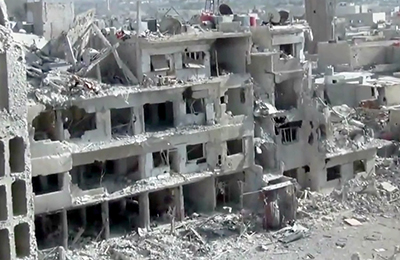 Embattled Syria joined the Index for the first time this year. More than 60 media fatalities by crossfire and dangerous assignment and unprecedented numbers of abductions have marked Syria as the most dangerous country in the world for the media, and now deliberate murder adds a chilling new threat to the mix. At least seven journalists have been fatally targeted in Syria since 2012, all with complete impunity. The perpetrators come from all sides—non-Syrian Islamist militant groups, rebels targeting pro-government media, and President Bashar al-Assad's forces. Victims include reporters for citizen media outlets like Abdel Karim al-Oqda, a contributor to Shaam News Network, a Damascus-based citizen news organization that has posted tens of thousands of videos documenting the unrest since the uprising began in March 2011. Al-Oqda died when security forces burned his home in retaliation for his coverage of the unrest.
Impunity Index Rating: 0.313 unsolved journalist murders per million inhabitants
Last year: Syria was not on the 2013 Index
6 Afghanistan
Afghanistan retains its sixth-place ranking on the index. No perpetrators have been held responsible in any of the five targeted killings that took place in the decade covered by this year's Index. More than seven years passed without a journalist being murdered in Afghanistan, althoughviolence increased in 2014. Afghanistan is one of the few countries wherefatalities among foreign journalists are higher than for local journalists.
Impunity Index Rating: 0.168 unsolved journalist murders per million inhabitants
Last year: Ranked 6th with a rating of 0.142
7 Mexico
Justice continued to evade Mexican journalists who face unrelenting violence for reporting on crime and corruption. Sixteen journalists weremurdered with complete impunity during the decade and another in 2014. The only relief came last April with the approval of legislation that implements a constitutional amendment giving federal authorities in Mexico broader jurisdiction to prosecute crimes against journalists. The legislation establishes accountability at senior levels of the national government, evading the more corrupt and less effective state law enforcement officials. But critics say the special prosecutor's office designated to handle such investigations has been slow to exercise its new powers. A botchedprosecution in the case of Regina Martínez Pérez, and the dismissal of charges against one of the gunmen implicated in the 1997 assassination attempt against Zeta magazine editor J. Jesús Blancornelas, further fueled concerns that the administration of President Enrique Peña Nieto is not up to the task of breaking Mexico's cycle of impunity and violence.
Impunity Index Rating: 0.132 unsolved journalist murders per million inhabitants
Last year: Ranked 7th with a rating of 0.131
8 Colombia
Colombia moved from fifth to eighth place on CPJ's Index. This progress has less to do with justice—no one has been convicted of killing a journalist since 2009, when three former public officials were sentenced for plotting the 2003 murder of Colombian radio commentator José Emeterio Rivas—than with an overall decline in fatal anti-press violence. Problems such as overburdened prosecutors, a lack of information sharing, mishandling of evidence, and malfeasance by judicial officials can delay criminal investigations for years, leaving many families in despair as cases reach their 20-year statute of limitations. Failure to prosecute is proving a threat to the country's fragile improvement in security. The 2013 murder ofÉdison Alberto Molina broke a three-year hiatus in journalist murders. Molina was shot dead as he headed home from the radio station where he worked. A week before he was killed, Molina, who often took government officials to task for corruption on his radio program, received a plastic bag filled with black dirt and unidentified bones.
Impunity Index Rating: 0.126 unsolved journalist murders per million inhabitants
Last year: Ranked 5th with a rating of 0.171
9 Pakistan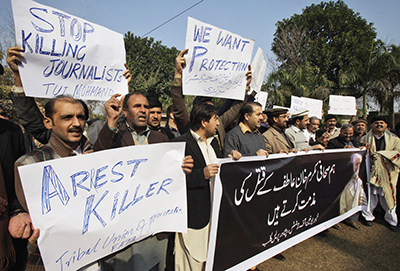 Pakistan showed a modest improvement on the Index this year, buoyed by the recent convictions of six men for the assassination of Wali Khan Babar. However, with two convicts still at large and no official identification of the mastermind, justice is far from complete. A hard-won watershed—at least five people linked to the case were also murdered, including witnesses, informants, and investigators—the case has opened the door to possible prosecutions in other unsolved murders. Prime Minister Nawaz Sharif told a CPJ mission that visited in March 2014 that he would consider implementing a wide range of measures based on lessons learned in Babar's case, including moving trial venues to safer locations and appointing special prosecutors to ensure justice in more than 20 journalist murders CPJ has recorded over the last decade. In the meantime, perpetrators of violent attacks against journalists, who range from banned militant groups like the Taliban to political groups, use unchecked violence against journalists to censor and control coverage.
Impunity Index Rating: 0.123 unsolved journalist murders per million inhabitants
Last year: Ranked 8th with a rating of 0.130
10 Russia
Despite a mild improvement in its Index ranking and a key conviction, impunity still afflicts the media landscape in Russia, where no perpetrators in 14 murders over the Index period have been put behind bars. Last year, the conviction and sentencing of a Russian businessman, the sixth suspect in the case to be prosecuted, for inciting the 2000 murder of Igor Domnikov, was a welcome advancement, though other masterminds behind the crime have yet to be brought to justice. In a less positive development, the retrial of several suspects in the 2006 murder of Novaya Gazeta journalist Anna Politkovskaya proceeded in fits and starts, while the prosecution made no progress in netting whoever commissioned the murder. Two journalists died last year due to fatal assaults. Dagestan-based editor Akhmednabi Akhmednabiyev was shot from a car, and crusading environmental journalist Mikhail Beketov succumbed to injuries he sustained in 2008 when thugs beat him into a coma. Not a single person was arrested for the assault against Beketov, despite a personal promise by Vladimir Putin to bring the attackers to justice.
Impunity Index Rating: 0.098 unsolved journalist murders per million inhabitants
Last year: Ranked 9th with a rating of 0.099