Minnette de Silva, Akwaeke Emezi and M.I.A.
The British-Sri Lankan chef and founder of Rambutan provides sweet Egyptian cucumbers; a demon queen provides the soundtrack
From deep inside my ear I hear that unmistakable alarm: the anaemic, shrill buzz that means it is mosquito hour. The sun has begun to set. I slap one of the bloodsucking bastards on to my white apron, staining it with blood, and check the clock. My guests are due any minute.
–
Try as I might to avoid it, every time I do a pop-up dinner, it is always an almighty rush at the end. I fail to rinse the blood off my apron, decide that it looks cheffy, wash my hands and start rushing around the kitchen to finish julienning ginger, toasting cinnamon and checking on marinating seafood.
–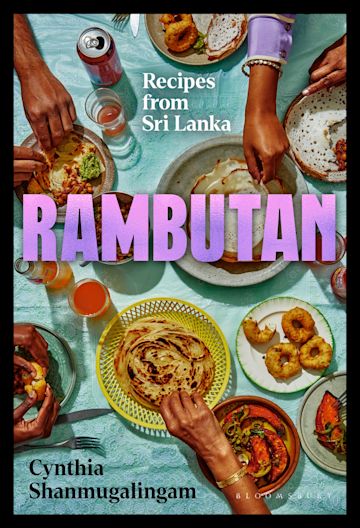 Tonight, I'm cooking at a beautiful modernist Sri Lankan house overlooking the ocean in Pallai, about an hour from my parents' place. Outside, enormous turbines from a neighbouring wind farm interrupt an otherwise ancient skyline. Tamil kids are playing in the lane, beneath spiky palmyra trees and Hindu temples. It is almost the full moon, when Sri Lankans get one of their many state holidays. This is a fantasy, so there are no power cuts, ethnic oppression or food shortages.
–
"Shrrrrrrring!!" goes the bell at 5pm, and I open the door to Minnette de Silva, Sri Lanka's foremost female architect. She is dressed to slay in a silk sari, jasmine in her hair and iconic Parisian sunglasses. I offer her a cocktail, my spin on a classic Arnold Palmer: half ice-tea, half-lime soda, spiked with arrack and a little pandan cordial. I tell Minnette that I have named it after another rakishly stylish Sri Lankan, the cricketer Kumar Sangakkara. She rolls her eyes, necks the drink and proceeds to carry a lot of cool statement chairs into the house, shouting that aside from a couple of gifts from her boyfriend Le Corbusier, the pieces are all her own.
–
I finish prepping some devilled party cashew nuts and put them out with drinks on the verandah, overlooking the black and gold sand. Soon, the other guests arrive and, because this is a fantasy, they arrive relaxed, unencumbered by any state harassment or fuel issues. First comes Maram Khalifa, the Sri Lankan-based Egyptian activist, whose husband Hejaaz Hizbullah is a human rights lawyer and one of thousands of prisoners of conscience to be jailed under Sri Lanka's draconian counter terrorism laws. Maram has kindly brought some small, sweet Egyptian cucumbers. I slice and dress them with mint, dill and thick, spiced yoghurt, with fat coconut rotis to scoop them up with.
–
Maram is followed by Valliammal, the granny of smash-hit rapper Arivu. Valliammal was one of almost a million south Indian Tamils brought to Sri Lankan tea plantations under British rule during the 19th and 20th centuries in the thinly disguised form of slavery called "indentured labour". She, like her grandson, raps, sings and raises consciousness about land rights, colonialism and caste injustice. She has brought me her favourite vegetable, pavvakai, a pungent, delicious bitter gourd that I slice and fry with curry leaves, serving it as a little sambal side dish with grated coconut.
–
My guests talk politics and music, soon joined by the lyrical Nigerian-Tamil writer Akwaeke Emezi, whose mother was the daughter of Sri Lankan immigrants living in Malaysia. They read from their romantic summer novel You Made A Fool of Death With Your Beauty, which leaves us all rather flushed. We sigh as we dig into the main feast of the night, a fiery Jaffna crab curry, which I cook in coconut milk and finish with small, punchy limes and peppery moringa leaves.
–
Instead of a fantasy sommelier, I have opted for fantasy DJs. I mean, what kind of dinner party is this? Swiss-Tamil singer Priya Ragu is on the decks playing breezy beats alongside the mythical demon-queen Soorpanaka who, like so many of Sri Lanka's brilliant women and minorities, had to change shape and shift consciousness to stay alive. With everyone now dancing, I have time to whip up dessert, a frozen falooda made with British rosewater and raspberries from London, juicy local rambutans and crunchy eyeball-like basil seeds.
–
Just in time, at long last, my final guest arrives, the singer and activist M.I.A., hair piled high in blonde braids. She starts rapping as I put out orange-coloured digestifs: Aperol-and-whisky cocktails called Paper Planes and some fresh mango juice for those who don't drink. "I've been around in this world causing drama, the real spice girl, hot girl power," M.I.A. sings. We all gather around to make her a plate of food, letting the sounds wash over us.
–
Cynthia Shanmugalingam is the founder of Rambutan and author of "Rambutan: Recipes from Sri Lanka"