Solomon Arulanandam "Gandhiyam" David [1924-2015]
Men involved in our defeated movement always spoke about a man who was there at the beginning.  A man who guided the first generation of the Iyakkam.  A peaceful man who experienced the massacres at Welikade prison in 1983.  A man who the movement never abandoned – freeing him was partly the reason behind the movement's daring prison break in Batticaloa.  This man was an exile, a poet, a writer and an architect.  His dying wish mirrored his life's tireless work that the Tamil people should live freely with dignity in their traditional homelands.  I watched a great man tremble and die.
I was introduced to him during his last months.  Sister had already told me the story: he had returned to Sri Lanka after two decades and had found his Tamil people in tatters.  His revered Gandhiyam projects were not to be found anywhere with acres and acres of arable land going to waste.  And so he had decided to cease eating and drinking.  No demands.  No ultimatums.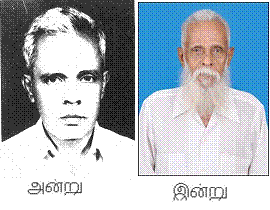 When I first met him, he was extremely frail and his ribs exuded like thin pillars of a dilapidated building.  When I met him, he had not eaten for 10 days and was too weak to speak verbally.   He spoke with his eyes instead.  When he is told that I came from abroad to do service here, his eyes flicker for a moment and he holds my eyes as though he would like to caress my face and tell me not to give up.  When I ask him what we can do, he shrugs and mutters a few words, which, to the best of my abilities, I made out as "The boys. The boys are gone."  Then reality hits and he puts his hands together to wish me farewell.
After leaving his room, Sister shows me some of his architectural designs and a part of his biography.  This was a man who could devise a building plan for a charity which would incorporate ideas relating to food sovereignty, how deep the well should be dug?  What was the suitability of particular vegetables for particular environments?  How many months or years would it take before the charity could become self-sufficient for food and water?  How telling it is in times of widespread debt as well as a decline in agricultural productivity in the Northeast, that this visionary, even in his last years, prized sovereignty above all else. True sovereignty.
The lessons we can take from him are plenty.
Firstly: leave the rhetoric for politicians.  His life mirrored his beliefs and thoughts.  This is something that we in the diaspora can learn most from, myself included.  Sometimes we are too drawn into theory, into political and historical books written in English and our professed beliefs rarely mirror our daily conduct.  Why do our political meetings in London, itself hardly a beacon of student activism, always tend to attract more students than our meetings relating to charity and development projects in the homeland?  And why do those who believe so loudly and vociferously in a sovereign Tamil state do so little to enhance its sovereignty through local livelihood projects?
Secondly: read and write more.  One of David Iyaar's dying wishes was to have his personal library brought to the Vanni.  I think it is a fact that for most Eelam Tamil people, both in the homeland and abroad, reading is a means to acquire a well-paid or well-respected job.  Those young ones that do read more broadly need to question the political and intellectual authenticity of reading in English as opposed to Tamil.  My reading of Tamil is pathetic when compared to my reading of English.
Thirdly: dedication.  He was there when SJV Chelvanayagam's Satyagraha was attacked.  He was there when Kuttimani's eyes were gouged out in Welikade prison in 1983.  He was there in India for decades, in exile.  But he never stopped working for us.  His dedication is not dissimilar to a few Tamil uncles we know in London, including one doctor who made the time recently to visit David Iyaar and diagnose him, ensuring his last days were bearable.  I wonder if we young ones could dedicate even a fraction of the time he contributed.  Right now -starting with me – the answer is a resounding no (I failed to check in on him over the last couple of weeks).
His body is resting in Kilinochchi Special Needs Centre, in the Vanni; not some grand hall with expensive flooring somewhere in Colombo.  But then what would be the point of doing his funeral in the style of garlands and grandeur.  It was no accident that it was the winds of the Vanni that fed him his last breath.
His funeral will take place at a children's home for the severely disabled currently managed by his tireless niece.  And, what a sign of our times it is that this very home, Kilinochchi Special Needs Network, has been told to vacate the building they are currently renting as soon as the funeral is over.