Visiting senior official says other countries to categorically reject cooperation are North Korea, Iran and Syria
5 years after the war, deterioration of human rights all over Sri Lanka: Keshap
US official flags Aluthgama riots in all his meetings with Govt. officials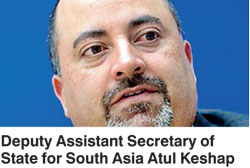 The United States has expressed dismay at the vote in the Sri Lankan Parliament urging the Government not to extend cooperation to an UN investigation into alleged rights violations in the last seven years of the war.
Deputy Assistant Secretary of State for South Asia Atul Keshap, who was in Colombo on a three-day visit last week, said other countries that had categorically refused to cooperate with similar probes were North Korea, Iran and Syria.
"Does Sri Lanka want to be seen in that company? Is that consistent with the vision of where Sri Lanka sees itself in world affairs?" Keshap told the Daily FT in an exclusive interview.
The Sri Lankan Government told the UN Human Rights Council earlier this month that it was rejecting the resolution led by Washington and adopted by the 47 member Council with a majority of 23 votes, a position that was ratified by 144 Government legislators during a vote last Wednesday (17).
The senior US official said it would be better, in his opinion, for Sri Lanka to engage collaboratively and cooperatively and to use investigation report and the process to "meaningfully advance national reconciliation and accountability".
"It is concerning to me that a country with a long democratic tradition is currently in very select company with North Korea and Iran and Syria and other notorious human rights violators in categorically refusing to work with the OHCHR investigation," Keshap added.
Asked why US-led resolutions at the UNHRC were increasingly harsher, the US Deputy Assistant Secretary noted that five years after the war ended there had been little progress on issues related to accountability and a political solution to share power with the island's Tamil community.
"Five years since the war ended I have not seen any meaningful negotiations of the very tricky political issues related to federalism," Keshap asserted.
He said there had not been meaningful movement towards any kind of accountability, five years after the conclusion of the war.
"Five years after the war ended, I am sorry to say that there seems to have been deterioration of respect for human rights in this country, in the north, in the south, all around. These things do give pause," the senior State Department official remarked.
Keshap said the OHCHR investigation would enhance Sri Lankans' own understanding and insight into what happened during the last stages of the war and would be complimentary to the domestic reconciliation process the Government had already undertaken.
"The OHCHR has long experience in dealing with in post conflict scenarios," the US official told the Daily FT.
Atul Keshap, who works closely with US Assistant Secretary of State for Central and South Asian Affairs Nisha Biswal, arrived in Colombo on Thursday (18) and met with External Affairs Minister G.L. Peiris, Defence Secretary Gotabaya Rajapaksa, Economic Development Minister Basil Rajapaksa and members of business and civil society during his visit.
Senior US official raises Aluthgama violence in meetings with Govt.
Deputy Assistant Secretary of State for South Asia Atul Keshap has urged the Sri Lankan Government to take immediate steps to ensure the perpetrators of the Aluthgama violence during his visit.
He had also urged the Government to hold to account those who engage in hate speech that actively incited people to causing physical harm.
"This kind of thing is very dangerous," the senior official noted.
Keshap said that the issue of religious freedom is something the US cares very deeply about. "I flagged the religious issue in all my meetings," he said.
http://www.ft.lk/2014/06/24/us-dismayed-by-pment-vote-on-non-cooperation-with-un-probe/