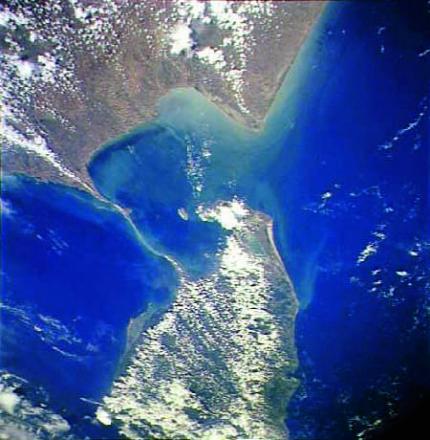 A chain of partially submerged limestone shoals connects the islands of Mannar of Sri Lanka and India's Rameswaram.
Keen on promoting connectivity in the South Asian region, India is set to build a sea-bridge and tunnel connecting Sri Lanka while a pact has been inked with Bangladesh, Bhutan and Nepal for seamless flow of traffic and passenger vehicles, Union minister Nitin Gadkari said on Wednesday.
"The Asian Development Bank is ready to fully finance a bridge building project connecting Rames-waram to Sri Lanka. The project was also discussed by Prime Minister Narendra Modi with his counterpart during the latter's recent visit," road transport and highways minister Nitin Gadkari said in a suo motu statement in the Lok Sabha.
The India-Sri Lanka connectivity project cost is pegged at about `24,000 crore. "The government has been focussed on enhancing regional cooperation. Subsequent to PM's announcement of 'Act East policy', India pro-actively engaged in building effective and credible links between South Asia and South East Asia through enhanced regional connectivity," he said.
A major milestone was the signing of the Bangla-desh Bhutan India Nepal (BBIN) Motor Vehicles Agreement (MVA) in Thimphu to facilitate seamless movement of passenger and cargo vehicles in the region, he said.
Under BBIN MVA, a cargo trial run was held on the 640 km Kolkata-Dhaka-Agartala route last month, which was a substantial reduction compared to the traditional 1,550 km transit route from Kolkata to Agartala via Siliguri-Guwahati- Silchar, he said.
Once BBIN and other agreements are operationalised, the dream of seamless movement of all types of vehicles between Saarc and Asean nations will become a reality and "I hope that this will happen soon", he said.
About 110 km on the Imphal-Moreh (NH 39) will be taken up for upgradation by NHIDCL with loan being provided by ADB, he said.