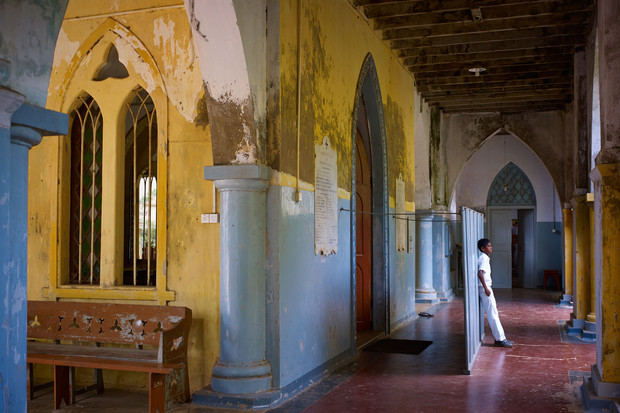 With the civil war now ended, the island nation's east and north have opened up for the first time in a quarter century. St. Martin's Seminary in Jaffna is shown here. Although Sinhalese Buddhists make up 74 percent of Sri Lanka's population, Catholics are a significant minority. Photograph: Simon Norfolk/Bloomberg Pursuits
"You're going to Jaffna? Don't worry!" My tuk-tuk driver in the Sri Lankan capital of Colombo, upon hearing that I plan to visit the northern capital of Jaffna, feels compelled to offer reassurance.
Central Jaffna, a former stronghold of the Tamil Tigers, is today a lively mix of storefronts, villas, temples and churches. Photograph: Simon Norfolk/Bloomberg Pursuits
Jaffna, a former stronghold of the rebel Tamil Tigers, was off-limits during long stretches of the country's brutal civil war. My driver says he recently made the trip himself, on a freshly paved highway, and that the city and its surroundings are indeed, at long last, safe.
"Most of the mines have been cleared," he adds.
In recent years, as peace has finally taken hold throughout Sri Lanka, the island nation has become a mainstay on travel magazines' annual lists of hot spots. Yet, as Bloomberg Pursuits magazine will report in its Autumn 2013 issue, less than 1 percent of foreign tourists venture to the battle-scarred north, and only slightly more visit the east coast, despite these regions' extraordinary cultural and natural riches.
Many of the island's 3,000 elephants have been domesticated for use in logging, construction and temple work. Photograph: Simon Norfolk/Bloomberg Pursuits
SLIDESHOW: The Other Side of Sri Lanka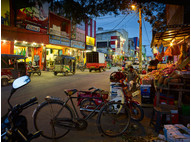 Jaffna and the rest of the Northern Province, located 50 miles (80 kilometers) off the southeast coast of India, have 1,448 Hindu temples, along with important Buddhist sites, restored Portuguese forts, crumbling colonial villas, an intensely vibrant and welcoming Tamil population — and no tourist office. As yet, there's not even an official street map of the city; if you're lucky, a hotel clerk will offer to print something off the Internet.
East Coast
Meanwhile, Sri Lanka's hard-luck east coast, which bore the brunt of not only the civil war but also the 2004 tsunami, is a patchwork of fenced-off military camps, bombed-out homes — and many of Sri Lanka's most pristine beaches.  In one small pocket on the coast, near Batticaloa, a cluster of upscale resorts is already in the final stages of construction, hinting at the kind of large-scale development that might soon take root.  However, in many areas, you can still wander for days without seeing a single tourist.
Given the ferocity of the civil war — possibly more than 100,000 Sri Lankans lost their lives — and the many scars that remain, this isn't yet the best destination for a carefree beach holiday. For adventure-minded travelers, however, a trip here offers a chance to explore a fascinating place in the early stages of a long-deserved rebound.
Sinhalese Buddhists
I fly to Jaffna on a commercial flight operated by the Sri Lanka Air Force, which departs three days a week from the heavily guarded, palm-fringed air base in Colombo. After landing, I head to the bustling suburb of Kokuvil to speak with Seenivasagam Kalaiselvam, who until recently was director of the Sri Lanka Tourism Development Authority.
Like most residents of the Northern Province, Kalaiselvam, 59, is a Tamil-speaking Hindu whose ancestors are from southern India. He was one of only three Tamils among the 400 staffers at his agency; most of the rest were Sinhalese Buddhists, who make up 74 percent of Sri Lanka's population. Muslims and Catholics are the other significant minorities — evidence of Sri Lanka's past as a trading hub and colonial outpost of the Portuguese, Dutch and British. Now retired, Kalaiselvam is overseeing an unofficial effort to rehabilitate the tourism infrastructure in Sri Lanka's north. Asked if he's expecting any funding from the government of Sinhalese President Mahinda Rajapaksa, Kalaiselvam laughs and shakes his head.
"They have other priorities," he says.
Expatriate Tamils
In Kokuvil, we visit a neighborhood shrine dedicated to the god Karthikeyan, one of hundreds of temples here that were damaged or neglected in the war and are now undergoing painstaking restoration. The head priest, a heavyset man in a sarong, tells me that the funding is coming from expatriate Tamils as well as local families, some of whom could afford to donate only a single roof tile.
Nearby, scores of carved deities adorn the massive tower marking the entrance to Nallur Kandaswamy Kovil, one of the most impressive Hindu complexes outside India. Following custom, I remove my shirt and shoes (women remove only their footwear) for the afternoon puja, a spectacle of prayers and chants accompanied by drums, flutes and incense. During festival celebrations in July and August, as many as 30,000 worshippers swarm the grounds, some walking on coals or piercing their skin with metal skewers in ecstatic displays of devotion.
A few blocks away is the extraordinary archaeological site of Kantharodai, where a cluster of several dozen partially restored stone dagobas lie beneath towering palmyra trees, watched over listlessly by two armed soldiers and a stray cow.
Stone Dagobas
Dating back more than 2,000 years, the circular structures are so old that no one is quite sure who built them or why. In the surrounding streets, newly restored homes alternate with hauntingly ruined ones, many roofless and overrun with foliage.
"You can tell how long ago a house was bombed or abandoned by the age of the trees in its rooms," Kalaiselvam says.
In addition to its enormous death toll, Sri Lanka's 25-year civil war, which ended in 2009, left hundreds of thousands wounded and many more displaced. The Liberation Tigers of Tamil Eelam (LTTE), in its quest for an independent homeland, pioneered the use of the suicide bomb, carried out multiple civilian massacres, regularly abducted Tamil children in order to train them as soldiers and was blamed for the assassinations of two heads of state: Indian Prime Minister Rajiv Gandhi in 1991 and Sri Lankan President Ranasinghe Premadasa in 1993.
The Sri Lankan government, whose open discrimination against the Tamils had helped provoke the revolt, employed its own ruthlessly violent tactics. Extremists orchestrated much of the damage on both sides, while the majority of the victims were innocent bystanders.
Innocent Bystanders
"The government and the LTTE appear to be holding a perverse contest to determine who can show the least concern for civilian protection," Brad Adams, Asia director at New York-based Human Rights Watch, said in 2009.
Throughout the conflict, international sympathy has tended to favor whomever was on the wrong end of the most-recent atrocities, and, lately, that's been the Tamils, many of whom were no fans of the LTTE to begin with. According to Human Rights Watch and other international organizations, Sri Lanka's government has a long record of human rights abuses; its army has been accused of killing thousands of Tamil civilians during the final stages of the war.
One afternoon, I have tea with Rajaram Rasaratnam, a prominent Jaffnan who's spent years overseeing Tamil aid organizations. In 1993, when his family home in a comfortable suburb suddenly came under shelling, he and his wife fled on their bicycles, leaving a pot of boiling water on the stove.
Heirloom Jewels
They were finally allowed back 13 years later, which is when, with the help of a Sinhalese soldier, they recovered the heirloom jewels that Rasaratnam's wife had presciently buried under a bush.
One thing many outsiders don't realize, Rasaratnam says, is that Sinhalese and Tamils coexisted amicably for long periods in the past and that, even today, individuals from the two ethnic groups generally get along.
"It's the politicians who ruin everything," he says.
After exploring an enchanting enclave of faded villas and churches in central Jaffna, I eat lunch at a vegetarian restaurant, Akshathai, that's been open all of five days. At the next table, a woman in a sparkling aquamarine sari decides that my order of rice and curry — an assortment of vegetarian plates that is a national specialty — is taking too long and marches over to the manager to scold him. Within seconds, my meal appears (sans utensils, since Sri Lankans eat with their hands).
Incipient Boom
The woman, an insurance agent, tells me she has just returned home to Jaffna from Colombo to be part of its incipient boom.
"Some people are finally moving back, now that the roads are good," she says. "Others need a little more time to be convinced that peace will actually last this time."
Off the coast of the Jaffna peninsula lie a series of starkly beautiful islands that offer further evidence of longtime neglect, as well as enormous potential.
On Karaitivu, which is linked to the mainland by a long causeway lined with shrimp beds, I stop by a small fishing village where, as usual, most everyone within sight comes over to greet me and to chat.
When I ask one man about the local alcoholic drink known as toddy, which comes from the palmyra palm and ferments on its own within hours of being tapped, he dispatches a friend to scale a 25-foot-high (8-meter-high) trunk, extract some of the sweet, milky nectar and pour me a glass.
Milky Nectar
During the war, he says, the village's population went from 300 to zero; it's now back at 35 — and rising. Next to the village is a poignantly weed-ridden Gothic chapel, stripped bare, its windows still adorned with peace doves and the Latin word pax in gold letters.
One freshly restored attraction that looms in the waters off Karaitivu is the 17th-century Portuguese-built Fort Hammenhiel, now a luxury boutique hotel owned and operated by the navy. In addition to four air-conditioned rooms, lower-cost beds are available in the former jail cell, where radical leftist leader Rohana Wijeweera spent six years in confinement.
On the night I stay, I am the only guest, and my arrival by motorboat is greeted with a military salute by three soldiers, one blowing a bugle. The next morning, I arrive at the dock for my scheduled excursion to the island of Nainativu, where the Buddha is said to have landed during one of three visits to Sri Lanka, to discover that I'll be making the trip in a decommissioned gunboat, with eight navy shipmen as my chaperones.
Navy Chaperones
Sri Lanka's armed forces aren't known for their subtlety, and their continued heavy presence in the north and east has done much to validate many Tamils' claims that the government is more interested in triumphalism than in reconciliation.
"In their view, we are the losers, and they are not letting us forget it," says one Jaffnan.
There has also been a controversial boom in so-called war tourism, with busloads of mostly Sinhalese travelers heading north to visit the district of Mullaitivu, where the army has opened the underground bunker of slain Tigers leader Velupillai Prabhakaran.
Some locals question the propriety of the navy's dabbling in the hospitality business at Fort Hammenhiel. In any case, the previously inaccessible site is now open to everyone, and it's a rare privilege to spend the night in one's very own citadel and to wake at dawn to observe rows of migrating pelicans soaring past the watchtower.
Few Westerners
During three days in the north, I've spotted only one other Westerner — a Frenchwoman snapping photos in a temple (just beneath a "no photos" sign) — so it's jarring when, after flying from Jaffna to the east coast town of Trincomalee, I see several young European couples sprawled in lounge chairs at the Jungle Beach Resort.
Opened last year on a deserted cove 18 miles north of town, Jungle Beach is like scores of other well-run resorts throughout Asia, where honeymooners can spend a week without leaving the property or putting on shoes. One difference I notice during a morning walk on the empty beach is the abundant wildlife, which has thrived during the war's de facto construction freeze. Hundreds of tiny crabs dart across the sand, while countless black-shafted terns glide overhead, occasionally swooping down to pluck a fish out of the transparent sea.
Religious Procession
On the main road closer to town, blaring south Indian music signals the approach of a religious procession in which hundreds of Hindus in traditional costume, some carrying huge baskets of flowers and leaves on their heads, walk for several miles under the blazing sun. In a self-mutilation rite that's intended to offer proof of devotion, three men dangle from poles by metal hooks inserted in their backs.
Nonetheless, the vibe is block-party festive as young girls from the neighborhood smilingly offer fresh papaya juice to the passing crowd. In the procession's wake, I witness a lone cobra poised in the middle of the road, its head raised and hood flared.
South of Trincomalee, the newly resurfaced road hugs the eastern shore, passing several Muslim fishing towns and clusters of international aid-financed brick homes, built for families displaced by the tsunami. Outside the city of Batticaloa, in Passekuda, sits one of Sri Lanka's officially designated tourism zones, a mini Cancun, Mexico, in the making, where more than a dozen new hotels are slated to open by the end of next year.
A Mini Cancun
Far more edifying is my visit to another crowded festival at a Hindu shrine that I discover by chance after noticing that a side street is festooned with colorful flags. Outside the Mavadivembu temple, dedicated to Kali, the goddess of death, scores of kids notice me approaching, and the sight of a white guy with a camera unleashes such a frenzy that I feel like Justin Bieber making a surprise visit to a Midwestern middle school dance. Clusters of children run after me, laughing with delight, while a few try out their English: "How old are you?" "Where are you going?" "I love you!"
There's an aura of ineffable stillness and tranquility at my next stop, the jungle hermitageBuddhangala, which dates to the third century B.C. A family of toque macaque monkeys cavorts in the chestnut trees as I enter a cave stocked with ancient relics, a human skeleton and other props, displayed to remind meditators of the transience of life.
Later, in a hut overlooking a vast plain, I meet the man who is perhaps Sri Lanka's unlikeliest religious figure: the former army general Ananda Weerasekera, now a baldheaded monk who rises daily at 3 a.m. to don his maroon robe and sit for morning meditation.
Serene Charms
With his wry smile and courteous manner, Weerasekera, 70, embodies many of Sri Lanka's serene charms and baffling contradictions. He explains that after being widowed and retiring from the military, he read the Buddha's original sermons and realized he'd found his true path.
"All wars and conflicts — whether ethnic or regional, between kings or presidents — begin in the mind of man," he says. "Therefore, you need to treat the mind. Kingdoms, power, wars, love: All these things are impermanent. And meditation is the key to realizing that."
I ask Weerasekera about Sri Lanka's notorious group of radical Buddhist monks, who've joined anti-Muslim mob protests.
"Even during Buddha's day, there were monks not following the Buddhist principles," he says.
However, he makes no apologies for his service as a hard-line military commander, overseeing operations in this very region.
'Protect My Country'
"I had to protect my country," he says, going on to explain that some reports about the army's human rights violations have been exaggerated.
Before taking my leave, I ask if he has any regrets about giving up his past life of power and privilege.
"Do I look unhappy?" he asks and lets out a long, deep laugh.
Just an hour's drive south, on a long, palm-lined cove, sits Arugam Bay, the east coast's premier surf spot. With its $10-a-night thatched cabanas, reggae bars and Ayurvedic boutiques, it's a pleasant place to relive your post-college backpacking days, especially if you have a high tolerance for stray dogs and dirty feet.
The only town in the east that remained accessible during much of the civil war, Arugam Bay has long been prized as a mellow alternative to Sri Lanka's ever-more-crowded south and west. Here you can still spot crocodiles by the roadside as you ride in a tuk-tuk to an uncrowded right-hand point break that's flanked on both sides by hundreds of yards of empty beach.
Whiff of Hucksterism
Longtime regulars say there's a new whiff of hucksterism on the town's only street, where restaurant workers stand in doorways and pitch their menu specials in English to passersby.
Nonetheless, there's plenty to recommend this place — including herds of wild elephants. You can see them by taking a hired jeep into nearby Kumana National Park, the remarkably seldom-visited bird and animal sanctuary, or simply by driving along the main road to Colombo in the late afternoon. When you start noticing toppled road signs and trampled bushes, look over at the grasslands to your right.
Before leaving Arugam Bay, I sit down for a talk with one of its most-admired figures: Ranga Krishnarajan, a wild-bearded 49-year-old Tamil in a plaid sarong.
Krishnarajan fled here from his native Jaffna during the war to open a small hotel — a cluster of thatched bungalows called Beach Hut. At 8:30 on the morning that the tsunami rolled in, flattening Arugam Bay and killing 30,000 people throughout Sri Lanka, Krishnarajan was serving breakfast when he saw one of his employees rushing toward him, screaming: "Ocean coming! Run! Run!"
Coconut Palm
At first Krishnarajan thought it was a joke. Swept up in the torrent seconds later, he ended up in a coconut palm, naked, watching his refrigerator float below him as the waters receded.
Krishnarajan climbed down to find that his wife and 10-year-old daughter had survived unharmed but that six of his guests, along with his daughter's best friend, were gone. Within weeks, he had moved back and started rebuilding. His wife and daughter, not yet ready to return, remained farther inland for another four years.
Lately, Arugam Bay has been getting a little too busy for Krishnarajan's taste. He plans to relocate to a second property, a few miles up the coast, on a spectacularly deserted stretch of beach known as Lighthouse Point.
"For me, the most important thing right now is peace," he says. "And quiet."
Despite having watched a 30-foot wave erase his home and business, Krishnarajan, who also spent a quarter century living through a ferocious civil war that he'd rather not discuss, seems to be less concerned about the hazards posed by nature than those posed by man.
His place in Arugam Bay is just a few dozen yards inland, and his future home will be even closer to the shore.
Getting Around
Even Sri Lanka's top travel specialists are just beginning to discover the country's north and east. A reputable agent such as Miguel Cunat at Colombo-based Sri Lanka in Style will be instrumental in navigating the still-limited options for lodging and transport.
Many visitors book a car and driver/guide for their entire trip; it's helpful if your driver has some knowledge of Tamil, the main language spoken in these parts. In the cities, at least, you can expect essentials such as ATMs, pharmacies and Internet access.
In August, Cinnamon Air inaugurated long-awaited seaplane service, with scheduled and charter flights from Colombo to Jaffna, Trincomalee and other northern and eastern locales.
To contact the reporter on this story: Chris Bagley at
To contact the editor responsible for this story: Ted Moncreiff at