New York: In a rare admission of "systemic failure" of the UN, its chief has said the world body had failed during the final stages of Sri Lanka's ethnic war in 2009 that saw military defeat of the LTTE.
Secretary General Ban Ki-moon also blamed member countries for not providing the UN with support to meet the tasks set by themselves.
Ban made the remarks while addressing the UN General Assembly's 68th session on Tuesday where Sri Lankan President Mahinda Rajapaksa was also present.
Ban said an internal review of UN action in Sri Lanka identified "systemic failure" and that member states did not provide the organisation with support to meet the tasks they themselves had set and the UN system did not "adapt properly or deliver fully".
In 2012, the Secretary-General had set up an Internal Review Panel (IRP) on UN actions in Sri Lanka. The IRP headed by Charles Petrie completed an eight-month study.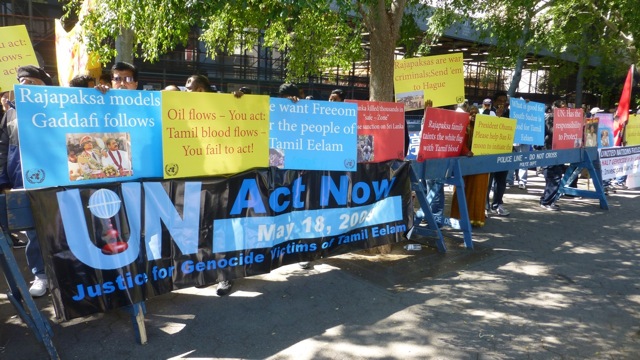 The panel was tasked with providing an overview and assessment of UN actions during the final stages of the war in Sri Lanka and its aftermath, particularly regarding the implementation of its humanitarian and protection mandates.
It was also tasked with assessing the contribution and effectiveness of the UN system in responding to the escalating fighting and in supporting the Secretary-General's political engagement, identifying institutional and structural strengths and weaknesses, and providing recommendations for the UN and its Member States in dealing with similar situations.
The Petrie panel reviewed about 7,000 documents, including internal UN exchanges with the government of Sri Lanka.
The panel also met with a large group of people, including representatives of civil society and member-states, and its recommendations build on previous reviews of UN action in theatres of escalated conflict.
The Secretary-General said as an immediate first step, he will organise a senior-level team to give "careful consideration" to the report's recommendations and advise him on the way forward. "Other action will follow in short order," he added.
The Petrie panel came to be appointed as the UN operation in Sri Lanka faced criticism that it had failed to protect a large number of civilian deaths in the final battle. Sri Lanka government dismissed the Petrie report as "unsubstantiated, erroneous and replete with conjecture and bias".
Military had eliminated rebel Tamil Tigers in 2009. Nearly three decades of ethnic conflict in Sri Lanka had left over 100,000 dead.
PTI
Read more at: http://www.firstpost.com/world/un-failed-during-final-days-of-lankan-ethnic-war-ban-ki-moon-1133061.html?utm_source=ref_articl
e