A 20 year Old Letter to Dayan Jayatilleka
by Sachi Sri Kantha, December 14, 2018
Front Note
As of now, I have published five chapters in this series.
Chapter 1 (posted May 17, 2015): https://sangam.org/sachis-files-chapter-1/
Chapter 2 (posted July 18, 2015): https://sangam.org/sachis-files-chapter-2/
Chapter 3 (posted Aug 21, 2015): https://sangam.org/sachis-files-chapter-3/
Chapter 4 (posted Oct. 16, 2015): https://sangam.org/sachis-files-chapter-4-2/
Chapter 5 (posted Nov. 17, 2015): https://sangam.org/sachis-files-chapter-5/
After a gap of three years, I re-boot this 'From Sachi's Files' series, and plan to post occasionally, what has been lying hidden in my files (vintage documents published in printed texts prior to the internet era and some unpublished documents, related to Eelam Tamil affairs) without much exposure.
Prelude
For Chapter 6, I provide a letter I wrote twenty years ago, to Dr. Dayan Jayatilleka, the prominent Sinhalese polemicist and the son of journalist Mervyn de Silva. This was written as a rebuttal to Dayan's rambling thoughts on the LTTE and diaspora Tamils – with the title, 'The Tamil National Question Revisited: The Package and Globalisation' (LG, Feb-Mar, 1998.) Then, as of now, I was particularly irritated by Dayan's derisive name-calling of Eelam Tamils, particularly one specific paragraph, which I cite below for the context to my letter.
"What have been the results of negotiations? Two dead leaders – President Premadasa and Shri Rajiv Gandhi. Possibly also the end of the secular state in India and a nuclear arms race in the subcontinent, if the BJP wins. Another result has been renewed war in Sri Lanka. In science, we draw certain conclusions if an experiment repeatedly fails. Negotiations have repeatedly failed, with disastrous results. Negotiations were not the answer to Adolf Hitler. Then why should it be the answer to South Asia's Hitler, Velupillai Prabhakaran?" [Note by Sachi: bold font, as in the original.]
In the above cited passage, Dayan certainly had missed the wood for the trees. He mentions only about the "two dead leaders"! How about the innocent lives of thousands of Tamil and Sinhalese civilians sacrificed in Sri Lanka, due to the erroneous decisions made by these two dumb leaders? Dayan also wrote about the failures of repeated negotiations, only from the angle of Sinhalese majoritarian view. How about the Eelam Tamil view that negotiations with short-sighted, racially discriminating, power-wielding, spineless Sinhalese politicians (Bandaranaike couple, Dudley Senanayake and J.R. Jayewardene) between 1956 and 1983, never resulted in any tangible benefit for the Tamil population? And LTTE was the eventual outcome of such failed negotiations.
Dayan simply cannot carry a debate, devoid of sophomoric name calling. H.L.D. Mahindapalan, another Tamil baiter and Dayan's comrade in arms, wrote with hyperbole about Dayan's skill, as "He is an intellectual maverick whose analytical power can make anyone sit up and think twice before disagreeing with him" [LG, May 1, 1997, p. 2]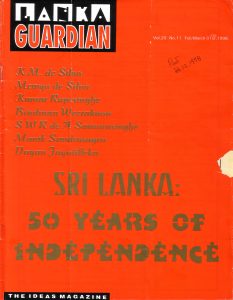 As one would expect, my letter was not published in the Lanka Guardian, though I had challenged Dayan to publish this contra view to his racist thoughts. Well, this unpublished letter provides proof, that exposes the intellectual cowardice of Dayan. When I wrote this letter, Chandrika Kumaratunga was in her first tenure as the president. At that time, he was swooning on the merits of the poverty alleviation policies of UNP's Ranasinghe Premadasa. (see, 'Another Morality of Development', LG, May 1, 1997). Dayan's current patrons (both, Mahinda Rajapaksa and Maithripala Sirisena from SLFP) were yet to arrive at the central arena of Sri Lankan politics in 1998.
As a Dayan watcher, I did note previously in my 2011 critique on Dayan's chameleon politics, "a Sinhalese village wag from Sri Lanka might gossip in a street boutique, 'One cannot keep the scum pressed down for long. It always rises to the top'". [https://www.sangam.org/2011/03/UNESCO_Hoax.php]; as such, currently, Dayan serves as the ambassador of Sri Lanka to the Russian Federation. One would envy his habit of parasitic climbing to pole positions of diplomatic landings in Paris, Geneva and now in Moscow. Even in his wildest dreams, he would never think of serving the Sri Lankan state in locations like Kabul or Luanda or Havana. At the time I wrote this letter, he hadn't earned his Ph.D (2007). As such, I addressed him as Mr.
Letter Proper to Dr. Jayatilleka
March 26, 1998
Mr. Dayan Jayatilleka,
Editor, Lanka Guardian,
246 Union Place,
Colombo 02, Sri Lanka.
Dear Mr. Jayatilleka:
I read from cover to cover the recent Lanka Guardian (LG) issue (Feb/Mar 1998) and wish to comment on two items which carried your by-line, namely (1) The Tamil National Question – Revisited, and (2) Anniversaries and Exit Lines.
'The Tamil National Question Revisited' polemic
I'm amused by your venomous comment on V. Prabhakaran as 'South Asia's Hitler'. In the same page, you tag the Tamils who live beyond the Sri Lankan borders as 'Tamil Zionist' lobby. Can't you grasp the irony of this illogical oxymoronic comparison? In my reading of the world history, Hitler and Zionists were opposed to each other in their goals. So, how come, Prabhakaran and those who subscribe to his goals can be tagged together? Boy! There is no doubt that you can write polemics and you have a passion and skill for this type of verbal pyrotechnics. Sad to say, you are a pauper in logic and rationality. What a waste of your talents?
The name 'Hitler' has become a putty in the hands of paranoid politicians and petty journalists to throw on their opponents. George Bush used it effectively on Saddam Hussein, while killing innocent 200,000 Iraq citizens to satisfy his ego. The mere fact that Prabhakaran did not give false promises to win a nation-wide election to elevate himself as a leader shows that the comparison of him to Hitler is inappropriate. On the contrary, your political mentor Premadasa, or for that matter his bete noire Sirimavo Bandaranaike behaved like Hitler in killing thousands of civilians (Sinhalese and Tamils) after winning the general elections with false promises.
As far as non-Sinhalese citizens of Sri Lanka are concerned, the Gestapo state exists in reality in the southern Sri Lanka. Recent experience of journalist Iqbal Athas highlighted in the international press (or for that matter what happened to Richard de Zoyza) are examples of Gestapo style attacks on the human rights of Sri Lankan civilians. Unknown to elites like you is the fact that, thousands of non-Sinhalese civilians suffer from this type of humiliation. I speak with first hand experience. Two years ago, my father who lives in Bambalapitiya and had passed the biblical span of three score and ten years was taken in the middle of the night by security forces and detained. I was informed later that he was released only after our kind Sinhalese neighbor went and strongly protested against such illegal detention.
Anniversaries and Exit Lines
As a reader of LG from its date of inception, I'm glad that the next issue will turn out as the 20th anniversary issue. I'm also glad to learn that your short tenure as the editor of LG is also coming to an end. I want to shoot straight. Mervyn de Silva is a great journalist and a good editor. You are a great polemicist and a bad editor.
Despite your self congratulatory gloating, I feel that that you had turned the LG (a journal, one of its kind to bloom in Sri Lankan soil), during your short tenure, into a 'Premadasa Pooja Brochure'. You killed the vibrant correspondence column, which Mervyn de Silva nurtured diligently. Instead, we poor readers have been continuously served with insipid, bloated commentaries and vituperative insults on readers' intelligence from the serviles of Premadasa (you, H.L.D. Mahindapala and Tisaranee Gunasekara).
I do not wish to end this letter in a negative note. I wish you all the best in your future endeavors. If you wish to stick around in the field of journalism, I suggest the following.
Don't get carried over by your mastery of verbal jugglery.
Please pull off your blinders and accept in good faith that the deeds of your idols (international variety – such as Lenin, Trotsky, Che, Mao etc.; or the local variety – like Premadasa) were far from perfect, since they were mortals.
You are entitled for your views on Eelam. But if you read widely and think pragmatically, you will comprehend that the global political trend is for self determination and separation of oppressed ethnic groups, and not toward integration with their perceived oppressors. This happens in Tibet (against Chinese domination), Chechen (against Russian domination), Kashmir (against Indian domination), Quebec (against Canadian Anglo domination), Scotland (against English domination), Palestine (against Israeli domination), Kurdistan (against Iraq-Iran-Turkey domination), and East Timor (against Indonesian domination). So, you make a fool of yourself by predicting a 'strong, centralized state: a unitary state' as 'the way out for the Sinhalese speaking people'.
If you are progressive thinker, I request that you publish this critical letter of your commentary on Tamil National Question in the pages of LG. I bet, you will not.
With best wishes.
Sincerely yours,
Sachi Sri Kantha
Coda
Though H.L.D. Mahindapala, in his 19th anniversary message of LG, hopefully predicted, "Guiding the destiny of LG is now in the hands of Dayan who has shown that he is capable as his father of leading it into the next millennium. All those committed to intellectual pursuits can only wish Dayan all success in his path-breaking and courageous endeavours", it was never to be! Within an year, when the 20th anniversary of LG was marked in May 1998, Dayan the 'intellectual maverick' of Mahindapala's hyperbole, had demonstrated that he was a quitter!! The LG itself became history in 1999, before it's founder editor Mervyn de Silva's death on Sept.5th of that year.
*****