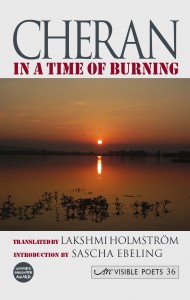 In a Time of Burning.
A bilingual text of poems in Tamil by Cheran,
with their translation into English by Lakshmi Holmström,
Arc Publication, UK, 2013. ISBN: 978 1906570 32 3.
Reading these poems, I was reminded of the oft-quoted comment by Theodor Adorno (1903 – 1969) that to "write poetry after Auschwitz is barbaric". (By association, "poetry" must include all the other forms of Art as well.) Subsequently, Adorno modified his statement: "Perennial suffering has as much right to expression as a tortured man has to scream; hence it may have been wrong to say that after Auschwitz you could no longer write poems."  Can or should Sri Lankan Tamils express themselves in Art after all that has been, and is being, inflicted on them? Isn't it self-indulgence on the part of the artist? Worse, is it not a case of Nero playing the fiddle while Rome burns?
By way of a partial answer, I change context and genre, and recall African American Maya Angelou's prose autobiography, I Know Why the Caged Bird Sings. On the one hand, the trapped bird can do nothing else but sing; on the other, there is the compulsion, indeed the obligation, to transmute, to create, to "sing".  As Yeats expresses it in his poem, 'Sailing to Byzantium', the soul must "clap its hands and sing, and louder sing / For every tatter in its mortal dress": the greater the loss, the greater the imperative to "sing".
The human mind working associatively, in another shift I am reminded of a book written by Amos Oz and his daughter, Fania Oz-Salzberger, titled  jews and words – they do not use the use the higher case, 'Jews and Words'. Amos Oz is a Professor of Literature at Ben-Gurion University in Beersheba whose work has been published in some 41 languages, including Arabic. In 2007, a selection from the Chinese translation of A Tale of Love and Darkness was the first work of Modern Hebrew literature to appear in an official Chinese textbook. (Professor Oz is a Jewish atheist, and this raises the question "Who or what is a Jew?" Is it religion or birth? Once in London I was dismissed by a Tamil who said that, unlike her, I wasn't a Hindu and, therefore, not a Tamil.) In jews and words, Oz and his daughter ask how or why did the Jews survive three millennia of dispersal and persecution.  Is it because they are God's "chosen people"? According to Oz, divine intervention had nothing to do with it: words, and only words, were responsible. Words imply literacy, knowledge and awareness; words preserve and pass on history; words communicate experience and so create understanding. Maya Angelou testifies to the sustaining strength and encouragement Literature was to her. Sri Lankan Tamils are politically powerless, economically exploited, their land colonised, their culture and identity under sustained and systematic attack by the state and its military might. Women and girls are defenceless prey; boys and young men are being lured to addiction to drugs made available and sold by the occupying army. In this tragic and terrible situation, the creative energy of Tamils also finds expression – testimony or resistance – in Art; more precisely, in fiction, autobiography, poetry, song, painting and film.
In yet another and final shift, I am reminded of Jorge Luis Borges who in This Craft of Verse observes that he has spent his life reading, analysing and enjoying poetry.  Of these, enjoyment is the most important of all to him. The term "enjoyment" leads to question which lie outside the present narrow scope. Is the expression through art of aspects of the truth of human life and experience enjoyable or beautiful even when that truth is painful and ugly? In what senses can one speak of "enjoying" the representation of cruelty and human loss, of suffering and sorrow, in the Arts? Returning to the anthology, what would it mean if it were said that one "enjoys" In a Time of Burning?
charlessarvan at yahoo dot com
—————
'This selection of poems by Cheran, one of the most important poets writing in Tamil today, charts the civil war in Sri Lanka of more than three decades, and its aftermath, in a narrative set against a landscape once idyllic, now devastated. Yet this is not the only narrative in this book: woven throughout are love poems – which, even in his earliest work, are shadowed by uncertainty and loss – and poems about displacement, exile and the experience of diaspora.'
Cheran, one of the best known and widely influential of Tamil poets, was born in 1960 in the sea-side village of Alaveddy, near Jaffna, in Sri Lanka. His father, T. Rudhramurthy, (1927-71) known widely as 'Mahakavi', the Great Poet, was one of the leading literary figures in modern Tamil writing from Sri Lanka. Cheran grew up with a grounding in the Tamil classics, but from his early years, he also became familiar with the works of the younger, left-leaning poets who frequented their house. He graduated from Jaffna University with a degree in Biological Sciences. These were the years when ethnic conflict and civil unrest in Sri Lanka spread alarmingly. The Tamil people were outraged when Sinhala policemen set fire to the Jaffna Public Library in 1981 destroying over 95,000 books, some of them irreplaceable; but what followed was possibly even worse. In July 1983 one of the worst pogroms against the Tamils began in Colombo and spread all over Sri Lanka. After this there were acts of violence and atrocities which were experienced daily by the Tamils.
In 1984 Cheran joined the staff of the Saturday Review, an English language weekly that was known for its stand on press freedom, and fundamental rights and justice for minorities. As a poet and a political journalist, Cheran refused to align himself with any of the several Tamil militant groups that were active in Jaffna at the time. As a result he was harassed both by the Sri Lankan army and, later, by the Liberation Tigers of Tamil Eelam (LTTE). He left for the Netherlands in 1987 where he completed a Masters degree in Development Studies. Returning to Colombo two and a half years later, he helped to start the Tamil newspaper, Sarinihar, published by the Movement for Inter-Racial Justice and Equality. He was advised to leave the country yet again, in 1993. Cheran went to Toronto, Canada where he completed his PhD. He is now an Associate Professor in the Department of Sociology at the University of Windsor in Ontario, Canada. His academic interests focus on the study of ethnicity, identity, migration and international development. Side by side with his academic career, he has continued to write his poetry and to contribute to literary and political journals.
Lakshmi Holmström is a writer and translator. She has translated short stories, novels and poetry by the major contemporary writers in Tamil. Her most recent books are Fish in a Dwindling Lake, a translation of short stories by Ambai (2011); A Second Sunrise, poems by Cheran, translated and edited by Lakshmi Holmstrom & Sascha Ebeling (2011); The Rapids of a Great River: the Penguin book of Tamil poetry (2009), of which she is a co-editor; and The Hour Past Midnight (2009), a translation of a novel by Salma. Her translations of poetry by Tamil women, Wild Girls, Wicked Words, is forthcoming. In 2000 she received the Crossword Book Award for her translation of Karukku by Bama (2nd edn 2012); in 2007 she shared the Crossword-Hutch Award for her translation of Ambai's short stories, In a Forest, a Deer; and she received the Iyal Award from the Tamil Literary Garden, Canada, in 2008. She is one of the founding trustees of SALIDAA (South Asian Diaspora Literature and Arts Archive).
 — English Pen.org, September 30, 2013
—————
Cheran's In a Time of Burning looks back from exile. Again this is poetry as News, if we can hear it, if we want to hear it; and News of a very different kind. A poem called 'Four years':
Once, on a dewy morning
walking along the jasmine-strewn street
I stopped short, hearing you cough:
that memory will last to eternity
like the parallel lines of our lives.
If I lived at all, it was in those moments:
when the thin clouds spread gradually
into the evening's redness
and I lay on the sand, my head in your lap,
the hair curling about your earlobes,
a trace of sadness in your eyes,
your body yielding, your voice calling,
your eyelids closing,
your trembling hands tightening
about my shoulders.
In those perfect moments.
But now I stand in the cold
in the middle of a long landscape:
a lone palmyra tree.
The translator, Lakshmi Holmström, says in her brief Preface, that 'Cheran steadfastly refused to align himself with any of the political groups within the Tamil community. This has enabled him to speak out against all atrocities committed, both by the Shri Lankan army and the Tamil militants. He sees his role as chronicler and witness: the poet is often present within the frame of the poem, watching, commentating, indicting.' They are powerful poems in precisely that way, the being there or imagining being there. I can in truth say these poems are for me compelling in translation, and he is our contemporary, I should say that the book will stay with me, his poems are news that is news now, Shri Lanka is in our News. But reading his and Raymond Queneau's poems I see how culturally bound I am, where my sensibilities, spontaneously, are positioned.
Cheran is in Canada now; here is a 2003 poem called 'Colour':
In the street, dry now after a fall of snow,
beneath the street-lamp with its dim light,
the tip of his nose frozen and red,
a small Canadian flag pinned carelessly
upon his ragged, drooping overcoat,
centuries of dirt and stains and beer-froth
on his long, dense brown beard,
a forest-green army cap on his head
now shapeless,
buffetted by snow, wind and rain,
with hunched back, crooked nails and
long, curly, tangled hair, he lies huddled,
his eyes blinking frequently,
part sunken in darkness
part crazed. He begs for money
and thanks those who fling him coins.
I refused.
'Fuck you, Paki,' he said
turning his face away.
It's a story with a punchline, and it's interesting to compare this streets poem with any of Queneau's. 'Fuck you, Paki,' is, so italicised (and not so in the translation), in English in the original. My impression of these two very different books, as their authors look out at their world, is of Queneau observing, engaged but from an emotional distance as well – or that his emotion is in the walking itself, in the gaze – while Cheran is having a battle of words with himself to get it clear, Shri Lanka's troubles and his own in relation to them, whether there 'at home' or in exile.
by David Hart, Stride Magazine, UK, August 2013