Interview by 'Tamil Guardian,' London, July 13, 2013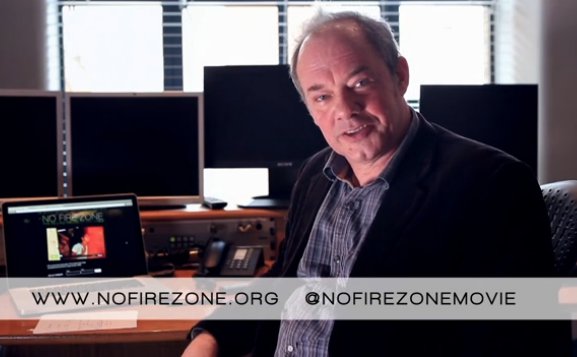 Tamil Guardian's correspondent based in Toronto, Canada, caught up with the director of the documentaries 'Sri Lanka's Killing Fields' and 'No Fire Zone – the killing fields of Sri Lanka', Callum Macrae, at the sidelines of FETNA 2013, to find out how he viewed Sri Lanka's reaction to the documentaries, himself and others who are speaking out against the massacre of tens of thousands of Tamils.


TG: On Wednesday July 3rd a screening of 'No Fire Zone' at the Kuala Lumpur Selangor Chinese Assembly Hall organised by the Malaysian human rights organisation, Pusat Komas, was raided and three activists were detained and charged. The organisers have confirmed that prior to the screening, the Sri Lankan embassy had tried to put a stop it. What do you think this says about the apprehension the Sri Lankan government has about the potential impact of this documentary? 

CALLUM MACRAE: I think there's two things to be said about it really. I think it illustrates the incredible concern held by the Sri Lankan government about this film, and anyone who tries to tell the truth about what happened; because they know that it happened, they know it's true and they know that if the international community becomes fully aware of what happened that there will be calls for justice, that they can't resist and that inevitably, and eventually, they will face some kind of war crimes tribunal, I'm sure of it.
TG: Do you think the Sri Lankan government was even more concerned about clamping down on this screening because it was organised by a non-Tamil human rights organisation?

CALLUM MACRAE: It's an illustration of the way the Sri Lankan government regard anyone who criticises them, is that they are more or less a terrorist. That was most graphically illustrated by the fact the Sri Lankan government on its official website has a report, and the headline of that report is 'Malaysia Arrests Three Tiger Terrorists.'

It's an almost psychotic kind of paranoid fear of anyone who criticises them and it's one that is actually reflective of a genuine attitude within the Sri Lankan regime of the Rajapaksa's, which is that anyone who criticises them is in effect a terrorist.

That includes even the perfectly legitimate democratic demand — and I don't take a view on this — but it is an absolutely legitimate democratic demand for self-determination and the majority of people, the majority of Tamils in the North East quite clearly believe that, not just that it's desirable, but it's the only way they can be safe. 
Callum Macrae addresses FETNA 2013 sideline event. Photograph Tamil Guardian

TG: You've also personally been targeted, for example by the Sri Lankan Consul General to Australia, Bandula Jayasekara, who has said that he will personally guarantee that you don't get a visa to attend CHOGM, and that you're profiting from 'blood money.' How do you deal with these sorts of characterisations, and is this something that you've come across in journalistic work you've done about other situations?

CALLUM MACRAE: No. I've never known the messenger to be attacked so consistently, so energetically, and so falsely as in this case. The fact is I am on record as saying for example, that I believe that the Tamil Tigers committed war crimes. I know that they used suicide bombers, I know that they used child conscription, so I am clearly a critic of the Tamil Tigers. And yet, the government actually goes on the record and broadcasts and transmits allegations that I've been paid $5 million by the Tamil Tigers to accuse them of being guilty of war crimes. I mean it's preposterous, it's ridiculous.

And I think the CHOGM thing is ridiculous because the British government when it announced that it was going to go to CHOGM, which is a decision I regret, Alistair Burt who is a Minister who's responsible for Sri Lanka, in the Foreign Office, he specifically said that they expected Sri Lanka to guarantee foreign journalists unrestricted freedom to do their job in reporting on events in CHOGM. And he implied that this was a condition of Britain's attending. And last week Bandula Jayasekara specifically said in a tweet directed at me, "I will make sure that you don't get a visa to go to Sri Lanka."

In my view I don't see how the British government can consistently go there when a senior government official is denying a journalist the right to report freely from Sri Lanka. If the Sri Lankan government regard CHOGM as an opportunity to show that the world has forgotten their crimes, and that the Rajapaksa regime is a legitimate part of the world community, and if that is the effect of Britain going to CHOGM, then Britain has a lot of questions to answer. Again it suggests that the international community is looking the other way over the crimes of Sri Lanka and I think that's a disgrace. 

TG: How do you think the Sri Lankan government has managed to get the international community to look the other way thus far?

CALLUM MACRAE: I mean, what the Sri Lankan government did was very clever. When they launched this final offensive, they used the West's language of the 'War on Terror' to justify their assault. They hid behind the rhetoric of the 'War on Terror' to justify what they were doing. And they had on their side an extraordinary alliance of countries, certainly the Western countries, but they also managed to get lots of other countries to tie in as well. So you had the language of the 'War on Terror' to unite the West, but they also had India and Pakistan, they also had Israel, and Iran they also had America, and China supporting them, or at the very least looking the other way while these massacres were happening.

There was a perception that the Tigers were just a bunch of terrorists and they had been condemned as terrorists internationally and so the world was happy to just look the other way. Sri Lanka was very strategic in its position, doesn't have minerals and things but it's very strategic in its position, and everybody likes to deal with a big, strong, tough, united government.

So there's a terrible conspiracy of interests which wanted to see the Tigers gotten rid of, as Sir John Holmes of the UN said, "no matter how much it cost in terms of human rights." So Sri Lanka operated very cleverly behind that kind of shield and carried out what were quite deliberate massacres of civilians because the Sri Lankan government did, and still does regard Tamils as terrorists.

TG: Some have characterised the final stages of the conflict as a 'war without witness,' when it was witnessed, and certainly the Tamil diaspora was very active in creating awareness—but no one was listening. How do you think the War on Terror played into the discrediting of the Tamil struggle?

CALLUM MACRAE: You had in the War on Terror this climate in which people were able to turn on the Tigers. The Tigers did not help themselves, they allowed themselves to be categorised as terrorists. And that increasing isolation is what led to the situation where when the final offensive happened, no one wanted anything to do with them, and everyone looked away. I'm not defending that, I'm just saying that's what happened.

The Tigers were undoubtedly seen by the majority of Tamils in the North East as their only defence against the government. They were idolised and revered because of their bravery and because of their fight. It is also the case that they were resented because of the forcible recruitment of children. Nobody likes their child to be taken away. So there was an ambivalent, complex attitude to the Tigers. But for all that complexity, they ruled by consent, and they were the legitimate voice, if you like. Now I say those things because I also say that they used inexcusable tactics. They also did some very stupid things tactically in terms of their assassinations of world leaders, of some of the people they targeted. They made tactical and strategic errors, and they just did things which were plain wrong.

My frustration with the leadership of the Tigers for the wrong things they did – it is made all the worse by the fact that things were looking so promising.When there was that parity in 2002 between the Tigers and the government, you saw the prospect of progress and the prospect of peace.

In 2002, 2003, 2004, there were extraordinary things going on in the North, in the Vanni – streaks ahead of Sri Lanka on women's rights, on education, on all sorts of things. There was the model of something, there were negative sides to it like forcible conscription, but they'd stopped using child soldiers, they'd stopped using suicide attacks. There was the beginnings of very important changes, and the beginnings of progressive stuff as well, which of course is lost in the narrative.

I'm very angry at what the Sri Lankans did, but I'm also angry with the leadership of the Tigers for the mistakes they made. I mean I'm an outsider so who cares. But I do it within the context of recognizing what they were. I do think the human rights movement sometimes falls into sort of just ritual denunciation of the Tigers as being a bunch of terrorists which is not helpful.
TG: Does it affect the credibility of your documentary when the Sri Lankan government deploys the twisted anti-colonial argument that your film is part of a Western conspiracy against them?

CALLUM MACRAE: The charge that I'm some kind of apologist for the West, I just ask people to look at the films I've made. Mainly actually I've made films about war crimes committed by the West. I've made films in Iraq, I've exposed war crimes in Iraq, and I stand by my record. The idea that I'm some kind of Western apologist is frankly absurd…But the trouble is that Sri Lanka is using this kind of populist anti-Western rhetoric utterly hypocritically, but it is using it quite effectively to try and convince Non-Aligned countries in the Commonwealth and in the United Nations that this is the West ganging up on them and who are the West to talk about – it's not.

This is about human rights, and this is about the rule of international law. And I know that whenever I've shown this film to people who didn't know about the situation – it changes minds. I know that when people see the film, when people know what happened, the Sri Lankan government can't hide behind nonsense about the West. These war crimes are so serious and so clear, that it's a matter for humanity that justice is done.