I didn't know what was happening on the war front – Gen. Jagath Jayasuriya
by  Sulochana Ramiah Mohan, 'Ceylon Today,' September 3, 2017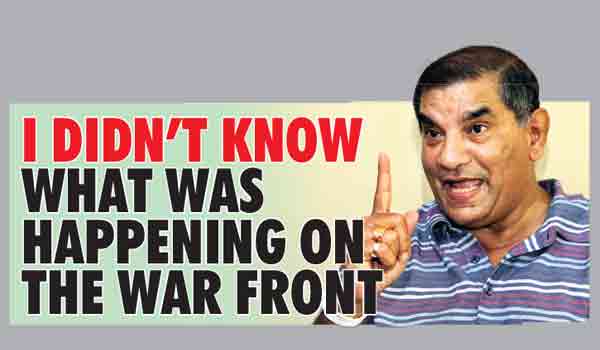 Tall and well-built, retired Army General, Jagath Jayasuriya, who was posted in Brazil as the Sri Lankan Ambassador, is back in town with mounted allegations against him related to his posts as a military man and an ambassador. He said that although he was the Vanni Commander, he was not on the frontlines and it was Army Commander General Sarath Fonseka who conducted the operations.
"I don't know of war crimes because I was near the Vavuniya airport, and Nandikadal was 100km away. How will I know what was going on there?" he queried.
Born on 3 January 1959, he joined the military at the age of 19, and to date he has been a sober and media shy guy. "I am a guy who can adjust to any situation and place, but now I am being hunted over something I am not responsible for."
Excerpts of the interview:
? Tell us what exactly happened when you were in Brazil because reports said you had fled Brazil when there was a complaint against you on alleged war crimes?
A: I took over duties in Brazil on 5 August 2015. When I left Sri Lanka I signed a contract for a two-year tenure in Brazil as Ambassador, and the tenure was completed in August 2017. In June 2017, I wrote personally to the Foreign Secretary that I was due to complete my two years and that I would like to get back home or to get me a post in an Asian country so that I can be closer to Sri Lanka.
Then on 10 July, I received a letter signed by the then Secretary Esala Weerakoon that completion of my tour of duty was approved and to return to Sri Lanka before 31 August. I was happy that I was coming back after two years. So, I made all arrangements, including my travel plans. My flight bookings were done ahead of time, to leave Brasilia on 27 August. I came in an Emirate flight through Dubai to Colombo and reached here on 28th morning. My heavy luggage was loaded on 7 August through a shipping company. I lived in an official residence rented by the Foreign Ministry and then returned the house on 8 August and moved to a hotel apartment till my flight to Sri Lanka. The Foreign Ministry of Brazil arranged a farewell lunch in my honour that was held on 24 August, attended by persons in the Department of Asian Oceana. A few ambassadors were also invited. I was awarded a souvenir too. On Sunday, I left Brazil and there was no issue whatsoever about me till I left. On the next day I received a text message about a Sri Lankan daily paper highlighting war crimes and a report published by the BBC UK. Immediately thereafter, I received a call from Charge de Affairs Mr. Jayakody from Brazil who told me several articles about me had appeared in Brazilian newspapers and various websites and TV channels were calling him asking for my whereabouts. He was asking for my instructions. Jayakody was appointed as Charge de Affairs on 28 August. I told him to tell the truth that my term of duty ended and I had left. I told him if it's anything related to war crimes allegations, to inform persons who called him to contact the Foreign Ministry in Colombo. Later I read a BBC news article where the International Truth and Justice Project (ITJP) an NGP of Yasmin Sooka has made references to me.
? Where did the ITJP lodge the complaint?
A: I hear it was not a lawsuit against me but a complaint. I was in fact accredited to three countries. The ITJP came up with allegations that I am not fit to hold the ambassador post and I have committed war crimes. All of this was on the website giving a full account of crimes, like the video by Channel 4, but now the narration is Gen. Jagath Jayasuriya had committed war crimes. Earlier it was the former President of Sri Lanka and now specifically saying Gen. Jagath Jayasuriya committed war crimes and apparently I had seen to everything as if I was physically doing all the crimes. They also claimed that I was in a particular camp in the Vanni. They have posted the operational command chart and a few details of the Vanni Camp too. Sooka has never been to the Vanni camp and not been to Sri Lanka either. But, they sound so realistic. Of course, I know lawyers are supposed to be that. I read all these on the website and subsequently, I also received a Portuguese document what was sent to me from the ITJP. That was emailed to me by Jayakody from Brazil. The document about me had been submitted to the Ministry of the Federal Reserve Brazil and not to a Court.
? What was mentioned in the document the ITJP had submitted?
A: It's a 49-page document and had three requests by the lawyer. They were: investigate the Ambassador over war crimes, sexual assaults and torture, the indiscriminate shelling of a hospital and preventing humanitarian assistance reaching the civilians. These were mentioned in a manner implying that I have committed all these. These were mentioned in the UN report too and there was nothing new. The ITJP had urged three actions on me: To initiate criminal investigations against Ambassador Jayasuriya, secondly, request Sri Lanka to do away with his diplomatic immunity and thirdly, if they are not going to do it, declare him persona non grata (foreign person whose entering or remaining in a particular country is prohibited).
? Did the Brazil Government accept it?
A: I don't know but Yasmin Sooka has lied to the media. I also did not flee the country as she claimed. I can say what happened was mere coincidence. I did not even get a tip-off about them and so I was shocked to read about it after leaving Brazil. It's the first time since the war ended that allegations of this nature came upon me on the whole war operation. I was never the fighting commander.
? What were you then?
A: I was the Vanni Commander. I looked after the Internally Displaced Persons (IDPs) providing logistics but I never commanded troops on the front issuing orders to fight here and fire there.
? Who did that particular job?
A: It came from the Army Commander directly to the divisional commanders.
? Who was the Army Commander?
A: General Sarath Fonseka. In the last eight years this is the first time my name propped up.
? But your name was mentioned many times before too?
A: Of course in the UN report my name was mentioned as Vanni Commander but no allegations against me. In fact, Radhika Coomaraswamy, who was the Under-Secretary-General of the United Nations, Special Representative for Children and Armed Conflict until 13 July 2012, told me that there is 'nothing against you'.
? What happened to your visa to go to the USA?
A: It's my personal complaint again. When the war ended there were heroes mentioned under a photo of Mahinda Rajapaksa. There were 50 such photos of Forces published in many newspapers in Sri Lanka. In that list, I was also there. In my personal opinion, the US Government is using these photos as the source for alleged war criminals now.
? A few lines on being one of those war heroes of Sri Lanka responsible for defeating the LTTE?
A: I am proud to be one of the main team players in the entire operation and as the Vanni Commander. The operation was a successful one. There were lots of things besides the war that I was involved in. We finally had about 300,000 IDPs and many surrendees. It was not an easy task with limited resources to put things in place. It was a mess.
? Are you implying there were absolutely no civilian casualties in the war?
A: It was a hard fought win. I don't consider we fought against a terrorist outfit because it was an all-out war. They had artillery and aircraft too. They may be small in numbers but they matched us all the time. It was not ordinary warfare.
? People in the North and East are continuously urging the government to address the issues of missing persons and war crimes. Are there missing persons and did the alleged war crimes really take place?
A: The problem is there were so many families who did not know that their family members were in the LTTE as they were forcibly taken by the LTTE. Thereafter, during the conflict some perished and disappeared too. What I mean is that some escaped using boats. Even after the end of the war, from the Manik Farm many escaped because from there, Mannar is close by. Even before I left the Army, there were no unaccounted people. Either they are in prison or rehabilitated. The shelling and killing allegations are all false.
? Did war crimes occur?
A: War crimes, if at all had happened, someone must specify it. You can't just say it without indicating a specific person. Somebody should say this person did this at this time and if that evidence is shown, then that can be investigated. But I cannot accept anything said in general because anyone can claim so.
? So, were there any specific war crimes committed?
A: On the ground, whether something like that had happened or not, I don't know because I was not on the frontline warring. I was in the Vanni Camp.
What every individual did, I don't know. At the highest level we don't know. At the lower level, they may be knowing whether it happened or not. A General will not know what a solider is doing on the frontline.
? You never came to know of any of these atrocities?
A: No. At that time our military was well experienced and over a period they had learnt lessons. They were more into helping people.
You may have seen photographs taken during the war about how the military were carrying the IDPs and the injured. It was amazing.
? Many charge that there was a Joint Services Special Operations Headquarters or the JOSSOPH Camp in the Vanni functioning as a torture chamber. It was right under your command, isn't it?
A: Yes. In the late '80s it was there. I cannot remember the Commander at that time. It was a small camp that was established as a complex for joint operations over a period of time. It was the only Army establishment at that time near our Vavuniya Airport.
Otherwise, it was the Air Force that was using it. When there was a requirement for Army presence there, it was the Army Brigade that later made it into a camp and my Security Forces Headquarters was installed in that complex.
It was one of the bases in the whole complex. But, there were so many other Special Forces including intelligence, artillery, armoury and their camps, and the Air Force runway all inside the complex.
? Was there a torture camp inside there?
A: That allegations came up since intelligence were there and may be they held interrogations inside. That is why it is interpreted that way. The allegations pointed to me because I had my headquarters inside the same complex which I was responsible for. But there were Commanders at various levels in other camps in the same premises. So, if something had happened in those camps I am not responsible.
?Overall, weren't you in charge of this camp?
A: Overall in charge was the Vavuniya Brigade Commander who was responsible for the security.
? So it was not under you?
A: No. I was not the one in charge of security. There was one security guy to look after the whole thing. We looked after the other small establishments. What many say is when torture was allegedly taking place there, I should have heard somebody shouting and screaming through the walls. They think I was staying next door.
? So you're saying you were not responsible for any torture?
A: How can I be responsible if somebody else was doing it? The entire complex was not under my command.
? So basically you did not know what was going on in that part of the camp?
A: No.
? You told the BBC Sinhala that the UN has not officially mentioned names pertaining to Sri Lanka's war crimes? Is that what you want to know?
A: The government is saying they had found a joint solution and that there is no 'electric chair', no Special Court and that we have won the hearts of the international community.
My question is, if so, these allegations should not come now. The politicians are saying everything is sorted out and cleared for Sri Lanka. They may be saying for their own advantage but at the United Nations, nothing has been sorted out as yet. I think there is a long process.
? How do you think Sri Lanka can clear its name?
A: I think the government should do it.
? How will your name be cleared?
A: I cannot clear it. I don't attend UN sessions.
? Are you willing to testify?
A: If somebody holds an inquiry or if something against me is proved, that should be investigated. Then I have to give evidence and the person who complains also must give his evidence. I know my side of the story. This has not been done and various allegations are levelled against us by other countries.
I may also ask what evidence do they have against me? Just because someone has charges against me, it does not mean that I have to accept it. Until I am found guilty, I am innocent.
? This is where the Special Court comes into play. You would like a Court hearing?
A: Whatever. If the country has accepted a mechanism to sort it out, we have to face it. If we are summoned, we cannot say we cannot go for that inquiry. All must be lined up and inquired.
? Why do you think there is an agitation for a special court, which is meant to clear everything, related to war crimes?
A: I don't know what you mean by a Special Court, but whatever the Court is, then they should do that. No problem. What we want is, to have a Court or whatever name it goes by (or anything else) and finish it off.
? As to allegations of torture, disappearances and rape and sexual violence – did you condone them; are you aware that such crimes happened? For instance, the Defence Ministry recorded that Isaipriya was killed in combat, but there are video footage that prove otherwise that she and other women were captured alive, sexually assaulted, their private parts mutilated and were finally executed?
A: I have seen those videos, but I am not aware of these incident. Those things may have had happened on the frontline at the last minute I think. I am not personally aware of these things.
? When you saw the video clips how did you react?
A: I am not sure of the genuineness of the video. The same video is now on my news too.
? Why didn't you at least investigate to know whether it was true or false?
A: No. I don't think we have done that.
? Even if you claim it was a war on terror and categorically deny any involvement in war crimes, the OISL report points to the fact that you played a major role?
A: Well, I played a major role by finally looking after the IDPs and the remnants of the war. The operation was led by the Army Commander who gave directives on how to progress.
In the whole war operation there were the offensive division and the defensive division. Initially, I was the Vanni Commander of the Defensive Division. Then there were new divisions that were created. Those were: 57, 58 and 59 Task Forces. They were directly given instructions by the Army Commander. So, I had to look after the Defence. The Army Commander told me 'if something happens you are responsible'.
? Have you seen the Paranagama report?
A: No
? In the Parangama report, number 46 says, 'Under the international law doctrine of command or superior responsibility, military and civilian superiors can be held responsible for the crimes committed by their subordinates if they knew or had reason to know that the subordinates were about to commit or had committed war crimes, and the superior failed to prevent or punish such crimes'. What does this mean?
A: Every military organization has a chain of command. At various levels there are Commanders. But, a private solider answers to his Commander, whether that Commander has one stripe or two stripes, that is a section. Likewise, when three sections get together it's a platoon with a Second Lieutenant or a Sergeant. If the section has 10 people, the Corporal is responsible. You cannot expect his Commanding Officer, who is the Lt. Colonel, who is commanding about 800 persons, to know what a private soldier has done. Of course, it can be reported. But, I don't know if that had happened.
? So, no such reports reached anyone on crimes?
A: No.
? Number 47 of the Paranagama report states 'It is clear to the Commission that this doctrine may be engaged as it concerns the allegations relating to the 'white flag killings' of LTTE leaders and the images of executions that have formed the subject matter of a series of Channel 4 television broadcasts. The Commission is of the view, as found by the LLRC, that there are matters to be investigated in terms of specific instances of deliberate attacks on civilians. These matters must be the subject of an independent judicial inquiry. There are credible allegations, which if proved to the required standard, may show that some members of the Armed Forces committed acts during the final phase of the war that amounted to war crimes giving rise to individual criminal responsibility.
A: Now, who is saying that he or she carried a white flag?
? Isn't it in the report of the UN? They say it is alleged people came with white flags. Also, I think Eric Solheim had told civilians and the LTTE members to carry flags and surrender. Didn't you know?
A: There is nobody saying that she or he came with a white flag, if they do, we can investigate it. Eric Solheim was not there. Can a person come forward and say I carried a white flag and we beat them?
? The story is that persons who carried white flags and surrendered were allegedly killed. Don't you think it's possible?
A: So, who is going to believe that? If there are evidence, well we can probe.
? Did you as the Vanni Commander also received orders directly from Gotabaya Rajapaksa in Mullaithivu during the final battle, not reporting to General Sarath Fonseka as he was sent abroad at the final moments?
A: No. Army Commander Sarath Fonseka went to China with his mobile phone and the map of the Vanni. I don't think Gotabaya interfered in the conduct of the operational part. But, we used to report or tell Gotabaya also if something was happening. If there were special requirements, we reported to Gotabaya. But, Fonseka was contactable on telephone. Fonseka's wife used to tell us 'his entire bed was taken up for the map'. I worked with him so, I also know he does that.
? So, did he give orders from China using his phone?
A: He used to call and verify reports. I can say categorically he had given me in writing that I have no operational command of troops in the Vanni and that I will only do logistics. So, I was not giving orders. That is why I said, he wanted me to do the defensive part and not the offensive part, but now I am accused of all these events.
? In an interview in SP's Land Forces Magazine in February 2010, you claimed: "As the Security Forces Commander Vanni, the entire northern operation was conducted in the tactical area of responsibility that came under my command. I was actively involved in the ground operations executing the directives from Army Headquarters and the Ministry of Defence." Do you stand by that statement?
A: Yes, up to that particular date I was referring to, I was in charge.
? Which date was that?
A: At the final stages of the war, I got instruction from the Army Commander that I hold no responsibility of an Operational Commander.
? Which date was that?
A: I think it was February or March.
? How do you explain the many videos showing the execution of prisoners in the custody of identifiable Sri Lankan soldiers?
A: That is the question. You are talking about Channel 4 right? Yes, we tried to find out exactly what it was. It's quite difficult to identify. Whatever I have seen on various websites, it's difficult to make it out whether it was made up or not. I don't know because I never heard of such things happening and what was happening on the frontline, I don't know.
? Is it possible to identify the soldiers in the videos and stills with prisoners and question them about how the prisoners were later found to be dead?
A: You mean the LTTEers?
? The LTTE and the Sri Lankan military personnel. Can you identify them?
A: If all to be identified it has to be by the intelligence. Personally, I can't. A General Commander cannot identify. It's the intelligence who does all that.
? Do you know what happened to Isaipriya who was a newsreader on LTTE TV Channel or Prabhakaran's 12-year-old son Balachandran, Pulidevan and others who surrendered to the Army?
A: I have not followed it. Of course, a few days after that I became the Army Commander. I was too busy with other things. Only when the reports came from the Ministry of Defence, there was sort of an investigation to find out about those claims.
But, as the Army Commander I ordered an inquiry into the shelling of the hospital. That was in the report. There were artillery and the radar that technically confirmed they had fired, but it was later alleged to have been into the no fire zone.
? So, as a responsible officer, don't you want to know the truth as to what happened to the surrendees?
A: That was investigated at the highest level. So, we did not want to interfere. It was a Ministry of Defence level probe.
? What did they tell you?
A: I don't know.
? Did you not want to know about it? Have you ever told yourself 'I should have checked on these before it becomes an issue'?
A: We were all in doubt in what circumstances all these things happened. To find out what exactly happened and to get the details of it, the Army was not involved.
? What happened to the surrendees after the war ended?
A: Those 12,000 persons? Oh yes. I don't know the exact figure.
? Was it only 12,000?
A: I guess little over that, I don't know the exact figure. I am the one who started the rehabilitation camp initially.
? Were there some with white flags reaching the Army?
A: No. some surrendered before 16 May and the war ended on 18 May. From what I know from the people who were coming in telling us, that Prabhakaran had given orders to them not to leave till the 16th. They were waiting for international assistance. But, most of the people escaped. Then we were announcing that if anyone had anything to do with the LTTE please identify yourself so, you can be treated separately; so, that you will not have problems later on if you don't declare. Then people surrendered in many thousands. We kept them in few camps – females and males separately and they were looked after by us. It was a new experience for us too, when the rehabilitation process started. We also learnt how to conduct it with the help of international organizations. The process started and I think almost all were released and reunited with their families now.
? But what about the people who say many who surrendered have gone missing?
A: I don't think so. All those names we had were there. At the Omanthai checkpoint we were registering everybody. We have taken photographs also. So, they were registered and taken. Every individual was registered. So, how can somebody go missing thereafter?
? So, what is the list of missing persons coming in after surrendering to the Army? Didn't such thing take place?
A: No. I think they are asking for persons in prison. They are thinking still there are non declared people.
? For instance, Northern Province Minister Ananthy Sasitharan claims her husband, LTTE Trincomalee Commander surrendered to the military and she personally witnessed him go. Today she is searching for him. Do you know what happened to him?
A: Who is that guy? Pulithevan? He never surrendered. He is dead. Nadesan is also dead and I think their bodies were identified.
? It's Elilan. Where is he?
A: If she was with him, she should know his whereabouts. I am not aware of the details now. Sorry. She claimed he came with a white flag, I think. All those surrendees are in the list of who were rehabilitated.
? What do you think of the missing persons' list people are showing to the media in the North?
A: There is no list as such now. Military does not have another list. They would have given evidence before the commission about such persons.
? Do you want to see a conclusion to these claims of missing persons?
A: During my time everybody was declared. They were either rehabilitated or in prison. There was no other undeclared location where people were held. There was an allegation that we were using undeclared places and the UN experts went right around looking for those places.
? What do you think of the war and the war crimes allegations overall?
A: It was an unwanted war. We have served the country and the government. We defeated the LTTE and brought peace. But, unfortunately having done all that, we have been harassed with all these inquiries and persons tarnishing our names without concrete evidence. That is unacceptable. It affects us. I am affected when I want to travel overseas.
? Do you think the reconciliation process, the Office of the Missing Persons, Special Court and reparation process will sort out these problems for the military?
A: I don't think those are the requirements now. Politicians, including the Tamil politicians, have to play a major role. Of course, it would take time to heal. We said after the war, for the next 10 years we should not relax that the war had ended. The distance or the gap between the North and South should be reduced. I personally told former President Rajapaksa, the travel time of 8 hours to Jaffna should be reduced and within one hour we should be able to get there and people should not feel they are in a different part of the world. Of course, people's concerns must be addressed. If someone is missing, give a death certificate or compensate them soon. Sort out their problems.
?What about probing those allegations before issuing death certificates? Do you agree to that?
A: If there is evidence, definitely it should be proved. I think all Army Commanders have categorically stated if there is something against an individual it can be investigated. There are procedures too. Within the military we have probed cases with evidence and some have been convicted too. There is no problem in that. At the moment what is happening is that a few names known at that time are being alleged to have committed crimes. If something had happened, there could be someone else responsible too.
? Is it because you were the Vanni Commander they are pointing at you?
A: What can I do? I mean when I am in a particular place and things are happening 100km away how can I know about it? As the Vanni Commander, I was in Vanni near the airport and the fighting took place in Nandikadal, which is over 100 km away.
? Do you think many things could have happened behind your back?
A: If something had happened and there is evidence, it can be investigated. Nobody would say don't investigate.
? What is your message to the people out there who level war crimes and disappearance allegations against the Army? They are crying over their loved ones showing their photographs?
A: They have come with this problem, but somebody must give a definite word whether they are missing or dead. The law is that if you are not around for seven years, the person is declared dead. So, majority of the people who went missing may have been in LTTE custody and they should accept it and believe they are no more. The government should compensate them and settle once and for all not keep pestering all the time about it.
? Do you think the government is not attending to the matter?
A: I don't think so. Even in the UN resolution they said various things about it, but nothing is coming out of it. Every six months we are going to the UN. Probably this allegation against me came up because the next UN session is nearing.
?What did President Rajapaksa do about war crimes allegations?
A: They were in the process of doing something about it and also in their case they also did not take a concrete action. That government was sort of in denial not allowing anything to happen. This government has a different approach, but nothing is happening. All of them are answerable. The Government must seriously attend to these issues.
(Pic by Kelum Chamara)