by Jasodhara Banerjee, Forbes India, May 7, 2013
Nayomi Munaweera's debut novel is about nostalgia, fear and loss in Sri Lanka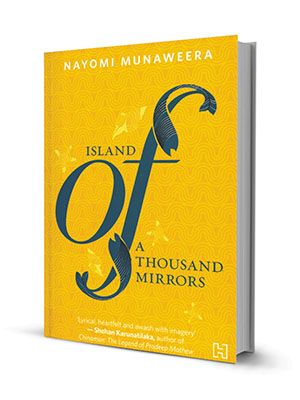 Nayomi Munaweera's debut novel attempts to transcend a little more than 60 years of history—the violent and strife-torn decades of post-colonial Sri Lanka—through three generations of two families.What it fails to entirely achieve is historical perspective—not everyone is well acquainted with the origins and details of the Tamil-Sinhala conflict. But what it does achieve, and quite remarkably so, is an idyllic, near-perfect picture of the island, beaded together from the childhood nostalgia of generations.
The story begins in the childhood of the narrator's parents—Nishan and Visaka. Woven into the story of the children's lives are the politics of caste and social hierarchies and aspirations, parental ambitions, marital disappointments, teenage love and heartbreak, and the differences—those expressed politely by dignified and proud heads of families rather than those likely to set households ablaze—between Tamil and Sinhala people.
"When Sylvia Sunethra calls Buddhist monks to the house, their monotone chant is interrupted by the voice of a Tamil film heroine winding seductively down the stairs… Once a week the Shivalingam patriarch comes to grumble that his grandchildren cannot study because Sylvia Sunethra's daughter is again playing her Western songs too loudly or that the smoke from Alice's kitchen is rising into his windows."
The idyllic quality of life—save one incident where Sinhala hoodlums board Nishan's train to school in search of Tamil children to slaughter—is inherited by the narrator, Yashodhara, and her sister, Lanka. Rumblings of upheaval are too distant from their lives in Colombo.
But when violence steps across their threshold, it tears the family asunder; Nishan, Visaka and their children flee to the United States, where Visaka's brother has set up home and business. The escalating violence and brutality in their homeland manifests itself on TV screens and radio, and in the waves of refugees flowing into the US. "Every year they come looking more and more shell-shocked. It is impossible to tell what they have seen, what they are escaping."
While Nishan and Visaka struggle with finding jobs, homes and dignity, Yashodhara and Lanka morph from Sri Lankan children into American teenagers. And then into heartbroken adults. In their attempts to find themselves and their way back into their own lives, they head to Sri Lanka.
The narrative in Island of a Thousand Mirrors lingers in cavernous kitchens of childhood homes with the fragrance of comfort and love being stirred into pots, the taste of sambol and fish lingering on tongues, sand and sea salt like "frosting" on their skins. But, it also rushes past years at a time, abandoning characters that were nurtured and loved, to fates left to imagination.
The writing is brimming with vivid imagery: Lyrical and languid in its beauty, brutal and merciless in its violence. You are left with visions of a beautiful, tranquil island shredded with unspeakable terror and loss, but not quite knowing its cause.
Island of a Thousand Mirrors
Author: Nayomi Munaweera
Publisher: Hachette India
Price: Rs 399
Pages: 226
———————-
by Sharanya Manivannan on her blog, India, May 12, 2013
In the media today we sometimes encounter the phrase, "the Sri Lanka story", as though a singular narrative exists. Nayomi Munaweera's Island of a Thousand Mirrors is an elegant debut that attempts, and more often than not succeeds, to complicate this notion. It is a classic diaspora story, only set against a backdrop still fraught with fresh wounds, with the author in the unenviable position of belonging to the defense. Although presented as an account of two sides of the struggle, the book's more resonant voice is certainly Sinhala and relatively privileged. Starting out with these facts, Munaweera has crafted – in an unapologetic, unaligned tenor – a novel that succeeds in offering a new perspective to a situation that continues to unfold.
The novel opens evocatively in a double-storey house on Colombo's Wellawatte beach, where one of its two narrators – Yasodhara Rajasinghe, elder daughter and eventual American immigrant – spends her childhood, and recounts with omniscience the lives and choices around her. The upper floor of the house is rented out to a Tamil family, the Shivalingams, over two generations. The riots of 1983 send them all scattering: Yasodhara, her sister Lanka and their parents to America and the Shivalingams to the north of the country. Neither sister completely lets go of the memory of their childhood companion, Shiva, or of the country they leave behind.
Elsewhere in Sri Lanka, another girl is growing up – intelligent, determined Saraswathi. Her brothers have disappeared into the civil war, and her ambition to become a schoolteacher is all that holds her family together. But Saraswathi's life takes a tragic turn, and left with no other choice, she joins the LTTE. Her voice begins persuasively, but loses conviction along the way – perhaps partly a structural problem, because we are introduced to her so far into the book that – used as we are to Yasodhara's strong, lovely narration – her appearance is unexpected and her story far more compressed. Yasodhara as narrator captures an idyllic childhood and nostalgia for the same perfectly, but the intensity of the arc of Saraswathi's trajectory is not as impressively conveyed. What Saraswathi eventually becomes is someone stripped of her humanity, collateral damage turned pawn, but that transformation is in some ways predictable. But Saraswathi's story is closer to the uni-dimensional "Sri Lanka story" we hear of often; it is Yasodhara's that is a truly fresh perspective.
The strength of the novel lies in its clean, graceful prose. Munaweera's language is expressive, tautly-rendered in such a way that its lush passages never slip into overwhelm. This is a difficult task for the diaspora novel, because in certain ways the book treads over territory already made familiar by American writers of Indian descent like Chitra Banerjee Divakaruni and Jhumpa Lahiri. Yet when Munaweera writes of the immigrant condition, she is neither clichéd nor cloying. Yes, there's something familiar about "[s]o many lonely men dreaming in Sinhala, moaning in their chilly beds, wanting American green cards and perfectly cooked eggplant curry" – yet it is tempered by the eloquence of the line that follows: "[s]o much palpable need, such archaeologies of desire that I am suddenly afraid".
Despite its emotional ambition, however, Island of A Thousand Mirrors falters a little when it comes to political scope. Though Munaweera handles the complexity of the early stirrings of the civil war well, and presents a nuanced and necessary voice, the novel ends abruptly with the death of Prabhakaran. The war is over – but only technically. Certainly not in the real world, where three years on Sri Lanka continues to struggle to find a meaningful peace. For the reader who knows this – i.e. the reader who was introduced to the conflict neither through this book alone nor through news of the killing of the LTTE leader – this feels like a cop-out. She quotes Rajapakse in the book's final pages and makes an observation: "'I don't want to dig into the past. I don't want to open the wound.' He knows the wound is there, just under the surface, waiting to erupt. Over the decades we will witness how it heals or festers."
But the novel too hesitates the same way. If Munaweera had extended this slim novel just a little way further into the post-war era and chosen to approach a few of the many current complexities, a well-roundedness that is otherwise missing could have completed an otherwise moving picture.
An edited version appeared in today's The Sunday Guardian.
—————
by Somak Ghoshal, LiveMint & The Wall Street Journal, March 16, 2013
The Sri Lankan war and immigrant experience are intimately braided in this promising first novel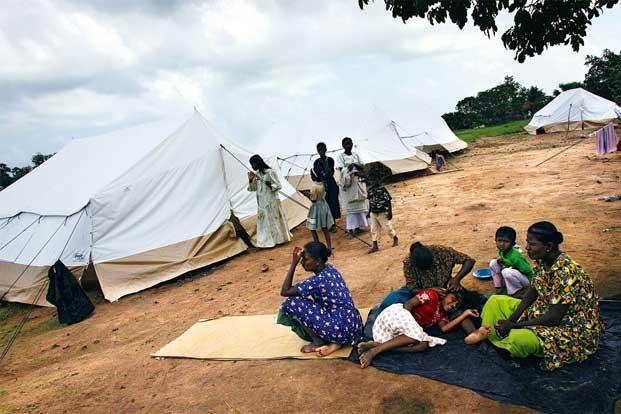 The human face of the Sri Lankan conflict comes alive in Munaweera's novel. Photo: John Moore/Getty Images.
Beyond enemy lines
When I write…I want to be betrayed, to be taken to a dangerous place that jars the basic presumptions I have about myself, my family, my country," said David Grossman, one of Israel's greatest novelists, in aParis Review interview in 2007. One of the inescapable challenges of writing about war—especially about civil war, as Grossman does—is the moral compulsion to exercise empathy with both the victor and the victim, to be able to acknowledge the world as a grey, rather than black or white, zone. Yet, faced with one's historical enemy, even the noblest souls become susceptible to blind prejudice.
In 1987, Grossman, who speaks fluent Arabic, was sent to the occupied territories by the magazineKoteret Rashit, to write a commemorative piece on the 20th anniversary of the Six-Day War. As he entered the Arab refugee camps, Grossman confessed he had to fight an overpowering sense of fear and repulsion. In most of his subsequent writings—including The Yellow Wind, which appeared shortly before the first Palestinian intifada (uprising)—Grossman has articulated the baffling range of emotions he continues to battle with. "I try not to shield myself from the legitimacy and suffering of my enemy, or from the tragedy and complexity of his life, or from his mistakes and crimes, or from knowing what I myself am doing to him," he summed it all up in a lecture in 2007.
In her first novel, Island of a Thousand Mirrors, Nayomi Munaweera brings to bear a similar scrutiny on the feud between the Tamils and the Sinhalese in Sri Lanka. As a writer living in California, US, she could not have been more differently placed than Grossman, who continues to live in war-torn Jerusalem. Born in Sri Lanka in 1973, Munaweera emigrated to the US with her family during her teens, as the island nation was being riven by violence. While the Sinhalese were butchering hapless Tamils on a daily basis, the Liberation Tigers of Tamil Eelam (LTTE) were sending out suicide bombers to wreak destruction on innocent citizens. Spanning four generations of a Sinhalese family, Munaweera's novel which, one imagines, draws from her own family history, tries to do justice to the full complexity of this past.
It's a formidable ambition, and Munaweera grapples with it gracefully. Perhaps the most remarkable aspect of her craft is brevity. In all of 226 pages, Munaweera evokes decades of troubled history and creates characters who grow on the reader. Told mostly in the voice of Yasodhara—who, like the author herself, is displaced to the far shores by the threat of danger—Island of a Thousand Mirrors never fails to register the trials of the Tamils, even though the bulk of it is narrated from a Sinhalese perspective.
There are two romances—one nipped in the bud, the other realized in the strangest of circumstances—between Tamil and Sinhalese couples. There are bitter squabbles between a Tamil family and their Sinhalese landlady, though the latter assumes the role of protector to the former when murderers come knocking at her door. Finally, Munaweera chronicles the human cost of war with a clinical, if grisly, precision. At their best, the war chapters bring to mind Chimamanda Ngozi Adichie's acclaimed novel of the Biafran conflict, Half of a Yellow Sun(2006), though there are the odd passages that do come across as gratuitously gory.
The account of immigrant life, with its attendant traumas—especially of "The Great Husband Hunt"—comes alive in some nicely executed set pieces. Yasodhara has a healthy measure of self-irony when it comes to facing disappointments. After being dumped by her college sweetheart, she learns "that the tearing of the heart muscle is far more painful than the tearing of the hymen". Her anecdotes about errant aunts, eccentric uncles, feisty grandmothers and lavish family feasts are amusing and conjure up images as arresting as photographs in a family album. However, this boisterous mimetic mode, heady with wit and energy, has received far more robust treatment in Michael Ondaatje's semi-fictional memoir,Running in the Family (1982), and recently in Shehan Karunatilaka's novel, Chinaman: The Legend of Pradeep Mathew (2011).
The weakest link in Munaweera's novel is Saraswathi, a Tamil girl, once gentle and academically gifted, but later brutalized by Sinhalese soldiers, before being uprooted by the LTTE from her family and forced to join the cause. Although Saraswathi's story feels inevitable to the trajectory of the novel, it hovers awkwardly over the overarching narrative arc instead of melding seamlessly with it. Her abrupt appearance, when more than half the novel is over, feels like a form of tokenism, even though she is certainly one of the key actors in the political history that Munaweera explores.
Fiction, it seems, prefers to follow its own inexorable logic, which refuses to submit to the exigencies of the social sciences.
—————————
By Sydney Brownstone, Mother Jones, San Francisco, October 23, 2012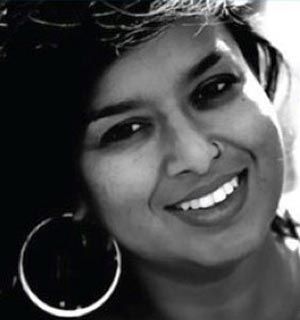 It was only one of the many headlines on foreign conflict that file rushed, largely unobserved, through the American news machine: "Sri Lanka frees Tamil Tiger leader," the Daily News announced last week, by way of Agence-France Presse. The last leader of the Tamil Tigers, the separatist group that fought a brutal civil war with the Sri Lankan military in suicide bombings, civilian mutilations, and child soldiers for more than three decades, was to be released without charges.
But where bone-dry agency reports fail, fiction can work to fill in some of the emotional blanks. From this particular war, one marked by 100,000 deaths and countless broken lives in atrocities committed by both sides, first-time author Nayomi Munaweera has published a lush family saga in a Queen's English lilt, told largely from the perspective of a Sinhalese woman who emigrates as a child, mid-conflict, to Los Angeles, and returns to Sri Lanka as an adult.
Island of a Thousand Mirrors reads quickly, though it's unsparing. With the same, rich strokes she uses to evoke exquisiteness in preparation of coconut sambola, Munaweera, who was born in Sri Lanka and raised in Nigeria, describes rape, massacre, and all matters of wartime evisceration in pulsing, sensory detail. In one breath, it's as much a swift inhale of trauma as it is a romantic epic, embracing both pain and nostalgia from earlier times. In the style of García Márquez or Allende, the story traces love lines from 19th century generations—then surfaces in the recent past, when the narrator goes back to Sri Lanka only to encounter new tragedy.
But there's another critical aspect of the novel that saves it, perhaps, from a narrow take on sprawling devastation. Munaweera doesn't just stick to the story of one Sinhalese family—she also writes from the mind and body of a Tamil woman who, after being brutally raped, joins the ranks of the Tamil Tigers. While the transition could be received as abrupt, it's also a welcome narrative in a story that refuses to sum up, or limit impact felt to one side.
Still, it might be the parts of the novel that deal with trauma indirectly that leave the largest impression. I return to one moment when the narrator, driving to the Sri Lankan capital Colombo, describes the car moving through a migrating cloud of "a million suicidal butterflies:"
"In the front seat, La holds her head in her hands. Shiva kneads her knee. She says, 'Why are they doing this?' in a thick strangled voice. And we can only shake our heads, struck dumb by the massacre."
In this way, Munaweera's fiction succeeds in flushing life into the numbers—the hundreds of thousands living in diaspora, as well as hundreds dead in suicide bombings—that have come into refracted light.