"His name is Kamaleswaran"
by Marisa de Silva, 'Groundviews,' Colombo, February 11, 2017
[more information at https://en.wikipedia.org/wiki/Kumarapuram_massacre]
"Shoot me but, please don't kill my children," pleaded Kanthappoody Kamaladevi with her arms outstretched over her head, just before she was shot dead outside her home in Kumarapuram, Killiveddy, by the Sri Lanka Army (SLA).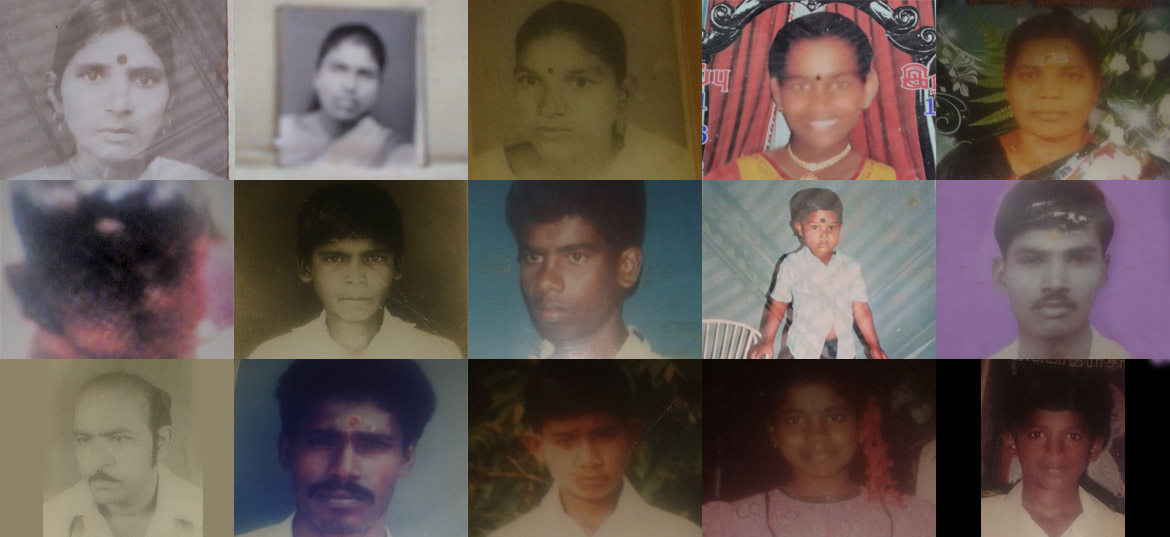 L-R (first row): Alakuthurai Parameshwari, Ananthan  Annamam, Arumaiththurau  Vallippillai, Arumaithura  Thanaledsumi, Kanthappodi  Kamalathevi 
L-R: (second row): Pakkiyarasa  Vasanthini, Ramajeyam  Kamaleshwaran, Rasenthiram Karunakaran, Sanmuganathan  Nithanthan, Sellaththurai  Pakkiyarasa
L-R: (third row): Sivakolunthu  Sinnaththurai, Vadivel  Nadarasa, Vinayagamoorthi  Suthakaran, Thangavel  Kalathevi, Kanagarasa  Subathirasa
February 11th, 2017, marks the 21st year commemoration of the brutal Kumarapuram massacre of 26 Tamil villagers, by army personnel belonging to the 58th and Dehiwatte Camps, and the Kiliveddy check point. Of those killed, six were women, five men and 13 children (below the age of 18). Also amongst those killed was 1 pregnant mother and a 15 year old girl, who was allegedly gang-raped by a group of army personnel before she was killed. Twenty six other villagers were also severely injured.
It was about 5pm on the 11th of February, 1996, when villagers had heard gun-shots approaching their homes in Kumarapuram. "At first we weren't afraid, because at a meeting with the military a few days before, they had told us not to worry if we heard gun shots, that they were shooting at birds, so to just stay put, and that no harm would come to us," said Kanthappoody Piraparani (36). When the shooting sounds had started to get closer, her mother had shouted to her to run inside their house, where other villagers too had sought refuge. When they had peeped through a crack in the wall, they had seen a large group of army personnel in uniform coming towards their home. When the army had shouted from outside their house for them to come outside, Piraparani's mother had run out to try and save the lives of her children. After killing her mother, the army opened fire at their house and injured many of those inside, including a 1 year old infant.
"My husband had just returned from work, and I was preparing him tea, when a well-known army officer from the nearby camp by the name of Corporal Kapila, and another officer, called for my husband from outside our house. As my husband was a carpenter, Kapila would often come and get things repaired, or made by him, so we knew him well," said Thankavel Maruthayi (71). When she went outside and asked them why they were calling for her husband, they shouted at her and opened fire at the house. Her husband who was inside, got shot and succumbed to his injuries about 15 days later whilst in hospital. Many others hiding in her house too were injured, whilst a father and 10 year old were also shot and killed on the spot, she recalled.
Arasaratham Nagarasa, a daily-wage earner, had returned from working on the fields, and gone for his bath near the 58th mile post, when he heard gun shots coming from his village. He had promptly run home and found his house full of other villagers. He was told later that there had been about 18 people taking shelter in his home. "We continued to hear gun-shots pelting down like rain, and so we were all terrified to step outside. Through a crack in the wall we saw four army personnel come towards our house. When they got to our house, they shouted from outside "para demalu[1][2], eliyata wareng!" (*expletive (refer footnote) Tamils, get out here now!") When none of them went outside, the military shot through the house wall which was made of tin sheets. "A bullet went through my left eye and out the right. My neighbours tried to take me to the nearby dispensary, but, while going, we heard shooting again, so we ran into another nearby house. There I heard that my wife and son had been shot, but, as I was in and out of consciousness at the time, I didn't fully understand what they were telling me," he reminisced.
"I heard shooting from about 1km away, but, as we heard shooting often, I didn't take too much notice at the time. When the sound of shooting seemed to be getting closer, I ran to a nearby house. The military came outside the house and shouted at us to come outside. When none of us did, they kicked open the door and opened fire on us. A woman was shot dead, my husband was shot in the stomach and another was badly injured. By the time they came back to check, we all lay motionless on the ground, so they would assume that we too were dead," said Nadarasa Thavamani (50) of her horrifying experience.
Thavamani's brother ran a shop by the road. When the people in the shop were told to run, her brother ran to her house with his children. "My husband who lay on the floor bleeding from his stomach, pleaded with my brother to take him to hospital and save him. As there was still shooting outside, my brother couldn't take him. My husband died two hours later," she recalled with a glazed look in her eyes.
Arumaiththurai Puwendini (who was only 3 in '96,) and her elder sister Priya, (7 at the time), shared their devastating story of how their pregnant mother was killed. When the soldiers had broken down their house door and opened fire, their mother had stood up with Puwendini in her arms. "Our mother who was 9 months pregnant at the time, was shot in the stomach and killed, and my sister who was in her arms, had her two toes and part of her foot blown off. Seven villagers were killed in the room we were hiding in; our pregnant mother and her sister, three neighbourhood children and their mother, and another young boy. Only my sister, brother and I survived, but, the shooting permanently mutilated my sister's foot and my brother's leg, which was split open from the knee downward along the bone," said Priya angrily. "Doctors have said that I need to undergo a heart bypass surgery, but, we barely have enough money to survive, so how can we afford a surgery," added Priya hopelessly.
However, many of the villagers spoke well of one particular soldier named Corporal Kumara, who was also one of the eight indicted, who they claimed had helped save the lives of many villagers. For instance, when Corporal Kapila (another soldier), had pulled out a dagger to kill a woman, Kumara had pulled him back, resulting in his dagger breaking through a mirror hanging on the wall. At that point a shot had been fired through a hole in the wall, killing an 11 year old girl on the spot.
Kumara had also told the villagers at courts, how he witnessed the gang-rape of the 15 year old girl by a group of military personnel. He added that by the time they were done with her, she had been barely alive, so he had shot and killed her as he couldn't bear to see her that way. The villagers had found her body the following morning.
An old man, Kannaiah Ramajeyam, waited silently in the circle of villagers around us, each chipping in with bits and pieces of their horror story. After everyone had finished speaking and were picking up their chairs and returning home, he approached me and said in a quiet voice, "I had gone to work outside the village that day, and when I returned home, chaos had broken out here. My son hadn't returned home from my brother's place yet, so I went in search of him. When I got to my brother's house, I saw my son and brother lying dead in the fields. They had both been killed. My son was just 11 years old. His name was Kamaleswaran. Please write down his name. His name is Kamaleswaran."
Civil Society and Local Groups support
The Young Men's Hindu Association (YMHA) gave 126 villagers fleeing Kumarapuram soon after the attack, food and refuge at the Navarathnam Hall in Trincomalee. Members of the YMHA came under heavy surveillance and intimidation by the military to make the villagers return to their homes. Regardless, the YMHA sheltered the villagers until they felt safe to return to their village. Other local civil society (CS) groups too, at much security risk to themselves, supported the villagers in their long struggle, including providing transport and related expenses for court hearings, and sustain the advocacy campaign over the decades. Further, local CS groups, also helped locate families in response to the court summons and coordinate their logistics and expenses related to the courts hearings etc., The Centre for Human Rights Development (CHRD) has provided legal assistance to the villagers over the years.
Twenty year-long struggle: Court Case details and update
The Kumarapuram Massacre court case which has been dragged on for 20 years now, has been riddled with challenges right throughout, starting from the three-day long identification parade of over 500 soldiers, to the Accused being out on bail within the first few hearings, the alleged destruction of material evidence in a fire[3], an all Sinhala jury being appointed and the case being shifted to the Sinhala majority town of Anuradhapura.
The road between the 58th mile post and Serunuwara was cordoned off by the military from 5pm till later the following day, with nobody being permitted to enter or leave the village. "We heard shooting from 5pm till about 3am the next day," many of the villagers said.
On the following day (12) morning, the Muttur police had come and seen all the dead bodies and injured. Soon after, at about 8am, the military arrived at the scene, and took all the injured in a bus to the Serunuwara Hospital and from there to the Trincomalee Hospital. The military also loaded all the dead bodies into a tractor and armoured vehicle, and transported them to the Muttur Hospital. The families of those killed, also followed by a bus provided by the army, to the Muttur Hospital.
The villagers had been familiar with many of the soldiers from the nearby camps and check points, as they would have to go help clean out the camps and chop firewood for the military, weekly. "We would see and hear them call out to each other by name, so we also learnt some of their names," they said. Soldiers would also ask for corn and manioc from the villagers when passing by. "We would give them whatever they wanted as we were scared of them," said the villagers.
Three days after the attack, villagers were asked to come to the Muttur Court to identify the perpetrators. About 500 army personnel wearing caps, were paraded before the villagers, over the course of 3 days, with the perpetrators dispersed individually across the large group. The villagers had asked for their caps to be removed when on parade. Thereafter, the villagers were able to identify 8 soldiers from the 58th and Dehiwatta camps and the Killiveddy check point. "I walked up to one soldier, grabbed his arm and identified him as having killed my mother. The judge ordered that I be remanded till the end of the hearing because I grabbed the soldier by the hand. They killed our family and friends, is there no punishment for that?" questioned Piraparani angrily.
"I have gone to courts in Muttur, Trincomalee and Anuradhapura over 25 times over the past 20 years, said Thavamani.
In July, 2016, the Court summoned 108 villagers to give evidence, but, only 27 were located and able to make it. All 8 soldiers were indicted and released on bail within the first few hearings of the case, and were all suspended from duty following their indictment. This case is particularly noteworthy because the Attorney General had filed 101 separate indictments against each of these former Army personnel, in the Anuradhapura HC, making it the longest list of indictments submitted against any defendants in a criminal case, in the history of the Anuradhapura HC. There were 121 witnesses in this Case.[4]
On July 27th, 2016, 20 years following the massacre, the remaining six (as two died whilst out on bail), former soldiers were acquitted, and exonerated of all charges, by an all-Sinhala jury at the Anuradhapura High Court.
Soon after the acquittal, the victim's families appealed[5] to the President to direct the Attorney General (AG) to appeal against the judgement and re-try the Accused before a Trial-at-Bar, and to take steps to grant a comprehensive compensation scheme to the families of the victims.
Since then, the AG has appealed to the Court of Appeal against the Anuradhapura High Court (HC) Jury decision to exonerate and acquit the 6 former soldiers of all charges. "While the plaintiff has proved beyond reasonable doubt that the Defendants were guilty of the accusations against them, the Anuradhapura High Court Jury verdict, exonerating them of all wrongdoing and releasing them, is complete injustice to the victims,"[6] the appeal stated.
"Three Presidents have come and gone in the last 20 years, the perpetrators have been released, but, we're still awaiting justice. Even the Yahapalanaya government hasn't done anything for us. We doubt they even know what has happened to us. We want justice for our family and friends who were killed, and compensation for their families, and those wounded," said the families adamantly.


L-R: (first row) A. Puwanendini's mutilated foot, Arasarathnam Nagarasa, Arumaiththurai Priya, Family member awaiting justice. (Second row) Kanthappoody Piraparani, Nadarasa Thavamani, Permanently scarred, Thankavel Maruthayi
UPDATED: Photos from the Kumarapuram memorial, held February 11, 2017, sent in by the author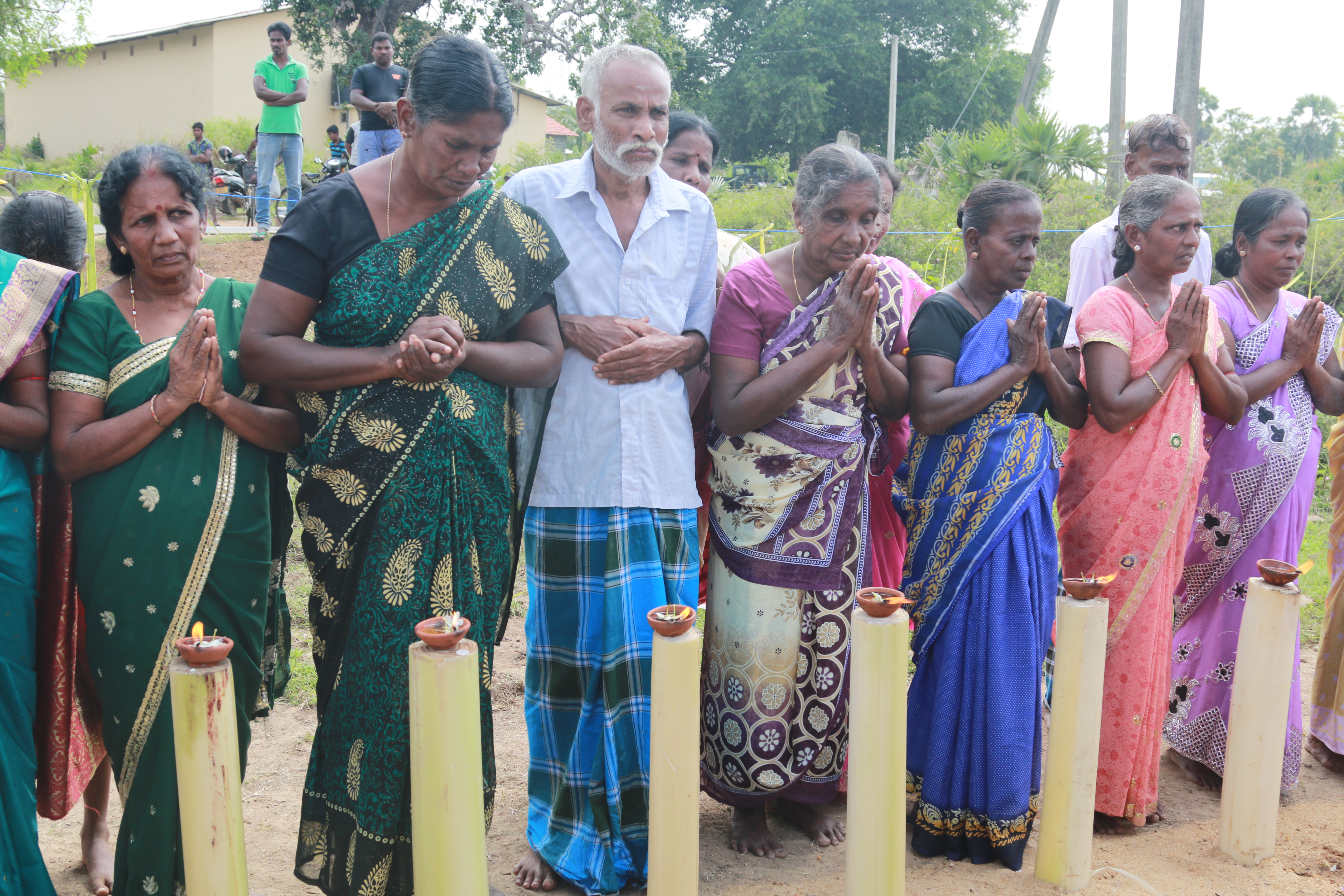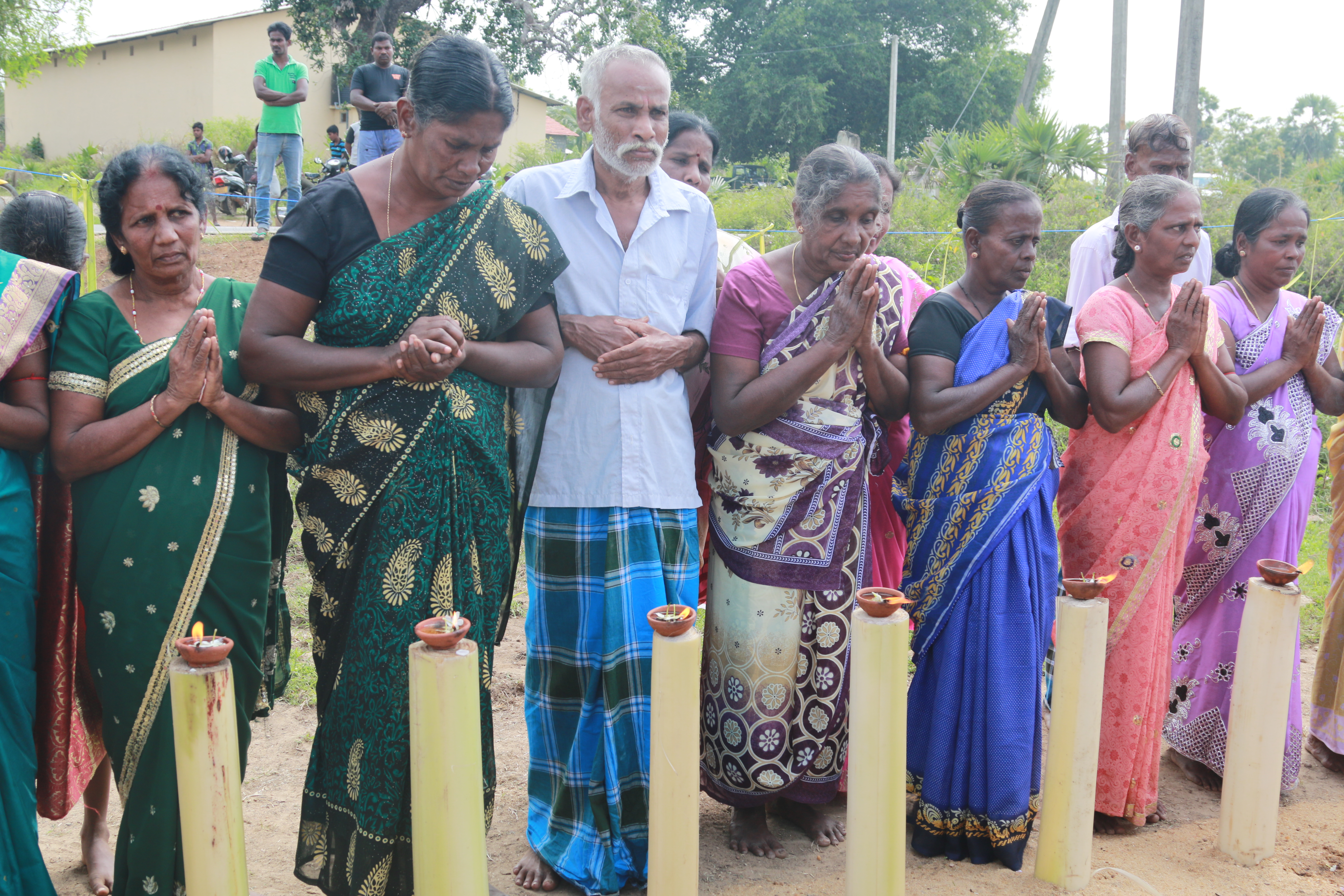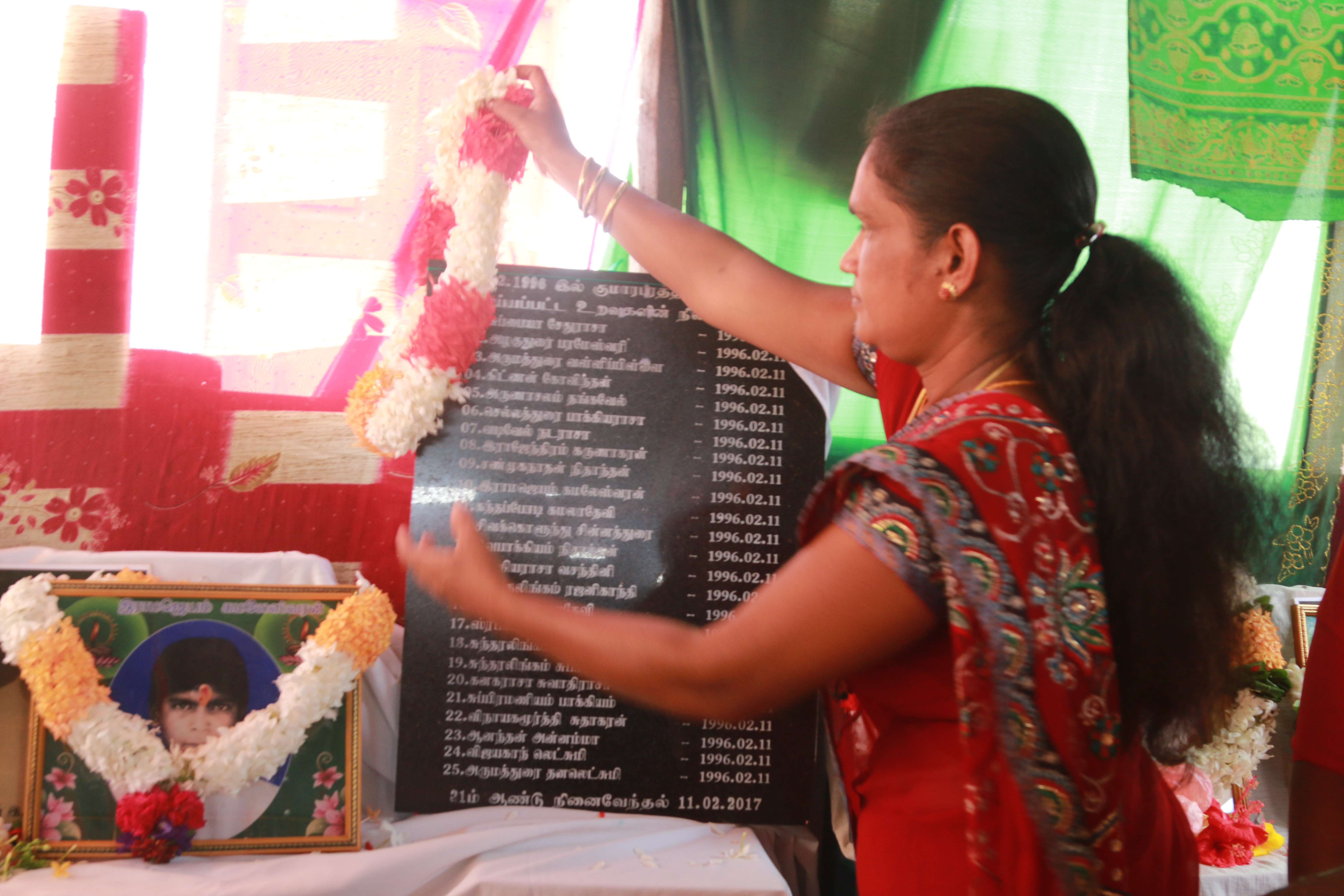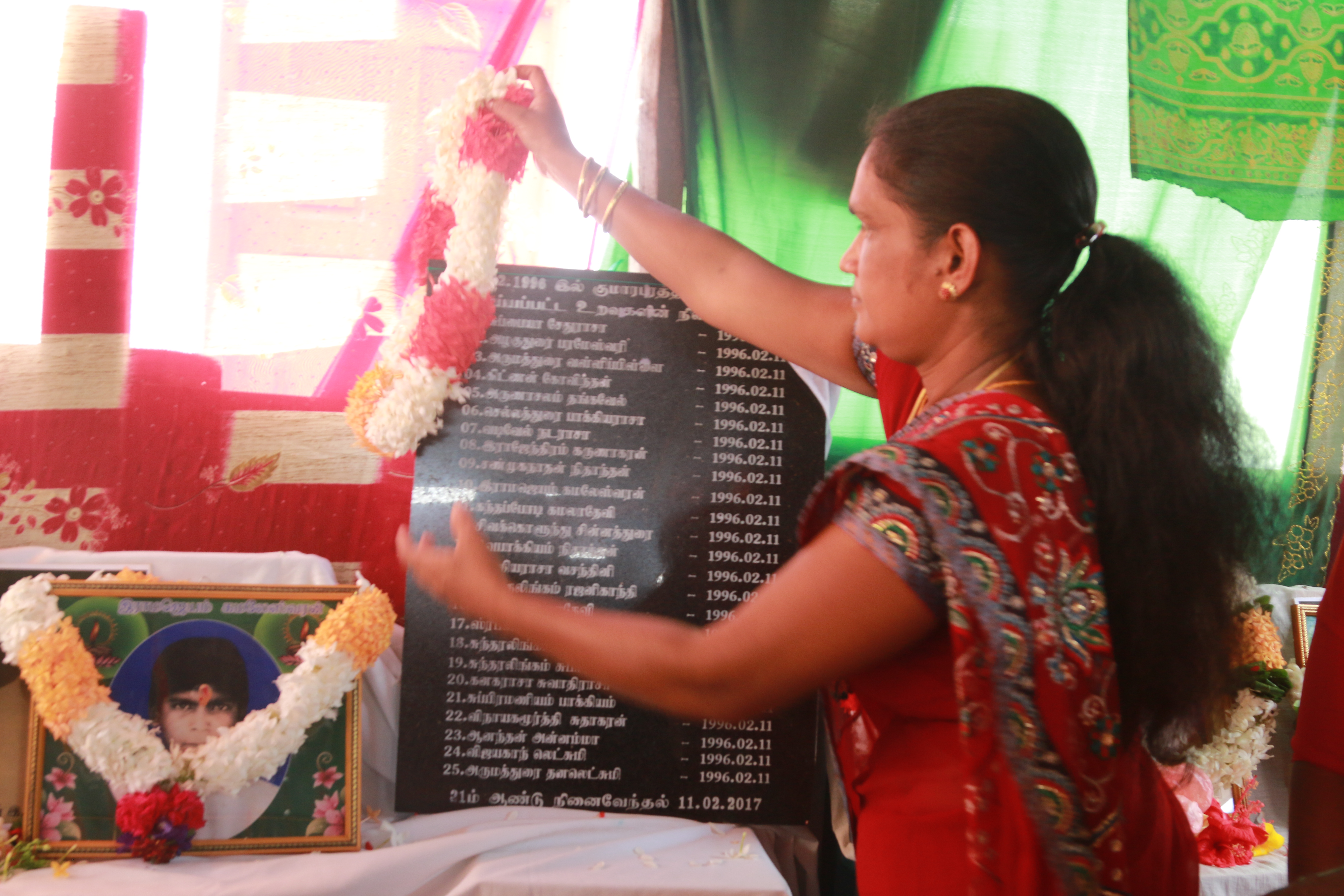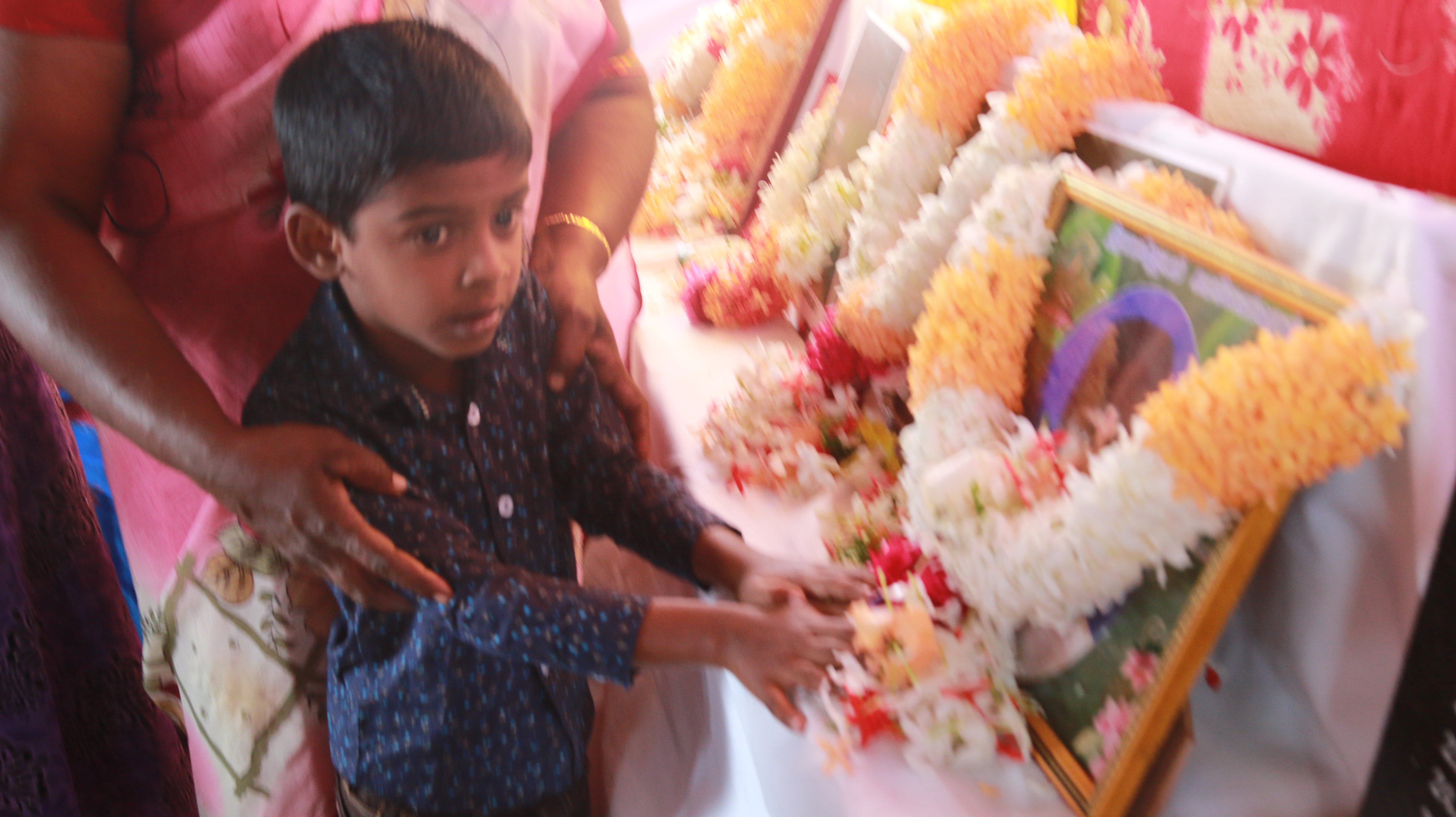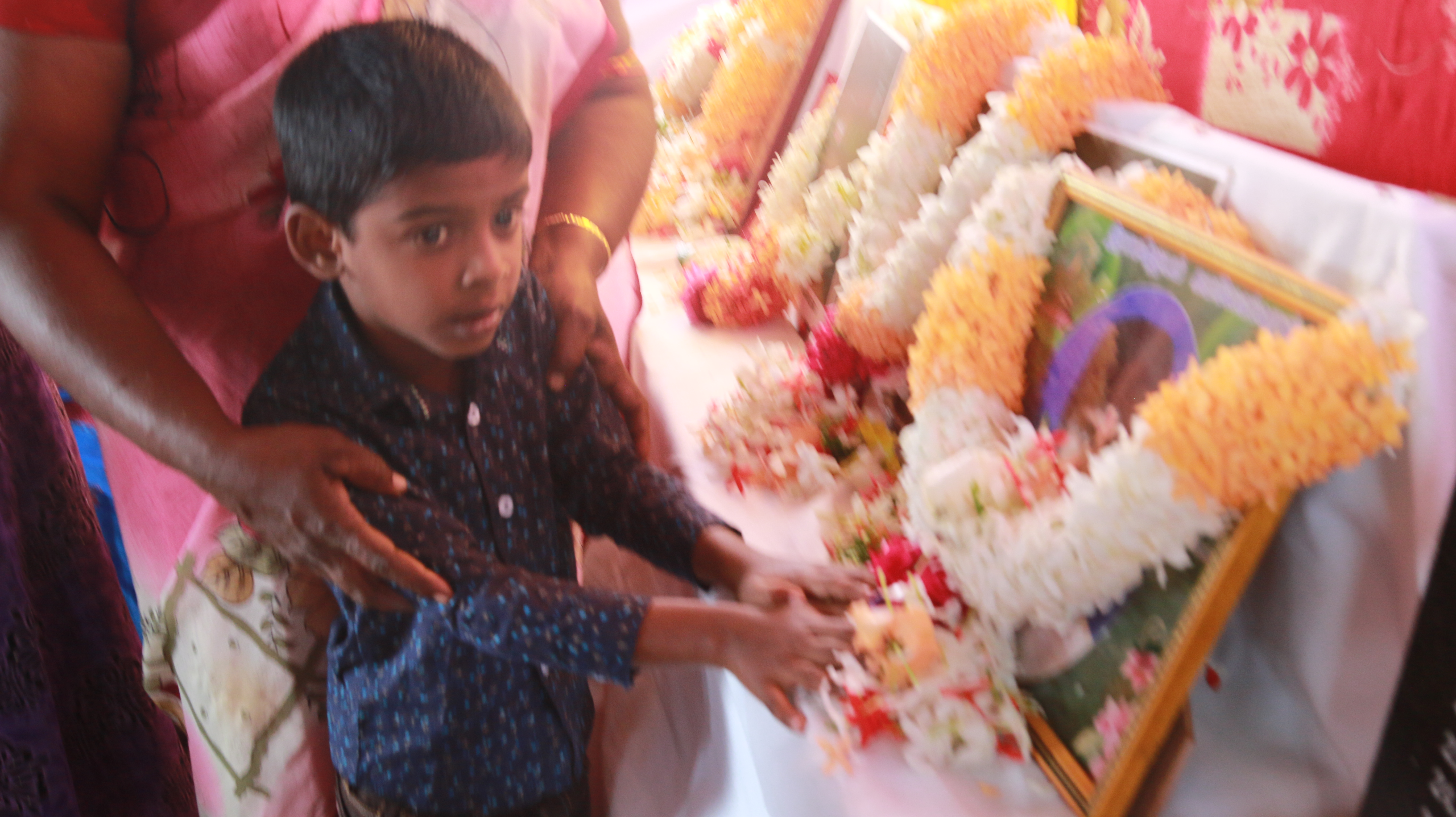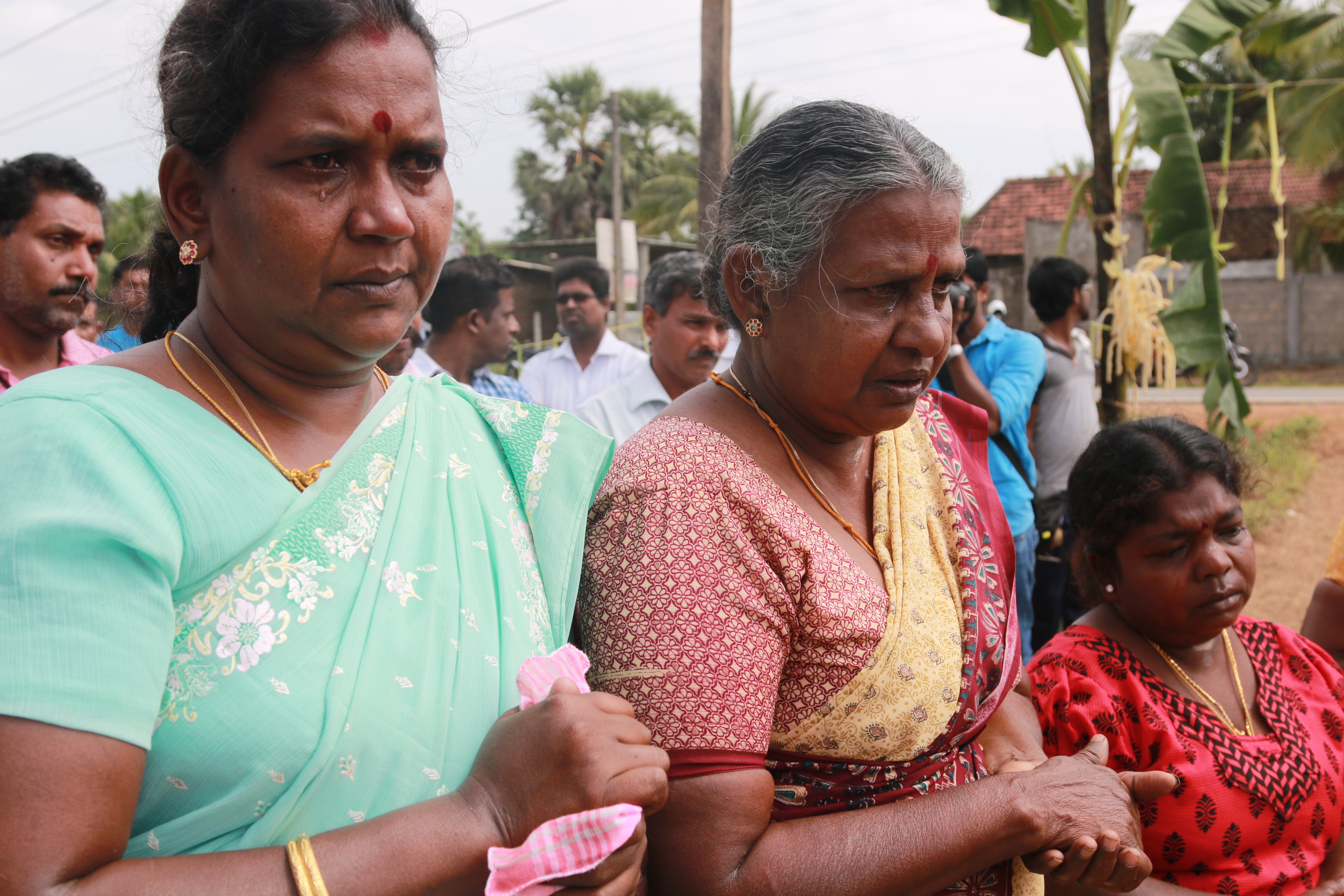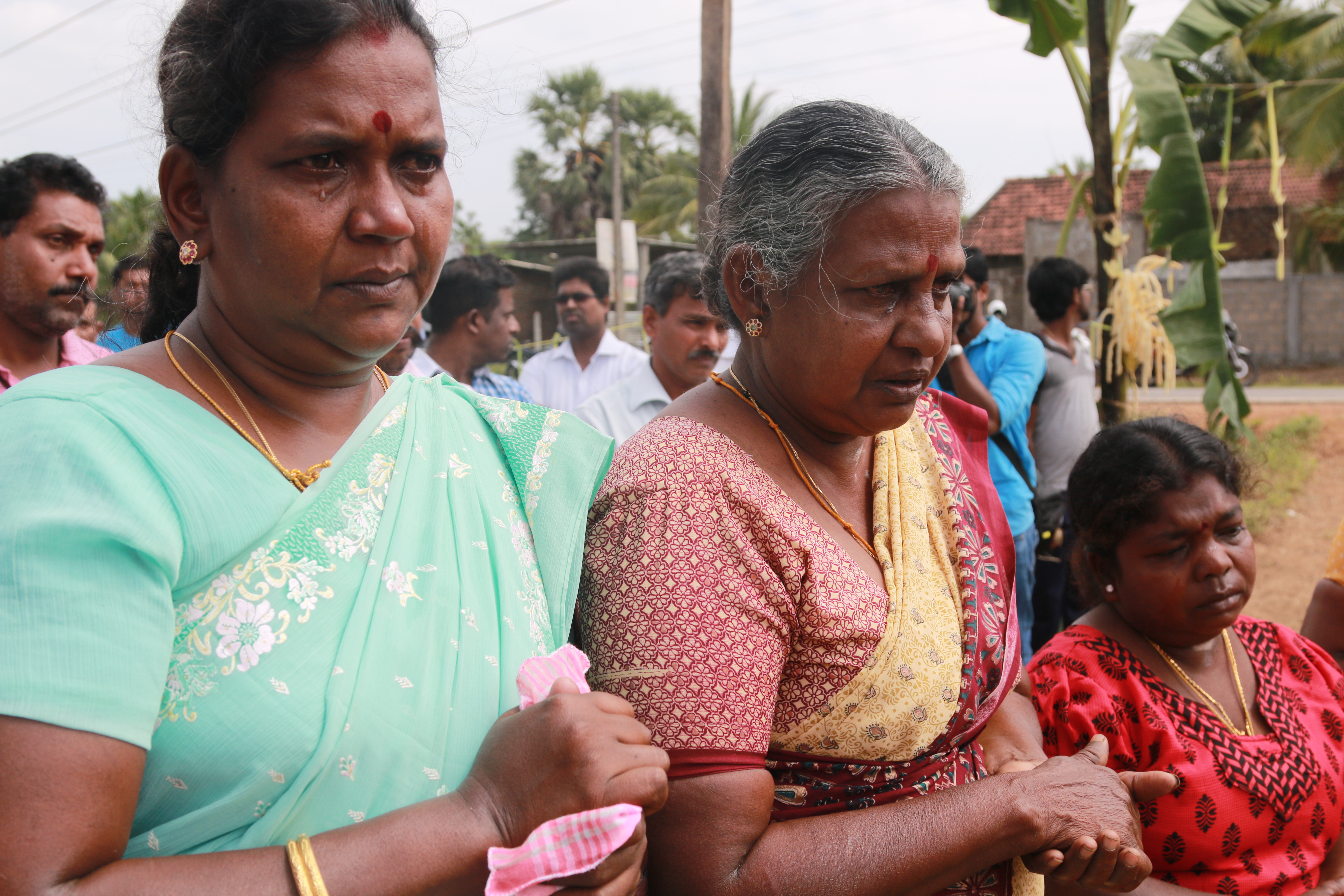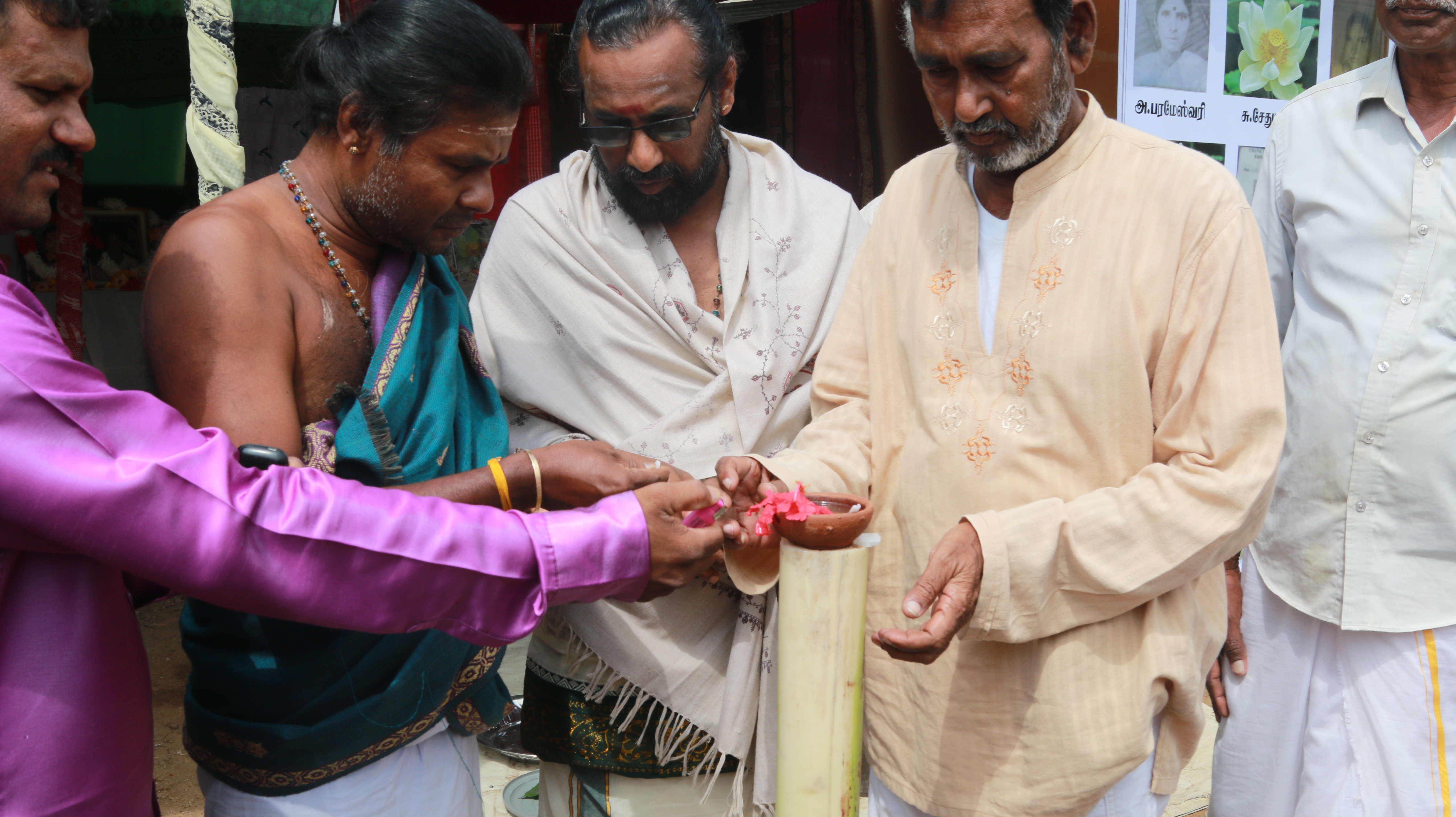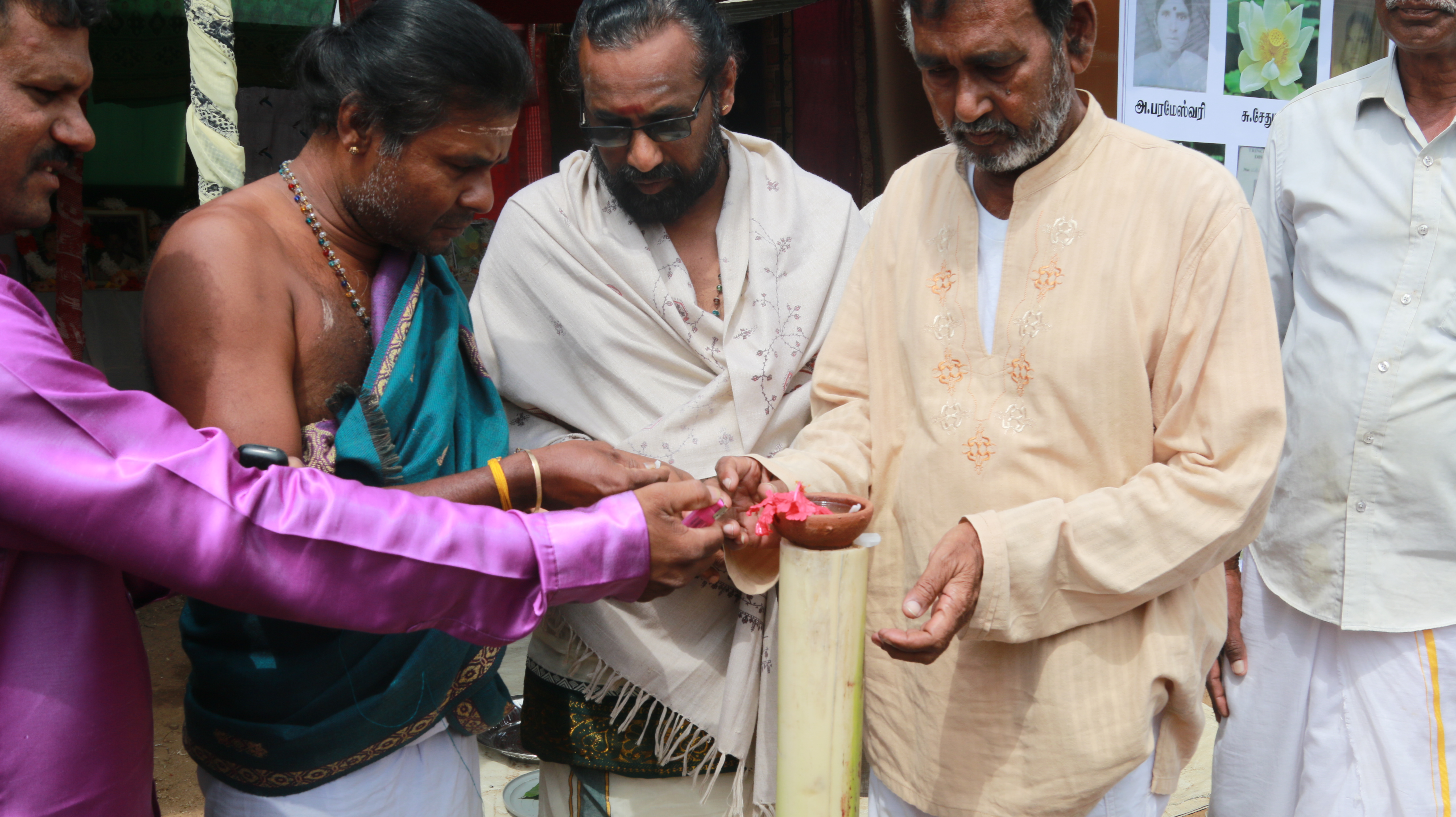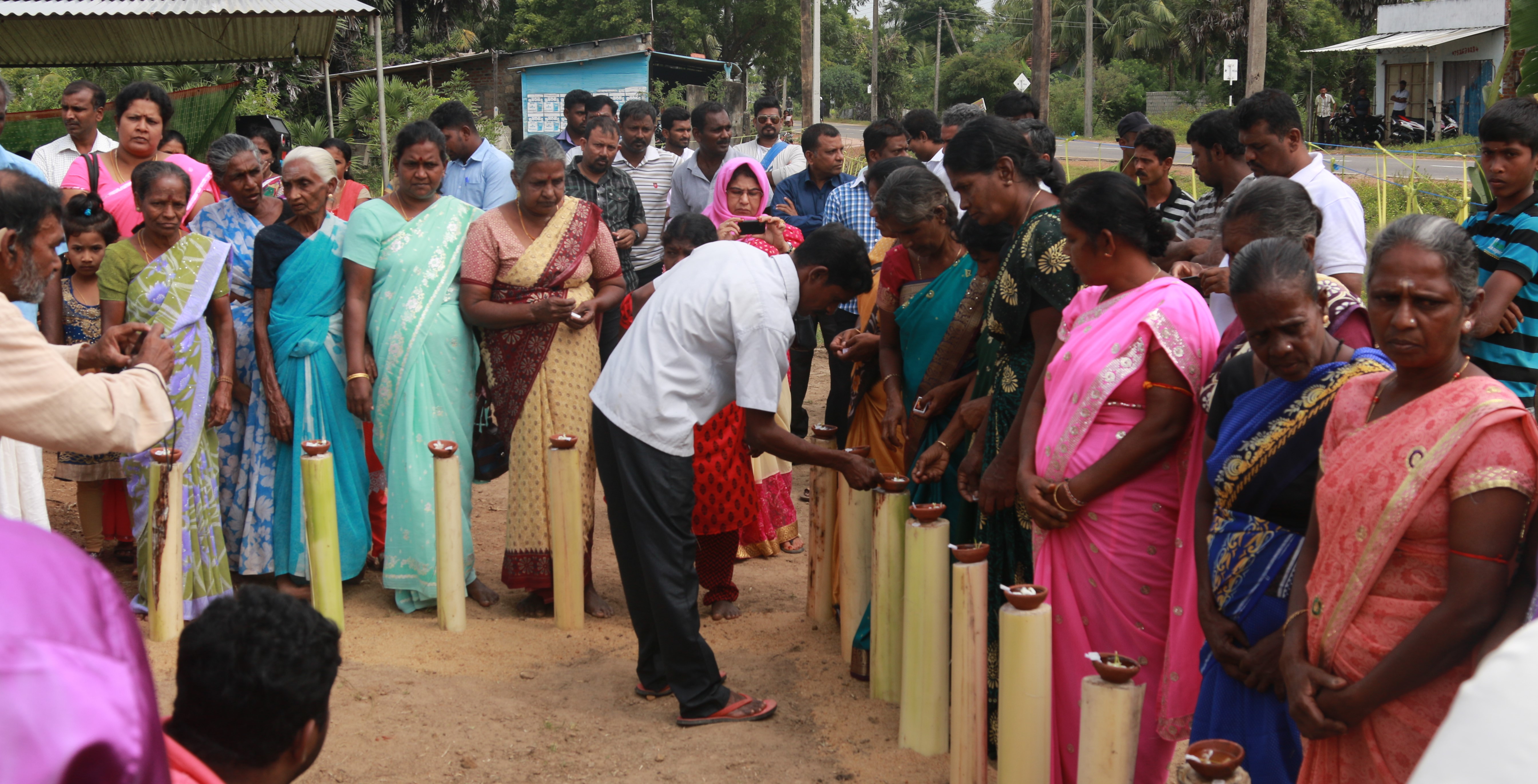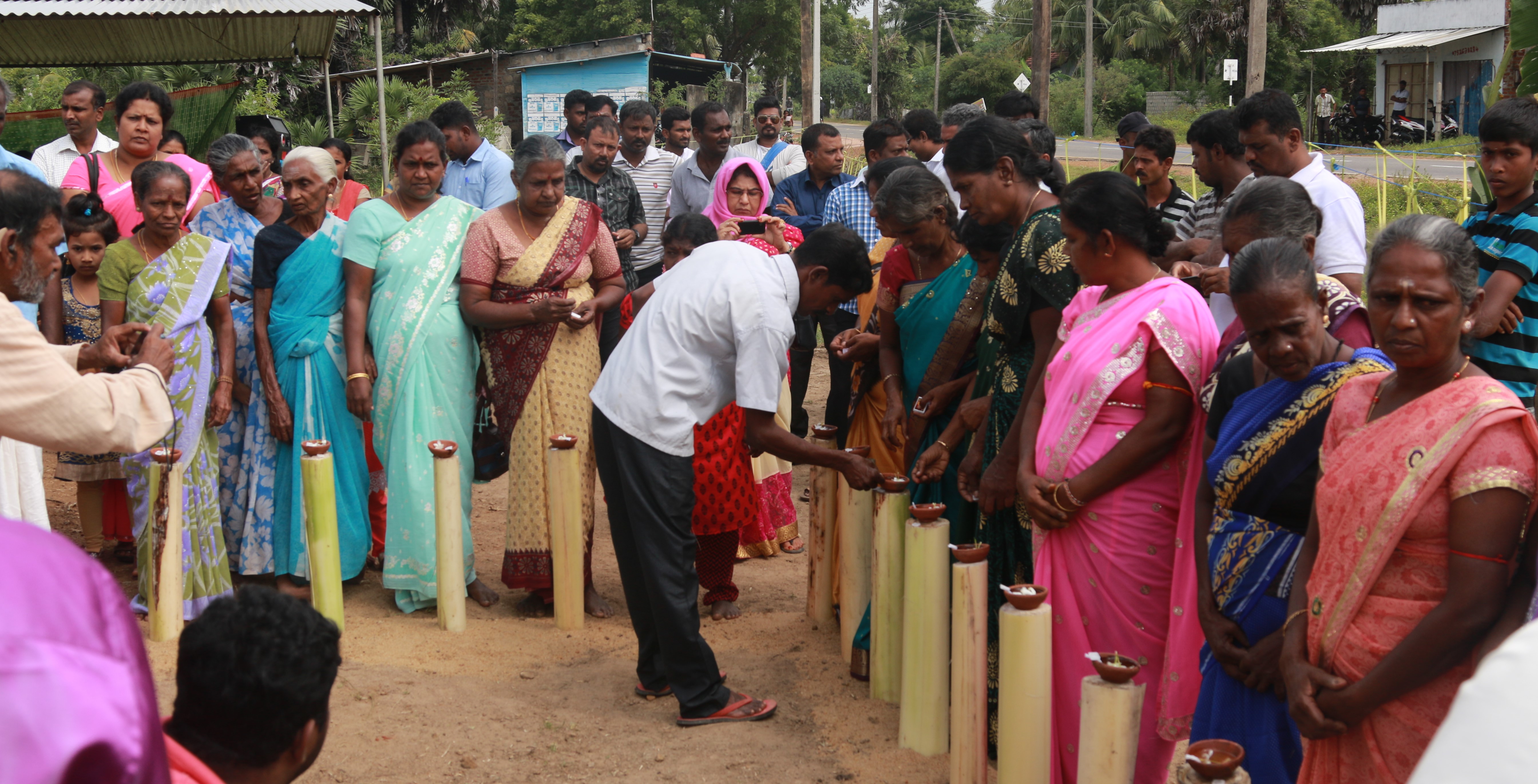 Victim Names
Subbaiya Sethurasa
Alukurasa Parameshwari
Arukaiththurai Vallippillai
Kidnan Kovinthan
Arunasalam Thankavel
Sellaththurai Pakkiyarasa
Vadivel Nadarasa
Rasenthiram Karunakaran
Sanmuganathan Nithanthan
Ramajeyam Kamaleshwaran
Kanthappoody Kamaladevi
Sivakkolunthu Sinnaththurai
Sivapakkiyam Nisanthan
Pakkiyarasa Vasanthini
Amirthalingam Rajanikanthy
Thankavel Kaladevi
Steepan Pathmini
Suntharalingam Prapakaran
Suntharalingam Subajini
Kanakarasa Suvathirasa
Subramaniyam Pakkiyam
Vinayagamoorthi Suthakaran
Ananthan Annamma
Vijayakanth Ledsumi
Arumaiththurai Thanaledsumi
Unknown, as family is missing.


---
[1] Originating from the word pariah.
[2] A pejorative/derogatory term used to identify ethnic Tamils. The word has very negative connotations, and implies being an inferior alien/outsider.
[3] TamilNet, Kumarapuram massacre case exhibits destroyed in fire – https://www.tamilnet.com/art.html?catid=13&artid=15154
[4] Ceylon Today, Acquittal of six soldiers in Kumarapuram massacre case AG appeals A'pura HC jury decision – http://www.ceylontoday.lk/print20161101CT20161231.php?id=8507
[5] Kumarapuram Massacre Appeal – https://cl.ly/gqDe
[6] Ceylon Today, Acquittal of six soldiers in Kumarapuram massacre case AG appeals A'pura HC jury decision – http://www.ceylontoday.lk/print20161101CT20161231.php?id=8507