Additional details on MGR's 1965 trip to Ceylon
After reading Part 32, my friend and fellow MGR biographer R. Kannan had shared with me the information which had appeared in the DMK party's organ Murasoli daily during October 1965, from Murasoli archives. I provide below the material he had extracted:
"The 19th October 1965 issue of Murasoli said that MGR would travel to Ceylon for a week from 22-28 October. MGR traveled to Colombo, his birth town Kandy, Jaffna, Batticaloa, Matale and Nuwara Eliya. The party organ said that he would judge a beauty contest among the plantation workers. MGR and his entourage arrived a day earlier on 21 October at 10.55 am at the Ratmalana airport. Earlier, MGR was seen off by Anna and other leaders at the Madras airport. Actress Saroja Devi and his manager R.M. Veerapan accompanied MGR.
Murasoli reported that thousands welcomed MGR with slogans of 'Makkal
thilakam', 'Puratchi nadigar vazhga' (Long live)' renting the air. MGR traveled in an open car to Galle Face hotel some 10 kms away on the seaside. Murasoli said that fans breached the police cordon to 'touch' their favorite star.  In the afternoon MGR took part in a lunch hosted by Satgurunathan, a friend. Despite keeping it a closely guarded secret, a large crowd was present outside the residence and there were traffic jams in places leading to the residence. At 1.30 pm MGR reached Satgurnathan's house. He later waved to the crowd outside from the balcony.
MGR also gave an interview to Radio Ceylon. Renowned Mayilvahanam was the interviewer. Thousands had gathered outside the radio station to get a glimpse of the actor. Some stormed into the radio station, according to Murasoli. In the evening Cinema's Ltd proprietor K. Gunaratnam hosted a dinner.
Earlier, speaking to the press at his hotel, MGR referred to Anna telling him when he had seen him off that there was no relationship between the DMK and the DMK in Ceylon. MGR said that he had come on a tour to Ceylon and his visit had not an iota of political motive. He said since the time he learnt that he was born in Kandy he had been anxious to visit Ceylon.
On 25 October, MGR's entourage landed at the Batticaloa airport. MPs Chelliah Rajadurai, Chinnalebbai, S.M. Rasamanickam, S.G. Selvanayagam, Veerasingham and Manickam received them. MGR then traveled in an open car to the Jaffna sports stadium. Mursaoli reported that a retinue of 200 cars followed him. A crowd of 150,000 had braved the heavy rains to see and hear the visitor. Supreme Court judge Thambiah welcomed MGR.
On 27 October, Ceylon DMK hosted breakfast for MGR. That day MGR addressed a meeting of plantation workers at the Denmark Estate, extolling the virtue of hard work. He thanked them for their affection towards him. He would visit Vijaya Studios and watch a film shooting there. That day MGR called on the leader of the Tamils, S.J.V. Chelvanayakam at his residence.
Later Ceylon Film Chamber hosted tea in his honour. Speaking at the event, MGR said that he had come as an artist and not as a politician. In the evening according to Murasoli, Local Administration Minister [Thiru] Selvam hosted a dinner.
On 29 October, MGR addressed a meeting at Colombo's Sughathadasa stadium where he said that fans were like a mother to their erring children as fans always forgave artists and were all graciousness. Later in the afternoon MGR reached Madras at 5.40 pm. Anna placed a garland to welcome him. Kalaignar [Karunanidhi], N.V. Natarajan, Sathyavani Muthu, Mayor Chittibabu, S.S. Rajendran and others had assembled to receive him. According to Murasoli, the crowd shouted 'Long live Arignar Anna, Long live MGR' "(Murasoli, 19, 23, 26, 27, 29, 30 October 1965.)
http://murasoli.in:8080/murasoli/home.jsp
The political context in Tamil Nadu and Ceylon during late 1965 deserves some description, as MGR had commented in the press interviews he had visited the island as "an artist and not as a politician." At that time, he was not even an Member of Tamil Nadu Legislative Assembly. But, the visit happened after the Jan 1965 anti-Hindi riots in which DMK was strongly involved. So, like a good actor, MGR had to state those lines, for behaving like a good guest. Ceylon had a general election in March 1965, and for the first time, the Federal Party joined the UNP to form a 'sort of' National Government. I guess, under that pretext only, visa was issued for MGR to visit Ceylon. In all probabilities, Karunanidhi wouldn't have been given a visa during that period, due to his involvement in anti-Hindi riots.
In addition, MGR also had great number of Sinhalese fans. I remember reading that he had stated that he couldn't hurt the feelings of Sinhalese fans, when some political questions were asked. Again, he behaved nicely as a good guest. But Tamils in Ceylon were somewhat disappointed because, he didn't come out strongly with a pro-Tamil view. Thus, from mid-1960s to 1983, Karunanidhi was considered by many Eelam Tamils as a far better Tamil political leader, than MGR. MGR was considered simply as an actor turned politician.  Only after 1983, and with the emergence of Prabhakaran and LTTE as well as the eclipse of TULF leader A. Amirthalingam, situation changed due to Karunanidhi's flip-flops and MGR's firm stand on siding with the Tamil cause.
Influence of M.R. Radha on his junior contemporaries
In chapters 4 and 5, I had recorded MGR's impressions (as reminisced in his autobiography) on Madras Rajagopalan Radhakrishnan aka M.R. Radha (1907-1979), extremely popular Tamil stage and cinema actor, who was a real life mentor to him. Not only MGR, even his friendly rival in cinema Sivaji Ganesan (1928-2001) had high regards to the talent of M.R. Radha (hereafter abbreviated by the initials MRR). Last year, personal memories of actress M.N. Rajam, who had shared billing with all three reputed stars (MRR, MGR and Sivaji Ganesan) was posted in the youtube, when she was one of the chief guests with her singer husband A.L. Raghavan, at the Chennai Humour Club function [ check, https://www.youtube.com/watch?v=1yhz95Dhh-8]. What Sivaji Ganesan had reminisced about MRR in his autobiography was corroborated by M.N. Rajam too. Here are some bare-bone facts about him. (1) MRR was illiterate, and he didn't bother to read Tamil, even after he gained fame. (2) What he would usually do was to ask one of his retainers to read the newspapers or drama scripts to him, and immediately he could grasp the essence and nuance of the material read to him, to use it instantly in his dialogues that very day itself. (3) That MRR had an inborn talent cannot be denied; he was also well versed in all aspects of practical work including car mechanics, electricity repair and stage craft. (4) In 1940s and 1950s, MRR was shrewd and brave to attack the government of the day. Even when his dramas were banned by the government authorities, the very next day, he would stage the same drama with the same plot, under a different fake title. (see below, for a Madras High Court judgement, on this point.)
MRR was affiliated to social reformist Periyar Erode Ramasamy Naicker's (1879-1973) Dravida Kazhagam Party, and was an atheist by conviction. The same Periyar was also a mentor to C.N. Annadurai (1909-1969), who subsequently split with his mentor and founded the DMK in 1949. It was MRR who had brought the then 12 year old boy known as Ganesamoorthy, aka V.C. Ganesan, for the first time to Chennai in 1940. I provide below, what Sivaji Ganesan (who was 21 years junior) had reminisced about MRR's acting and organizational talent.
"Sri Radha was a father figure to us. He was extremely affectionate and caring, and we would gladly do all the odd jobs for him and likewise he did things for us. He would clean the place where we slept, even clean out bathrooms. He would comb the children's hair. He was a man with love in his heart….In those days, the only actor who could 'fight' to perfection as the play demanded, was Radha Annan. On one occasion the scene called for my having to yank his hair and stamp him. I hesitated as he was a father figure to me. He lay down on stage pretending to be writhing in pain, moaning and groaning and gesturing to me discreetly, but frantically, to really hit him. I hit him only after this. If I had not complied out of sheer respect for him, he would have hammered me after the curtains came down….
Radha annan was truly a genius and an all-rounder, well-versed in all departments of theatre. He could take on electrical jobs, play a comedian, a villain or a hero and was able to hold his own in any role with finesse."
A similar reminiscence was humorously told by actress M.N. Rajam too last year at that Chennai Humor Club presentation, about an episode in the shooting of 'Rattha Kanneer' (1954; Tears of Blood) movie. In that landmark Tamil movie, MRR''s character Mohanasundaram was that of a lothario who later comes to suffer from leprosy. Rajam played a vamp character named Kantha. She had to kick MRR in a scene, and she simply refused to do that out of respect. After MRR being adamant that Rajam should play the role according to the script, when she kicked him for the first time with force, she fell down while MRR was standing! – a direct opposite result happened unexpectedly. Then, MRR had told her sternly, 'Let's finish this scene, in one take and get it done, without numerous repetitions.'
According to a note in Aranthai Narayanan's work, Krishnan-Panju duo who directed that trend-setting 'Rattha Kanneer' movie in 1954 had reminisced in 1967 that there was an agreement to grant a certain remuneration for MRR for that movie. But, when that movie was completed, MRR had demanded three times the agreed amount from the producer of that movie. Eventually, this sort of financial finagling by him proved the truth in the popular idiom of feeding the snake with milk, only to be bitten later! When the rate for lead Tamil movie heroes (like K.R. Ramasamy) was around 30,000 to 40,000 rupees in early 1950s, MRR did receive an unprecedented sum of 125,000 rupees for this movie. The producer of Rattha Kaneer movie, P.A. Perumal Mudaliyar, was the same individual who produced Parasakthi (1952), the debut movie for Sivaji Ganesan. Krishnan-Panju duo were the directors for Parasakthi movie too. Probably one of the reasons why Sivaji Ganesan was retained for this movie, despite objections from another prominent sponsor of Parasakthi movie, A.V. Meiyappa Chettiar, was that as a debut hero Sivaji Ganesan was hired at a measly rate of 250 rupees per month, compared to the 40,000 rupees remuneration K.R. Ramasamy received then.
Nevertheless, MRR was very considerate to new actors, as attested by comedian Nagesh, in his autobiographical reminiscences about his first experience in associating with MRR in his debut movie Thamarai Kulam (1959, Lotus Pond). The problem with MRR was that he was too eccentric and individualistic in his character traits, that he wouldn't stick around with the same drama troupe and he faced recurrent financial issues with the sponsors and promoters of his dramas and movies. This had been recorded in Sivaji Ganesan's autobiography too. On top of that, MRR was also a lothario and polygamist in his real life! His wives and paramours include Prema, Saraswathi, Dhanalakshmi, one Geetha (from Wennapuwa, Sri Lanka). This may partly explains his financial problems.
That MRR was an uncrowned king of Tamil drama stage in 1940s and 1950s is a fact. DMK leader Annadurai had praised Radha's stage talent as akin to that of Hollywood stage and movie actor Paul Muni (1895-1967). When talkies became the rage, MRR debuted in a Modern Theatre's movie Sandana Devan (1939), and starred in a couple of movies Bombay Mail (1949) and again a Modern Theatre's production Sathyavaani (1940). Then, he retreated from cinema (due an accident in shooting) to concentrate on dramas. One of his successful dramas was 'Rattha Kanneer', was scripted by Tiruvaroor Thangarasu, who also belonged to the Dravida Kazhagam group. When the same drama was adopted to cinema in 1954, MRR returned with a bang to play the same role (as London-returned Mohanasundaram) he had originated in the stage.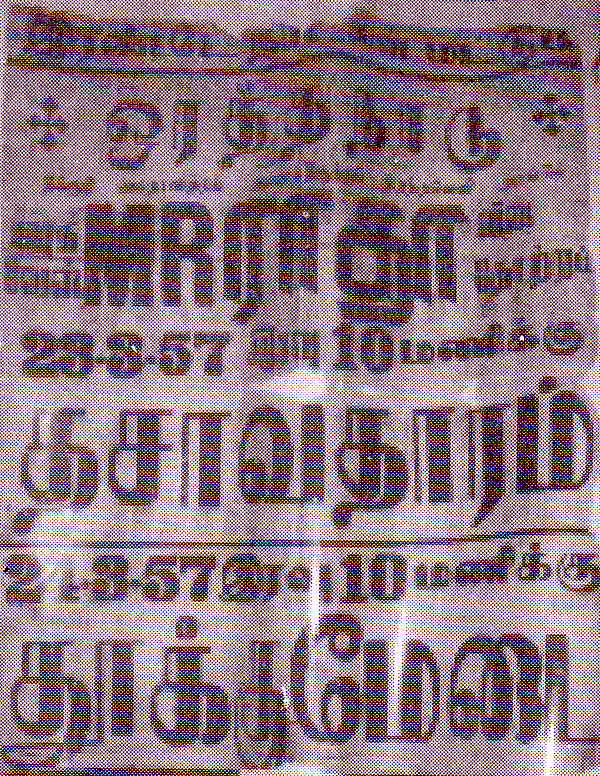 In their 2015 study investigating the idea of foreignness in Tamil cinema, Preeti Mudliar and Joyojeet Pal makes a passing mention to this Rattha Kanneer movie. To quote,
"in Ratha Kaneer (Tears of Blood) the specific issue of a conflict between tradition and westernized modernity was explored vividly. In Ratha Kaneer, M.R. Radha played the role of Mohan, who returns home after being educated abroad…in Ratha Kaneer the foreign influence of the West that corrupts is intensely etched in every aspect of Mohan's behavior – his appearance, his financial carelessness, his sexual debauchery. His long-suffering wife, in contrast, represents native purity with her culture, values and compassion…Ratha Kaneer remains a landmark film…the sin of foreignness is neutralized by a chaste Tamil woman, the virtuous wife…"
Radha's tact and skill in staging the same plot under two different names
From the internet, I picked up a Madras High Court judgement delivered by J. Sadasivam on July 11, 1962 related to a case that MRR had staged a drama Kathal Bali (Love Sacrifice), which had substantially the same plot to the drama Thooku Medai (Hanging Platform), that was prohibited by government order in April 1959. The guy who wrote the Thooku Medai was none other than M. Karunanidhi, then a fire-brand of DMK party! The verdict contain 18 items. Excerpts from a few items are provided below for relevance.
Item "1: Petitioner M.R. Radha has been convicted under Section 7(1) of the Madras Dramatic Performance Act, 1954 and sentenced to pay a fine of Rs. 200 in default to simple imprisonment for three weeks by the learned Second Presidency Magistrate, George Town, Madras."
Item "2: The prosecution case is that on 19th July, 1959, between 7 and 10 pm at Thegaraja College, Open Air Theatre, Washermanpet, Madras, the petitioner staged the drama Kathal Bali, which is substantially the same as the drama Thooku Medai, the performance of which has been prohibited by the Government in G.O. No. 1193, dated 25th April 1959. But before staging the drama, the script of the drama was submitted to the Commissioner of Police and a licence was obtained to stage the drama on the basis of the script so furnished…"
Item "11: …The characters in both the dramas are the same and even the names of several of the characters are identical. Theagaraja Mudaliar, Paramarthika Iyengar, Munjan, Vellagan, Kanakam and Ardhanari are the same characters in both the dramas. The characters Pandiya, Veni and Vanitha in Thooku Medai appear as Maran, Mala and Kamala respectively in Kathal Bali. The learned Public Prosecutor has prepared a long list of objectionable passages which are common in both the dramas…"
Item "12: G.O. Exhibit P-8 shows that the drama Thooku Medai has been prohibited as an objectionable play on the ground that it deliberately intended to outrage the religious feelings of a class of citizens of India and also on the ground that it is indecent, scurrilous and obscene. Thus the drama appears to have been banned on the ground mentioned in Clauses (a) and (vi) of Section 2(1) of the Madras Dramatic Performances Act. There can be no doubt that several passages in Thooku Medai which have been held to be objectionable having regard to Clauses (v) and (vi) of Section 2(1) of the Madras Dramatic Performances Act, 1954, also find a place in Kathal Bali…."
Item"14: It is true that some of the passages such as passages attacking religious beliefs opposed to scientific principles may be of educative value and may be considered fair criticism. But as pointed in Explanation II to Section 2 of the Madras Dramatic Performances Act in judging whether any performance is an objectionable performace, the play, pantomime or other drama should be considered as a whole. The proper test is whether one who knows the banned drama Thooku Medai attends the drama Kathal Bali without being informed about the title of the play would get the impression that he is witnessing the banned drama. Judged by this standard there can be no doubt that the play Kathal Bali which contains most of the objectionable passages found in Thooku Medai is substantially the same as Thooku Medai not only as regards the story, characters, dialogue and: plot but also as, regards objectionable passages."
Item "18: The conviction of the petitioner under Section 7(1) of the Madras Dramatic Performances Act is therefore correct. But having regard to the fact that the Commissioner of Police erroneously granted a licence to the petitioner to enact the drama the prosecution of the petitioner by the same Commissioner appears to be anomalous and hence justice would be met by releasing him after due admonition under Section 3 of the Madras Probation of Offenders Act. I therefore set aside the sentence of fine and admonish him under Section 3 of the Madras Probation of Offenders Act. The fine amount if collected is ordered to be refunded to the petitioner."
MRR's supporters alleged that this Madras Dramatic Performances Act was formulated in 1950s specially to tackled his atheist propaganda. When K. Kamaraj (1903-1975) was the Chief Minister of Madras State during the 1950s, MRR was arrested by the police for over 50 times. Even before Indian independence, in 1946 MRR conducted a drama with the caption 'Por VaaL' (War Sword). When that drama was banned by the then government of the Madras Presidency, under Tanguturi Prakasam (1872-1957), MRR reformulated the same plot by omitting a few scenes and cavalierly staged it  with spurious names like Sarvadhikari (The Dictator) and Mahatma Thondan (Servant of Mahatma)!
Due to his commanding dialogue delivery and derisive humor, MRR became a regular in the movies of both MGR and Sivaji Ganesan since 1959. Then, until the end of 1966, he held his own in villain cum comedy roles. The titles of some MGR movies in which he featured since 1961 include, Thai Sollai Thattathe (1961), Sabash Mapillai (1961), Nallavan Vazhvaan (1961), Thayai Kaatha Thanayan (1962), Paasam (1962), Madapura (1962), Koduthu VaithavaL(1963) , Kanji Thalaivan (1963), Periya Idathu Penn (1963), Ananda Jothi (1963), Dharmam Thalai Kaakum (1963), En Kadamai (1964), Thayin Madiyil (1964), Thazhampoo (1965), and Petral thaan Pillaiya (1966). A financial conflict related to the last mentioned movie (touted as an adoption of Chaplin's successful 1921 silent movie The Kid, in which MGR played a Chaplinesque role) released on December 9, 1966, would ferment an antagonism between MGR and MRR that ended in a shooting incident on January 12, 1967 at MGR's house.
Coda
I wish to inform the readers of this series, that to protect the text material from copyright infringement, I had arranged chapters 1- 32 and 5 appendices (4 Tables and One Essay), and uploaded them in the Research Gate website. It can be accessed via URL
https://www.researchgate.net/profile/Sachi_Sri_Kantha.
I have titled this book manuscript as, 'Minimum Guarantee Ramachandran: A Life in Cinema and Politics', with the following preface. A DOI was generated for this publication in Feb 2, 2016.
It is DOI: 10.13140/RG.2.1.1703.7847
"I present here the text of first 32 chapters of my biography on charismatic Maruthur Gopalan Ramachandran, aka MGR (1917-1987), one of the foremost drama cum cinema actor of his era in India, who later switched to politics and became the three times elected Chief Minister of Tamil Nadu state. I have been serializing this biography in the website of Ilankai Tamil Sangam [sangam.org] Association of Tamils of Sri Lanka in the USA, since Dec, 2012. MGR's lengthy career in movies and politics in India [half a century, from 1936 to 1987!] can be simply equated in terms of his illustrious American contemporaries, as a mix of both John Wayne's in movies and Ronald Reagan's in politics.
As MGR's first birth centenary is approaching, it is my wish to assemble all chapters of this series in a single file for ready reference. Though there are hundreds of books and booklets in Tamil language about MGR's life in cinema and politics as well as philanthropy, his contributions to the Tamil society in India and elsewhere had been poorly served by handful of available English biographies. This biography is an attempt to rectify the currently prevailing lacuna.
As I have observed lately (and indicated in chapter 31), plagiarized versions of this series (including the tables which I had prepared originally) had appeared as separate components in the internet, without permission either from me or from the owners of the Ilankai Tamil Sangam website. Thus, to protect the dignity of my research and labor, I adopt this strategy of registering this document via Research Gate site.
I politely request that those who wish to cite this unpublished document for research or any other purposes, should have the courtesy to contact me before-hand.
Sachi Sri Kantha"
Cited Sources
Chandramouli (compiler). Sirithu Vazha Vendum – Nageshin Vazhkai Anubavangal [To Smile and Live – Life Reminisences from Nagesh], Vanathi Pathippakam, Chennai, 3rd ed., 2009, pp. 78-80, 84-88.
Randor Guy: Blast from the Past – Rattha Kanneer (1954). The Hindu, Chennai, July 31, 2009.
Manaa (S.D.Lakshmanan): M.R. Raadha: Kaalaththin Kalaignan [M.R. Radha: An Artist of the Eera], Uyirmmai Pathippagam, Chennai, 2007, 216 pp.
MGR: Naan Yean Piranthen (part 2) [Why I was Born? – autobiography], Kannadhasan Pathippagam, Chennai, 2014, chapters 125 and 126, pp. 1402-1413.
Aranthai Narayanan: Thamizh Cinemavin Kathai [The Story of Tamil Cinema], New Century Book House, Chennai, 2nd ed, 2002, pp. 444-445.
Sadasivam, Madras High Court verdict. M.R. Radha vs Unknown on 11 July 1962.
Website URL: Indian Kanoon-http://indiankanoon.org/doc/1711772/ (accessed Feb. 4, 2016)
Sivaji Ganesan: Autobiography of An Actor, English translation by Sabita Radhakrishna, Sivaji Prabhu Charities Trust, Chennai, 2007, pp. 42-45, 52-56.
Preeti Mudliar and Joyojeet Pal: Watching from an arm's length: the foreign hand in Tamil cinema. Communication, Culture & Critique, 2015. 19 pages,
doi: 10.1111/cccr.12108