by Shannine Daniel, The Sunday Times, Colombo, May 29, 2022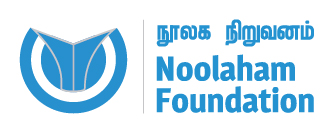 The Noolaham digital library was initially a Tamil language "virtual library" which contained documents, books, manuscripts, videos, photos and other material in the Tamil language. Established in 2005, it has since expanded to include books and other documents in Sinhala, English, Sanskrit, Dutch and French.
However, Noolaham is still recognised primarily as a Tamil language digital library as its main aim was to protect and preserve the digitally documented heritage of Sri Lanka's Tamil and Tamil-speaking communities, says Kopinath Thillainathan, one of the founders and directors of the Noolaham Foundation. The non-profit organisation conducts the digitisation and archival process of the library.
While books and other printed material can be found on Noolaham, drawings, photos of famous people, places and events, old radio recordings in Tamil, invitations, notices and letters, more than 250 old songs from Tamil speaking communities in Sri Lanka, a couple of old Tamil films and even recordings of research talks held on Zoom, can be found on Aavanaham which is the foundation's multimedia repository with an archive of digital documents, images, audio and video content and more.
The Noolaham Foundation also conducts the Oral History Project, a collection of interviews with people and has so far archived "stories" or oral histories of around 500 individuals from all walks of life, among them teachers, musicians, farmers, craftsmen and women.
"At the moment around 100,000 documents and digital objects including photos and audio clips are available, and we plan to upgrade our library so more researchers can benefit from it," said Mr Thilainathan.
Shaseevan Ganeshanathan, one of the foundation's directors says their main goal is to become Sri Lanka's pioneering digital library. As it is a "community library", he welcomes researchers, academics and school and university students to browse its extensive digital library and Aavanaham's multimedia repository.
Other projects by the foundation include a Muslim Archive and the Malaiyaham Archive, which documents the culture and heritage of the Sri Lankan Muslims and up-country Tamils, and the Pallikoodam Open Educational Resources webpage which provides Tamil and Tamil-speaking school children with access to online textbooks and other educational material such as past paper books.
Ola leaf or palmyra leaf manuscripts can be found in the Noolaham Foundation's Manuscripts Archive. These manuscripts written in Tamil belong to the medieval and late modern periods of Sri Lankan history and cover topics such as traditional medicine, law, history, technology and religion.
As a community organisation, Noolaham has volunteers and donors from across the globe.
Most of the digitising work is done in Jaffna,where most of the foundation's equipment is located, but  Noolaham also has offices in other locations including Colombo, Malaiyaham and Akkaraipattu. It also has "chapters" around the world, in countries like Norway, Canada, USA and Australia, which collect books for digitisation, raise funds and spread awareness.
For more information see: https://noolahamfoundation.org/web/