by Ligaya Mishan, 'The New York Times,' May 29, 2014
The shiny black table reflects blue sky, banana fronds and distant birds with eyelash wings. Outside, signs for mortgages and driving lessons loom over this tired stretch of Hillside Avenue in Jamaica, Queens. But inside Spicy Lanka, clouds drift, as does the mind.
The murals on the walls and ceiling were painted by Pratheepan Selvachandran, who runs the restaurant with his wife, Marie De Silva Selvachandran; he also created a counter out of his 10-year collection of beer-bottle caps for the liquor-license-less bar at the back. The Sri Lanka natives (he from Jaffna, in the north, she from Wattala, outside the capital) grew up on Staten Island, home to New York City's largest Sri Lankan immigrant community and almost all of its Sri Lankan restaurants.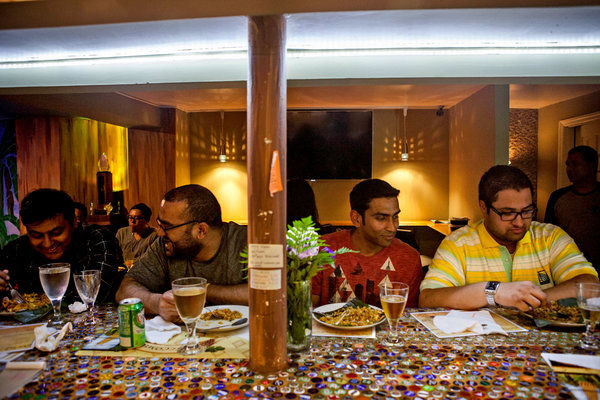 Better just to ask for recommendations. This was how my table wound up happily with a plate of deep-fried truncheons suggesting a cross between Indian samosas and Chinese egg rolls. Inside each was a mash of potatoes and kingfish, suffused with slow-kindling chile powder that kept up a small fireball in the mouth for a while after. The accompanying sauce led off like ketchup, then cut the sweetness and smoldered.
Later came pittu, squat columns of roasted rice flour, steamed with pandan leaves and adorned with icing-white curls of coconut. Ms. Lencaro mimed crushing them with a fork. "Add curry and pol sambol," she instructed. "And stir." The cakes disintegrated and grew damp from the turmeric-tinged curry, as if reverting to batter. It was a mess, and one of the best things I've eaten all year.
In Sri Lanka, pittu is breakfast. Likewise string hoppers, flat pale nests of skinny rice-flour noodles, used as edible saucers to scoop up more of that thin yellow curry, which drips through the noodles' mesh and down the fingers. In both cases, pol sambol is the clincher, a tangerine-hued crumble of fresh grated coconut, red onion and tomato; leavening lime; roasted chile powder, with its snaking, roiling heat; and Maldive fish, bonito that has been boiled, smoked and sun-dried, delivering an almost smutty undertow, as deep and briny as shrimp paste.
The chef, Rangajeewa Wijerathne, changes the lineup of vegetable curries daily. On my visits they included eggplant, okra, cauliflower and beets, each distinct in its shifting alliances of sour and sweet. (Only one, made with pineapple, went too far in the latter direction; the spices didn't stand a chance against the nearly caramelized fruit.) They are meant to be eaten in concert, four to a thali (set meal) or two  alongside a dark meat curry fueled by house-roasted curry powder.
Curries come heaped on a banana leaf around a mountain of rice with a flattop of papadum that arrives sadly already wilted and chewy from the rice's heat. Balanced on it are two caved-in red chiles, which have been immersed in yogurt and left to dry. Bite into one and you find it is hollow, with only stray stalagmites of salt left inside, and a shell that verges on candy.
A few dishes on the menu owe a debt to China, or at least to Chinese cuisine as hallucinated by India. "Devil" is the name for stir-fried tangles of onion and bell pepper, lurid crimson in the sweet-and-sour vein, albeit thankfully more hot than sweet. Even fried rice is littered with shards of chile.
Do not expect too much of dessert. Watalappan, a coconut custard soaked in jaggery syrup and studded with shattered cashews, is flagrantly sweet. Still, after all those chiles, it's refreshing, as is Dilmah tea from Sri Lanka, splashed with milk and scented with nutmeg and cinnamon.
Perhaps sensing this was not enough, at the end of one meal, Ms. Lencaro presented each diner at my table with a single Ferrero Rocher truffle, still in its gold foil. It seemed a spontaneous gift, like candies passed out on a veranda at the end of a leisurely afternoon, before we had to rouse ourselves and return to life, and the F train.