From the files of Nagalingam Ethirveerasingam. Ph.D. (Cornell)
Do we know where all these detainees are?  Can UNHCR confirm they were all released?
Photo_FemaleYouthDetainees_MenikfarmMovie6
Photo_MaleYouth Detainees_Menikfarm_Movie7
Where are the pictures of all the other detainees?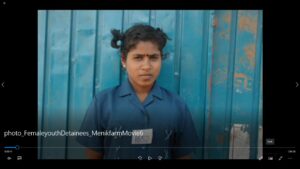 From Dr. Ethirveerasingam:
These photos were sent to me by a UN Refugee official monitoring the Vavuniya camp. I think the pictures were taken by him as  record for safety reasons.
Single women who got pregnant in camp were released to one of the Catholic Women missions. When they gave birth, the Mission adopted the babies. The women after birth went back to their parents.  The fathers were often Tamil males in the camp. In one instance the Sinhala soldier father and his wife came to the Mission and adopted his child legally through the courts.
I was instrumental in getting financial help for the upkeep of the babies from our senior humanitarians.   Another Catholic women's mission took many women LTTE cadres and Sencholai children released to them. I met them. The cadres were trained with vocational skills before being released to their parent for resettlement in their former homes.  The Sencholai children were sent to the school nearby in Vavuniya.  They were asking me to tell Jenani who was their "Mother and Elder Sister" to come and see them.  I did not have the heart to tell them she is no more.  I was told that Mrs. Rajapaksa, who is a Catholic, was instrumental for the release. Bishop Rayappu played a major role in this humanitarian mission. I was able to get funds for them and also to buy shoes for all of them. Our American friends supported a lot.