'Never back down' is Prabu's philosophy in life. He believes that mixed martial arts is about consistency, hard work, and discipline. Prabu's ultimate dreams are to be amongst the top 10 UFC champions in the world and to become one of the top MMA coaches in Malaysia. His aspiration is to make his country proud, and to be a role model for many at-risk-youth.
Hailing from Kuala Lumpur, Malaysia, is Prabu Somanaidu aka 'Superman,' who is one of the first fighters of Tamil origins to rise in the world of Mixed Martial Arts (MMA). He left behind a lucrative career as an IT Engineer to pursue his dream in combat sports, and won his first fight a few months later in June of 2012. Prabu had a string of victories leading to him winning the Malaysian Invasion Mixed Martial Arts (MIMMA) Bantamweight Championship. He is ultimately deemed one of Malaysia's finest MMA fighters particularly amongst the Malaysian Indian community.
Malaysia is a peninsular country with a population of 29.7 million consisting of Malays, Chinese, and Indians." There is a sizeable population of Tamils who make up "85% of the South Asian population. Malaysia is also the third most populated country with Tamils after Sri Lanka and India.
Born to agriculturalist Somanaidu Ganesan Chettiar and housewife Malliga Murugasu, life was hard growing up on the palm oil plantations of a small town called Slim River. At a young age, Prabu worked really hard helping his father while maintaining his grades in school. It was at an early age that this young warrior began to take an interest in martial arts.
Like most Tamil parents, education was of great importance. Prabu's dedication to studies excelled him to completing his diploma in Electronics and a degree in Medical Engineering. This was not an easy task for Prabu since he also would travel to work two hours away for his monthly expenses and bills.
It was not until May of 2012 when he would leave his job as an IT Engineer to fulfill his passions in martial arts. Many people asked him why he would do such a thing. Prabu's explanation for this is that he loves MMA and loves to fight. That is why he left being an IT Engineer to become a full time fighter. But, a major reason for his bold decision in life was that "If you want to fight, you got to train harder, and if you are not trained harder, you cannot fight. I can be an IT Engineer at the same time; I cannot be a fighter, because when I go to work I miss my training. When I train, I miss my work. That's why I resigned and I became a full time fighter and now I am happy, because I like what I am doing."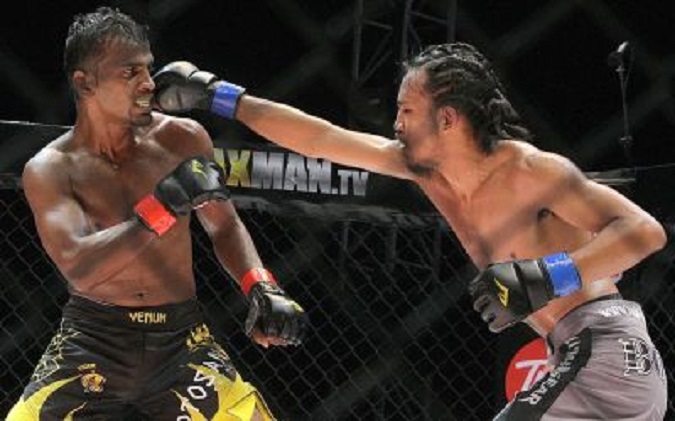 Starting at a local Muay Thai school in Malaysia, Prabu travelled to Phuket, Thailand to further his skills in this deadly art. Klinch MMA was his next fighting school of choice which provided him a platform to attain his dreams as a fighter getting into MIMMA.
Prabu's fighting career practically skyrocketed after winning Season 1 of the MIMMA Bantamweight Professional Championship against local fighters in Malaysia. Then, the unthinkable happened when Prabu went on to fight in the International Mixed Martial Arts Federation (IMMAF) in Las Vegas, Nevada, USA representing Malaysia. His debut in Vegas was in June of, 2014 against Ukrainian fighter, Bohdan Holovatyi of whom he lost against by just one point!
In an interview with MMA Weekly, Prabu stated that his fight in Las Vegas "was a very good experience for me. I had a chance to represent the Malaysian team and also a good opportunity to meet and compete with the world champions. My journey to Vegas was very useful and I learned a lot of things with in-depth skills and techniques. My loss made me push myself to learn more and train harder."
Prabu further stated that, "I do get a lot of support from my Indian community, especially from the MIBBA (Malaysian Indian Bodybuilding Association) president Dato Kumaresan Naggiah and Vice president Mr. Rajaratanam. It is important for me to represent them because I am the first Indian MIMMA Champion title holder. I would like to be an identity and role model for my community so that the younger generations will achieve more."
After winning another round of Season 2 of the MIMMA, Prabu plans to compete again in Las Vegas in July of 2015 at the IMMAF. With that in mind, he stated, "in order to achieve my targets and goals, I am looking to improve my skills as a fighter and coach. But there are certain techniques to be further trained in overseas. For an example, wrestling is not available in Malaysia so, I need to get special, personal training in the field. Moreover, proper supplements are a must buy item in this field." Prabu is also seeking sponsorship from any individual or company who can help him reach his goals.
CONTACT:
If you or your company would like to sponsor Prabu Somanaidu for his fight in Las Vegas in July, 2015, please contact:
Vijayalecthumy Krishnan (Vijie)
Email:
Phone: 010-5668697 (local), 60-10-5668697 (international)
For more information, please visit:
www.malaysianinvasion.com
www.facebook.com/MalaysianInvasion
www.facebook.com/prabusomanaidu