by Sachi Sri Kantha, November 12, 2012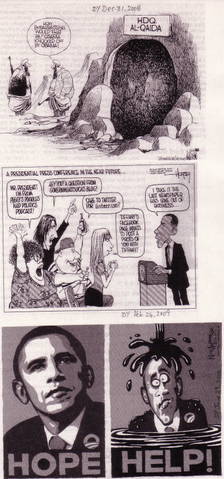 President Barack Obama was first sworn in as the 44th President of USA on January 20, 2009. He was the first bi-racial President in American political history. But, how he handled the Sri Lankan affairs during the first four months of his tenure leaves much to be desired. His deed was decidedly favorable to the Sinhalese (who were represented by the Sri Lankan government), but unfavorable to the interests of Tamils. In an Op-Ed contribution to the New York Times (Mar.20, 2009), Lakhdar Brahimi, an Algerian UN envoy and a former foreign minister of Algeria, noted,
"According to U.N. figures, 2,300 civilians have already died and at least 6,500 have been injured since January. Some 500 children have been killed and over 1,400 injured. What happens to the rest of those caught in the middle of the government's onslaught and the Tigers' fight to the death depends not only on the two parties but on the international response as well…..On the political side, other international leaders — in particular, President Barack Obama, Indian Prime Minister Manmohan Singh and other leaders from Asia, the nonaligned movement and the Commonwealth — must urgently use their leverage to convince the Sri Lankan government to stop its offensive."
This was two months after President Obama's assumption of office. But, Obama didn't budge. Maybe, because (1) he was in the honeymoon period with the US operatives (The State Department, CIA) in Washington and also in Sri Lanka who minded the Sri Lankan affairs with him, (2) he was an incompetent rookie in military affairs, (3) Sri Lanka events were not a high priority to Uncle Sam's government, and (4) of sheer ignorance, he failed to take the initiative to contain the aggression of foreign mercenary assisted -Sri Lankan army's aggression on the Tamils.
In a White House statement to the World Press Freedom Day of May 3, 2009, President Obama made a passing mention of the name of Tamil journalist J.S. Tissainayagam as follows: " In every corner of the globe, there are journalists in jail or being actively harassed: from Azerbaijan to
Zimbabwe, Burma to Uzbekistan, Cuba to Eritrea.  Emblematic examples of this distressing reality are figures like J.S. Tissainayagam in Sri Lanka, or Shi Tao and Hu Jia in China." [White House, Office of the Press Secretary, May 1, 2009]. It was nothing but a sop to the Tamils, when his own embassy folks in Colombo were turning a blind eye to the travails to people in Vanni. In this casual mentioning of one particular name of Sri Lankan, Obama did follow the tradition of his two predecessors. In 1999, President Bill Clinton issued a high-octane eulogy to the untimely death of Neelan Tiruchelvam. In 2004, President George W.Bush junior did mention the name of B.S.A. Tahir, the middle man in the Pakistani nuclear scientist Abdul Quadeer Khan's web.
Then, merely a few days before the annihilation of LTTE, President Obama mused as follows, according to the New York Times (May 13, 2009):"President Obama also weighed in on Wednesday, urging both sides to stop harming civilians. In remarks to reporters, he said the rebels should lay down their arms and let civilians go, adding that "their forced recruitment of civilians and their use of civilians as human shields is deplorable." He also called on the government to stop "indiscriminate shelling," which he said had taken hundreds of lives, including at several hospitals."
Not that President Obama was ignorant about when human rights were abused by a state. Depending on the signals offered by his minders, he simply opted to pick and choose his target. After a month of LTTE's annihilation at the hands of foreign mercenary-assisted Sri Lankan army, President Obama did use stern words to Iran ['Obama condemns Iran's iron fist against protests', New York Times, June 23, 2009].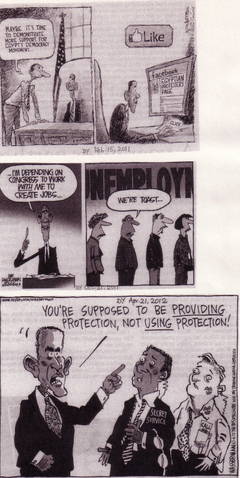 To recap the events and trends during President Obama's first term, I provide 9 select cartoons by American cartoonists (Don Wright, Nick Anderson, David Horsey, Walt Handelsman, Wasserman) that appeared after his election in November 2008. All told, Obama was a lucky politician, quadruply blessed. First, he beat the odds of pushing Hilary Clinton to a side in the nomination race of the Democratic Party in 2008. Secondly, despite being a military ignoramus, he was able to win against the Republican Party nominee, a war veteran John McCain. Thirdly, within two weeks of his elevation to the American president rank, he was nominated and did receive the Nobel Peace Prize in October 2009, for whatever reason(s) the selection committee thought he deserved it! Fourthly, he was again lucky to retain his tenure as US president in the 2012 election against the Republican Party nominee Mitt Romney. In his second term, will President Obama elevate himself to the rank of an admirable statesman? Can Eelam Tamils expect something better than his previous performance?