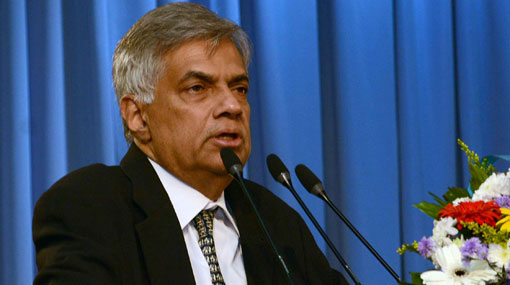 Prime Minister Ranil Wickremesinghe says that his British counterpart David Cameron visited Sri Lanka during a "dark period" and that the government is inviting him to return now that the sun is shining on the country.
"British Prime Minister David Cameron visited Sri Lanka during a dark period. We are now publicly inviting him to come to Sri Lanka now that the sun is shining," he said addressing the National Thaipongal Festival in Jaffna today (15).
The Prime Minister stated that he was able to talk about 2-3 issues existing in the north by attending the event in Jaffna.
"Another 4,600 acres of land are under the control of the military in addition to that there is more land, not as big, in the North and East."
"So what I said was that lets identify the land required for development, the land required by the people and tell us if something extra is wanted for security. Let's sit down and take a policy decision and then impose time limits," he said.
Wickremesinghe said that he wants that report before 2 months to discuss with the President, the Chief Ministers, the MPs from North and East and former President Chandrika Kumaratunga.
"Because we cannot keep dragging these issues."
The PM stated that he held discussions with TNA MP M.A. Sumanthiran, Minister of Prison Reforms D.M. Swaminathan, Minister of Law and Order Sagala Ratnayake and Justice Minister Wijedasa Rajapaksa to find solutions to the issues of the remaining Tamil detainees.
An agreement has been reached between the three ministries and after it is brought to the attention of the President, we will inform the Chief Minister and other relevant parties, he said.
"The Prevention of Terrorism Act (PTA) is now an expired act," he said, adding, that it will be remove.
He stated that in the future Sri Lanka could face international terrorism-related problems and should the need arise a law similar to that the United Kingdom would be introduced. "That process will be accomplished by the middle of the year."
Wickremesinghe said that the process with regard to compiling the missing persons list is ongoing and that he is sad to say that a majority of the persons who are missing but are not in their list and not detained, are no longer alive. "I don't know what happened to them."
The PM said that he has spoken to the Commanders of the armed forces regarding the troops stationed in the North and what they say is that as the situation in the region improves they can reassign personnel to other areas according to requirements.