by Sachi Sri Kantha, April 20, 2022
Well, well – you may call this commentary as schadenfreude. Rajapaksa rascals had it reaching their home territory – pummeled from left to right, head to heels and face to derriere for their family plundering in politics, since 2005. For those who have missed, I collect some excerpts from local newspapers and blogs.
Erandika de Silva (Dept. of Linguistics & English, University of Jaffna) had commented in a column to the Island newspaper (April 12, 2022) about the choice epithets in Sinhalese language thrown at the president Gotabhaya Rajapaksa.
"…Kudos to the pressure we have put on the government through the #GoHomeGota movement. Yet, it is important to take a moment for introspection and reflection. Certain placards reek of sexism. For instance,'Gotage ammata enna kiyapiya' [ask Gota's mother to come], and 'Gotage …. Gnanakkage katey' [Gota's … are in Gnanakka's mouth]. Calling for Gota's mother is a form of threat insinuating physical and sexual assault on Gota's mother, and the second is a graphic sexual metaphor connoting that Gota is under the sway of his astrologer, Gnanakka.
Another text/catchphrase that reads'Adoh naattami adu kuley upan ….' invokes sexism, casteism, classism and snobbery. Although incoherent and fragmented, a loose translation of it would be; 'Yo, porter! Low-caste born …' These words of a protester at the Mirihana protest site soon permeated social media as a catchy insult targeting Gota."
I, for one, disagree with these sort of neutral 'introspection and reflection'. From time immemorial since the days of Socrates, humor is the ONLY weapon the powerless have (and can) use, against the power-hungry politicos and their toadies, who bully the protestors and dissidents with their sophisticated military gadgets and guns. What's wrong with it? Specific reference to one Gnanakka in the above mentioned placard, needs a bit of explanation. She is the astrologer-soothsayer lady from Anuradhapura, who advises President Gota, about his fortunes and presidential decisions, including the state's COVID-19 policy.  Gota addresses her as 'Mother Ghana' [Ghana Maaniyo], according to a feature by Nimal Ratnaweera which appeared in the Colombo Telegraph (Aug 20, 2021) digital blog,
"Special security has been provided to the soothsayer's residence in Anuradhapura, Colombo Telegraph learns. Village residents have reported heightened activity around the astrologer's home, with Presidential Security Teams often arriving ahead of the President's visit for a consultation. Sources close to the Palace have long insisted that President Gotabaya Rajapaksa's dependency on Gnanakka is particularly acute, with the soothsayer fast becoming the most powerful woman in Sri Lanka."
And, Erandika de Silva continued a little more.
"…Magul aethaa maerunama rajaata asubai kiuwe kata kahanawata newei Nandasena, loosely translates to 'it was not for no reason they said the death of the holy tusker brings bad luck for the king'. This is, of course, a reference to the passing of the tusker, Nedungamuwe Raja, but the inference is that there is a clear connection between the passing of Nedungamuwe Raja and the misfortune that befell Gota. This connection equates Gotabaya to a king and ties his fortune to the holy tusker who has a symbolic significance to the Buddhists – this rhetoric reinforces Sinhala Buddhist hegemony which in turn excludes those who are non-Sinhala Buddhist.
The creativity of placards, slogans and hashtags has taken the #GoHomeGota struggle to a whole new level. They are one of the driving forces behind this struggle and their contribution to #GoHomeGota shall not be undermined. Yet, let us not forget to reflect on the problems that spring up here and there. It is understandable that not everyone is capable of understanding the subtle implications or nuances of these texts and speeches that go viral on social media. It is the pent-up anger and the frustrations of the citizens that come out through these texts and speeches – (and perhaps these too have a purpose to serve?)."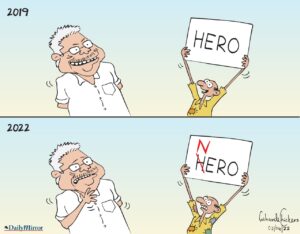 An old timer, Mr. Jehan Perera wrote in the same Island issue (April 12, 2022),
",,, The burning of an Army bus in full sight of the security forces during a mass protest near the President's personal residence that turned violent is suspected to have been caused by an agent provocateur. Similarly, a clash took place between a group of masked and heavily armed men on unnumbered motorcycles and police who were trying to keep them out during another protest near Parliament. This is a sign that some security forces personnel have the license to operate outside of the law and their idea of psych-ops may be at variance with the freedoms that are honoured in democracies."
"…Most of the slogans that are being shouted out or in placards relate to the Rajapaksa family who are blamed for having brought the country to this sorry pass, where living standards have dropped sharply with the currency having lost half its value in three months, a scarcity of commodities and lengthy power cuts. If at the beginning they were limited to the ouster of the government leaders, now they are including demands for their punishment and seizure of property and ill-gotten wealth held abroad. A public petition is being circulated in the Diaspora which is no longer limited to the Tamil Diaspora but includes the Sinhala Diaspora to seize the assets of the Rajapaksa family in the US where some of them, including Finance Minister Basil Rajapaksa, hold citizenship."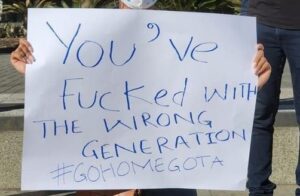 Few of the spicy comments from the readers on Gota and his relationship to 'court' astrologer laureate Gnakka, made on Aug. 20, 2021 follows:
"These Rajapakshas are behaving worse than aborigines, believing mystic potions, ritual support than the "golden way of life" taught in Buddhist philosophy."
"In this supposedly Theravada Buddhist country, the head of state [who is even worse than Caligula] is a devil worshiper. Would have been hilarious if not for the fact that he is responsible for turning this country into a mass grave. We are indeed a damned nation."
"What a bunch of absolute morons. These are the morons running the country. How can Hindu Godess Kali control the Sinhala Buddhists. May be because Gota destroyed so many Hindu covils to promote Buddhism that made Hindu Kali got angry and taking revenge from 6.9 million fake Buddhists. Well done, Gnanaka. Please advise these fools so that soon they collapse wholesale. Gnana Acca please tell Gota to close down all the pansalas and replace them with Hindu Kovils. Also tell this guy to make Tamil the official language along with English."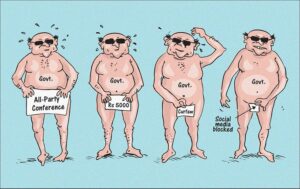 "6.9 million Sinhala-Buddhists hijacked Gautama Buddha, the Great Preacher of Peace and Renunciation and have dragged him into the Mahavamsa mud of hatred and killing, corruption and nepotism. Now, they are into Kali, an aspect of Parvati, the Consort of Shiva. She carries a deep philosophical meaning for Saivites and is not to be associated with the pettifogging magic of the Sinhala-Buddhist chauvinism. She is the destroyer of evil and assumes a terrible form to accomplish this."
Lastly, even the mouthpiece of Sinhalese chauvinism, The Island daily, that praised Rajapaksas with superlatives as the Dutugemunus of the 21st century who protected the blessed island from the Tamil terrorists in 2009, had turned on them, for their excesses. Excerpts from an editorial entitled 'A Sad Day' of April 13, 2022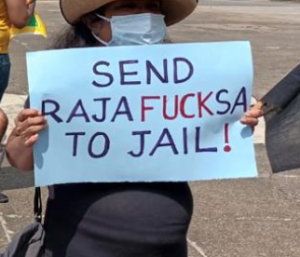 "Prime Minister Rajapaksa should have apologised to the nation, on Monday, for having wasted billions of dollars on Ozymandian projects like the Hambantota Harbour, the Suriyawewa cricket stadium, the Mattala Airport and the Lotus Tower. All Rajapaksa governments have been characterised by rampant corruption, which has led to an increase in national debt. The PM should also have explained to the public why the current administration had not sought IMF assistance at the first signs of trouble, the way his government had done in 2009 to avert an economic disaster…..
The government is struggling for survival, and let Parliament be urged to initiate action to abolish the 20th Amendment and reduce the executive powers of the President so that an interim arrangement could be worked out to facilitate the country's economic recovery."