Over evacuation of Tamils in 2009 – Sri Lankan MP
by Tamil Guardian, London, November 24, 2020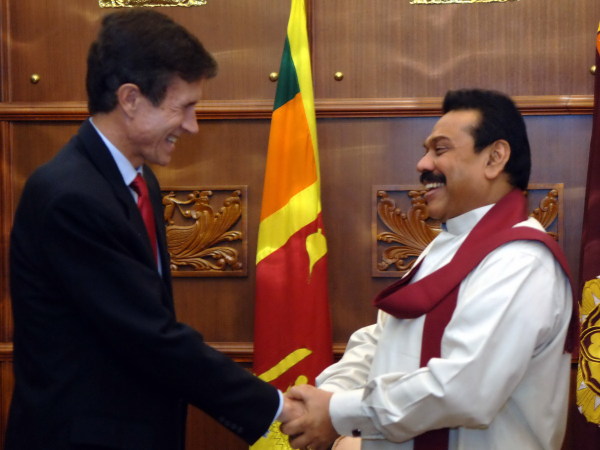 File photograph: Mahinda Rajapaksa meets with former US Ambassador Robert O'Blake
A Sri Lankan parliamentarian revealed how Mahinda Rajapaksa lied to "an ambassador of the most powerful country" about the evacuation of trapped Tamil civilians in 2009, in order to allow a Sri Lankan military offensive that killed tens of thousands of Tamils to continue.
Mahinda Samarasinghe told Sri Lanka's parliament this week that when he was Sri Lanka's Minister of Disaster Management and Human Rights in 2009, he was "summoned to Temple Trees for an urgent meeting as there would be a foreign delegation led by an Ambassador of the most powerful country".
At the time, the Sri Lankan military was carrying out an offensive that had already seen the deliberate repeated shelling of hospitals and widespread sexual violence. "The conclusion of the war was only days away," said Samarasinghe.
"The Ambassador said many civilians were trapped in a small strip of land and the LTTE was using them as shields and if they could evacuate those civilians by ship if the President granted permission," Samarasinghe continued. "The ambassador said that one of the ships belonging to their country was nearby and sought only the permission of the President to enter Sri Lankan waters."
"President Rajapaksa told the Ambassador that another powerful country in the region had also made the same request. Since the first country had not been given permission, he needed to discuss the matter with them first."
However, Samarasinghe revealed how the pretence of a second offer of evacuation was sham, intended to ensure that no such evacuation would take place.
"When I asked him about the issue, the President put his hand on my shoulder and told me that if he allowed the evacuation, the LTTE leader Prabhakaran too would get into that ship," Samarasinghe continued.
"If Mahinda Rajapaksa had not stood up to that country, LTTE terrorism would have continued to plague the country," he added, praising Rajapaksa's actions. Rajapaksa, who is currently Sri Lanka's prime minister, has never been held accountable for the crimes of 2009.
Read more from The Island and Colombo Gazette.
The revelation by Samarasinghe comes as US President Barack Obama said in his memoirs that the United Nations failed to "prevent ethnic slaughter in places like Sri Lanka". The massacres in Sri Lanka took place during Obama's first term as US president. At the time, Obama came out on the White House lawn and called on the Sri Lankan government to cease the use of heavy weapons in the No Fire Zone. The government, led by the Rajapaksas, did not heed the call and continued with its offensive.
Read more about what happened in our feature: 11 years today – A massacre in Mullivaikkal