by Nimmi Gowrinathan, "The Washington Post' Monkey Cage, June 16, 2014
Kim Yi Dionne: This guest post by political scientist Nimmi Gowrinathandraws from her earlier research and ongoing analysis of gender and violence in Sri Lanka.
****
Muslim or not, women are hiding indoors in many parts of Sri Lanka today. Rumors that a bus full of members of the extremist Buddhist party – "Bodu Bala Sana" (BBS) — is down the street spread through neighborhoods in whispers, since most cell phones are dead — at a moment when they're needed the most. The ongoing religious violence against the minority Muslim community in Sri Lanka is expectedly unexpected.  A local activist says, "We had known that the BBS would try something once The Brothersare away from the island. We thought it might be last month, but now we were unprepared. For them, this was very well prepared."
A Twitter debate on #Aluthgama cautions exaggeration and labeling (what counts as a riot?), for fear of an obvious tie to the riots against the Tamil population that started an intractable war in 1983. Caught in the fire and fury of that historical event, one Tamil woman recounts, "I looked outside the bus window, and saw smoke and so many men carrying sticks. I immediately wiped the red pottu off my forehead. Without that, I could hide that I was a Tamil." In the years and months that followed the 1983 riots, stories of women emerged, slowly. The women who jumped over fences, feigned fainting spells, protected children and resisted. Where are the women today — of Aluthgama and beyond?
Today, a Muslim woman in Dehiwala says, "The police didn't stop the mobs yesterday, only watched. I saw even some of my trusted neighbors in the crowds. It is like living the terrible dream of 1983 all over again." The business community is particularly invested in quelling this type of talk. Without intent to stoke the flames of hatred, we do know that these are the types of fires that spread. And without acknowledging the potential extreme outcomes, it is impossible to prevent them. As it intensifies, one such outcome will be the profound impact left on the political understandings of women who live in and around violence.
As the first orange-robed fists were raised a few days ago, men in the Muslim community gathered at the mosque to discuss strategy. When the curfew was announced, they were stuck there. A local woman reports, "When the mobs came in, only the women and children were home." Studies of conflict show that the conflict-induced "spaces" created for women can be sites of both vulnerability and power. While it is too early for the post-mortem of this contemporary tragedy (added to Sri Lanka's legacy of violence), the vulnerability has, for now, dislodged the Muslim community. Again. Two thousand women today are waiting inside the Al Humaizara School in Beruwala. They are waiting on food rations that have been turned away. When people with the means to assist finally reach them, the women will be asked what they need, not what they are thinking.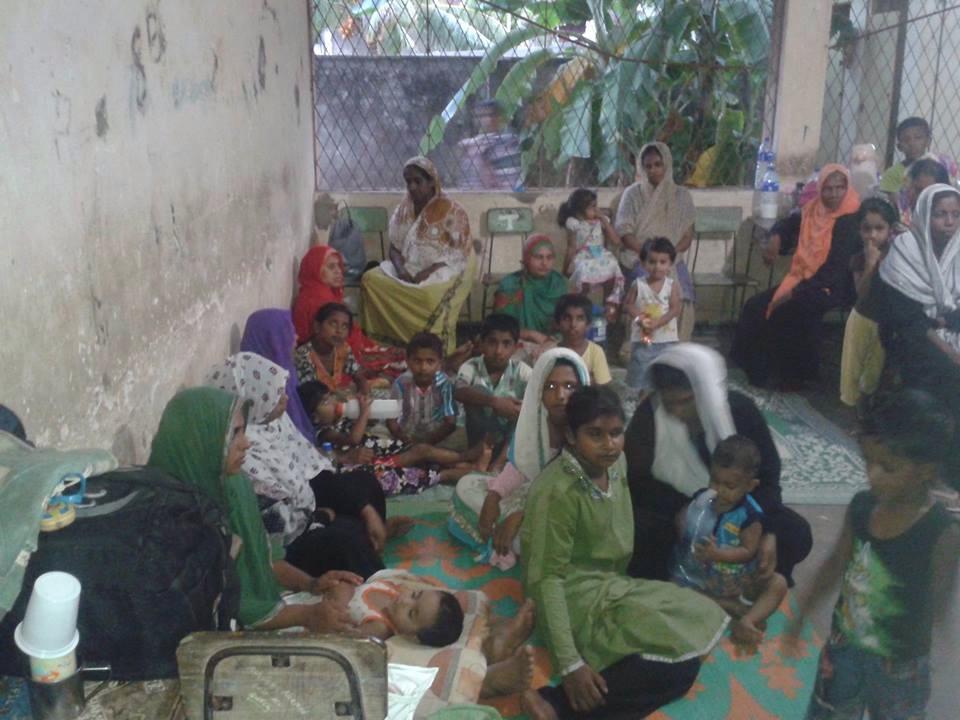 Earlier incarnations of violence in Sri Lanka left hundreds of thousands displaced in makeshift tents, whose term of service was more permanent than temporary. Sustained displacement in itself is an act of state repression, one that made a distinct impact on the political identities of women. In-depth interviews revealed that concrete moments of individual violence (rape) and collective violence (1983 riots), reinforced personal experiences with repression to shift women's perceptions of justice, equality and revenge. The critique, of course, is that the politics of women are mediated through the political power of men. A Muslim activist in the diaspora notes, "The men, still, control the political community. And in the end, this violence will be used for political gain."
The fact that this is nearly always true should not distract us from the politics that are present amongst women. In the prequel to the current state-sponsored (state-allowed?) violence, a group called the "National Shoora Council" was formed (excluding any women's representation) "to deal with recent attacks on the Muslim Community and the challenges it faces," claims a local publication written by long-time activists. The central conversation was around the targeting of women wearing black burqas. "Every so often women with black burqas, particularly in Muslim areas, had stones thrown at them from the Buddhist extremists," one activist notes. As a protective measure, the men discussed the possibilities, settling on a different colored burqa. The only question was, which color?
It is not and will not be easy to include women's perspectives in this and other conversations. Even less so, to move beyond the "eye-witness" accounts (for which women are currently in great demand) toward addressing evolving political beliefs. But it is possible. Burned down stores and huddled masses on the floors of religious spaces will reshape the political landscape in unexpected ways. One activist says, "The women who are displaced, who have seen it, will be able to relate Aluthgama to the 1983 riots. If they are given the space." They may not say it right away, but important new research examines overlooked forms of agency, highlightingsilence as a source of both survival and resistance. Local documentation of Muslim women's struggles reveals a link between Tamil and Muslim women, both of whom skillfully navigate culture and context to articulate resistance. For both, "initially these struggles were personal, restrictions imposed by family and eviction." And then the personal became political.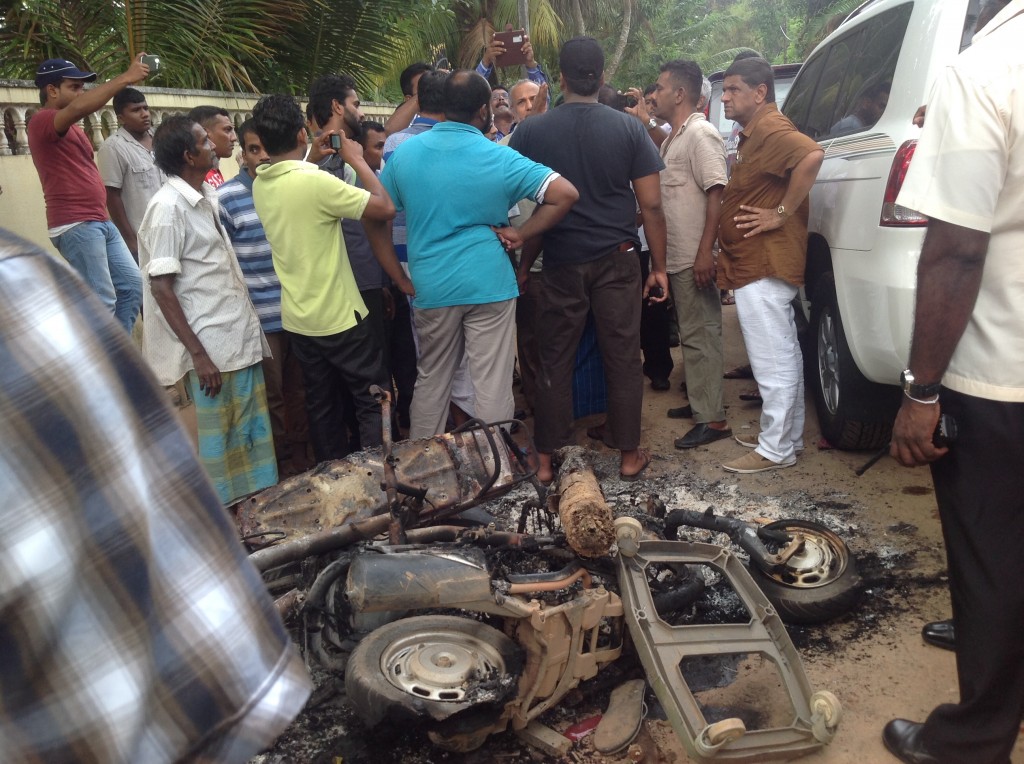 Violence against the Muslim community in Sri Lanka is continuing unabated. In the moments of quiet, men wander out, undetectable, curious to examine the destruction, eager to share their opinions, their fears. A local politician addresses them. They are trying to reach Defense Minister Ghotabhaya Rajapaksa who is out of the country, but his cell phone is dead. Maybe he doesn't want to hear the information the rest of the world is trying so desperately to get. Or he could be busy mentoring the Nigerian government on the best way to deal with Boko Haram and protect women. In a striking parallel to the situation in Nigeria, a local woman this morning says she has kept her girls home from school. "The men, they can just go out unnoticed. What can we do, take off our burqas?"
Feminist groups in South Asia will likely express solidarity for women in Sri Lanka as they call upon the Government of Sri Lanka to intervene. This is the deeply militarized state that is both the judge and jury of its own actions. One whose heavy hand of intolerance has touched suspected terrorists and journalists alike. The late Lasantha Wickeramatunge, editor of the Sunday Leader, understood the nature of this state and in a self-penned obituary warned that every citizen of Sri Lanka may one day say "then they came for me, and there was no one left to speak out for me." Before that day comes, those who can, should speak out and reach out – to include important perspectives on politics. Violence of this nature will leave an indelible mark on the identities of women in the most intimate ways. And there are some marks, you can't just wipe off.
****
Nimmi Gowrinathan is an author and researcher who examines the intersections of gender and violence. Follow her work atwww.deviarchy.com and follow her on Twitter at @nimmideviarchy.
http://www.washingtonpost.com/blogs/monkey-cage/wp/2014/06/16/red-pottus-black-burqas-identity-markers-in-sri-lankas-extremist-violence/