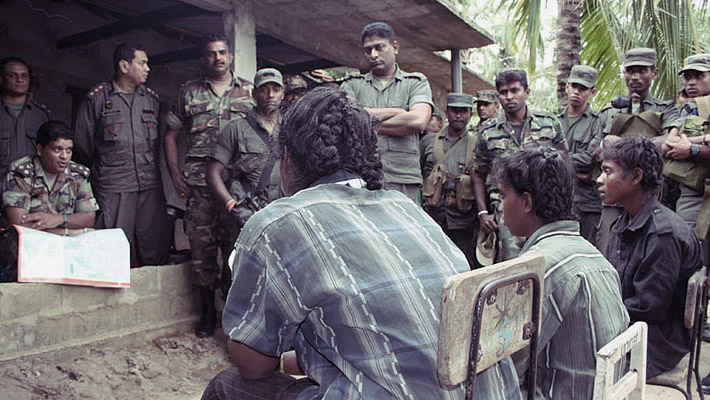 by 'The Sunday Leader,' August 14, 2016
A report has been sought from the Prisons Department on claims that rehabilitated LTTE cadres were injected with a cancerous poison.
The issue had been raised in Parliament as well last week with the Tamil National Alliance calling for an investigation.
It was alleged that the injection had been administered when the former LTTE cadres were undergoing rehabilitation.
The military and Sri Lanka Freedom Party members of the government rejected the claims.
However a report has now been sought on the allegations.
---
Poisoning Tigers in govt. custody: Ratnayake calls for probe
By Shamindra Ferdinando, 'The Island,' August 12, 2016
By Shamindra Ferdinando
There couldn't be any suspicions regarding the death of one-time head of the LTTE Political Wing leader Subramaniam Sivakami alias Thamilini during post-war rehabilitation under the care of the government, veteran movie maker Dharmasiri Bandaranayake told The Island yesterday.
Thamilini passed away at the Maharagama Cancer Institute in October last year.
The top Tiger, who had surrendered during the last week of the Vanni offensive was 43 at the time of her death.
Bandaranayake said that he personally knew Thamilini's case because her husband Jeyakumar Mahadevan had sought his assistance to take her to the relevant medical specialists. Bandaranayake said that as cancer specialist Dr Mahendra Perera had treated her, he would be in a position to clarify her condition.
In her posthumously published Tamil biography Oru Koovaalin Nizhall (In the shadow of a sharp sword), she acknowledged the services rendered by Sinhala doctors and medical staff at the Maharagama Cancer Institute. Responding to another query, Bandaranayake said that this could be aimed at attracting the attention of the Geneva-based United Nations Human Rights Council (UNHRC).
Bandaranayake said that Dr. Mahendra Perera, who had treated Thamilini, too, attended the launch of the Sinhala version of Thamilini's memoirs, at the Sri Lanka Foundation Institute (SLFI) last May. Bandaranayake said that such serious allegations should be investigated promptly to prevent interested parties from causing communal tensions.
The Northern Provincial Council last week unanimously passed a resolution demanding an international inquiry into what Chief Minister C.V. Wigneswaran called deaths of ex-LTTE cadres during and after post-war rehabilitation. The resolution adopted at Kaithady, Jaffna, was primarily based on a statement given by an ex-LTTE cadre at a recent meeting of government appointed reconciliation committee at Oddusudan.
The NPC was told that over 100 ex-LTTE cadres had died during and after rehabilitation due to poisoning.
The military brought the war to a successful conclusion in May, 2009.
Prison Reforms, Rehabilitation, Resettlement and Hindu Religious Affairs Minister Deva Manohara Swaminathan was not available to comment on the NPC's Resolution. Secretary to the ministry V. Sivagnanasothy told The Island that Minister Swaminathan was keen to inquire into allegations. Asked whether the ministry had been requested to investigate the accusations, Sivagnanasothy emphasized that he would be able to discuss the matter after having consulted the minister.
Dr. Perera told The Island yesterday that Bandaranayake had brought Thamilini to him and every effort was made to provide best possible care for her. Dr. Perera said that Thamilini had been treated for cancer and there was absolutely no suspicions regarding her death. "At the end we could only give her pain killers."
Responding to accusations, former Army Commander Gen. Daya Ratnayake said that he hadn't been surprised by the latest allegation. Recollecting his experience as the first Commissioner General of Rehabilitation (Aug 2009 to Feb 2010) before being named the Chief of Staff of the Sri Lanka Army (SLA), General Ratnayake told The Island that a despicable attempt was being made to tarnish Sri Lanka's image overseas.
The retired General emphasized that even after he quit the post of the Commissioner General of Rehabilitation to take over the Army, he continued to be closely associated with the rehabilitation project. Those who had been backing the LTTE during the conflict were working overtime to discredit the military, the retired infantry veteran said.
Gen. Ratnayake said the previous administration also involved the All Ceylon Hindu Congress (ACHU) in the much publicized rehabilitation effort. The then Justice and Law Reforms Minister Milinda Moragoda could explain the measures taken in that regard, General Ratnayake said adding that the International Organisation for Migration (IOM) and several other local and foreign organizations supported the project. "Why on earth would we poison ex-combatants. Well over 11,000 men and women, including Thamilini surrendered in stages, voluntarily because they had faith in the SLA. Except for a fraction of ex-LTTE cadres, others live normal lives today."
"Whatever those who cannot stomach the LTTE's defeat say, Sri Lanka's post-war rehabilitation project has been a tremendous success", he said.
Current Commissioner General of Rehabilitation Maj. Gen. Janaka Ratnayake, as well as military spokesman Brigadier Jayanath Jayaweera denied the allegations. Maj. Gen. Ratnayake said that he could provide a detailed response on the authorization of Minister Swaminathan or Ministry Secretary V. Sivagnanasothy as his office functioned under the purview of the Prison Reforms, Rehabilitation, Resettlement and Hindu Religious Affairs Ministry.
Brig. Jayaweera rejected allegations that ex-LTTE combatants had been administered a poisonous drug during the rehabilitation process. The military spokesman responded to media queries during Wednesday's post-cabinet media briefing.
Former Army Commander, General Ratnayake as well as several other military officials said that the Army had never administered injections to those who had been held in detention all facilities and services were provided by government hospitals. The former Army Chief urged relevant authorities to conduct an immediate inquiry to expose those who had been propagating lies.
Gotabhaya wants to verify accusations
Former Defence Secretary Gotabhaya Rajapaksa yesterday told The Island that those who had undergone rehabilitation would be able to explain the conditions they had experienced. Having crushed the LTTE in May 2009, the previous government had the wherewithal to rehabilitate over 11,000 ex-LTTE cadres, war veteran Rajapaksa said. "We have nothing to hide. Let state medical authorities conduct a through inquiry as soon as possible to verify accusations. Let those members of the LTTE who had received injections face medical scrutiny."
The former Defence Secretary alleged that the latest lie, too, was meant to attract attention of the UN human rights council.
The Gajaba Regiment veteran said that their best defence was ex-LTTE combatants. "They know we saved their lives."
---
Pressure mounts on Colombo to probe suspected poisoning of former militants
by 'Journalists for a Democratic Society, August 11, 2016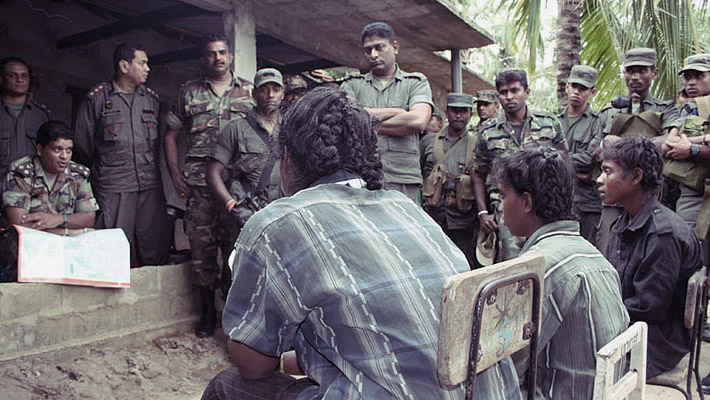 Sri Lanka government has been urged to investigate the mysterious deaths of over a hundred Tamil militants following their release from state detention.
The northern provincial council and  parliamentarians of the main opposition Tamil National Alliance (TNA)  as well as some leftist politicians from the Sinhala majority south suspect that many former LTTE members who either surrendered to the military or were arrested have been administered with  a lethal substance and set free to meet an untimely death.
LTTE members in detention have to undergo a programme what the government calls as rehabilitation.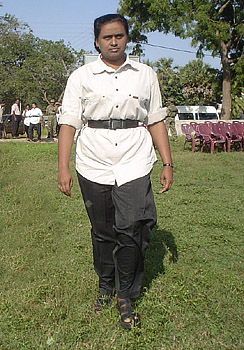 107 deaths
Many local and international rights bodies including the UN has recorded accounts of torture, rape and sexual violence in 'rehabilitation'.
Following the exposure  by the northern province health minister Dr T Satyalingam that 107 mysterious deaths of ex LTTE have been reported, the Northern Provincial Council (NPC) unanimously adopted a resolution on Monday (08) calling for a probe.
Some of the dead have been diagnosed of cancer, where the most high profile case has been of LTTE women's wing political leader Sivakami Subramaniam, popularly known as Thamilini.
The proposal was submitted by Chief Minister CV Wigneswaran.
Forcible injections
An ex combatant has earlier told a government appointed consultation body on reconciliation that he and several others were forcibly injected with a substance that he strongly believes to be poisonous.
"When I was in the LTTE I could  carry heavy weights and run. Now I am unable to lift even even ten kilograms," said SN Sahaevan testifying before the Consultation Task Force on Reconciliation Mechanism (CTFSL) in the north eastern town of Oddusuddan.
Whilst participating in a demonstration in Colombo demanding the release of Tamil political prisoners Left wing politician Dr Vickramabahu Karunaratne called upon the government to initiate an immediate probe into the suspicious deaths of released detainees.
"The so called good governence has a duty to investigate whether such a crime is committed against political prisoners," he said.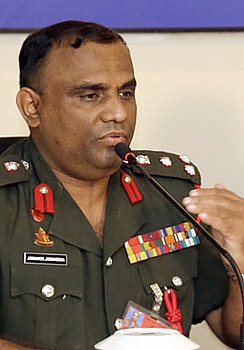 'Buddhist principles'
The defence establishment has vehemently denied the allegations.
"We are an army based on Buddhist principals that would never even poison an animal," Military Spokesman Brigadier Jayanath Jayaweera told journalists in Colombo while Deputy Defence Minister Ruwan Wijewardena rubbishing claims by TNA parliamentarian Sivagnanam Sritharan that the forcibly administered substance was carcinogenic as 'baseless'.
Cabinet Spokesman Dr Rajitha Senaratne however, told journalists on Tuesday (09) that the government has requested details to investigate the deaths.
Foreign experts
Nevertheless, expressing doubt on the governments intentions a top TNA politician called for international intervention in probing the deaths.
"We need them to be examined by a team of foreign experts as Sri Lankan government doctors could not be trusted,"  Suresh Premachandran told journalists in Colombo.
---
NPC passes resolution demanding foreign doctors investigate ex-LTTE cadres deaths
by 'Daily News,' Colombo, August 11, 2016
The Northern Provincial Council (NPC) yesterday passed a resolution calling for foreign doctors to investigate into the mysterious deaths and illnesses of ex-LTTE cadres during and since their time in rehabilitation.
The Resolution was passed at the 58th sitting of the Council at Kaithady, Jaffna and it was sponsored by Chief Minister C.V. Wigneswaran and NPC member Ravikaran.
At the time of debate, it was highlighted that many ex-LTTE cadres had taken ill or had died mysteriously since their time in rehabilitation.
The members thus proposed that present ex-LTTE cadres be questioned in order to ascertain the truth of the matter.
The issue was brought to the forefront when a group of ex-LTTE cadres spoke of it at a consultation group on reconciliation.
Chief Minister Wigenswaran informed the Council that ex-LTTE cadres had informed him that they had been given an injection with some poison during rehabilitation.
"It is our responsibility as members of this council to investigate into the matter and find the truth," he added.
The members unanimously passed the resolution which called for an investigation into the chemical injection and whether there was poison mixed in the food given to the ex-cadres.
They further requested for more information on the existing number of ex-cadres along with details of what assistance they need.
NPC, Minister of Health, P. Sathyalingam said two aspects needed to be looked into when taking these allegations into account.
Firstly, it was noted that 107 ex-cadres died during rehabilitation and their death certificates needed to be closely examined by specialist doctors to find the cause of death. Secondly, the basic treatment of 15,000 ex-cadres who were released from rehab needed to be looked into by both general physicians and specialist doctors, such as oncologists.
He explained that the Ex-cadres had provided them with information on those who were rehabilitated.
The Health Minister added that the Northern Province did not have the facilities to undertake these medical check-ups and asked that foreign medical assistance be sought to help them.
He also requested government permission for such a program as soon as possible.
---
Mysterious deaths of ex-LTTE cadres create unease in North Sri Lanka