Gotabhabya Rajapaksa
by Sachi Sri Kantha, July 16, 2022
On April 19, 1951, Gen Douglas MacArthur announced to Americans 'Old soldiers never die; they just fade away.' But for a phony Sinhalese soldier, Gotabhaya Rajapaksa, this was NOT true at all.
Gota ran for his life, fearing death, not once – but twice, from the battlefield. When it happened first time in 1990, he was 41, and he deserted the Sri Lankan army that was fighting the Tamil Tigers. Now, for the second time, on July 13, 2022, Gota was 73. And he ran for his life from the majority, unarmed Sinhalese plebians, who had voted for him in 2019. What a phony soldier he is? He must have thought about the violent deaths of leaders Nicolae Causescu of Romania in Dec 25, 1989, and Col Muammar Gaddafi of Libya in Oct 20, 2011.
According to a bloated listing in the Wikipedia entry, in the past between 1978 and 2010, Gota had received numerous medals/ padakkams, from the Sri Lankan state, for his services to the SL army. President's inauguration medal (1978), Sri Lanka Armed Services Long Service Medal (1984), Purna Bhumi Padakkama (1984), North and East Operations Medal (1986), Vadamarachchi Operation Medal (1987), Desha Putra Sammanaya (1994), Rana Sura Padakkama (1994), Rana Wickrama Padakkama (1994), Northern Humanitarian Operations Medal (2010), and Eastern Humanitarian Operations Medal (2010). Vow! Despite all these bloated decorations, Gota will go down in the history, as the President who fled the country in July 2022! Father Time will record that Gota lacked courage and class to stand up. He also suffered from a serious humility deficit. His lead concern was saving his life in the real battle front.
Many may have missed the news that on May 19th of this year, Gota attended the 13th anniversary of National War Heroes' Day held at the Battaramulla, Colombo as the Chief Guest. And as typical of a phony, Gota glibly delivered his address, filled with lies. Excerpts:
"The economic crises has expanded towards a political and social upheaval. Under any circumstances, we will not disregard the policy towards safeguarding sovereignty and independence of this country. That is because our desire is to protect the motherland above all else.
Our brave war heroes put an end to the war and brought peace to the country through a humanitarian operation. There was no hatred, anger or revenge in it. Therefore, there is no room for racism or any other form of extremism in the motherland where peace was established. We regard it as a unique value in Sri Lankan society…" http://www.colombopage.com/archive_22A/May19_1652984064CH.php
Well, did he imagine then, that he would face the wrath of Sinhalese hoi polloi within few weeks, so that he and his wife had to run for their lives, with two security guards, in a Sri Lankan military transport aircraft, to Maldives, and then to Singapore. So much for the exploits of a phony Sinhalese hero.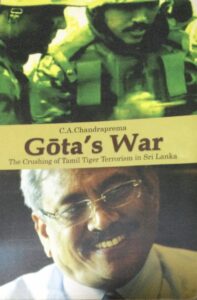 In my review of 'Gota's War (2012) book by C.A.Chandraprema to this site, exactly 10 years ago [https://sangam.org/2012/07/Gota_War_Review.php?uid=4803], I had recorded the casualty numbers for SL armed forces, provided by the hagiographic biographer. These were, army 23,391; navy 1,142; air force 404 and Special Task Force 430. Impartially, I'd consider these were 'real heroes' who fought a war, from the Sinhalese side. They did NOT fear death. But, this Gota guy was a coward who ran like a chased cockroach from one corner to another corner, in a military transport aircraft to Maldives.
Here is an embellished opening paragraph (chapter 62) from Chandraprema's hagiography of Gota:
"One of the things that Gota had learnt well from Brigadier Wimalaratne was the importance of motivation. This was a principle he applied not just to the military but the police as well, especially those serving in the intelligence gathering units. Knowing that the security of Colombo depended on these police personnel, Gota made it a point to summon all members of these intelligence units down to the last reserve police constable and talk to them about the importance of the job they were doing and why their contribution was essential to orchestrate the war to a victorious conclusion…"
This was in 2012. Now, 10 years later, Gota lost his war in Colombo against Sinhalese plebians. What happened to the lesson he learnt from Brigadier Wimalaratne about motivation? What happened to his resolve of 'importance of the job' he was elected to do in 2019? What made him to lose that 'motivation' when the battle cry 'Gota Go Home' was raised this year?
At this year's May 19th ceremony, the stated number of casualties for SL armed forces during its war with LTTE were as follows: army (23,962), navy (1,160), air force (443), police (2,598) and civil security department personnel (436).
When these numbers were re-posted in the Tuppahi's blog (of Prof. Michael Roberts, Adelaide, Australia) on May 21, 2022, I submitted the following comment, which was posted.
"Is it possible to get the un-doctored complete list of this 'war heroes' and their dates of birth and death? I want this data, for an empirical check on my pet hypothesis, that 'There should have been child soldiers (aged under 18) in the Sri Lankan military side as well. Also, as answers for not so trivial questions, (1) the male-female sex ratio among the fallen, from the Sinhalese side, as opposed to the LTTE side; (2) youngest fallen war hero; (3) oldest fallen war hero." [https://thuppahis.com/2022/05/21/sri-lankas-fallen-remembered-at-battaramulla-monument-on-19th-maya/]
As of now, none had bothered to reply to my queries, posted in the Tuppahi's blog!
What I consider rather despicable relates to the fawning and fart-catching behavior of the Sri Lankan academics towards the Rajapaksa rascals, since 2005. Quite a few deserve to be named. These include, late Prof. Carlo Fonseka (1933-2019), Prof. Laksiri Fernando, Prof. Kshanika Hirimburegama, Prof. Rohan Gunaratna, Prof. Ratnajeevan Hoole and Dr. Dayan Jayatilleka. My alma mater University of Colombo (I have an earned B.Sc. Special degree in 1976), even went to the extent of decorating Mahinda Rajapaksa and Gotabhaya Rajapaksa with honorary doctorates on September 6, 2009. Mahinda received a LLD degree and Gota received a D Sc degree. The cited contribution for these two rascals, was relieving Buddhist Sri Lankan island from LTTE terrorism. Now that the balloon of 'Rajapaksa heroes' had been pricked, these fawning Sri Lankan academics need to clear their consciences and answer why they indulged in such a slavish behavior. My only inference is, these individuals were first class opportunists to the core, devoid of academic rigor.
In reality, the educational qualifications of both Mahinda and Gotabhaya were at the then SSC level. SSC stood for Senior School Certificate, currently equivalent to GCE Ordinary Level (i.e, 10th grade). The 'real grades' they obtained at the SSC level remain as state secrets! Born in 1949, Gotabhaya should have completed his schooling around 1965 or 1966. Then, he loafed around until 1971 for five years doing nothing. He was a NEET – Not in Education, Employment or Training. Gota made his entry into the then Ceylon Army, as a cadet officer on April 26, 1971, courtesy Sirima Bandaranaike (then prime minister of the island) and the April 1971 JVP insurrection. Psychologically speaking, Gota's flawed character deficits have to be traced to the five year period he spent as a NEET.
*****